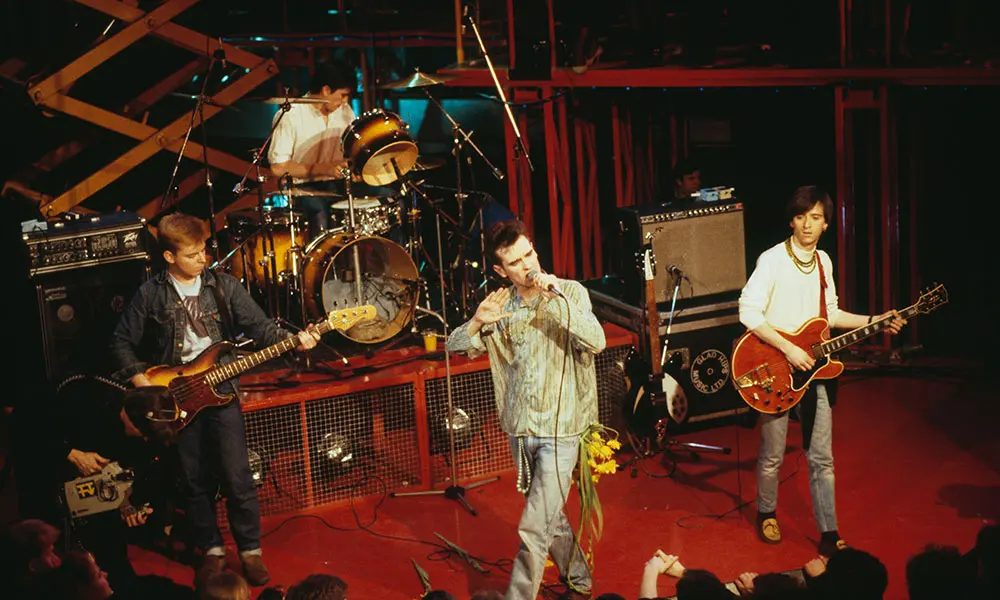 The Smiths were the definitive British indie rock band of the '80s, marking the end of synth-driven new wave and the beginning of the guitar rock that dominated English rock into the '90s. Formed in Manchester in 1982, the group consisted of vocalist Morrissey, guitarist Johnny Marr, bassist Andy Rourke and drummer Mike Joyce.
Sonically, the group was indebted to the British Invasion, crafting ringing, melodic three-minute pop singles. But their scope was far broader than that of a revivalist band. Inspired by the D.I.Y. ethics of punk, The Smiths became the first indie outsiders to achieve mainstream success on their own terms. All four of their studio albums reached the top five of the UK Albums Chart, including Meat Is Murder which hit number one.
30 Facts:
1. Morrissey attended St Mary's Secondary School and then Stretford Tech School, where he gained three O Levels including one in English Literature. When he formed The Smiths, he'd pay tribute to his harrowing experiences of school with the track "The Headmaster Ritual" from Meat Is Murder.
2. After leaving school, Morrissey found himself struggling to find fruitful employment. He worked for the Inland Revenue as a filing clerk and later as a hospital worker.
3. Guitarist, songwriter Johnny Marr had aspirations to be a professional football player. He was approached by Nottingham Forest and had trials with Manchester City.
4. Morrissey's parents were both Irish Catholic immigrants who moved to Manchester the year before he was born. His father, Peter, worked as a hospital porter while his mother Elizabeth was an assistant librarian.
5. Marr formed his first band, the Paris Valentinos, at the age of 13, with Andy Rourke and Kevin Williams (who later became an actor), playing Rolling Stones and Thin Lizzy covers.
6. From an early age, Morrissey's great obsession was music. His first gig was T Rex in Belle Vue, Manchester in 1972. Years later he'd later bump into frontman Marc Bolan at the Midland Hotel and ask for his autograph – only for Bolan to refuse and walk off.
7. As well as writing numerous letters to the NME, Morrissey nearly became a music journalist when he was invited for an interview with now-defunct magazine Sounds. He also wrote two books, which were both later published by Babylon Books: a love-letter to his favourite band, The New York Dolls and another ode to one of his screen heroes with James Dean Is Not Dead.
8. On 31 August 1978, a 19-year-old Morrissey was briefly introduced to the 14-year-old Johnny Marr by mutual acquaintances Billy Duffy and Howard Bates at a Patti Smith gig at Manchester's Apollo Theatre. Morrissey later met Marr again in 1982 when he turned up at Morrissey's doorstep to ask if he was interested in forming a band.
9. Around the time of the band's formation, Morrissey decided that he would be publicly known only by his surname, with Marr referring to him as "Mozzer" or "Moz".
10. The Smiths gave their first public performance in October 1982 as a support act for Blue Rondo à la Turk during a student music and fashion show, "An Evening of Pure Pleasure", at The Ritz in Manchester.
11. The band approached EMI for a contract, but were turned down. Morrissey and Marr subsequently visited London to hand a cassette of their recordings to Geoff Travis of Rough Trade Records. Although not signing them to a contract straight away, he agreed to cut their song "Hand in Glove" as a single.
12. Morrissey's career as a pop star got off to a sluggish start. His first role was as frontman of The Nosebleeds (also known as Ed Banger and the Nosebleeds), until the departure of singer Ed Garrity – a gig he landed after responding to an advert placed by guitarist Billy Duffy (who'd later join The Cult) in Virgin Records. It was Duffy who suggested that Morrissey team up with Johnny Marr.
13. Morrissey represented his school in both the 100 and 400 metres and was also a football fan. In fact, he was so enthralled when his Dad took him to watch Manchester United genius George Best as an eight-year-old that he fainted.
14. Morrissey said that they came up with the name 'The Smiths' because it was the most ordinary name and it was time the ordinary people showed their faces.
15. The band's first single "Hand in Glove" released in May 1983 only reached No. 124 in the UK chart. That same year, a cover version recorded by Sandie Shaw featuring Smiths members Marr, Andy Rourke and Mike Joyce as backing musicians reached No. 27 on the UK Singles Chart.
16. Their eponymous debut studio released on 20 February 1984 reached number two on the UK Albums Chart, staying on the chart for 33 weeks. The sleeve designed by Morrissey features American actor Joe Dallesandro in a cropped still from Andy Warhol's 1968 film Flesh.
17. Bassist, Andy Rourke was temporarily fired from the band because of his alleged heroin addiction. Rourke claimed that Morrissey left a post-it-note on his car windscreen that read "Andy you have now left the Smith's. Good luck." Morrissey denies of the existence of any such note.
18. "How Soon Is Now?" (originally a B-side of the 1984 single "William, It Was Really Nothing") became the band's first US hit after becoming a club favourite.
19. The Smiths' second album, Meat Is Murder, was released in February 1985. The LP gave Morrissey the platform to promote his long-held belief in animal rights. He had been a vegetarian since the age of 11.
20. The cardigan Morrissey wears in The Queen Is Dead album sleeve was designed by Bodymap, a 1980s design collective famed for their chic fashions.
21. The backing vocals on "Bigmouth Strikes Again" are credited to Ann Coates, however the singer was none other than a pitch-shifted Morrissey. His chosen nom de plume was a play on Manchester district Ancoats, a location which also featured in a road sign on the back of The Smiths' Strangeways Here We Come album.
22. Morrissey and Rourke are fans of Manchester United while Marr and Joyce are fans of Derby Rival, Manchester City.
23. Morrissey brought a political stance to many of his interviews, courting further controversy. During Smiths days among his targets were the Thatcher administration, the monarchy, and his musical contemporaries. When asked about Band Aid, he once quipped, "One can have great concern for the people of Ethiopia, but it's another thing to inflict daily torture on the people of England," (referring to the Band Aid single).
24. In 1986, when the Smiths performed on the British music programme The Old Grey Whistle Test, Morrissey wore a fake hearing aid to support a hearing-impaired fan that was ashamed of using one.
25. "Some Girls Are Bigger Than Others" references Carry On Cleo, the 1964 film starring Sid James, Kenneth Williams and Charles Hawtrey. Hawtrey later appeared on the cover of The Very Best Of The Smiths compilation.
26. The Smiths completed recording of The Queen Is Dead at Jacobs Studios in October 1985. Studio owner Andy Fernbach has said Status Quo, who were recording "You're In The Army Now" next door, were briefly considered to play on the album.
27. The group's cover artwork had a distinctive visual style and often featured images of film and pop stars, usually in duotone. Design was by Morrissey and Rough Trade art co-ordinator Jo Slee. The covers of singles rarely featured any text other than the band name, and the band itself did not appear on the cover of any UK release.
28. By 1987 Johnny Marr was exhausted and took a break from the band. The breakdown in the relationship has been primarily attributed to Morrissey's irritation by Marr's work with other artists and Marr growing frustrated by Morrissey's musical inflexibility. Marr particularly hated Morrissey's obsession with covering 1960s pop artists such as Twinkle and Cilla Black. Marr recalled in 1992, "That was the last straw, really. I didn't form a group to perform Cilla Black songs."
29. The bands fourth and final studio album Strangeways, Here We Come (taking its title from Manchester's notorious Strangeways Prison) was released on 28 September 1987, several months after their disbandment.
30. In 2003, four of the band's albums appeared on Rolling Stone's list of the "500 Greatest Albums of All Time".
We have a book! Published 29th Sept 2019. Price: UK £24.99 US $32.00
The Smiths – The Day I Was There:
The Smiths – The Day I Was There tells the story of The Smiths in the words of over 400 fans from Britain and the US. With memories from the earliest Smiths shows at UK clubs through to the last ever gig at London's Brixton Academy, you'll see a portrait of The Smiths from the perspective of fans, promoters and support acts with personal photographs, memorabilia, fascinating anecdotes and stories that have never been published before.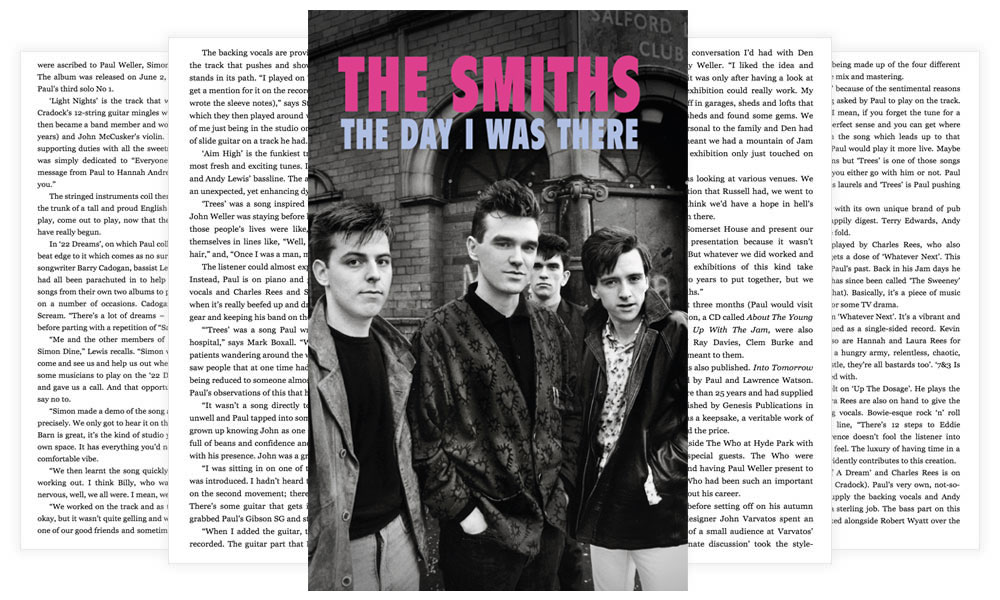 Important Dates In The Life Of The Smiths:
19 May 2023
Andy Rourke, the bassist for indie legends
The Smiths
, died from pancreatic cancer aged 59. Rourke played on the Smiths' classic back catalogue including hits such as 'This Charming Man' and 'There Is a Light That Never Goes Out' as well as featuring on solo singles for singer Morrissey after the group broke up in 1987. Later in his career, Rourke played as part of a supergroup called Freebass with two other Mancunian bass players, Gary "Mani" Mounfield, from the Stone Roses, and Peter Hook, from New Order.
6 Feb 2014
Nirvana
's '
Smells Like Teen Spirit
' was named as the greatest song of all time by NME. 'Smells Like Teen Spirit' was one of the last songs written for Nirvana's breakthrough album, '
Nevermind
', which was released in 1991. The rest of the top five tracks were: 5: 'Last Nite', The Strokes, 4: 'How Soon Is Now?',
The Smiths
, 3: 'I Feel Love', Donna Summer, 2: 'Love Will Tear Us Apart',
Joy Division
24 Oct 2013
NME published their latest '500 Greatest Albums of All Time' list. The top 5 read: 1.
The Smiths
- 'The Queen Is Dead', 2.
The Beatles
- '
Revolver
' 3.
David Bowie
- 'Hunky Dory', 4. The Strokes - 'Is This It' and at 5. The Velvet Underground & Nico - 'The Velvet Underground'.
19 Mar 2009
Eighties pop fan Justine Thompson was ordered to pay more than £1,040 for repeatedly playing
The Cure's
'Boys Don't Cry' at full blast. Thompson aged 31, had also belted out 'Geno' by Dexy's Midnight Runners and
The Smiths
'This Charming Man' so loudly it shook flats around her home in Brighton, a court heard. City magistrates found her guilty of ignoring a noise abatement notice.
15 Jun 2008
Liverpool was voted England's most musical city in a national campaign set up by the Arts Council. The home of
The Beatles
Frankie Goes To Hollywood,
Orchestral Manoeuvres in the Dark
and The Zutons took 49% of the vote in an online poll set up by the funding body. Sheffield - which brought the world the Arctic Monkeys and Pulp - came second, while Manchester with
Oasis
, Stone Roses and
The Smiths
came third.
18 Apr 2006
A line from
U2
's 1992 hit 'One' was voted the UK's favourite song lyric after in a poll of 13,000 people by music channel VH1. The line "One life, with each other, sisters, brothers" came top.
The Smiths
lyric "So you go, and you stand on your own, and you leave on your own, and you go home, and you cry, and you want to die" from the song 'How Soon is Now' came second in the poll, followed by "I feel stupid and contagious, here we are now, entertain us", from
Nirvana
's '
Smells Like Teen Spirit
' which was voted into third place.
17 Mar 2006
The Smiths
turned down a $5m (£2.8m) offer to reform for a music festival. The band who split acrimoniously in 1987, rejected the bid to get back together for this year's Coachella US festival.
25 Oct 2004
John Peel
died in Cuzco, Peru of a heart attack, aged 65. He was BBC's longest-serving radio DJ and the first DJ to introduce the
Ramones
,
The Smiths
,
Rod Stewart
, Blur, the
Sex Pistols
,
T Rex
and others to the masses. He founded Dandelion Records in 1969, and was also known for his 'Peel Sessions', releases of live radio sessions. Peel was appointed an OBE in 1998.
7 Mar 2004
The Smiths
song 'I Know It's Over' topped a poll of tunes, which people turn to when they are miserable in 'The Songs That Saved Your Life' poll by BBC radio station 6 Music. REM's 'Everybody Hurts' and
Radiohead
's 'Fake Plastic Trees' also made the Top 10.
26 Nov 2000
Manchester club the Hacienda was auctioned off raising £18,000 for charity.
Madonna
made her UK TV debut at the club when C4 music show
The Tube
was broadcast live from the venue.
Oasis
, Happy Mondays,
U2
, New Order, Stone Roses,
The Smiths
and James all played at the club.
28 Nov 1991
Nirvana
recorded a performance for BBC TV music show
Top Of The Pops
in London. When asked to lip-sync '
Smells Like Teen Spirit
' to a pre-recorded tape
Kurt Cobain
protested by singing an octave lower (he later confirmed he was imitating Morrissey from
The Smiths
), and attempted to eat his microphone at one point. He also changed some of the lyrics, exchanging the opening line "load up on guns, bring your friends," for "load up on drugs, kill your friends."
18 Apr 1991
Record producer Martin Hannett died. He worked with many Manchester acts including
The Smiths
, New Order,
Joy Division
, Happy Mondays, Magazine as well as
U2
and The Psychedelic Furs.
4 Nov 1987
U2
were on the front cover of UK pop magazine 'Smash Hits', which also had features on the Pet Shop Boys, Wet Wet Wet, T'Pau, Sting and Black. Reviewed in the new singles page
The Smiths
'I Started Something I Couldn't Finish'.
4 Sep 1987
Mike Joyce drummer with
The Smiths
, quit the band saying that 'the present role within the group had been fulfilled'. In 1996, Joyce sued former Smiths' colleagues Johnny Marr and Morrissey for an equal share of performance and recording royalties. Joyce won the case and was awarded damages of around one million pounds.
11 Feb 1987
The Smiths
were at No.1 in the UK indie charts with 'Shoplifters Of The World Unite.' The title alludes to the communist slogan "Workers of the world, unite!", and the 1966 David and Jonathan hit 'Lovers of the World Unite'. The photograph on the sleeve is of a young
Elvis Presley
.
25 Oct 1985
R.E.M.
,
The Smiths
and Tom Waits all appeared on the music TV show
The Tube
broadcast live from Tyne Tree Television Studios, Newcastle upon Tyne, England.
2 Mar 1985
The Smiths
were at No.1 on the UK indie charts with 'How Soon Is Now.' Soho had the 1990 No.8 UK hit with 'Hippy Chick.' a song based on a guitar sample from the song.
23 Feb 1985
The Smiths
scored their first UK No.1 album with Meat Is Murder. The album's sleeve uses a 1967 photograph of Marine Cpl. Michael Wynn in the Vietnam War, though with the wording on his helmet changed from "Make War Not Love" to "Meat Is Murder". The original image was used for Emile de Antonio's 1968 documentary In the Year of the Pig.
27 May 1983
The Smiths
were at No.1 on the UK independent chart with their debut single 'Hand In Glove.' The Smiths recorded the track after their manager Joe Moss paid £250 for a one-day recording session at Strawberry Studios in Stockport, England.
4 Feb 1983
The Smiths
appeared at The Hacienda, Manchester, England. The group were set to release their debut single 'Hand in Glove' in two months time.
4 Oct 1982
The Smiths
made their live debut at the Ritz in Manchester, England, supporting Blue Rondo A La Turk.
21 May 1982
The Hacienda Club was opened in Manchester, England.
Madonna
made her UK TV debut at the club when C4 music show
The Tube
was broadcast live. Home to many Manchester acts including
Oasis
, Happy Mondays,
The Smiths
, Charlatans, James, M People who all played at the club, (The club closed in 1997).
10 Nov 1975
Patti Smith released her debut studio album Horses. Produced by John Cale, Horses has since been viewed by critics as one of the greatest and most influential albums in the history of the American punk rock movement, as well as one of the greatest albums of all time. Horses has also been cited as a key influence on a number of acts, including Siouxsie and the Banshees,
The Smiths
,
R.E.M.
and PJ Harvey.