Genesis – The Lamb Lies Down On Broadway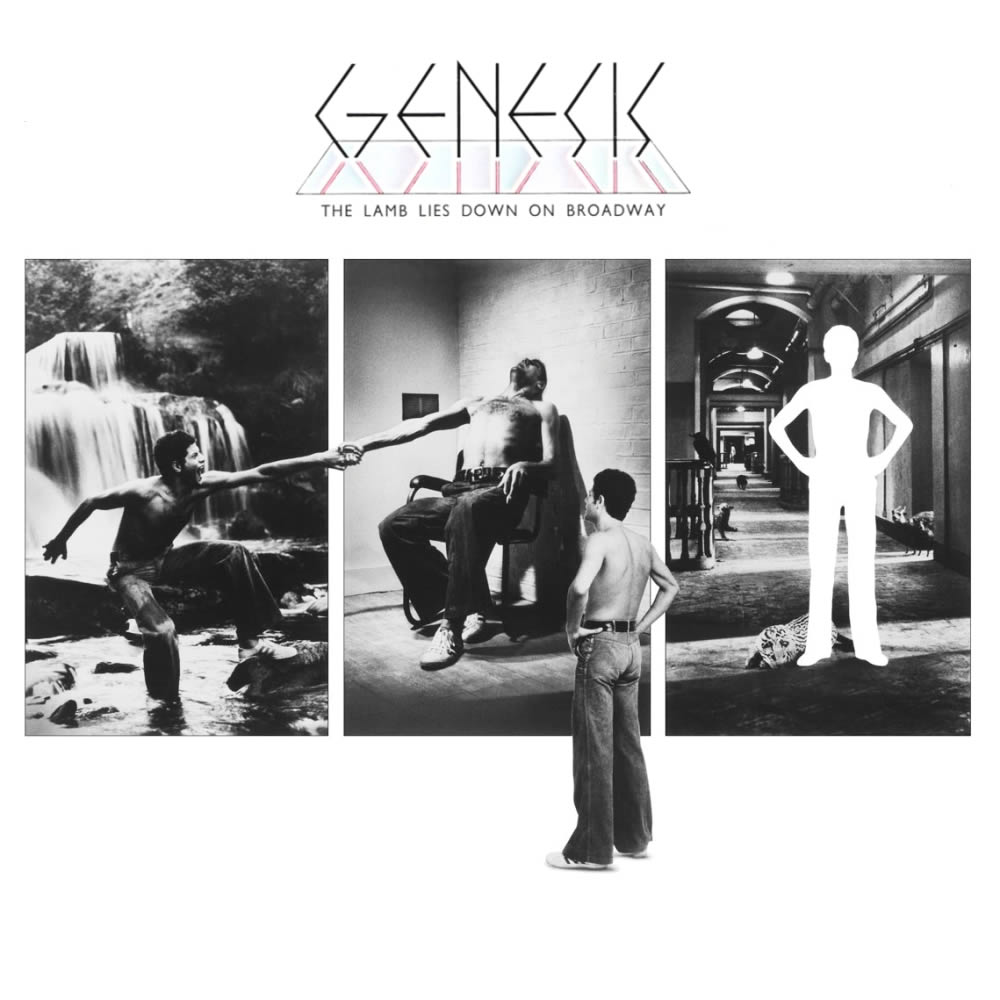 In 1974 Genesis were coming off the back of their first British Top 10 studio album, Selling England By The Pound, and they had even had a brief flirtation with the singles chart with the quirky but catchy I Know What I Like (In Your Wardrobe), which got to #19. Their recent chart success had also caused the brief Top 40 appearance in the charts of an earlier album, Nursery Cryme, so three years of building up a cult audience via that and their Foxtrot album, plus constant gigging, was paying off. Genesis were big in Belgium and Italy and had established a bridgehead in America, so there was a mood of optimism when they reconvened after a break to consider their options for the next album.
Unlike, say, Yes or ELP, Genesis were not about instrumental virtuosity or flash showmanship. 'We were very much a composers' group,' said keyboardist Tony Banks. 'We were interested in the song and the way that it came across. Even when one person was leading it on vocals, keyboards or guitar it was still very much a band thing.' As guitarist Steve Hackett put it: 'We were less about heroics, and more about illustrating stories.'
Lead vocalist Peter Gabriel already had a story for the new record: 'A type of Pilgrim's Progress, but with this street character in leather jacket and jeans," as he described it. 'It was looking more towards West Side Story as a starting point.'
Once Gabriel's story idea had been accepted, he then proceeded to break the democratic rules by insisting that he should write all the lyrics. 'My argument was that there aren't many novels written by a committee. I said: 'This is something that only I'm going to be able to get into, in terms of understanding the characters and the situations'. I was indirectly writing about my own emotional experiences, and I didn't want anyone else colouring it.'
The band moved down to a former Victorian workhouse, Headley Grange in Hampshire, to work up the album, free from distractions. Headley Grange had already staked its claim in rock'n'roll history as the place where Led Zeppelin recorded Led Zeppelin IV; Robert Plant even recalls writing the lyrics to Stairway To Heaven with Jimmy Page by the fireplace in the sitting room. But the place was a mess: 'It was in a pretty revolting state when we got there,' said Banks. 'I think Bad Company had been in just before us. The only permanent residents were the rats, and they used to use the wisteria outside as a staircase.'
'Most of the music was written without any lyrics,' he adds. 'We'd write bits to illustrate various parts of the story. Some of the more experimental ideas like Fly On A Windshield and atmospheric pieces like Silent Sorrow In Empty Boats were just improvisations that we could edit into shape later. 'The first time we played The Evil Jam, which became The Waiting Room, we turned down the lights in the room and tried to frighten ourselves. And the first time we did it we really did frighten ourselves. It had a real dark edge to it, and the whole gloomy atmosphere of the house seemed to come out. We were all excited by it. But unfortunately we didn't tape it, and every time after that we were chasing an idea. The final result was okay, but it doesn't have anything like the strength of the original.'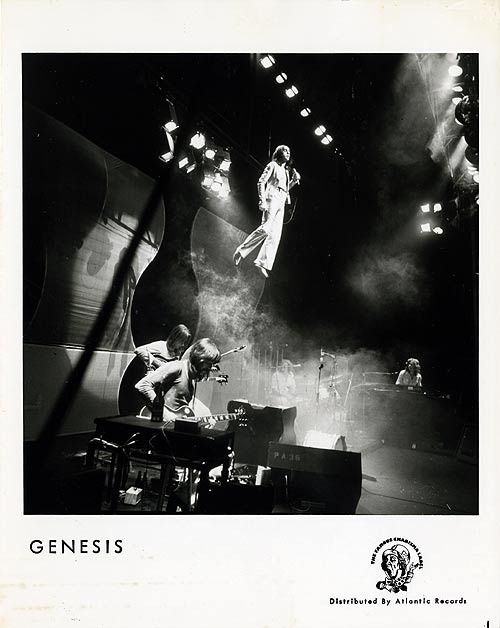 Drummer Phil Collins also remembered The Evil Jam: 'It started with Steve inventing noises, and Tony messing around on a couple of synthesisers. We were just mucking about with really nasty sounds. Peter was blowing his oboe reeds into the microphone and playing his flute with an Echoplex, when suddenly there was a great clap of thunder and it started raining. We thought: 'We've got in contact with something heavy here.' We were making all these weird noises, when the thunderstorm started and it began to pour down. And then we all shifted gear and got into a really melodic mood. At moments like that it really was a five-piece thing.'
Mostly on the album, however, it was a four-piece thing and a one-piece thing. 'Peter was writing the story, and little bits were being revealed to us as we were going along,' Hackett explains. 'But I don't think we were really working on the same page. The album was heavily conceptual, but I don't think we realised how much at the start. For all we knew he could have been writing individual songs on a theme.'
They'd written plenty of good music, and the concept had grown into a double album, but Gabriel was already behind with the lyrics, and they were running out of time at Headley Grange, which had been booked by another band.
They decided to relocate to Glosspant (since renamed Glaspant) in the wilds of Cardiganshire, a village so remote it made Headley Grange seem like it was in the middle of, well, Broadway. 'It was okay. Not brilliant. It was just converted outhouses really,' Banks recalled. 'But we quite liked the fact that we were completely away from everything. And we liked the idea of using a mobile [studio].' But whereas Headley Grange had proven recording credentials, with Led Zeppelin, Glosspant was more problematic. 'It had been sound-proofed to some extent, but there was a bit of a buzz on everything,' said Banks.
Scarcely had they settled in at Glosspant than Gabriel's wife Jill went into labour. It was a long and difficult birth, and their daughter spent the first few weeks in an incubator, in a critical condition. 'My baby daughter was between life and death in Paddington,' Gabriel recalled, 'So there was this five-hour drive to visit my wife and baby. My wife hadn't been allowed to see the baby for the first few days because they thought she wouldn't survive – something they would never do now. It was the most traumatic thing I'd experienced in my life.'
There were also a couple of extra tracks needed to fill gaps in the storyline. The first was the quirky Grand Parade Of Lifeless Packaging. 'We had nothing written for that, and it developed out of a little idea I had,' said Banks. 'It was intentionally humorous, and Peter came up with a lyric that took it even further. I really like it because it's much more spontaneous than the rest of the album.'
Producer John Burns, who had worked with the band on previous album Selling England By The Pound, struggled to keep the final mix under control as tired hands pushed the faders all the way up. 'We were all playing enough to fill the sound on our own, really,' Banks admitted recently. 'We were also trying to get as many ideas down as possible. I think that's why it sounds a bit dense.'
The album tells the surreal story of a half Puerto Rican juvenile delinquent named Rael living in New York City, who is swept underground to face bizarre creatures and nightmarish dangers in order to rescue his brother John. The songs, which contain allusions to mythology, the sexual revolution, advertising, and consumerism, include the title track, The Carpet Crawlers, and In the Cage, which went on to become individual live favourites for the band.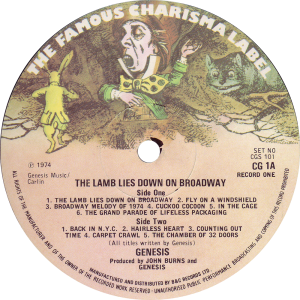 When The Lamb Lies Down On Broadway was finally finished, they had left themselves no time to prepare for their tour, which would involve playing the entire album, but they were saved by a bittersweet incident, as Steve Hackett explained: 'I was at a reception after a Sensational Alex Harvey Band gig at the London Palladium, and I had a glass of wine in my hand. It was not my first. I was telling someone I thought the Alex Harvey Band were terrific, and he said: 'But they'd be nothing without Alex.' The next thing I knew I'd crushed the glass in my hand; I'd almost cut my thumb off.'
Hackett's shocking injury turned out to be a blessing in disguise that enabled them to postpone the tour, but it also summed up the state the band was in – exhausted and barely able to function.
Released in November 1974, The Lamb Lies Down On Broadway reached #10 in the UK, while nearly cracking the US Top 40, reaching #41 and eventually going Gold. The band went on a world tour upon its release, performing the album in its entirety 102 times. The Lamb Tour, postponed since 29th October, opened at the Auditorium Theatre in Chicago, Illinois on 20 November, closing the following May 22nd at the Palais des Sports in Besançon, France.
The Lamb Lies Down On Broadway album was to be the last with Genesis for Peter Gabriel. He decided to leave the band early in the tour, although he finished the dates amicably and didn't announce his decision until August 1975. The theatrical nature of the show was also the climax of the Gabriel years, in which the frontman used ever-more bizarre costumes to illustrate the song's themes, although these sometimes got in the way of his vocal mic.
Genesis, of course, discovered a new frontman in Phil Collins and went on to even greater success, but The Lamb Lies Down On Broadway showed that the concept double album could still be a worthy artistic statement, and as such is still held in high regard today.