Creedence Clearwater Revival – Cosmo's Factory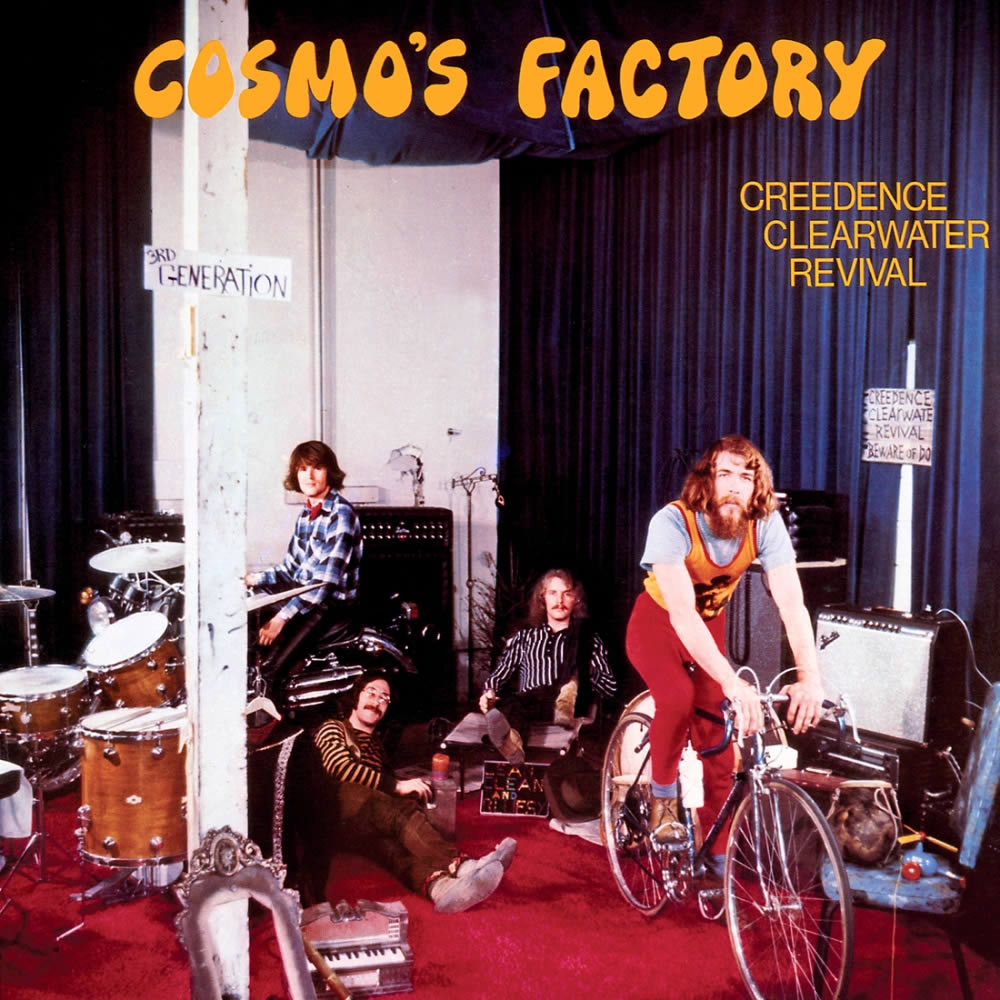 In August 1970, Creedence Clearwater Revival started a nine-week run at No.1 on the US album chart with their fifth studio album, Cosmo's Factory, named after the warehouse in Berkeley, California, where the band rehearsed. Bandleader John Fogerty was so insistent on practising almost daily that drummer Doug 'Cosmo' Clifford began referring to the place as 'the factory'.
The band – guitarist brothers John and Tom Fogerty, bass player Stu Cook and Clifford – had signed in 1964 to the San Francisco based Fantasy Records, an independent jazz label. Fantasy co-owner Max Weiss initially named the group the Golliwogs (after the children's literary character, Golliwogg), apparently to cash in on a wave of popular British bands with similar names. The band, who hated the name, then suffered a setback in 1966 when the draft board called up John Fogerty and Doug Clifford for military service. Fogerty at least managed to enlist in the Army Reserve instead of the regular Army, while Clifford did a tenure in the United States Coast Guard Reserve.
Re-grouping the following year, new management at Fantasy extended their deal along with agreement to a name change. The group arrived at their new title Creedence Clearwater Revival from three elements. From Tom Fogerty's friend Credence Newball's name they added an extra 'e', making it resemble a faith or creed; 'clear water' came from a TV commercial for Olympia beer; and finally 'revival' spoke to the four members' renewed commitment to their band.
After the release of their debut album, Creedence Clearwater Revival, AM radio in the US started to pick up on their version of Suzie Q, the 1956 song by rockabilly star Dale Hawkins. There was something different and fresh about CCR: whether it was the raw edge of John Fogerty's voice, or the driving force of the rhythm section, CCR sounded different to everything else, delivering for the most part, short sharp songs, a rare thing in 1967, the year of psychedelic jams and long freakouts. Not totally immune, the band's other side manifested itself in long, guitar-driven versions of selected songs on their album, including 8 minutes of Suzie Q.
The band toured and toured, playing every club they could from state to state, and in the middle of this, recorded second album Bayou Country, featuring seven songs that were well-honed from Creedence's constant live performance. The single, Proud Mary, was an instant success; radio loved it, giving CCR the chart hit they needed, peaking at #2 on the Billboard chart. Bob Dylan named it his favourite single of 1969, and Ike and Tina Turner went on to record it, as did over 100 other artists.
CCR were defiantly on a roll, and their follow up single didn't disappoint: Bad Moon Rising was released and also peaked at #2 on the US chart, while going to #1 in the UK. The band appeared at both Woodstock and the Atlanta Pop Festival, and continued to tour, while the hits kept coming: Down on the Corner, Fortunate Son and two reworked Leadbelly covers, Cotton Fields and Midnight Special.
After touring Europe for the first time, the band returned to San Francisco to record what many consider is the finest CCR album, Cosmo's Factory. The work ethic of what was one of America's most committed bands can't be faulted. They released their fourth studio album, Willy And The Poor Boys in December 1969, seeing it peak at #3 in the Billboard album chart, where it stayed for 60 weeks, going double platinum in the process. But, even before the album's chart success, Creedence had gone back into the studio to record the first single A and B sides from their next album.
Released in January 1970, the double A-sided single, Travelin' Band / Who'll Stop The Rain?, was to peak at #2 on the Billboard Hot 100. The first of three double-A-sided singles released from Cosmo's Factory, Travelin' Band was an exciting rocker in the tradition of Little Richard, a pretty much autobiographical song about life on the road. Inspired by John Fogerty's love of 1950s rock n' roll songs, it was deemed so much in the Little Richard style that, in 1972, Richard's music publishers launched a plagiarism suit, based on the song's alleged similarity to Richard's Good Golly, Miss Molly, although the suit was settled out of court. Travelin' Band was also a UK hit, reaching #8 on the chart, and its use of horns indicated that Creedence were expanding their options from their traditional two guitars, bass and drums sound.
Who'll Stop The Rain? marked a new maturity on the part of John Fogerty's songwriting, and has endured as a song that is just as well regarded as any in Fogerty's canon. The song's three verses allude to a sense of undefined malaise, pondered by 'good men through the ages' and the Woodstock generation. In more of a folk-rock style than Travelin' Band, it was a thinly-veiled protest against the Vietnam War, with, in the final verse, references to music, large crowds, rain, and crowds trying to keep warm, inspired by the band's experience at the Woodstock Festival in August 1969.
Fogerty was quoted in Rolling Stone as saying: 'Certainly, I was talking about Washington, when I wrote the song…', and at a 2007 concert he said: 'I was at Woodstock 1969… I think. It was a nice event…It started to rain, and got really muddy, and then half a million people took their clothes off! … Anyway, then I went home and wrote this song.' Much covered by other artists including Bruce Springsteen, when Creedence Clearwater Revival was inducted into the Rock & Roll Hall of Fame in 1993, Springsteen performed the song with John Fogerty. Who'll Stop The Rain? even inspired the title of a 1978 film starring Nick Nolte, which saw its name changed from Dog Soldiers when the song became available for use.
Not content with a major US hit getting play on both its sides, the band went back in the studio in March 1970 to lay down two new Fogerty originals, Up Around The Bend and Run Through The Jungle. Written and recorded just before the band flew to Europe for their April tour there, the songs illustrated more sides to Creedence's sound. Up Around The Bend is a high-spirited energetic rock tune with a distinctive and catchy guitar riff.
The highly-regarded other track, Run Through The Jungle, in contrast, features Creedence's swampy choogling style, with jungle effects created by backwards guitar and piano, plus harmonica. Listed as Tom Fogerty's favourite CCR song, he said: 'It's like a little movie in itself with all the sound effects. It never changes key, but it holds your interest the whole time. It's like a musician's dream. It never changes key, yet you get the illusion it does.'
Credited by some as another anti-Vietnam song, John Fogerty corrected that impression in a 1993 interview with the Los Angeles Times, saying 'I was talking about America and the proliferation of guns, registered and otherwise. I'm a hunter and I'm not anti-gun, but I just thought that people were so gun-happy – and there were so many guns uncontrolled that it really was dangerous, and it's even worse now.' The double-sided Up Around The Bend / Run Through The Jungle climbed to #4 on the Billboard Hot 100 chart from May 1970, and was certified gold by the RIAA for sales of over one million copies. It was also Creedence's second-biggest UK hit, charting in June and hitting #3.
On the back of the first two smashes from the album, the final recording session took place in June 1970, yielding the third double-A side single in Lookin' Out My Back Door / Long As I Can See The Light. Lookin' Out My Back Door had a swinging, country-skiffle feel, with upbeat lyrics that reference Buck Owens, tangerines and elephants, and a temporary tempo change at the end of the song. All this, plus a country-style dobro, gave the band another hit, reaching #2 in Billboard's Hot 100, although it did actually hit #1 in Cashbox. Meanwhile Long As I Can See The Light started with electric piano and a gospel feel, echoed by the song's lyrics and a horn section, complete with sax solo.
In the UK, after Lookin' Out My Back Door had exited the charts, Long As I Can See The Light was promoted on its own and reached #20 in September, just before Cosmo's Factory hit the shops. The June 1970 sessions included one John Fogerty original, the uptempo Ramble Tamble, a seven-minute rocker, which started in the style of the early Sun sessions that were an obvious influence on the young Fogerty. After 2 minutes or so, the song changed tempo to a more leisurely mid-pace and featured an instrumental riff-based central section over three chords until 5:30 or so, when the original tempos returned, followed by one last verse.
The cover songs included Arthur 'Big Boy' Crudup's My Baby Left Me, famously made famous on Sun by Elvis Presley, and Roy Orbison's Ooby Dooby from the same stable. Before You Accuse Me was written by Bo Diddly, (Ellas McDaniel), and Creedence had already recorded it in the 1968 sessions for their debut album but it remained unreleased at the time. Remade for Cosmo's Factory, the song was later played live extensively by Eric Clapton. In the style of their earlier long workings of Suzie Q and Keep On Chooglin', the band completed the album with a full eleven minutes of the Norman Whitfield and Barrett Strong Motown classic I Heard It Through The Grapevine.
An album made during stress and chaos, filled with raging rockers, covers, and intense jams, Cosmo's Factory was finally released in the US in July 1970. Fogerty's classic compositions for Creedence both evoked enduring images of Americana and reflected burning social issues of the day. Bringing things back to their roots, the mix of rockabilly, swamp pop, R&B, and country was hugely successful on release. It became the band's only UK #1 album, and equaled that feat in the US, where it stayed in the chart for 69 weeks, going on to be certified 4 times Platinum for 4 million copies sold, the band's best-selling release.
Demonstrating its timeless appeal, in the film The Big Lebowski, Jeffrey 'The Dude' Lebowski has a cassette of the album in his car stereo. One car scene features Run Through The Jungle, while another scene depicting The Dude smoking marijuana in his car is accompanied by Lookin' Out My Back Door. In 2003, Cosmo's Factory was ranked #265 on Rolling Stone magazine's list of the 500 greatest albums of all time.