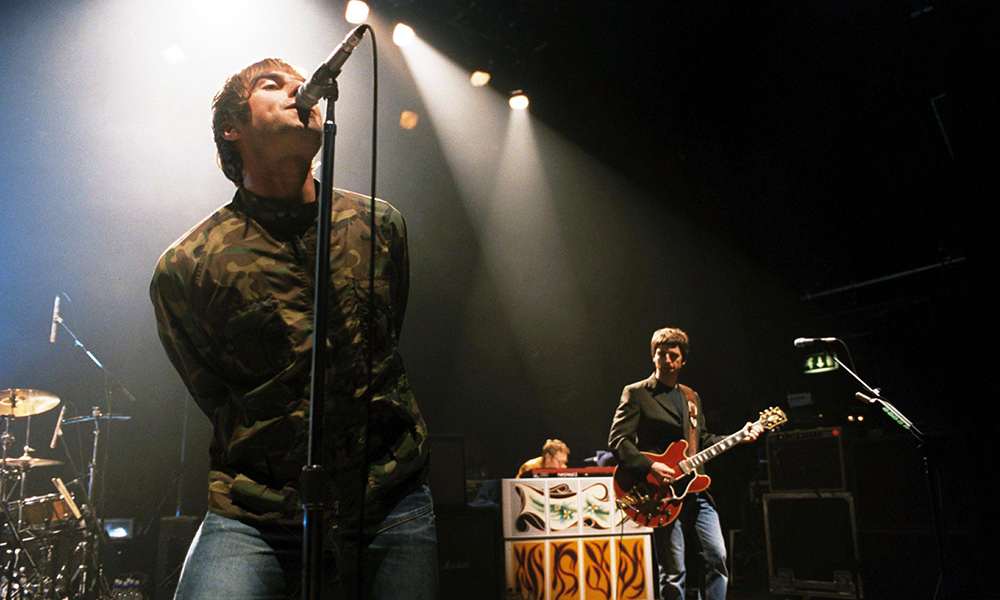 Oasis appeared almost from nowhere in 1991, just as the Madchester scene was fading. Oasis really did put the rock back into roll. They were rough and ready and willing to take on the world. They had that rare winning combination: great songs, attitude with lots of swagger, and Liam's elder brother Noel had been secretly plotting world domination for some years, crafting his songwriting skills while working as a guitar tech with another great Manchester band, The Inspiral Carpets.
When The Inspiral Carpets headlined Reading Festival in 1990, they brought a pantomime cow onto the stage. The band's guitar roadie Noel Gallagher was half that cow, his first headline appearance. But who's laughing now?
I was working at a Manchester radio station in the early '90s and had heard reports of Oasis playing blinding live sets in and around the city. I actually opened the door for a young, fresh-faced Noel Gallagher at the studio one early evening as he was coming in to give his first ever radio interview with the evening presenter Craig Cash. I didn't know it was the Oasis leader until the next day.
Oasis signed to independent record label Creation Records in 1993 when they were spotted by Creation co-owner Alan McGee and released their record-setting debut album Definitely Maybe (1994). The following year they recorded (What's the Story) Morning Glory? (1995) in the midst of a chart rivalry with Britpop peers Blur. Spending ten weeks at No.1 on the UK Albums Chart, (What's the Story) Morning Glory? was also an international chart success, and became one of the best-selling albums of all time.
Oasis were a proper rock 'n' roll band. They made headlines, they broke records and rules, and they had fights. They have had eight UK number one singles and eight UK number one albums, and won 15 NME Awards, nine Q Awards, four MTV Europe Music Awards, and six BRIT Awards. Oasis sold over 75 million records worldwide, making them one of the best-selling bands of all time. They are among the most successful acts on the UK Singles Chart and Albums Chart.
Oasis came to an end before a gig near Paris, France on 8 August 2009, following a fight between the Gallagher brothers in a backstage area, which reportedly resulted in Liam Gallagher breaking Noel's guitar.
As well as music, the two brothers had an amazing bond through football; both are lifelong Manchester City supporters (the team all true Mancunians follow, as opposed to Manchester United). Since the once struggling club was bought by the Abu Dhabi United Group, fans have seen a flurry of successful bids for high profile players, seeing City on a winning streak culminating in winning the 2011 FA Cup, ending their longest trophy drought in their 131-year history. But apparently because Liam was at Wembley to see his team win the cup, his brother Noel stayed in LA, not wanting to be in not just the same stadium as his brother, but not even in the same country!
They will come back one day; the brothers will make it up, and they will be great once more, I'm sure. They might even make another great record. Liam, you are the Jim Morrison of modern times. We miss you and your brother.
Important Dates In The Life Of Oasis:
3 Sep 2022
The Taylor Hawkins Tribute Concert was held in London, England. Sir Paul McCartney, Queen and AC/DC were among the rock royalty to pay tribute at Wembley; while
Liam Gallagher
opened the show with a fitting rendition of Oasis's 'Rock And Roll Star'. Foo Fighters frontman Dave Grohl choked back tears as he played the band's first show since the death of drummer Taylor Hawkins in March of this year. The star was singing 'Times Like These' when he paused to collect his emotions on the lyric: "It's times like these you learn to love again."
7 Jun 2022
Liam Gallagher
was at No.1 on the UK chart with his third solo studio album C'mon You Know. It was preceded by the lead single 'Everything's Electric', co-written by Dave Grohl, which charted at No.18 on the UK Singles Chart, becoming Gallagher's first solo single to reach the UK Top 20. C'mon You Know became Gallagher's fourth solo album to debut at No. 1 on the UK Albums Chart.
12 Mar 2022
Stereophonics scored their eighth UK No.1 with their 25th anniversary album Oochya! The achievement made them one of the most successful chart acts of all time, tying with
Taylor Swift
,
Oasis
,
Kylie Minogue
and
R.E.M.
- who also have had eight chart toppers.
The Beatles
have the most, with 15, followed by
Elvis Presley
and Robbie Williams, both of whom have 13.
29 Aug 2019
Noel Gallagher said he wanted to start a petition to break the
Foo Fighters
up. It followed Dave Grohl and co's headline performance at the UK Reading Festival, at which the frontman and Foos drummer Taylor Hawkins told the crowd they wanted to start a petition to get
Oasis
to reunite.
21 Jul 2017
Justin Bieber was banned from performing in China, according to Beijing's Culture Bureau. In a statement, the ministry said it was not appropriate to allow in entertainers who have engaged in "bad behaviour." The pop star, who was allowed to tour China in 2013, joined a long list of musicians who have found themselves similarly blacklisted. Most though, like the British band
Oasis
and the US group Maroon 5, because of perceived political statements, rather than on the grounds of bad behaviour.
6 Mar 2017
Ed Sheeran
's new album ÷ (Divide) became one of the fastest-selling releases ever in the UK, shifting 432,000 copies in just three days. The all-time list for first-week sales has
Adele
's 25 and
Oasis
's Be Here Now at the top with 800,000 each. ÷ smashed the Spotify record for the most-streamed album in a single day - notching up 56.7 million streams on its day of release.
28 Oct 2014
Police in Manchester England, said "an
Oasis
fan" could've been responsible for breaking into an art gallery to steal a picture of the band after a window was smashed at MASA-UK in Greater Manchester. The black-and-white painting by Olga Tsarevska Loma was inscribed with 'otz2013'.
12 Apr 2014
The Pulp hit 'Common People' was voted the top Britpop anthem by listeners of BBC Radio 6 Music in the UK, beating
Oasis
, Blur and Suede to take the title. More than 30,000 people voted, with The Verve's 'Bittersweet Symphony' second and
Oasis
tracks 'Don't Look Back in Anger' and 'Wonderwall' in third and fourth.
29 Dec 2012
According to sales data,
Adele
's 21 had overtaken
Oasis
' (What's The Story) Morning Glory? to become the UK's fourth biggest selling album of all-time. Latest data confirmed that,
Oasis
' 1995 second album had sold 4,555,000 copies to date, while
Adele
's 21 has surged ahead with sales of over 4,562,000 copies. The news came just over a year since 21 overtook
Amy Winehouse
's Back To Black to become the UK's biggest selling album of the 21st Century.
12 Nov 2012
A guitar signed by some of the biggest names in Manchester's music scene sold for £6,600 in a charity auction. The Madchester Guitar, which was sold through online auction site eBay, was covered in signatures from the likes of the Stone Roses,
Oasis
, Elbow and
Buzzcocks
.
18 Sep 2012
15 Jul 2012
Queen
were crowned top of the patriotic pops in a survey of 100,000 music fans. The band's anthem 'We Are The Champions' was named number one by fans who were asked what song made them proud to be British. The track, which got to number two in 1977, picked up 13,000 votes in the survey carried out among users of the Lucky Voice website. It was followed by the
Oasis
hit 'Wonderwall' which was nominated by 11,000 karaoke singers and then 'Let It Be' by
The Beatles
which got 10,000 votes.
Elton John
's 'Candle In The Wind' and 'London Calling' by
The Clash
rounded off the top five.
28 Aug 2009
Noel Gallagher quit
Oasis
saying he could no longer work with his brother Liam. Noel, the group's lead guitarist and chief songwriter, had recently been involved in a series of rows with Liam, and admitted he and his brother rarely spoke, did not travel together and only saw each other on stage. The guitarist said: "It's with some sadness and great relief to tell you that I quit
Oasis
tonight. The band were due to play the Rock en Seine festival in Paris but cancelled at the last minute. When the support band said
Oasis
would not be performing, many fans thought it was a joke.
25 Feb 2009
Winners at the 2009 NME Awards, held at London's O2 Academy included
Oasis
who won best British band, Elbow won the outstanding contribution to British music award. The Killers won best international band and Kings of Leon won best album for "Only by the Night" and
The Cure
won the godlike genius award.
12 Oct 2008
Oasis
went to No.1 on the UK album chart with 'Dig Out Your Soul' the band's seventh and final studio album.
9 Sep 2008
A man was charged with assault after an attack on
Oasis
guitarist Noel Gallagher during the band's set at the V Festival in Canada. Gallagher was admitted to hospital after a man ran on stage and pushed him over while he played guitar. Toronto police said Daniel Sullivan, 47, had been charged over the incident. A band statement said the guitarist "fell heavily on to his monitor speakers".
15 Jun 2008
Liverpool was voted England's most musical city in a national campaign set up by the Arts Council. The home of
The Beatles
Frankie Goes To Hollywood,
Orchestral Manoeuvres in the Dark
and The Zutons took 49% of the vote in an online poll set up by the funding body. Sheffield - which brought the world the Arctic Monkeys and Pulp - came second, while Manchester with
Oasis
, Stone Roses and
The Smiths
came third.
19 Feb 2008
Two releases by
Oasis
were voted the best British albums ever recorded in a poll of 11,000 people. Their 1994 album
Definitely Maybe
came top, while their 1995 follow-up (What's the Story) Morning Glory was second in the vote for Q magazine and HMV.
Radiohead
's OK Computer finished third, followed by
Revolver
by
The Beatles
and the Stone Roses' self-titled debut. The full list of 50 British albums included five by
The Beatles
.
14 Feb 2008
Oasis
singer
Liam Gallagher
married his long-term partner, the ex-All Saints singer Nicole Appleton at a civil ceremony in London. The venue, Westminster Register Office, was where Gallagher married his first wife, Patsy Kensit, in 1997.
18 Nov 2007
22-year-old
X Factor
winner Leona Lewis set a British record for the fastest-selling debut album with Spirit. The singer sold more than 375,000 copies in seven days, 12,000 more than the Arctic Monkeys' 2006 release Whatever People Say I Am, That's What I'm Not.
Oasis
still had the overall record for the fastest selling British album, selling 813,000 copies in 1997.
10 Oct 2007
Sting topped a list of the worst lyricists ever, for such alleged sins as name-dropping Russian novelist Vladimir Nabokov in
The Police
tune "Don't Stand So Close to Me," quoting a Volvo bumper sticker ("If You Love Someone Set Them Free"), and co-opting the works of Chaucer, St. Augustine and Shakespeare. The survey in Blender magazine placed Rush drummer Neil Peart at No. 2, Creed frontman Scott Stapp at No. 3 and
Oasis
guitarist Noel Gallagher at No. 4 saying Gallagher "seemed incapable of following a metaphor through a single line, let alone a whole verse."
26 May 2007
Contemporary musicians recorded their own versions of songs from the Beatles'
Sgt. Pepper
album to mark 40 years since it was released. Acts including
Oasis
, Travis, The Fray, Kaiser Chiefs, Razorlight,
Bryan Adams
and The Magic Numbers all worked with Geoff Emerick - the engineer in charge of the original 1967 sessions, using the original analogue 4-track equipment to demonstrates the techniques employed for the recording at Abbey Road studios in 1967.
14 Feb 2007
Winners at the 27th annual Brit Awards at London's Earls Court included Muse who won Best British Live Act, British Breakthrough Act went to The Fratellis. Winner of the Best International Breakthrough Act was Orson.
Take That
won the first-ever live vote, when they took home the Best British Single for 'Patience.' Arctic Monkeys were named Best British Group, James Morrison was named Best British Male and
Amy Winehouse
won Best British Female. Justin Timberlake won Best International Male and Nelly Furtado won Best International female. The Killers won Best International Group and Best International Album for Sam's Town and
Oasis
won the Outstanding Contribution to Music Award.
1 Jan 2007
Queen
beat
The Beatles
to be crowned greatest British band of all time by BBC Radio 2 listeners in the UK.They pipped the Fab Four in a live contest, trouncing other finalists The
Rolling Stones
,
Oasis
and
Take That
.The bands were judged on song-writing, lyrics, live performances, originality and showmanship.More than 20,000 listeners voted by email, text and phone.
1 Dec 2006
An
Oasis
fan enjoyed "the best day of his life" when Noel Gallagher popped round to his house in Poynton, Cheshire to play an intimate gig. Ben Hayes had won a BBC
Radio 1
competition to have the star play in his front room as part of a week of gigs compered by DJ Jo Whiley. 15 people packed into his lounge for the tiny gig - with his mother on hand making cups of tea for the crew.
1 Jun 2006
The 1994 debut album by
Oasis
,
Definitely Maybe
was voted the greatest album of all time in a survey to mark 50 years of the Official UK Albums Chart.
The Beatles
came in second and third place with
Sgt Pepper
's Lonely Hearts Club Band and
Revolver
, OK Computer by
Radiohead
was fourth and (What's the Story) Morning Glory by
Oasis
was voted fifth.
10 Sep 2005
The 1967 Beatles track 'A Day In The Life' from
Sgt Pepper
's Lonely Hearts Club Band was voted the best British song of all time by music experts. The survey by Q magazine called the track "the ultimate sonic rendition of what it means to be British".
The Kinks
' song 'Waterloo Sunset' came second in the poll and 'Wonderwall' by
Oasis
was voted in third place.
27 May 2005
13 Feb 2005
Readers of UK newspaper The Sun voted
George Michael
's 'Careless Whisper' as the greatest British pop single of the past 25 years.
Oasis
came second with 'Wonderwall' and
Kate Bush
third with 'Wuthering Heights'. The rest of the Top 10: No.4, Robbie Williams, 'Angels', No.5,
The Jam
, 'Going Underground', in equal 6th,
Sex Pistols
, 'God Save The
Queen
' and
Joy Division
, 'Love Will Tear Us Apart', 7th was
Queen
, 'We Are The Champions', 9th, The Stone Roses, 'Fool's Gold' and 10th The Undertones 'Teenage Kicks'.
20 Nov 2004
Oasis
singer
Liam Gallagher
was fined £40,000 after a fight in a German hotel. Gallagher was arrested along with drummer Alan White and three other members of the band's entourage after the brawl in Munich in December 2002. Gallagher lost two front teeth in the fight, which led to the band abandoning their German tour.
13 Aug 2004
'Angels' by Robbie Williams was voted the best single which should have been a No.1 but never was, in a poll for VH1. The ballad, which reached No.4 in December 1997, beat Savage Garden's 'Truly, Madly, Deeply' and
Aerosmith
's 'I Don't Want To Miss A Thing.' Other songs said to have deserved a No.1 included
Madonna
with 'Ray of Light', 'Beautiful Stranger', 'Crazy For You' and 'Material Girl',
Bon Jovi
with 'Always' and
Oasis
with 'Wonderwall' and 'Live Forever'. Sir Cliff Richard's hit 'Millennium Prayer' was voted the worst No.1 single of all time.
4 Feb 2004
Police questioned Noel Gallagher after a photograph of him trespassing on a railway line appeared in a newspaper. The
Oasis
guitarist was in a studio in Cornwall recording the bands new album when he took a walk along the railway line. British Transport Police said 'he was setting a bad example.'
2 Dec 2002
Oasis
singer
Liam Gallagher
was arrested and charged with assault after he Kung-Fu kicked a police officer. The incident happened at the Bayerischer hotel in Munich, the singer lost his two front teeth in the brawl and an
Oasis
minder was knocked out cold.
28 Nov 2002
Tony McCarroll the original drummer with
Oasis
failed in a bid to sue the group's lawyers after he was sacked because he took too long to file his claim. Judge Justice Gray, at the High Court in London, told McCarroll his case could not proceed because he had brought his claim outside of the six-year time limit.
7 Aug 2002
Three members of
Oasis
were injured when the taxi they were travelling in was involved in a crash during a US tour in Indianapolis. Noel Gallagher, Andy Bell and Jay Darlington were all taken to hospital and treated for cuts and bruises.
21 Apr 2002
Oasis
went to No.1 on the UK singles chart with 'Hindu Times', the bands sixth UK No.1 and the first single to be released from their fifth album Heathen Chemistry.
19 Apr 2002
Police were investigating how tracks from the forthcoming
Oasis
album 'Heathen Chemistry' had been illegally circulated on the Internet. They thought the person responsible had access to their private recording sessions.
13 Apr 2002
Thieves broke in to a house in Bexhill, Sussex and stole a hi-fi system and several CD's. They left albums by
Madonna
, Robbie Williams and
Oasis
but took the owners entire Showaddywaddy collection.
3 Jan 2002
Liam and Noel Gallagher topped a poll of celebrities you would least like to live next to, getting 40% of the vote. Readers of Your Home magazine voted the brothers from
Oasis
as 'Neighbours From Hell'.
4 Aug 2001
Dave Stewart married fashion photographer Anouska Fisz on a private beach on the French Riviera. Guest's included
Elton John
,
Mick Jagger
,
Oasis
brothers Liam and Noel Gallagher and his former Eurythmics partner Annie Lennox.
25 May 2001
Oasis
guitarist Noel Gallagher won a damages settlement from The Daily Mirror after they claimed he lied in court during divorce proceedings with Meg Matthews.
11 May 2001
Oasis
, The Black Crowes and Spacehog kicked off 'The Tour of Brotherly Love', a North American tour at The Hard Rock in Las Vegas, Nevada. (The three bands featuring pairs of brothers, (Noel and
Liam Gallagher
, Chris and Rich Robinson, Royston and Antony Langdon, respectively).
18 Jan 2001
Oasis
guitarist Noel Gallagher was granted a quickie divorce from Meg Matthews at the High Court in London. The couple had split last September, eight months after Meg had given birth to their daughter, Anais.
12 Jan 2001
British Airways staff complained about
Oasis
singer
Liam Gallagher
after he had grabbed a stewardess' bottom, refused to stop smoking and threw objects around the cabin during a flight from London to Rio De Janeiro.
4 Jan 2001
Madame Tussaud's waxworks in London revealed that
Oasis
singer
Liam Gallagher
had come third in 'The Most Hated Characters' list of exhibits, behind Adolf Hitler and Slobodan Milosevic.
26 Nov 2000
Manchester club the Hacienda was auctioned off raising £18,000 for charity.
Madonna
made her UK TV debut at the club when C4 music show
The Tube
was broadcast live from the venue.
Oasis
, Happy Mondays,
U2
, New Order, Stone Roses,
The Smiths
and James all played at the club.
31 Oct 2000
Winners at this years Q Awards included, David Gray, best single for 'Babylon',
Oasis
won best live act,
Coldplay
won best album for Parachutes, best act in the world went to Travis, Badly Drawn Boy won best new act and former Clash member
Joe Strummer
won the Q Inspiration award.
22 Oct 2000
George Michael
paid £1.45m for the Steinway piano on which
John Lennon
wrote '
Imagine
'. George said, "I know that when my fingers touch the keys of that Steinway, I will feel truly blessed. And parting with my money has never been much of a problem, just ask my accountant." The singer outbid Robbie Williams and The
Oasis
brothers.
26 Jul 2000
Oasis
were booed of stage during a show at the Paleo Festival in Switzerland after singer
Liam Gallagher
had insulted the 35,000 strong audience.
15 Jul 2000
An
Oasis
fan was killed when he tried to walk home along the M61 motorway in Manchester, England after Oasis had played a sold-out gig at The Reebok stadium.
14 Jun 2000
Noel Gallagher from
Oasis
was voted into first place in Melody Maker's annual 'Un-coolest People in Rock' survey. Marilyn Manson came second and Robbie Williams was voted third.
13 Jun 2000
23 May 2000
Noel Gallagher walked out on his band
Oasis
during a European tour. The move was put down to a series of burst-ups with his brother Liam. The band drafted in replacement guitarist Matt Deighton for the rest of the European dates.
25 Sep 1999
Oasis
singer,
Liam Gallagher
was stopped by customs officials at Heathrow airport and made to pay £1300 after not declaring a fur coat he had bought in America.
10 Aug 1999
It was announced that
Oasis
rhythm guitarist Paul 'Bonehead' Arthur's had quit the band after finishing his guitar parts on the bands new album.
7 Jul 1999
It was reported that to attract young people to their mobile vans UK ice cream sellers would start to play pop hits as music instead of the traditional chimes.
Spice Girls
and
Oasis
hits would be the first to be played.
12 Jun 1999
It was reported that
Oasis
had paid Gary Glitter £200,000 ($340,000) as an out-of-court settlement after being accused of using the Gary Glitter lyric, 'Hello, hello, it's good to be back' in the song 'Hello'.
3 Mar 1999
Oasis
agreed to pay their former drummer Tony McCarroll a one-off sum of £550,000 ($935,000) after he sued the Manchester band for millions in unpaid royalties. McCarroll had been sacked from the band in 1995.
4 Nov 1998
Oasis
singer
Liam Gallagher
was arrested after an alleged drunken brawl with photographer Mel Bouzac at a London pub. Bouzac had been tipped off that Liam was in the pub wearing a Russian hat and attempted to take photos.
19 Oct 1998
Oasis
guitarist Noel Gallagher made a surprise appearance at the launch party of the new London venue Sound Republic. He jammed onstage with Pete Townshend and members from Ocean Colour Scene and Boo Radleys.
9 Jun 1998
Oasis
singer
Liam Gallagher
and Simply Red singer Mick Hucknall were involved in a brawl at The Metropolitan Hotel, London.
8 Jun 1998
Oasis
guitarist Noel Gallagher, Paul Weller and Martin Carr from The Boo Radleys were all involved in a fight at Dingwalls, Camden in London.
6 Mar 1998
Oasis
singer
Liam Gallagher
appeared handcuffed in a Brisbane court on charges of head butting a fan during a gig in Australia. Gallagher was released on bail.
23 Feb 1998
All members of
Oasis
were banned for life from flying Cathay Pacific Airlines after "abusive and disgusting behaviour" during a flight from Hong Kong to Perth, Australia.
18 Feb 1998
Oasis
' Noel Gallagher's Epiphone Supernova guitar raised £4,600 ($7,820) in aid of Children In Need at a Bonhams auction held in London, England.
28 Jan 1998
Oasis
guitarist Noel Gallagher played a 20-minute solo gig at the King Head, an English pub in Santa Monica in front of 250 fans.
24 Jan 1998
Oasis
went to No.1 on the UK singles chart with 'All Around The World'. The longest running-time for a UK No.1 with a total duration of 9 minutes 38 seconds. It was one of the first songs to be written by Noel Gallagher, with the band rehearsing it as early as 1992.
11 Jan 1998
Rolling Stone magazine readers poll picked Be Here Now by
Oasis
as album of the year. Be Here Now was an instant commercial success, becoming the fastest-selling album in British chart history and topping the album chart in 15 countries. It was the biggest-selling album of 1997 in the UK, with 1.47 million units sold that year. As of 2016, the album has sold eight million copies worldwide.
31 Aug 1997
Oasis
went to No.1 on the UK album chart with their third album 'Be Here Now.' The album had sold over a million copies on the first day of release. At that point,
Oasis
were at the height of their fame, and 'Be Here Now' became the United Kingdom's fastest selling album to date.
21 Aug 1997
Oasis
' third album 'Be Here Now', became one of the fastest selling albums ever, shifting over 350,000 units on the first day of release. The cover image for Be Here Now was shot at Stocks House in Hertfordshire, the former home of Victor Lownes, the head of the Playboy Clubs in the UK.
20 Aug 1997
BBC TV aired the documentary '
Oasis
Right Here Right Now', with the group talking about their troublesome last year, plus performances of three new songs from the Manchester band.
24 Jul 1997
Police gave
Oasis
singer
Liam Gallagher
a formal caution after he admitted criminal damage following an incident with a cyclist in Camden, north London. Gallagher had grabbed the rider from the window of his chauffeur driven car and broken the man's Ray-Bans sunglasses.
19 Jul 1997
Oasis
went to No.1 on the UK singles chart with 'D'You Know What I Mean'. The first single from their third album 'Be Here Now'.
7 Jun 1997
Oasis
guitarist Noel Gallagher played a five-song set at the Tibet Freedom Concert, Downing Stadium in New York City.
U2
, Patti Smith and
Radiohead
also appeared at the concert.
27 May 1997
Oasis
singer
Liam Gallagher
was left with cuts and bruises after a scuffle with a youth at the Tower Thistle Hotel in east London. Members of the band had been drinking at the bar when the fight broke out.
15 May 1997
Oasis
became one of the first artists to attempt to exert censorship over the Internet. The group were working with Sony to put an end to unofficial websites carrying lyrics, sound files and photographs of the band.
9 Nov 1996
Oasis
singer
Liam Gallagher
was arrested after being stopped by police in London's Oxford Street and charged with possession of a class A controlled substance.
13 Sep 1996
Both Noel and
Liam Gallagher
arrived back in the UK on separate flights from the US amid rumours that
Oasis
were splitting. A statement from the record company said there would be no live gigs but the band would continue to record.
11 Sep 1996
Noel Gallagher walked out on the rest of
Oasis
half way through an American tour after a fight with his brother Liam in a hotel in Charlotte North Carolina. Noel flew back to London the following day.
4 Sep 1996
Oasis
created outrage at the
MTV
awards held at New York's Radio City Hall. During the bands performance of 'Champagne Supernova' singer Liam spat on stage and threw a beer into the crowd.
29 Aug 1996
Liam Gallagher
was reunited with the rest of
Oasis
in Chicago after a week of speculation on their future of the group, after he had walked out on the band a few days earlier.
24 Aug 1996
Oasis
singer
Liam Gallagher
failed to turn up for the recording of the bands
MTV
unplugged session at London's Royal Festival Hall in front of 400 fans. He later sat in the audience and watched the show with his brother Noel taking over on vocals.
4 Aug 1996
Oasis
played two sold out nights at Balloch Castle Country Park, Loch Lomand, Scotland to over 80,000 fans.
Oasis
roadie James Hunter was crushed to death between a fork-lift truck and a lorry during the bands two days shows.
13 May 1996
Oasis
became the fastest selling group in UK history after all 330,000 tickets for their summer shows sold out in just nine hours, the tickets for shows at Knebworth and Loch Lomand were priced at £22.50.
27 Apr 1996
Oasis
played the first of two nights at Manchester's Maine Road football ground as a 'thank you' to their fans, the 80,000 tickets sold out in hours.
2 Mar 1996
Oasis
scored their second UK No.1 single when 'Don't Look Back In Anger' went to No.1. From the bands 'What's The Story Morning Glory' album it was the first Oasis single to feature Noel on lead vocals instead of his brother,
Liam Gallagher
.
19 Feb 1996
Winners at this year's Brit Awards included Paul Weller who won British Male Solo Artist, British Female Solo Artist went to Annie Lennox,
Oasis
won British Group, Best Album for '(What's The Story) Morning Glory' and Best British Video for 'Wonderwall. British Breakthrough Act went to Supergrass, International Group was
Bon Jovi
, International Breakthrough Act went to
Alanis Morissette
and
David Bowie
was awarded Outstanding Contribution to music. Pulp singer Jarvis Cocker was arrested after a stage invasion during
Michael Jackson
's appearance, (who won Artist of a Generation). Cocker was accused of attacking children who were performing with Jackson; all charges against Cocker were dropped on March 11th of this year.
14 Jan 1996
Oasis
went to No.1 on the UK album chart with '(What's The Story) Morning Glory', the group's second UK No.1 spent a total of 145 week's on the chart.
17 Oct 1995
During an interview with The Observer magazine Noel Gallagher from
Oasis
said he wished Damon Albarn and Alex Cox of Blur would die from AIDS. He later retracted his statement.
2 Oct 1995
Oasis
released their second album '(What's The Story), Morning Glory', which entered the UK chart at No.1. The album has gone on to sell over 18 million copies worldwide, and it won the award for the best British Album of the last 30 Years at the 2010 Brit Awards.
4 Sep 1995
Blur,
Oasis
,
Radiohead
, Paul Weller, Manic St Preachers and The Stone Roses all recorded tracks for the 'War Child' charity album, which was released five days later. All profits went to children caught up in the current war in former Yugoslavia.
26 Aug 1995
Blur scored their first UK No.1 single with 'Country House' and won a media battle with
Oasis
for the No.1 position. Both acts released their new singles on the same day, 'Country House' topped the chart, selling 270,000 copies, compared to 'Roll with It' which sold 220,000, seeing
Oasis
entering the chart at No.2.
23 Jun 1995
Drummer Alan White made his live debut with
Oasis
at Glastonbury Festival. Also former
Take That
member Robbie Williams appeared on stage with the band during the show.
6 May 1995
Oasis
scored their first UK No.1 single when 'Some Might Say' went to the top of the UK charts. It was the first single to be released from the Manchester bands second album '(What's the Story) Morning Glory?' And the last
Oasis
track to feature original drummer Tony McCarroll.
24 Apr 1995
Oasis
released 'Some Might Say' which went on to give the band their first UK No.1 single. The planned promo video for the song was cancelled due to Liam not turning up for the shoot. Instead, a makeshift video was created using footage from the 'Cigarettes & Alcohol', US 'Supersonic' and UK 'Whatever' videos.
18 Apr 1995
Oasis
drummer Tony McCarrol was told by phone that he was being sacked from the group. McCarrol sued the Manchester group for millions in unpaid royalties and in 1996
Oasis
agreed to pay him a one-off sum of £550,000 ($935,000).
5 Sep 1994
Oasis
appeared at The Hacienda in Manchester to celebrate the launch of their debut album
Definitely Maybe
. The album went on to become the fastest selling debut album of all time in the UK and marked the beginning of
Oasis
' success in America, selling over one million copies there.
30 Aug 1994
Oasis
performed a selection of new songs at London's Virgin Mega store Marble Arch. Main man from The Lemonheads Evan Dando joined the band for a new song called 'Whatever'.
29 Aug 1994
Oasis
released their debut album
Definitely Maybe
which went on to spend 177 weeks on the UK chart. It also became the fastest selling debut album of all time in the UK and the album went on to sell over eight million copies worldwide.
13 Aug 1994
Members from
Oasis
and The Verve were arrested after smashing up a hotel bar and breaking into a church to steal communion wine. Both bands had been appearing at Hulsfred Festival in Sweden.
9 Aug 1994
During an
Oasis
gig at The Riverside in Newcastle upon Tyne, England, guitarist Noel Gallagher was hit in the face by a man who had jumped on the stage. Noel refused to carry on playing and after leaving the stage a mob of over 300 people attacked the bands bus as they were leaving.
21 Jul 1994
Oasis
played their first ever American show as part of the New Music Seminar at Wetlands in New York City.
29 Jun 1994
11 Apr 1994
Oasis
released their first single 'Supersonic' which peaked at No.31 on the UK charts. However, over time it has amassed sales of over 215,000, making it their 13th biggest selling single ever in the UK. 'Supersonic' was also the band's first single to chart in the United States, where it peaked at No. 11 on the US Billboard Modern Rock Tracks chart.
8 Feb 1994
Oasis
were forced to cancel their first foreign tour after they were deported from Holland. The band were involved in a drunken brawl on a cross-channel ferry resulting in members of the band being arrested and locked in the brig on the ferry.
7 Jan 1994
Oasis
started recording their debut album
Definitely Maybe
at Monnow Valley Studio in South Wales. When released in August 1994, it became the fastest selling debut album of all time in the UK, (being surpassed in 2006 by Arctic Monkeys debut album Whatever People Say I Am, That's What I'm Not). The album went on to sell over 12 million copies worldwide.
22 Oct 1993
Oasis
signed a six-album deal with Creation Records for a £40,000 advance.
31 May 1993
Sister Lovers, 18 Wheeler, Boyfriend and
Oasis
appeared at King Tuts in Glasgow, Scotland. Creation Records boss Alan McGee who was in the audience declared after seeing
Oasis
, 'I've found the greatest rock 'n' roll band since
The Beatles
'. McGee had missed a train at nearby Queen Street station, and decided to head to Tuts to kill time before the next one. He signed Oasis to his Creation label.
11 Mar 1993
Oasis
recorded their first demos at The Real People's studio in Liverpool. The set included 'Rock 'n' Roll Star', 'Columbia' and 'Fade Away.'
19 Oct 1991
Oasis
played The Boardwalk in their hometown Manchester, the group's first gig with Noel Gallagher in the group.
18 Aug 1991
Sweet Jesus appeared at the Boardwalk, Manchester. Support act was The Rain (later to become
Oasis
) minus Noel Gallagher who had yet to join his brothers band.
26 Jan 1991
Queen
had their second UK No.1 with 'Innuendo'. At 6 minutes 30 seconds, it exceeded their epic '
Bohemian Rhapsody
' by 35 seconds and became the third longest UK No.1 song of all time, behind
The Beatles
'Hey Jude'
and
Simple Minds
'Belfast Child' (subsequently the 9 minutes 38 seconds 'All Around The World' by
Oasis
took over the top slot and demoted Innuendo to fourth place). For 'Innuendo's' flamenco guitar solo, Brian May was joined by Yes guitarist Steve Howe.
21 May 1982
The Hacienda Club was opened in Manchester, England.
Madonna
made her UK TV debut at the club when C4 music show
The Tube
was broadcast live. Home to many Manchester acts including
Oasis
, Happy Mondays,
The Smiths
, Charlatans, James, M People who all played at the club, (The club closed in 1997).
15 May 1968
George Harrison
and
Ringo Starr
attended the premiere of Wonderwall at the Cannes Film Festival. The 1968 film by first-time director Joe Massot starred Jack MacGowran and Jane Birkin, and featured cameos by Anita Pallenberg. The soundtrack was composed by then-Beatle
George Harrison
. The film provides the name for the
Oasis
track 'Wonderwall', which was inspired by
George Harrison
's score.
2 Feb 1962
The Beatles
played their first professionally organised gig outside of Liverpool at The Oasis Club, Manchester. The groups set started with their version of 'Hippy Hippy Shake'.