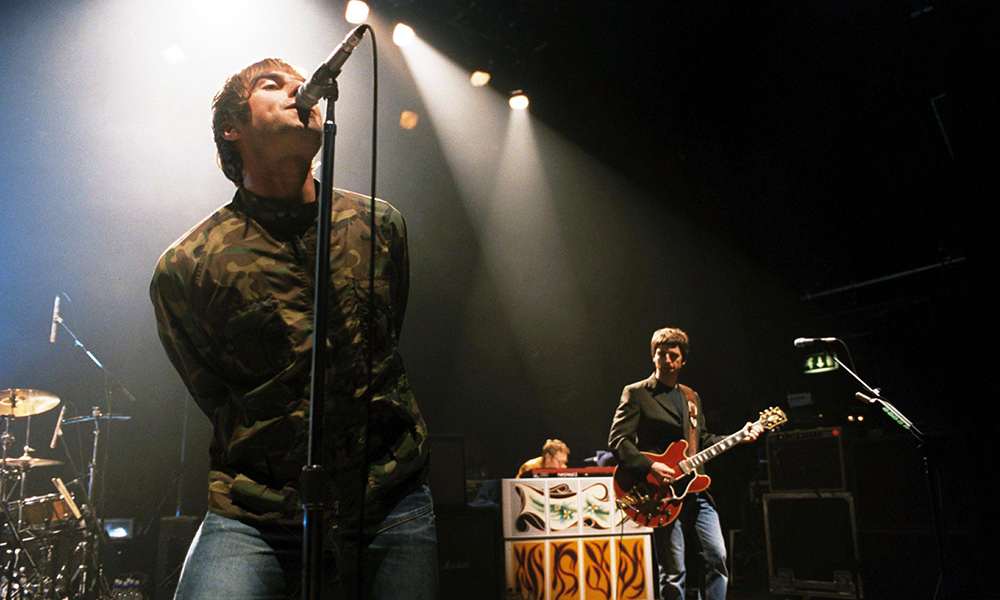 Oasis appeared almost from nowhere in 1991, just as the Madchester scene was fading. Oasis really did put the rock back into roll. They were rough and ready and willing to take on the world. They had that rare winning combination: great songs, attitude with lots of swagger, and Liam's elder brother Noel had been secretly plotting world domination for some years, crafting his songwriting skills while working as a guitar tech with another great Manchester band, The Inspiral Carpets.
When The Inspiral Carpets headlined Reading Festival in 1990, they brought a pantomime cow onto the stage. The band's guitar roadie Noel Gallagher was half that cow, his first headline appearance. But who's laughing now?
I was working at a Manchester radio station in the early '90s and had heard reports of Oasis playing blinding live sets in and around the city. I actually opened the door for a young, fresh-faced Noel Gallagher at the studio one early evening as he was coming in to give his first ever radio interview with the evening presenter Craig Cash. I didn't know it was the Oasis leader until the next day.
Oasis signed to independent record label Creation Records in 1993 when they were spotted by Creation co-owner Alan McGee and released their record-setting debut album Definitely Maybe (1994). The following year they recorded (What's the Story) Morning Glory? (1995) in the midst of a chart rivalry with Britpop peers Blur. Spending ten weeks at No.1 on the UK Albums Chart, (What's the Story) Morning Glory? was also an international chart success, and became one of the best-selling albums of all time.
Oasis were a proper rock 'n' roll band. They made headlines, they broke records and rules, and they had fights. They have had eight UK number one singles and eight UK number one albums, and won 15 NME Awards, nine Q Awards, four MTV Europe Music Awards, and six BRIT Awards. Oasis sold over 75 million records worldwide, making them one of the best-selling bands of all time. They are among the most successful acts on the UK Singles Chart and Albums Chart.
Oasis came to an end before a gig near Paris, France on 8 August 2009, following a fight between the Gallagher brothers in a backstage area, which reportedly resulted in Liam Gallagher breaking Noel's guitar.
As well as music, the two brothers had an amazing bond through football; both are lifelong Manchester City supporters (the team all true Mancunians follow, as opposed to Manchester United). Since the once struggling club was bought by the Abu Dhabi United Group, fans have seen a flurry of successful bids for high profile players, seeing City on a winning streak culminating in winning the 2011 FA Cup, ending their longest trophy drought in their 131-year history. But apparently because Liam was at Wembley to see his team win the cup, his brother Noel stayed in LA, not wanting to be in not just the same stadium as his brother, but not even in the same country!
They will come back one day; the brothers will make it up, and they will be great once more, I'm sure. They might even make another great record. Liam, you are the Jim Morrison of modern times. We miss you and your brother.