John Lennon was born on 9th Oct 1940.
The Beatles sold over 20m singles worldwide, (1962-1970), and scored more UK & US No.1 albums than any other group. Their 1967 Sgt. Pepper album is the UK's biggest selling album ever. In 1990 Lennon's song 'Imagine' was played simultaneously in 130 countries to commemorate what would've been Lennon's 50th birthday. He was shot dead in New York by Mark Chapman on 8th December 1980.
His was the voice and vision that powered such Beatles classics as 'All You Need Is Love' and 'Strawberry Fields Forever.' Yet Lennon also had a dark side that found expression in pained outcries dating as far back as 'Help,' and his was the most naturally adventuresome musical spirit in the band, as evidenced by such tracks as
'I Am The Walrus' and 'Being for the Benefit of Mr. Kite.'
On a misty June day in 1971, John and Yoko spent the day filming the 'Imagine' promotional film at their home in Tittenhurst Park Ascot, England. The footage included the morning walk on the grounds though the mist and Lennon singing 'Imagine' in the white room on his white piano.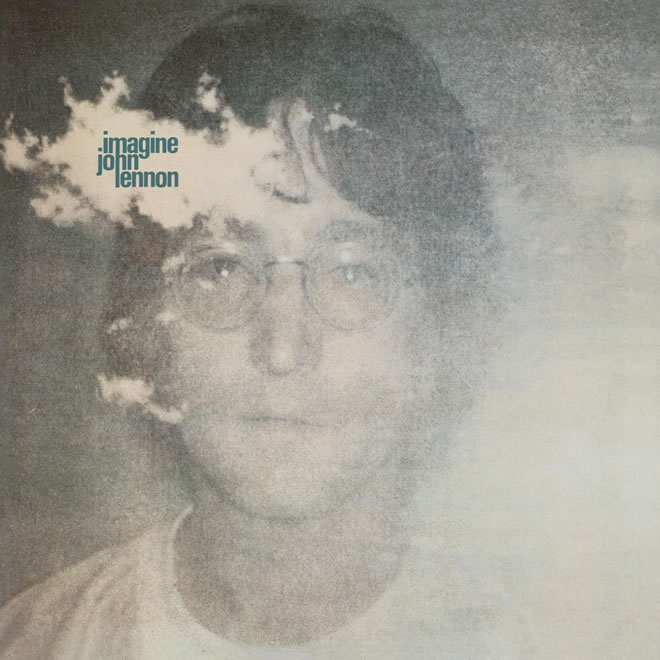 We've all seen the video so many times – which by today's standards and pre MTV is basic to say the least. But the song didn't need a flash accompanying video. The song said it all. And so did Lennon who in 1971 was enjoying his new-found freedom as a solo artist after leaving the most successful group of all time.
And what a brilliant song it is. The opening track from his second 'proper' release has gone on to be Lennon's signature tune. Just two other people play on the track. Klaus Voormann is on bass – he and John met when The Beatles were playing one of their many long residencies in Hamburg Germany. Voormann who is also the artist who designed the cover for The Beatles album Revolver and the Beatles Anthology series. Drummer Alan White was a member of Lennon's Plastic Ono Band before becoming a member of Yes and then becoming a much sought-after session musician.
When asked about the song in one of his last interviews, Lennon declared, 'Imagine' to be as good as anything he had written with the Beatles. The song's central theme was inspired by Cloud Piece, a three-line instructional poem that appeared in Yoko Ono's 1964 book 'Grapefruit'. The words were reproduced on the back cover of the Imagine album.
Talking about the song when interviewed for Playboy magazine shortly before his death, Lennon stated "It's not a new message: With Imagine we're asking, "can you imagine a world without countries or religions?"
The accolades have been immense.
In 1999 BMI named 'Imagine' one of the top 100 most-performed songs of the 20th century. In 2002, Imagine was named the second-best single of all time behind Queen's 'Bohemian Rhapsody', in a UK poll conducted by the Guinness World Records British Hit Singles Book. In 2004, Rolling Stone ranked Imagine at #3 in its list of "The 500 Greatest Songs of All Time." The slogan of Liverpool John Lennon Airport is "Above Us Only Sky."
In 2000, George Michael paid £1.45m for the Steinway piano on which John Lennon wrote 'Imagine.' George said, "I know that when my fingers touch the keys of that Steinway, I will feel truly blessed".
The Lennon's left their home in Tittenhurst Park in 1971, (his former drummer and friend Ringo Starr bought the property from him). When John flew to New York City on the morning of 13th August 1971, he would never set foot on British soil again.
Imagine.