April 15th: The Biggest Music Headlines
Scroll down the page to see all the music headlines, stories and events for April 15 throughout music history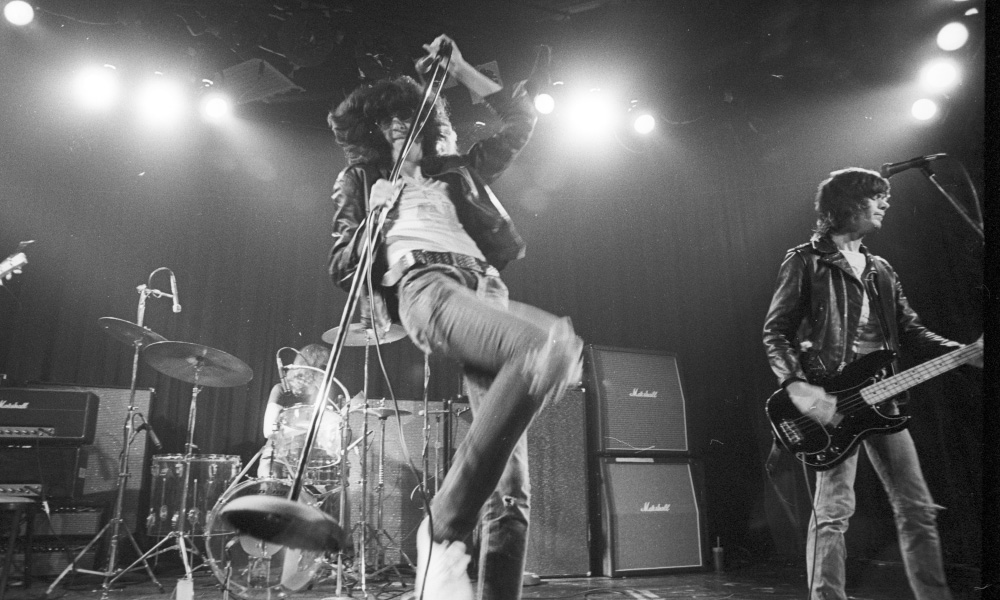 Punk-Rock Pioneer Joey Ramone Dies
In 2001, 49-year-old Joey Ramone, the frontman of the iconic punk band the Ramones, succumbed to a long-term battle with lymphoma. Born Jeffrey Hyman, Ramone began as a drummer when the band formed in 1974, before taking over as lead singer for their self-titled 1976 debut. Viewed as the antidote to the overindulgences of progressive rock, The Ramones helped ignite the punk-rock revolution and became renowned for their short, fast songs, driving guitars, and infectious choruses. Joey's first solo album, Don't Worry About Me, which included a cover of Louis Armstrong's "What A Wonderful World," was released posthumously in 2002.
In 1972, soul singer Roberta Flack scored her first US No.1 with "The First Time Ever I Saw Your Face," which spent six weeks at the top of Billboard's Hot 100. It was the North Carolina singer/pianist's version of a folk ballad that was written in 1957 by British singer-songwriter Ewan MacColl. While Flack recorded the song in 1969, it was overlooked until the actor and film director Clint Eastwood revived the tune in the soundtrack of his 1971 movie, Play Misty For Me.
In 1957, Jerry Lee Lewis released his first charting single, "Whole Lotta Shakin' Goin' On," for Sam Phillips' Memphis-based Sun label. The song, previously recorded in 1955 by blues singer Big Maybelle, stalled at No.3 on the Hot 100 but topped the US country and R&B charts.
In 1996, the remainder of Grateful Dead leader Jerry Garcia's ashes were scattered near San Francisco's Golden Gate Bridge after a small portion had been dispersed in India's Ganges River 11 days earlier. Garcia died on August 9 of the previous year.
Looking for more things that happened on this day in music?
Keep scrolling for all of the headlines for April 15.
BORN ON APRIL 15:
1894: Bessie Smith (Blues singer)
1965: Linda Perry (4 Non Blondes)
1967: Frankie Poullian (The Darkness)
1968: Ed O'Brien (Radiohead)
1978: Luis Fonsi
1978: Chris Stapleton
1980: Patrick Carney (The Black Keys)
1987: Iyaz (Singer-songwriter and dancer)
Looking for more artists born on this day?
Keep scrolling for all of our April 15 birthdays.
---
What to find another day?
---
April 15th
15 Apr 2022
Three independent artists - Wet Leg, Father John Misty and Jack White - took the top positions in the UK albums chart for the first time in more than 11 years. Wet Leg, the Isle of Wight indie duo, went in at No.1 with their eponymous debut. They managed to outsell the rest of the top five combined in the process.
15 Apr 2019
English songwriter Les Reed died age 83. His major songwriting partners were Gordon Mills, Barry Mason and Geoff Stephens, although he wrote songs with many others such as Roger Greenaway, Roger Cook, Peter Callander, and Johnny Worth. Reed co-wrote around sixty hit songs, and is best known for 'It's Not Unusual', 'Green, Green Grass of Home' and 'Delilah', (hits for Tom Jones) as well as 'The Last Waltz' (Engelbert Humperdinck).
15 Apr 2015
It was reported that Digital music revenues matched physical sales for the first time in 2014, thanks to strong growth in the streaming market. The digital market rose 6.9% to $6.9 billion (£4.6 billion), representing 46% of all global music sales. CDs, vinyl and other physical formats also accounted for 46% of the market. Pharrell Williams's 'Happy' was the most-downloaded single globally in 2014, with
Taylor Swift
the most popular artist.
15 Apr 2010
After receiving some bad reviews and even enduring some boos during her performance,
Whitney Houston
brushed off criticism of her first show in the UK in over eleven years by insisting she was playing to a 'tough crowd'. She had recently been hospitalized with chronic rhinopharyngitis, which is a swelling of the membranes in the nose and throat.
15 Apr 2005
John Fred Gourrier, singer from John Fred and his Playboy Band died after a long battle with kidney disease aged 63. Had the 1967 US No.1 single 'Judy in Disguise (With Glasses)', a parody of
The Beatles
song 'Lucy in the Sky with Diamonds'.
15 Apr 2003
Beyonce was sued by the Wilhemina Artist Agency who claimed she hadn't paid them the commission for her L'Oreal ads. The agency claimed the singer refused to pass on the 10 percent of the $1m (£640,000), deal that was brokered by the agency.
15 Apr 2001
Punk pioneer Joey Ramone (Jeffrey Ross Hyman) singer of the
Ramones
died after losing a long battle with lymphatic cancer aged 49. On November 30, 2003, a block of East 2nd Street in New York City was officially renamed Joey Ramone Place.
15 Apr 1999
The body of
Tammy Wynette
was exhumed from her grave in an attempt to settle a dispute over how the country music legend died. A new autopsy was conducted on her a week after three of her daughters filed a wrongful death lawsuit against her doctor and her husband and manager, George Richey, claiming they were responsible for her death 12 months ago. Richey said he had requested the autopsy because of the allegations made against him.
15 Apr 1996
Milli Vanilli singer Rob Pilatus was jailed for 90 days by a Los Angeles judge for three violent attacks and parole violation.
15 Apr 1996
The rest of
Jerry Garcia
's ashes were scattered near the Golden Gate Bridge in San Francisco. A small portion had been scattered in the Ganges River in India 11 days earlier. The
Grateful Dead
leader had died on 9th Aug 1995.
15 Apr 1989
American all girl group The Bangles started a four week run at No.1 on the UK singles chart with 'Eternal Flame.' Also a No.1 in Australia (biggest selling single of 1989) and the United States.
15 Apr 1982
Billy Joel
was reported to be in ''quite good'' condition after major surgery at Columbia Presbyterian Medical Center in New York. The singer broke his left wrist when his 1978 Harley Davidson hit a car in Long Island, New York. The hospital switchboard was jammed with calls from his fans, and Joel issued a plea through a spokesman that the calls ceased because they were ''tying up lines for those people who are really sick.''
15 Apr 1978
Television were forced to postpone their gig at Bristol's Colston Hall after the 40 foot truck carrying their equipment was involved in a crash killing the driver.
15 Apr 1972
Roberta Flack started a six week run at No.1 on the US singles chart with 'The First Time Ever I Saw Your Face'. Written in 1957 by political singer/songwriter Ewan MacColl for Peggy Seeger, who was later to become his wife. At the time the couple were lovers, although MacColl was married to someone else. MacColl is the father of singer/songwriter Kirsty MacColl. The song was featured in the Clint Eastwood film 'Play Misty For Me.'
15 Apr 1967
Nancy Sinatra and
Frank Sinatra
started a four week run at No.1 on the US singles chart with 'Somethin' Stupid'. They became the only father and daughter act ever to score a No.1 single. UB40 singer Ali Cambell covered the song in 1995 with his daughter Kibbi. Robbie Williams had a 2001 UK No.1 with his version of the song featuring Nicole Kidman.
15 Apr 1967
Jimi Hendrix
, The Walker Brothers, Cat Stevens and Engelbert Humperdinck all appeared at the The Odeon, Blackpool, England, tickets cost 5 and 10 shillings, ($0.70 and $1.40).
15 Apr 1964
The Beatles
filmed outside shots at the Scala Theatre in Tottenham Street London for their forthcoming movie 'A Hard Day's Night'.
15 Apr 1957
Jerry Lee Lewis released 'Whole Lotta Shakin' Goin' On' on Sun Records. Written by Dave "Curlee" Williams the song was first recorded by American R&B singer Big Maybelle. The record reached No. 3 on the Billboard pop chart, No. 1 on the country charts, and No. 8 in the UK.
Born on this day in music
15 Apr 1987
Keidran Jones, better known by his stage name Iyaz, a British Virgin Islander, singer-songwriter and dancer. He is known for his singles 'Replay', 'Solo' and 'Pretty Girls'. He released his debut album Replay in 2009.
15 Apr 1980
Patrick Carney, American drummer for The Black Keys, who had the 2014 US No.1 album Turn Blue. He also has a side-project rock band called Drummer.
15 Apr 1978
Puerto Rican singer songwriter and actor Luis Fonsi best known for the song 'Despacito', a remix with Justin Bieber and Daddy Yankee was No.1 in 2017.
15 Apr 1978
American country and bluegrass musician Chris Stapleton who scored the 2015 US No.1 album Traveller. Stapleton who is a former member of The SteelDrivers has also written hits for Kenny Chesney, Tim McGraw,
Adele
and George Strait.
15 Apr 1968
Edward John O'Brien, guitarist,
Radiohead
. Their 1993 debut single 'Creep' was initially unsuccessful, but it became a worldwide hit several months after the release of their debut album, 'Pablo Honey'. Their 1997 album OK Computer appeared in many 1997 critics' lists and listener polls for best album of the year.
15 Apr 1967
Frankie Poullian, bass, with The Darkness who had the 2003 UK No.2 single 'I Believe In A Thing Called Love', and the 2003 UK No.1 album 'Permission To Land'. The album was certified quadruple platinum in the United Kingdom, with sales of over 1,300,000 and in 2004 the band won three Brit Awards.
15 Apr 1966
Graeme Clark, bassist with Scottish band Wet Wet Wet who formed in 1982. They are best known for their 1994 cover of The
Troggs
' 1960s hit 'Love Is All Around', which spent 15 weeks at No.1 on the UK charts.
15 Apr 1966
Samantha Fox, former English model, singer who had the 1986 UK No.3 single 'Touch Me, I Want Your Body'.
15 Apr 1965
Linda Perry, songwriter, producer, singer, 4 Non Blondes, (1993 UK No.2 single 'What's Up', 1993 UK No. 4 album 'Bigger Better Faster More!). Wrote 'Beautiful' for Christina Aguilera, plus Jewel, Courtney Love, Gwen Stefani, Sugababes, Robbie Williams, Melissa Etheridge, Gavin Rossdale have all recorded her songs.
15 Apr 1965
Oscar Harrison, drummer with English rock band Ocean Colour Scene who formed in Moseley, Birmingham in 1989. They scored the 1996 UK No.4 single 'The Day We Caught The Train', plus over 12 other Top 40 singles and the 1997 UK No.1 album Marchin' Already.
15 Apr 1962
English male model, songwriter and musician, Nick Kamen who had the 1986 UK No.5 single 'Each Time You Break My Heart'. He died age 59 on 4 May 2021 following a long battle with bone marrow cancer.
15 Apr 1948
15 Apr 1947
Michael Chapman, Chinnichap productions, (producer and writer for Suzi Quatro, Mud).
15 Apr 1947
Wooly Wolstenholme, keyboard player, vocalist from English progressive rock band Barclay James Harvest who scored eight UK Top 40 albums from 1974-87. He died on 13th December, 2010.
15 Apr 1944
Dave Edmunds, Welsh singer/songwriter, guitarist, actor and record producer. With Love Sculpture he had the 1968 UK No.5 single 'Sabre Dance' and the solo 1970 UK No.1 and US No.4 single 'I Hear You Knocking'. He later became a member of Rockpile.
15 Apr 1940
American saxophonist and guitarist Clarence Satchell, The Ohio Players, who scored the 1974 US No.1 single 'Fire' and had hits with 'Skin Tight', 'I Want To Be Free' and 'Love Roller Coaster.' He died on 30th December 1995.
15 Apr 1939
American guitarist Adolph Jacobs, The Coasters. The American rhythm and blues/rock and roll vocal group scored the 1958 US No.1 single 'Yakety Yak', the 1959 US No.2 and UK No.6 single 'Charlie Brown', as well as 'Young Blood' and 'Poison Ivy'. Jacobs died on July 23rd 2014.
15 Apr 1939
Marty Wild English singer and songwriter. He was one of the first generation of British pop stars to emulate American rock and roll and scored the 1959 UK No.2 single 'A Teenager In Love', and over 10 other UK Top 40 singles. He is the father of 80s singer Kim Wilde.
15 Apr 1934
Tim Feild from the British pop-folk vocal trio The Springfields who had the 1962 US No. 20 single 'Silver Threads And Golden Needles', and the 1963 UK No.5 single 'Island Of Dreams'. The Springfields included singer Dusty Springfield and her brother, record producer Tom Springfield. Feild died on 31 May 2016.
15 Apr 1932
American singer and musician Roy Clark, who had the 1969 US hit single, 'Yesterday, When I Was Young'. He is best known for hosting Hee Haw, a nationally televised country variety show, from 1969 to 1997. He died on 11 November 2018.
15 Apr 1894
Bessie Smith, US blues singer, 'Empress Of The Blues'. Songs include, 'Downhearted Blues', 'St Louis Blues', and 'Nobody Knows You When You're Down And Out'. Died in a car accident on 26th September 1937