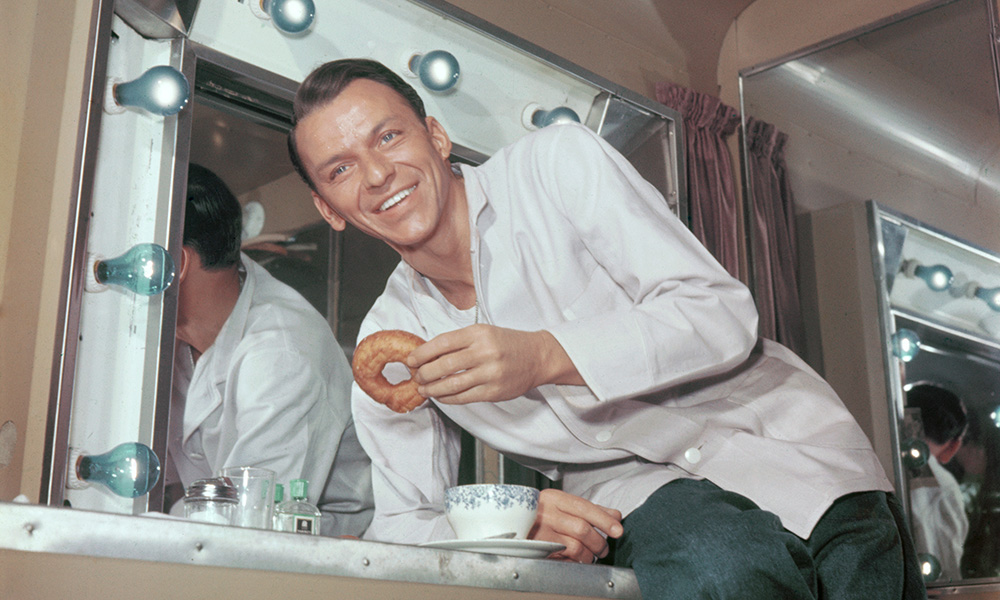 1. Forceps used during his birth caused permanent damage to his left earlobe, cheek and neck.
2. He got his first break in 1935 when his mother persuaded a local singing group, the 3 Flashes, to let him join. They later became known as the Hoboken Four.
3. Sinatra's debut as an entertainer came in 1935 at the age of 19, in a porn film. According to the 2011 biography of Frank Sinatra: The Boudoir Singer. Sinatra was paid $100 to appear in The Masked Bandit, wearing a mask, of course. After he became famous, Sinatra was said to have "called his friends in the mob" to stop the blue movie from ever surfacing.
4. During his short-lived marriage to actress Mia Farrow, Sinatra stunned Farrow when he served her with divorce papers in front of cast and crew of Rosemary's Baby.
5. He starred in 56 movies and television specials from 1944 to 1984 including several well-received movies: The Manchurian Candidate, From Here to Eternity, and The Man with the Golden Arm. He also acted in several TV shows including the critically acclaimed Our Town.
6. Sinatra refused to play in Las Vegas, Nevada, hotels and casinos where African-Americans could not entertain nor patronize. He was such a money-maker for the entertainment industry and had such clout that his efforts spurred increased racial desegregation in the state.
7. When his only son, Frank, Jr. was kidnapped and the kidnappers demanded that Frank, Sr. call from untraceable pay telephones, he began a life-long habit of carrying a roll of dimes (the cost of a pay-phone call at that time) in his pocket. He is reputed to have been buried with a small roll of dimes.
8. His cocktail of choice was a mix of four ice cubes, two fingers of Jack Daniel's whiskey, and a splash of water. "This is a gentlemen's drink," he once said. And if you want to hold the drink like Frank, don't touch the rim. Cup it in your hand, insulated by a cocktail napkin.
9. By the 1960s, Sinatra was bedding countless women, and even ran what amounted to a private brothel while in residence in Las Vegas. Sinatra hosted after-hours sex parties for the Rat Pack in a casino health club's steam rooms, inviting star-struck showgirls or hiring hookers.
10. He hated "Strangers in the Night". Sinatra called it "a piece of shit" and "the worst fucking song I've ever heard."
11. In 1946, Sinatra's debut release, The Voice of Frank Sinatra, helped introduce both the concept album and the box set. At a time when long-playing records were still novel, Sinatra issued a set of 78 rpm records with eight songs, all with a theme of lost love. Two years later, it became one of the first-ever pop music vinyl 10″ LPs. Sinatra would later make classic concept albums like Only The Lonely and In The Wee Small Hours for Capitol Records.
12. He turned down the title role of Dirty Harry that went to Clint Eastwood. During a fight scene in his 1962 movie The Manchurian Candidate, Sinatra badly injured his hand, ruining his career as an action hero. Later offered the title role as a badass cop in Dirty Harry, he had to turn it down because of the injury's lingering effects.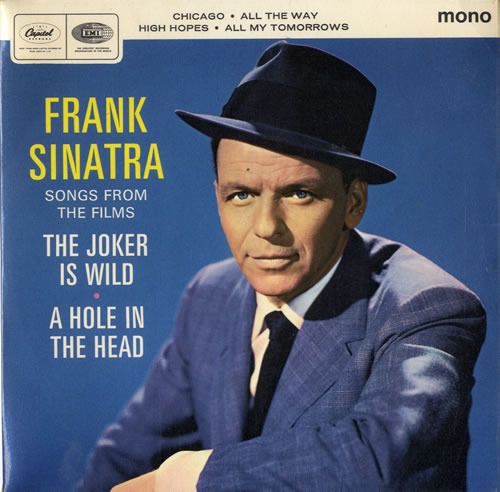 13. He was manic-depressive who attempted suicide four times. Frank described himself as an "18-carat manic depressive." Despondent during a career lull in the 1950s, Sinatra tried to kill himself by sticking his head in an oven. He attempted suicide three other times during his tumultuous romance with Ava Gardner.
14. Frank Sinatra owned a truck company where Elvis Presley worked as a young man.
15. He inadvertently named the cartoon Scooby Doo, about a mush-mouthed, mystery-solving dog after CBS executive Fred Silverman heard "Strangers in the Night" ( "dooby, dooby doo…" ) on an airplane.
16. He hated rock and roll and once called rock music "the most brutal, ugly, degenerate, vicious form of expression it has been my displeasure to hear." He said "Light My Fire" by The Doors was the worst record he ever heard.
17. Sinatra showered several times a day and obsessively shaved, brushed his teeth and gargled with mouthwash. He also constantly doused himself with lavender water in to mask the familiar morning-after scent of cigarettes and whiskey.
18. Frank Sinatra had at least one song included on the music charts each year from 1945 to 1995.
19. On March 13, 2008, the United States Postal Service issued a 42-cent stamp depicting Frank Sinatra.
20. He is one of the best-selling music artists of all time, having sold more than 150 million records worldwide.
Important Dates In The Life Of Frank Sinatra:
25 Feb 2019
British publicist and talent manager Kenneth Pitt died age 96. He managed the career of musicians including
David Bowie
in the late 1960s (Pitt managed Bowie at the time of his first hit, 'Space Oddity' in 1969), and was responsible for publicising American musicians and bands touring the UK, including
Frank Sinatra
, Duke Ellington, and Jerry Lee Lewis.
1 Oct 2018
French singer, actor, public activist and diplomat Charles Aznavour was found dead in a bathtub at his home at Mouriès at the age of 94. He was famous for his 1974 UK No.1 single 'She' and was one of France's most popular and enduring singers (dubbed France's
Frank Sinatra
). He sold more than 180 million records, recorded more than 1,200 songs (interpreted in nine languages) and he wrote or co-wrote more than 1,000 songs for himself and others.
3 Feb 2018
American pop, funk and jazz drummer Leon Chancler died in Los Angeles, California of prostate cancer, at the age of 65. He worked with Herbie Hancock, Miles Davis,
Michael Jackson
's (on 'Billie Jean'), Donna Summer,
Carlos Santana
, The Crusaders,
Frank Sinatra
, Weather Report, Lionel Richie, Kenny Rogers, Thelonious Monk, Herbie Hancock and John Lee Hooker.
8 Aug 2017
American singer, guitarist, songwriter, television host, and actor
Glen Campbell
died in Nashville, Tennessee at the age of 81. He became a patient at an Alzheimer's long-term care and treatment facility in 2014. Campbell released more than 70 studio albums and sold 45 million records worldwide. His hits include: 'By the Time I Get to Phoenix', 'Wichita Lineman', 'Galveston' and 'Rhinestone Cowboy'. His guitar playing can be heard on 'Strangers in the Night' by
Frank Sinatra
, 'You've Lost That Lovin' Feelin'' by The
Righteous Brothers
and 'I'm a Believer' by The
Monkees
.
21 Mar 2015
English singer-songwriter, and actress Jackie Trent died in hospital, aged 74, in Minorca, Spain, after a long illness. Her 1966 hit, 'I Couldn't Live Without Your Love' was inspired by the ongoing affair between Trent and record producer Tony Hatch, who she later married. The couple went on to write songs for Scott Walker,
Frank Sinatra
, Nancy Wilson, Des O'Connor, Val Doonican, Shirley Bassey, Vikki Carr, and Dean Martin.
29 Jan 2015
American poet, singer-songwriter, and actor Rod McKuen died aged 81. McKuen's translations and adaptations of the songs of Jacques Brel were instrumental in bringing the Belgian songwriter to prominence in the English-speaking world. McKuen's songs sold over 100 million recordings worldwide. His songs have been performed by such diverse artists as Barbra Streisand, Perry Como, Petula Clark, Waylon Jennings,
Johnny Cash
, Andy Williams, Dusty Springfield, Johnny Mathis and
Frank Sinatra
.
24 Nov 2013
Robbie Williams scored his 11th UK No.1 album when Swings Both Ways went to the top of the charts. It was also the 1,000 No.1 UK album since the charts began in 1956 when
Frank Sinatra
was at No.1 with Songs For Swingin' Lovers.
22 Feb 2012
American jazz pianist, composer, and arranger Mike Melvoin died in Burbank, California of cancer, aged 74. He worked as a prolific studio musician, recording with
Frank Sinatra
,
John Lennon
, Tom Waits, Barbra Streisand, The
Jackson 5
, Natalie Cole, and The Beach Boys on
Pet Sounds
. He worked in the early 1970s as a music director on The Partridge Family recordings and also composed for film and television including contributing scores to Fame.
22 Feb 2012
American singer, songwriter, guitarist Billy Strange died aged 81. As a session musician with the famed Wrecking Crew, he appeared on hit songs for
Elvis Presley
, including 'A Little Less Conversation', Nancy and
Frank Sinatra
's 'Somethin' Stupid', played guitar on numerous Beach Boys hits, including 'Sloop John B' and the
Pet Sounds
album and worked with The Ventures, Willie Nelson, The Everly Brothers, Wanda Jackson, Randy Newman, and Nat King Cole, among others.
13 Oct 2009
Al Martino, a Pop crooner who scored over 10 hits including 'I Love You Because', 'Spanish Eyes' and 'I Love You More And More Every Day', died at the age of 82. He was often remembered for playing the
Frank Sinatra
type role of Johnny Fontane in The Godfather. Martino was at No.1 on the first ever UK pop chart published on 8th Nov 1952 by the New Musical Express.
19 Sep 2008
American drummer Earl Palmer died. Worked with
The Beach Boys
,
Little Richard
('Tutti Frutti'),
Frank Sinatra
, Ike And Tina Turner ('River Deep, Mountain High'), The
Monkees
, Fats Domino ('I'm Walkin'),
Neil Young
, Elvis Costello, Tom Waits, The
Righteous Brothers
('You've Lost That Lovin' Feelin'), and Randy Newman, Tom Waits, Bonnie Raitt, Tim Buckley, Little Feat and Elvis Costello.
13 May 2008
The US Postal Service issued a 42-cent postage stamp in honour of
Frank Sinatra
. The design showed a 1950s-vintage image of Sinatra, wearing a hat.
17 Sep 2006
American guitarist Al Casey died aged 69. Casey is noted for his work as a session musician and as a member of the Wrecking Crew and worked with
The Beach Boys
, Phil Spector,
Elvis Presley
,
Glen Campbell
, The Association, The
Monkees
,
Johnny Cash
,
Simon And Garfunkel
, 5th Dimension, Harry Nilsson, The Partridge Family,
Frank Sinatra
, and Nancy Sinatra.
10 Mar 2005
A survey carried out by Music Choice concluded that 'Angels' by Robbie Williams was the song Britons would most like played at their funeral.
Frank Sinatra
's 'My Way' was second and Monty Python's 'Always Look on the Bright Side of Life' was voted into third place.
20 Oct 2003
Amy Winehouse
released her debut album Frank, (named after
Frank Sinatra
). The album has now sold over one million copies in the UK.
2 Sep 2001
American saxophonist Jay Migliori died of cancer aged 70. As a session musician he recorded with
The Beach Boys
,
Frank Sinatra
and
Frank Zappa
and was the founding member of Supersax, a tribute band to Charlie Parker.
5 Oct 2000
UK TV show
Top Of The Pops
issued a Top 40 chart based on singles that had spent the longest time on the UK chart. No.3 was 'My Way' by
Frank Sinatra
, No.2 'She Loves You',
The Beatles
and No.1 'Relax' by Frankie Goes To Hollywood'.
20 May 1998
The funeral of
Frank Sinatra
was held at the Church of the Good Shepherd in Beverly Hills. Mourners in attendance included, Tony Bennett, Faye Dunaway, Tony Curtis, Liza Minnelli, Kirk Douglas, Angie Dickinson, Sophia Loren, Bob Newhart, Mia Farrow and Jack Nicholson.
14 May 1998
American singer and actor
Frank Sinatra
died at the Cedars-Sinai Medical Center, Los Angeles aged 82, after suffering a heart attack. Sinatra had his first hit in 1940, working in the Swing era with Harry James and Tommy Dorsey, won an Academy Award for Best Supporting Actor for his performance in the 1953 film 'From Here to Eternity'. He went on to score over 25 Top 40 singles including the 1966 No.1 'Strangers In The Night'. His 1969 single 'My Way', re-entered the UK charts eight times and spent a total of 165 weeks on the UK chart.
10 Nov 1997
American session guitarist Tommy Tedesco died of lung cancer aged 67. Described by "Guitar Player" magazine as the most recorded guitarist in history recording with
The Beach Boys
, Everly Brothers,
Supremes
, The
Monkees
, The Association, Barbra Streisand,
Elvis Presley
, Ella Fitzgerald,
Frank Zappa
,
Sam Cooke
, Cher, and Nancy and
Frank Sinatra
. And played on many TV themes including Bonanza, The Twilight Zone, M*A*S*H and Batman.
8 Apr 1997
American singer, songwriter Laura Nyro died from ovarian cancer. Suzanne Vega, Phoebe Snow, Roseane Cash,
Frank Sinatra
and Linda Ronstadt all covered her songs. She wrote 'And When I Die' a hit for Blood, Sweat & Tears and 'Stoney End' which was covered by Barbra Streisand.
25 Feb 1995
At a private party for 1,200 select guests on the closing night of the
Frank Sinatra
Desert Classic golf tournament,
Frank Sinatra
sang before a live audience for the very last time. His closing song was 'The Best is Yet to Come'.
2 Apr 1987
One of the greatest jazz drummers of all time, Buddy Rich died aged 69 due to complications caused by a brain tumour. Rich worked with many acts including,
Frank Sinatra
, Ella Fitzgerald, Louis Armstrong, Tommy Dorsey's band, Dizzy Gillespie and Oscar Peterson. Rush's Neil Peart organized a pair of 90s tribute albums (titled Burning for Buddy), which also featured the work of Kenny Aronoff, Dave Weckl, Steve Gadd, Max Roach, Steve Smith and Matt Sorum.
21 Jun 1980
German orchestra leader and songwriter Bert Kaempfert died aged 56. Both
Frank Sinatra
(Strangers In The Night) and
Elvis Presley
(Wooden Heart) covered his songs. Kaempfert released over 50 albums. In 1961, he hired
The Beatles
to back Tony Sheridan on recording sessions for Polydor, (these were the Beatles' first commercial recordings).
9 Oct 1978
Belgian singer songwriter Jacques Brel died of cancer aged 49. Artists who recorded his songs include, Ray Charles, Scott Walker, Alex Harvey,
Frank Sinatra
, Dusty Springfield,
David Bowie
, Nina Simone and Terry Jacks.
2 Apr 1977
Frank Sinatra
scored his fourth UK No.1 album with Portrait Of Sinatra - Forty Songs from the Life of a Man, that consisted 40 songs that were recorded for Reprise Records.
14 Oct 1969
Police in New Jersey issued a warrant for the arrest of
Frank Sinatra
in relation to his connections with the Mafia.
10 May 1969
Frank Sinatra
's version of 'My Way' made the British Top ten for the first time. Over the next three years it re-entered the Top 50 singles chart on eight different occasions. Paul Anka re-wrote the original French song for Sinatra, after he told Anka he was quitting the music business. Anka changed the melodic structure and lyrics to the song with Sinatra in mind.
27 Jul 1968
Cass Elliot released her first solo single following the break up of The Mamas and Papas. 'Dream a Little Dream of Me' had been around since 1931 and had been recorded by
Frank Sinatra
, Frankie Laine and many others. Cass' version would be the most successful when it peaked at No. 12 on the US chart, and No.11 in the UK.
15 Apr 1967
Nancy Sinatra and
Frank Sinatra
started a four week run at No.1 on the US singles chart with 'Somethin' Stupid'. They became the only father and daughter act ever to score a No.1 single. UB40 singer Ali Cambell covered the song in 1995 with his daughter Kibbi. Robbie Williams had a 2001 UK No.1 with his version of the song featuring Nicole Kidman.
13 Apr 1967
Nancy and
Frank Sinatra
were at No.1 on the UK singles chart with 'Somethin' Stupid', (making them the only father and daughter to have a UK No.1 single as a team). The song was written by folk singer C. Carson Parks and originally recorded in 1966 by Parks and his wife Gaile Foote, as "Carson and Gaile". Robbie Williams recorded the song as a duet in 2001 with actress Nicole Kidman which went on to top the UK charts.
23 Jul 1966
Frank Sinatra
went to No.1 on the US album chart with 'Strangers In The Night'. The LP would be the most successful of his career, being certified Platinum for 1 million copies sold in the US. The title track would earn him two Grammy awards for Record Of The Year and Best Male Vocal Performance.
2 Jul 1966
Frank Sinatra
went to No.1 on the US singles chart with 'Strangers In The Night'. The song was taken from the film 'A Man Could Get Killed'.
13 Jun 1966
Frank Sinatra
was at No.1 on the UK singles chart with 'Strangers in the Night'. Composed by Bert Kaempfert with English lyrics by Charles Singleton and Eddie Snyder, Sinatra's recording won him the Grammy Award for Best Male Pop Vocal Performance and the Grammy Award for Record of the Year.
2 Jun 1966
Frank Sinatra
was at No.1 on the UK singles chart with 'Strangers In The Night', the singers second UK No.1. The song was originally composed by Avo Uvezian as 'Broken Guitar' and later under the title 'Beddy Bye' as part of the instrumental score for the movie A Man Could Get Killed.
8 Dec 1963
Frank Sinatra
Jr was kidnapped at gunpoint from a hotel in Lake Tahoe. He was released two days later after his father paid out the $240,000 ransom demanded by the kidnappers, who were later captured, and sentenced to long prison terms. In order to communicate with the kidnappers via a payphone the senior Sinatra carried a roll of dimes with him throughout this ordeal, which became a lifetime habit, he is said to have been buried with a roll of dimes.
22 Dec 1962
Acker Bilk's 'Stranger On The Shore' finally dropped off the UK charts after 55 weeks. That record would stand until 1968 when Engelbert Humperdinck's 'Release Me' stayed for 56. The current record is held by
Frank Sinatra
's 'My Way', which charted for 75 non-consecutive weeks.
13 Feb 1960
Frank Sinatra
launched his own record label, Reprise Records, in order to allow more artistic freedom for his own recordings. Hence, he garnered the nickname "The Chairman of the Board."One of the label's founding principles under Sinatra's leadership was that each artist would have full creative freedom, and at some point complete ownership of their work. Reprise later became the home of many influential US acts such as
Neil Young
,
Jimi Hendrix
,
Joni Mitchell
, Randy Newman and
The Beach Boys
.
29 Feb 1958
Frank Sinatra
was at No.1 on the US album chart with Come Fly with Me, an album that was designed as a musical trip around the world. Tracks included 'Isle of Capri', 'Autumn in New York', 'April in Paris' and 'Blue Hawaii'. Sinatra expressed intense dislike for the album cover suggesting it looked like an advertisement for TWA.
5 Mar 1956
Frank Sinatra
released his tenth studio album Songs for Swingin' Lovers! (the first album ever to top the UK Albums Chart). Sinatra aficionados often rank it his best album and many music critics consider it one of the greatest albums of its era. The original cover had Sinatra facing away from the young couple, but in 1957 Capitol altered the cover with a new image of Sinatra facing the couple.
12 Feb 1956
Dean Martin was at No.1 on the UK singles chart with 'Memories Are Made Of This'. The American actor, comedian, singer and TV hosts biggest hit. Also covered by The Everly Brothers,
Johnny Cash
,
Frank Sinatra
and The Driffters.
12 Sep 1954
The first 'teen idol',
Frank Sinatra
was at No.1 on the UK singles chart with 'Three Coins In The Fountain,' the singer's first UK No.1. The song was The Academy Award winning Best Original Song of 1954.
7 Nov 1951
Frank Sinatra
married his second wife actress Ava Gardner, the couple split up in 1953 and divorced in 1957. Sinatra was married three other times, to his first wife Nancy Barbato, to the actress Mia Farrow and finally to Barbara Marx, to whom he was married at his death.
4 Jun 1942
Glenn Wallichs launched Capitol Records in the US. The label became home to such artists as
Frank Sinatra
,
The Beatles
,
The Beach Boys
, Eddie Cochran, Gene Vincent, Bobby Darin, Dean Martin,
Glen Campbell
, Steve Miller, Dr. Hook, Bob Seger, Tina Turner, Heart and countless others. Wallichs was the man who invented the art of record promotion by sending copies of new releases to disc jockeys.
20 Jul 1940
Billboard's first comprehensive record chart was published. The magazine had previously published best-seller lists submitted by the individual record companies, but the new chart combined the top sellers from all major labels. Their first number one song was 'I'll Never Smile Again' by
Frank Sinatra
and the Tommy Dorsey Orchestra.