April 23rd: The Biggest Music Headlines
Scroll down the page to see all the music headlines, stories and events for April 23 throughout music history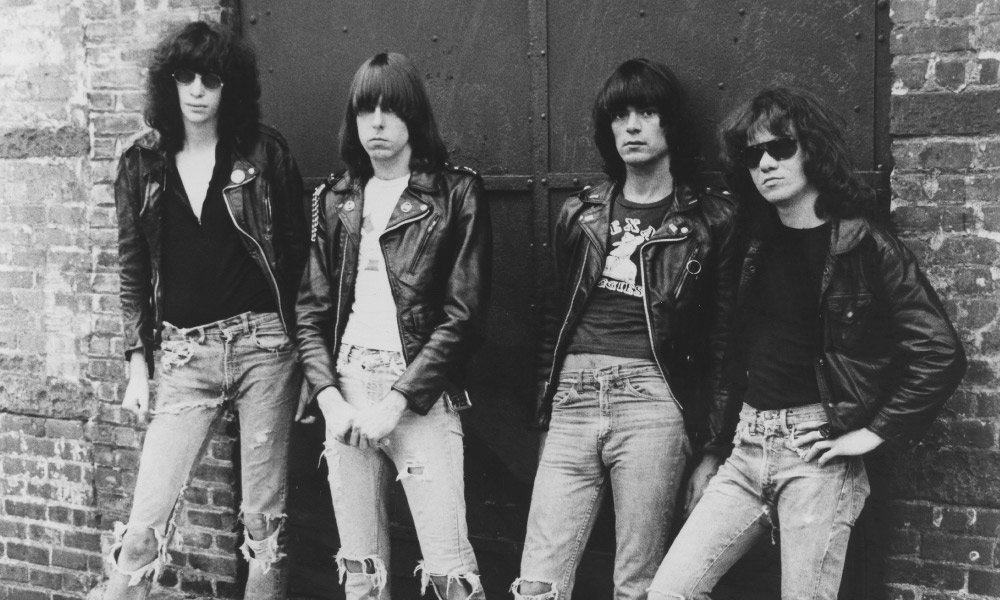 The Ramones Release Their Highly-Influential Debut
On this day in music, April 23, 1976, punk rock pioneers the Ramones released their self-titled debut on Sire Records. The album took seven days to make and cost $6,400, while its iconic front cover – depicting the band standing against a brick wall – was taken by renowned punk photographer Roberta Bayley and cost the record company just $125. Featuring one of the band's best-loved songs, "Blitzkrieg Bop," Ramones was met with critical acclaim and quickly became one of rock music's most impactful albums, despite its initial low sales. Certified Gold in 2014, Ramones frequently ranks among the greatest albums of all time, and has been cited by countless artists as an influence.
In 1988, Whitney Houston became the first artist to score seven consecutive No.1 hits on Billboard's Hot 100 with her 11th single, "Where Do Broken Hearts Go." The song's success shattered a record jointly held by The Beatles and The Bee Gees. Taken from the New Jersey singer's second album, Whitney, the best-selling track also made Houston the first female performer to notch up four chart-topping hits from a single album.
In 1991, 38-year-old guitarist Johnny Thunders, best known for his work with the New York Dolls, died under mysterious circumstances in New Orleans. Born John Anthony Genzale, Jr, Thunders (who took his stage name from a comic book superhero) co-founded the influential proto-punk group in 1972, recording two albums with them before quitting in 1975. He went on to form Heartbreakers with ex-Television bassist Richard Hell, before embarking on a solo career that yielded six albums.
In 1995, the earliest known Beatles recordings were discovered by Liverpool welder Peter Hodgson. He chanced upon a tape in his attic that contained 16 songs, including "Hello Little Girl," an early Lennon-McCartney tune that the Fab Four never recorded professionally. The songs were recorded in 1959 by Paul McCartney on a reel-to-reel tape machine he had borrowed from Hodgson's father.
In 1971, The Rolling Stones released Sticky Fingers, their ninth UK studio album. It was their debut LP for their own label, Rolling Stones Records, and featured a provocative front cover created by pop art guru Andy Warhol, who was paid $15,000 to design a functioning zipper showing the crotch area of a man's jeans. The album also marked the first time that the band's John Pasche-designed lips and tongue logo was used.
Looking for more things that happened on this day in music?
Keep scrolling for all of the headlines for April 23.
BORN ON APRIL 23:
1936: Roy Orbison
1949: John Miles
1955: Captain Sensible (The Damned)
1960: Steve Clark (Def Leppard)
1960: David Gedge (The Wedding Present)
1964: Simon Matthews (Jesus Jones)
1968: Paul Clifford (The Wonder Stuff)
1985: Taio Cruz
Looking for more artists born on this day?
Keep scrolling for all of our April 23 birthdays.
---
What to find another day?
---
April 23rd
23 Apr 2019
Ed Sheeran
was forced to knock down an outdoor sauna and ditch a huge pub sign at his £1.5 million Suffolk mansion after he failed to get planning permission. He had named his home pub after his wife Cherry Lancaster Seaborn, calling it The Lancaster Lock - but council officers weren't happy. They demanded he take down the 16ft sign after finding he'd broken planning rules during a site visit.
23 Apr 2017
Kerry Turman, a longtime bassist for The
Temptations
died of natural causes age 59 after performing at a show in Missouri. Turman had performed with The
Temptations
since the 1980s.
23 Apr 2016
American singer
Beyoncé
released her sixth studio album Lemonade accompanied by a 65-minute film of the same title. The most acclaimed studio album of Beyoncé's career the album was nominated for nine Grammy Awards at the 59th Annual Grammy Awards (2017), and was the best-selling album of 2016.
23 Apr 2012
American country rock bass guitarist Chris Ethridge died age 65 from pancreatic cancer. He was a member of the International Submarine Band and The Flying Burrito Brothers. Ethridge also worked with Nancy Sinatra, Leon Russell, Delaney Bramlett, Johnny Winter, Randy Newman, Ry Cooder, Linda Ronstadt, The Byrds, Jackson Browne, and Willie Nelson.
23 Apr 2012
Thomas "Tommy" Marth, the touring and studio saxophonist for the Killers, died after shooting himself in the head at his Las Vegas home. The 33-year-old musician joined the band in 2005 and played on the live tours with Brandon Flowers and co between 2008 and 2010. Tommy also performed on 2006 release Sam's Town and 2008's Day & Age.
23 Apr 2008
Bon Jovi
guitarist Richie Sambora was sentenced to three years probation after admitting to driving under the influence of alcohol. 48-year-old Sambora who was not at the court hearing would also have to attend first offender alcohol awareness classes. He was arrested in Laguna Beach after his car was seen weaving between traffic lanes.
23 Apr 2008
Amy Winehouse
went out on a drink and drug-fuelled spree and hit and head-butted two men. After drinking all day, Amy visited the Good Mixer pub in Camden, London with Babyshambles guitarist Mik Whitnall. Inside she allegedly punched Mustapha el Mounmi in the face after he refused to give way to her at the pool table. The singer then left to visit Bar Tok in the early hours and once at the bar shouted "I am a legend get these people out. I want to take drugs." After leaving the bar a good Samaritan tried to get her a cab, but she reportedly thought he was trying to molest her and allegedly head-butted him in the face.
23 Apr 1997
Club boss Paul Donavan was fined over £2,000 after being found guilty of tricking fans that he had Peter Andre appearing at his Club in the West Midlands. He had in fact an act called Peter Andrex a puppet who threw toilet rolls.
23 Apr 1995
Peter Hodgson, from Liverpool found a tape in his attic containing 16 of
The Beatles
earliest recordings made in 1959. The tape included 'Hello Little Girl', a Lennon-McCartney composition that the Beatles never recorded and Ray Charles' 'Hallelujah, I Love Her So'. The sessions had been made on a reel-to-reel recorder that Hodgson's father had lent to
Paul McCartney
.
23 Apr 1994
Pink Floyd
were at No.1 on the UK album chart with The Division Bell, their fourth UK No.1 album.
23 Apr 1992
George Michael
announced he was donating $500,000 royalties from the sale of 'Don't Let The Sun Go Down On Me', to various British and American charities.
23 Apr 1991
Founder member of The New York Dolls Johnny Thunders (John Anthony Genzale, Jr), died of a drug overdose. He renamed himself Johnny Thunders, after a comic book of the same name. The influential New York Dolls formed in 1972 and made just two albums. A teenage Morrissey acted as president of the UK branch of the New York Dolls fan club. Formed The Heartbreakers with Dolls drummer Jerry Nolan, and Television bassist Richard Hell.
23 Apr 1988
Iron Maiden
went to No.1 on the UK album chart with 'Seventh Son Of A Seventh Son', their second No.1 LP.
23 Apr 1988
23 Apr 1988
Whitney Houston
smashed a chart record held by
The Beatles
and The
Bee Gees
when 'Where Do Broken Hearts Go', became her seventh consecutive US No.1, a No.14 hit in the UK.
23 Apr 1987
Carole King
sued record company owner Lou Adler for breach of contract. King claimed that she was owed over $400,000 in royalties. She also asked for all rights to her old recordings.
23 Apr 1983
U2
kicked off their 48-date 'War' North American tour at The Carolina Concert For Children benefit, Chapel Hill, Carolina.
23 Apr 1983
David Bowie
started a three week run at No.1 on the UK album chart with the Nile Rodgers produced 'Let's Dance', featuring the title track which made No. 1 on the US and UK singles chart and 'China Girl.'
23 Apr 1979
American bassist Doug Rauch died of a heroin overdose in San Francisco, at the age of 28. He was most famous for his work with
Carlos Santana
during his jazz fusion period in the early 1970s and had also worked with Carly Simon, John McLaughlin and
David Bowie
.
23 Apr 1978
Sex Pistols
bassist Sid Vicious filmed his version of 'My Way' for the
Sex Pistols
film 'The Great Rock n Roll Swindle.'
23 Apr 1977
Thelma Houston went to No.1 on the US singles chart with 'Don't Leave Me This Way', a No.13 hit in the UK.
23 Apr 1976
Ramones
released their eponymous debut album. The front cover depicts the band members standing in a line leaning against a brick wall, taken by Roberta Bayley. The cover was ranked No.58 on Rolling Stone's list of 100 Greatest Album Covers.
23 Apr 1971
The
Rolling Stones
released their classic album
Sticky Fingers
in the UK. The band's first release on their own label via Atlantic Records, the cover was designed by Andy Warhol, who was paid $15,000 for his efforts. The LP sleeve featured a close-up of a pair of jeans with a working zip. Widely assumed to be that of
Mick Jagger
, the crotch photographed for the cover was actually that of actor Joe Dallesandro.
23 Apr 1969
The Beatles
were at No.1 on the UK singles chart with 'Get Back' the group's 16th UK No.1. Credited to "
The Beatles
with Billy Preston", it was the Beatles' only single that credited another artist, 'Get Back' was also the Beatles' first single release in true stereo in the US.
23 Apr 1963
23 Apr 1960
The Nerk Twins appeared at The Fox And Hounds in Caversham, Berkshire, England. The Nerk Twins being
John Lennon
and
Paul McCartney
who were staying at Paul's aunt's pub.
23 Apr 1956
Elvis Presley
(with Scotty Moore and Bill Black), played the first night of a two-week engagement (playing 2 shows a day) at the New Frontier Hotel, Las Vegas. Presley was not the typical Las Vegas Strip entertainer of the time and his shows were met with a cool reception.
Born on this day in music
23 Apr 1985
Taio Cruz, English singer-songwriter, producer. 2009 UK No.1 single 'Break Your Heart.'
23 Apr 1968
Paul Clifford, bassist from British alternative rock band The Wonder Stuff who had the 1991 UK No.1 single with their version of the Tommy Roe hit 'Dizzy' (with Vic Reeves).
23 Apr 1968
Stan Frazier, from American rock band Sugar Ray who had the 1999 UK No. 10 single 'Every Morning'.
23 Apr 1964
Simon Matthews, drummer with English group Jesus Jones who had the 1990 US No.2 hit with 'Right Here Right Now' and the 1991 UK No.7 single 'International Bright Young Thing'.
23 Apr 1960
David Gedge, vocals, guitar, from British indie rock group The Wedding Present. During 1992 they released one single every month giving them 12 Top 30 hits, making them the only group to score more than 10 new hits in one year.
23 Apr 1960
Steve Clark, guitarist with
Def Leppard
, who had a 1987 UK No.6 single with 'Animal', a 1987 worldwide No.1 album with Hysteria and a 1988 US No.1 single with 'Love Bites'. Clark died on January 8th 1991, aged 30 after a night of heavy alcohol consumption combined with prescription drugs.
23 Apr 1955
Ray Burns, (Captain Sensible), from English punk rock band The Damned, who had the 1983 UK No.3 single 'Eloise'. Captain Sensible had the solo 1982 UK No.1 single with a cover of 'Happy Talk' from the Rodgers and Hammerstein musical South Pacific.
23 Apr 1949
British rock music vocalist, songwriter, guitarist and keyboard player John Miles, who scored the 1976 UK No.3 single 'Music'. Miles has also worked with Alan Parson's,
Jimmy Page
, Joe Cocker and Tina Turner. He died on 5 December 2021 after a short illness age 72.
23 Apr 1947
Glenn Cornick, English bass guitarist with Jethro Tull from 1967 to late 1970. He played on the three first studio albums, This Was, Stand Up and Benefit. Cornick died on 28th Aug 2014 due to congestive heart failure.
23 Apr 1940
Dale Houston, American singer who, along with his performing partner, Grace Broussard, hit the Billboard chart as Dale & Grace with two rock and roll singles. The first was the No. 1 gold record 'I'm Leaving It Up to You' in 1963. 'Stop and Think It Over' reached No. 8 in 1964. Their recordings are highly regarded examples of the Louisiana-Texas style known as "Swamp Pop". Houston died on 27 September 2007.
23 Apr 1939
American pop singer Ray Peterson, who scored the 1960 US No.7 single 'Tell Laura I Love Her'. The song was recorded and released by Ricky Valance in the United Kingdom, where it went to No.1. Peterson died on 25 January 2005 aged 65.
23 Apr 1936
American singer-songwriter
Roy Orbison
"the Big O" who had a 1964 UK & US No.1 single with 'Pretty Woman' plus over 20 US & 30 UK Top 40 singles including 'Only the Lonely' (1960), 'Running Scared' (1961) and 'Crying'. With the
Traveling Wilburys
he had a 1988 UK hit single 'Handle With Care'. Orbison died of a heart attack on 6 December 1988.