April 25th: The Biggest Music Headlines
Scroll down the page to see all the music headlines, stories and events for April 25 throughout music history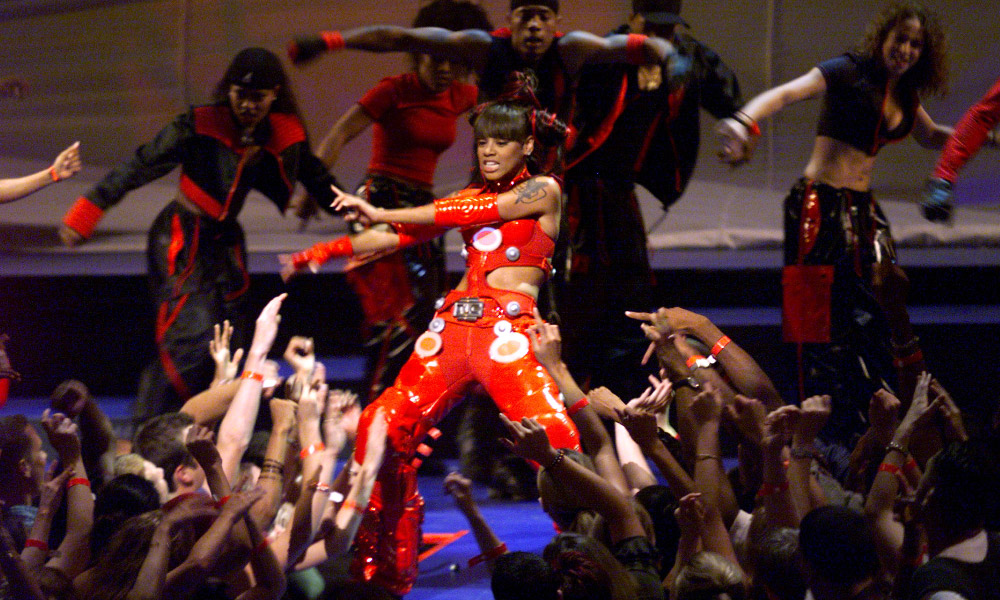 TLC's Lisa 'Left Eye' Lopes Dies In Car Crash
On this day in music, April 25, 2002, TLC member Lisa "Left Eye" Lopes perished at the age of 30 in an automobile accident while shooting a documentary in Honduras. The Philadelphia-born singer and rapper rose to fame as one-third of the groundbreaking Atlanta-based trio TLC, with whom she recorded three albums, including 1994's CrazySexyCool, featuring the No.1 US hit singles "Creep" and "Waterfalls." Lopes also made a solo album, 2001's Supernova.
In 1990, Jimi Hendrix's Olympic White Fender Stratocaster, with which he closed the legendary Woodstock festival in 1969, fetched $295,000 at auction when it was bought by Italian TV host and music critic, Gabriele Ansaloni. Hendrix famously concluded his two-hour Woodstock set with a rendition of "The Star Spangled Banner."
In 1987, Madonna became the first female artist to chalk up four UK No.1 hits when "La Isla Bonita" reached the top spot. The track was the fifth single culled from her third studio album, True Blue. She went on to top the UK singles chart a record-breaking 13 times.
In 1977, Elvis Presley was captured on tape for the final time when his concert at the Michigan Civic Center in Saginaw was recorded by RCA. Three songs from that show appeared as part of an album called Moody Blue, a blend of studio and live tracks, which was released in July 1977, a month before Elvis' death.
In 1954, singer, songwriter, and pianist Johnnie Ray scored his first of three UK No.1s with "Such a Night." Dubbed the "Father of Rock and Roll" by Tony Bennett, the Oregon-born star only bagged a solitary US No.1: 1951's "Cry," a pleading tearjerker that became his signature tune and highlighted Ray's prowess as an emotive balladeer.
In 2007, 69-year-old singer-comedian Bobby "Boris" Pickett died following a battle with leukemia. He was best known for his uncanny Boris Karloff impersonation on "Monster Mash," which he co-wrote and performed with his group The Crypt-Kickers. The 1962 horror-themed spoof, which parodied dance-craze records of the time, became a million-selling No.1 hit in the US, but was initially banned by the BBC for purportedly being "too morbid." The BBC eventually lifted their ban and in 1973, "Monster Mash" made No. 3 on the UK singles chart. Today, it remains a perennial Halloween favourite.
Looking for more things that happened on this day in music?
Keep scrolling for all of the headlines for April 25.
BORN ON APRIL 25:
1918: Ella Fitzgerald
1923: Albert King
1933: Jerry Leiber (Songwriter)
1943: Tony Christie
1945: Stu Cook (Creedence Clearwater Revival)
1945: Björn Ulvaeus (ABBA)
1958: Fish (Marillion)
1964: Andy Bell (Erasure)
1965: Simon Fowler (Ocean Colour Scene)
1965: Eric Avery (Jane's Addiction)
1980: Jacob Underwood (O-Town)
1994: Sam Fender (Singer/songwriter)
Looking for more artists born on this day?
Keep scrolling for all of our April 25 birthdays.
---
What to find another day?
---
April 25th
25 Apr 2022
Royalties from live performances of music in the UK fell almost 30% in 2021, despite concerts resuming in the summer. Concert revenues were just £8m, down from £11.3m in 2020 and £54m in 2019, said PRS for Music, the body that collects royalties for songwriters. Only 19,300 setlists were reported last year, it added, marking a huge decline from the 124,000 reported pre-pandemic.
25 Apr 2017
Sir
Elton John
suffered a potentially deadly bacterial infection during a tour, forcing him to spend two nights in intensive care and cancel concerts in the US. The singer became violently ill at the end of a tour of South America, requiring him to return to the UK for urgent treatment. Nine concerts that were due to be staged in Las Vegas and California were cancelled.
25 Apr 2016
Motley Crue co-founder Nikki Sixx launched a campaign asking Google to pay musicians more money when their videos appeared on YouTube. The bass player was urging Google to remember its former slogan - "Don't be evil" - in its dealings with artists.
25 Apr 2014
Spotify removed a album of silence by American funk band Vulfpeck from its streaming site. The band's fourth record, Sleepify, was made up of 10 tracks of silence which they encouraged fans to stream on repeat overnight. The idea was aimed at generating money so that the band could go on tour and not charge admission fees.
25 Apr 2009
A man suing rapper Snoop Dogg told a court he received a 'brutal' beating from the star's security. Richard Monroe Jr also claimed that the rapper hit him with a microphone after he climbed on stage. Mr Monroe was asking for $22m (£15m) in damages from the rapper and others. Jurors were told that as the performer started his hit 'Gin and Juice', at the White River Amphitheatre in Seattle, Mr Monroe thought there was an open invitation to go up on stage and party.
25 Apr 2008
The Empire State Building in New York City was lit up in
Mariah Carey
's motif colours, lavender, pink, and white, in celebration of her achievements in the world of music. Carey was the first person in history to be honoured with this event.
25 Apr 2007
American singer Bobby "Boris" Pickett died of leukaemia at the age of 69. Scored the Halloween anthem 'The Monster Mash' in 1962. The song had been banned by The BBC in the UK, deemed offensive and wasn't a hit until 1973. It was a spoof on the dance crazes popular at the time, including the Twist and the Mashed Potato.
25 Apr 2007
During The
Rolling Stones
current world tour, aides to George Bush were told they couldn't book a luxury five star hotel suite because
Mick Jagger
had already booked it. Jagger had splashed out £3,600 a night for the suite at the five-star Imperial Hotel in Vienna, Austria, in advance of the band's appearance there. Prior to the attempted booking, US Secret Service agents had already vetted the hotel, but to no avail.
25 Apr 2003
In this year's Sunday Times Rich List,
Paul McCartney
was confirmed as the world's richest musician with a fortune worth over £760m.
Madonna
was 4th in the list with £227m,
Mick Jagger
6th with £175m and
Elton John
7th with £170m.
Ozzy Osbourne
became the 24th richest musician after earning an estimated £42m from his
MTV
show The Osbournes. And Simon Fuller was said to have earned over £50m from sales of the 'Pop Idol' TV show.
25 Apr 2002
TLC member Lisa Lopes was killed in a car accident in La Ceiba, Honduras, aged 30. Seven other people, including Lopes' brother and sister, who were in the Mitsubishi Montero sports utility vehicle when the crash happened, were taken to a hospital. Lopes who was driving the car when it crashed had spent the past month in Honduras working on various projects including a clothing line, a new solo project and a book.
25 Apr 1997
U2
's 'Pop Mart' world tour kicked off at The Las Vegas San Boyd Stadium in front of 35,000 fans. The tour featured the largest video screen in the world and would visit 80 cities around the planet.
25 Apr 1994
The
Eagles
played the first of two shows where they recorded their 'Hell Freezes Over' album. Don Henley, Glenn Frey, Joe Walsh, Don Felder and Timothy B. Schmit first got back together the previous December for the making of a Travis Tritt video of their song, 'Take It Easy' The name of the album was taken from an earlier quote by Glen Frey, who responded to the question "When will the Eagles get back together?"
25 Apr 1990
The Fender Stratocaster that
Jimi Hendrix
played at the
Woodstock
festival was auctioned off for a record $295,000. His two-hour set at the 1969 festival became the longest of his career.
25 Apr 1988
Bon Jovi
's manager Doc McGee was convicted on drug offences arising from the 1982 seizure of 40,000lb of marijuana smuggled into north Carolina from Colombia. McGee was sentenced to a five year suspended prison term and a $15,000 fine.
25 Apr 1987
Madonna
went to No.1 on the UK singles chart with 'La Isla Bonita.' The fifth and final single from her third studio album, True Blue, made her the only female artist to score four UK No.1 singles. The song had been offered to
Michael Jackson
for his Bad album.
25 Apr 1987
U2
started a five-week run at No.1 on the US album chart with their fifth studio album The
Joshua Tree
. Inspired by American tour experiences, literature, and politics, the album topped the charts in over 20 countries, and is one of the world's all-time best-selling albums, with over 25 million copies sold. The album which won a Grammy Award for Album of the Year produced the hit singles 'With or Without You', 'I Still Haven't Found What I'm Looking For', and 'Where the Streets Have No Name'.
25 Apr 1982
Paul McCartney
and
Stevie Wonder
were at No.1 on the UK singles chart with 'Ebony And Ivory.' This was McCartney's 24th No.1 hit single as a songwriter. The title was inspired by McCartney hearing Spike Milligan say "black notes, white notes, and you need to play the two to make harmony folks!". It was later named as the tenth worst song of all time by Blender magazine and in 2007 was named the worst duet in history by BBC 6 Music listeners.
25 Apr 1980
Stranglers singer, guitarist Hugh Cornwell was released from a London prison after serving six weeks for possession of drugs.
25 Apr 1979
The Police
made their debut on BBC TV's
Top Of The Pops
performing 'Roxanne'. The single which was taken from their album Outlandos d'Amour was written from the point-of-view of a man who falls in love with a prostitute.
25 Apr 1977
Elvis Presley
made the last recordings of his life during a concert at the Saginaw, Michigan Civic Centre. Three songs from the show appeared on the posthumously released Presley album, 'Moody Blue'.
25 Apr 1974
Pamela Courson the long-term companion of the late
Jim Morrison
died of a drugs overdose. It was Courson who found
The Doors
singer dead on July 3, 1971 in the bathtub of their apartment in Paris, France.
25 Apr 1970
The Jackson Five started a two week run at No.1 on the US singles chart with 'ABC'. It was the group's second US No. 1, a No.8 hit in the UK.
25 Apr 1967
25 Apr 1960
Elvis Presley
started a four week run at No.1 on the US singles chart with 'Stuck On You', his first hit single after his two-year stint in the US Army. It became his first No.1 single of the 1960s and thirteenth overall.
25 Apr 1954
Johnnie Ray was at No.1 on the UK singles chart with 'Such A Night.' The singer's first of three UK No.1's. He became deaf in his right ear aged 13 after an accident and would later perform wearing a hearing aid. Dexys Midnight Runners' 1982 music video for 'Come On Eileen', used footage of Ray from 1954. The lyrics of the song say, "Poor old Johnnie Ray sounded sad upon the radio / he moved a million hearts in mono".
Born on this day in music
25 Apr 1994
English singer, songwriter, Sam Fender. He won the Critics' Choice Award at the 39th Brit Awards and his 2019 debut album, Hypersonic Missiles, entered the UK Albums Chart at No.1.
25 Apr 1980
Jacob Underwood, from American boy band O-Town, who were the winners of US TV show 'Making The Band' They scored the 2001 US No. 3 single 'All Or Nothing'.
25 Apr 1965
Eric Avery, bassist and co-founding member of alternative American rock metal band Jane's Addiction.
25 Apr 1965
Simon Fowler, singer with English rock band Ocean Colour Scene who formed in Moseley, Birmingham in 1989. They scored the 1996 UK No.4 single 'The Day We Caught The Train', plus over 12 other Top 40 singles and the 1997 UK No.1 album Marchin' Already.
25 Apr 1964
Andy Bell, lead singer of the English synth-pop duo Erasure who achieved 24 consecutive Top 40 hits in the UK, while having three Top 20 hits in the US.
25 Apr 1964
Maya Gilder, keyboards, from British new wave band Furniture, who had the 1986 UK No.21 single 'Brilliant Mind'.
25 Apr 1958
Fish, (Derek Dick), from British rock band Marillion from 1981 until 1988. They had the 1985 UK No.2 single 'Kayleigh'. Fish has since been a solo artist and occasional actor.
25 Apr 1950
Steve Ferrone, former drummer with the Average White Band, who had the 1975 US No.1 & UK No.6 single 'Pick Up The Pieces'. Ferrone is now best known for being the drummer for
Tom Petty
and the Heartbreakers for the last 25 years, replacing original drummer Stan Lynch in 1994. He has also recorded and performed with
Duran Duran
, Stevie Nicks, Laura Pausini, Christine McVie, Slash, Chaka Khan,
Eric Clapton
,
Bee Gees
, Scritti Politti,
Aerosmith
and
Johnny Cash
.
25 Apr 1949
Michael Brown, singer, 1966-67 he was in the Left Banke, which had a 1966 US No.5 hit, 'Walk Away Renee' and was a member of Stories, who had the 1973 US No.1 single 'Brother Louie'. The song was written by Errol Brown from Hot Chocolate who had a UK No.7 with the song the same year. Brown died on March 19, 2015, at age 65.
25 Apr 1946
Ronnie Gilbert, from American rock group The Blue Magoos, who scored the 1967 US No.5 single, 'We Ain't Got Nothin' Yet'. They were at the forefront of the psychedelic music trend, beginning in 1966.
25 Apr 1945
Bjorn Ulvaeus, Swedish singer, songwriter, producer who started his musical career at 18 when he fronted the Hootenanny Singers, a popular Swedish folk–skiffle group. After forming
ABBA
in 1972 they became one of the best-selling music artists of all time. Their first UK hit was the 1974 No.1 single 'Waterloo', followed by eight other UK No.1 singles and nine No.1 albums. He is the co-composer of the musicals Chess and Mamma Mia! (and co-produced the film) with fellow
ABBA
member and close friend Benny Andersson.
25 Apr 1945
Stu Cook, bassist with
Creedence Clearwater Revival
, who had the 1969 UK No.1 and US No.2 single 'Bad Moon Rising' plus 11 other US Top 40 singles and the 1970 US & UK No.1 album Cosmo's Factory.
25 Apr 1945
Michael Kogel, from Spanish beat group Los Bravos who had the 1966 UK No.2 & US No.4 single 'Black Is Black'. They were the first Spanish rock band to have a UK & US hit single.
25 Apr 1944
Charlie Harper, singer with English punk band, UK Subs, who scored the 1979 UK No.26 single 'Stranglehold'.
25 Apr 1943
Tony Christie, UK singer, 1971 UK No.18 single ('Is This The Way To) Amarillo', re-released in aid of Comic Relief in 2005 becoming a UK No.1 with comedian Peter Kay. This broke the record set over 18 years previously by Jackie Wilson. His "Reet Petite" topped the chart in Dec 1986; 29 Years, 1 Month, and 11 Days after it first entered the chart. The new record set by Christie was 33 Years, 3 Months, and 27 Days.
25 Apr 1933
Jerry Leiber, (& Stoller), songwriter and producer for
Elvis Presley
,
Buddy Holly
, The
Monkees
, Cliff Richard. Among their hit songs: Hound Dog, Jailhouse Rock, King Creole, Don't, There Goes My Baby, Searchin', Yakety Yak and Kansas City. Leiber died on August 22, 2011 in Los Angeles at the age of 78 from cardio-pulmonary failure.
25 Apr 1923
American blues guitarist and singer Albert King, best known for the influential 1967 album Born Under a Bad Sign and the title track. He died of a heart attack on 21 December 1992.
25 Apr 1918
American jazz singer Ella Fitzgerald With Verve Records she recorded some of her more widely noted works, particularly her interpretation of the Great American Songbook. Fitzgerald died from a stroke on 15th June 1996 at the age of 79.