April 30th: The Biggest Music Headlines
Scroll down the page to see all the music headlines, stories and events for April 30 throughout music history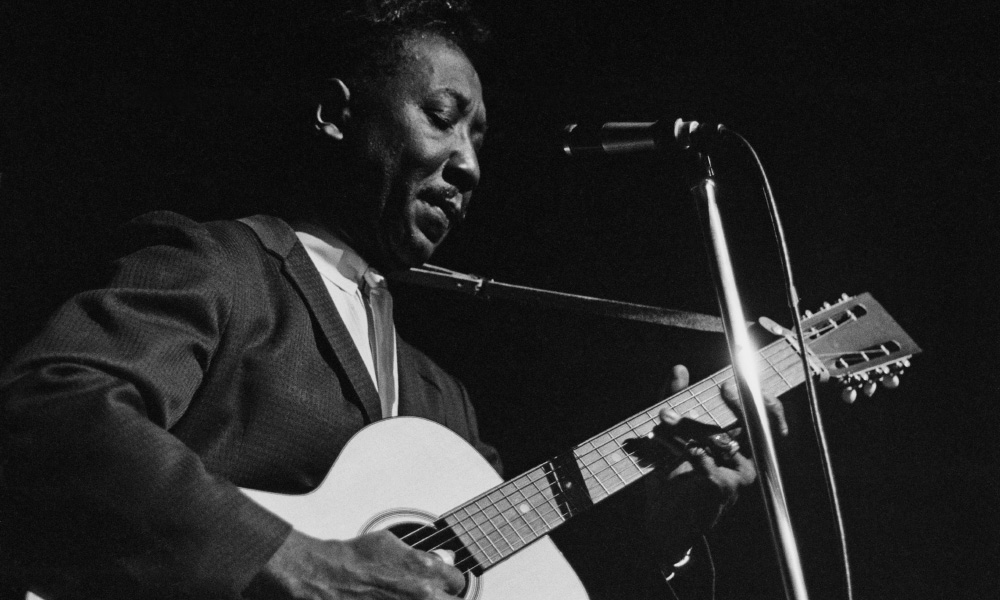 Electric Blues Pioneer Muddy Waters Dies
On this day in music, April 30, 1983, 68-year-old blues legend Muddy Waters died in his sleep. Born McKinley Morganfield in Mississippi to sharecropper parents, Waters began singing and playing guitar as a teenager but his career didn't take off until he moved to Chicago in the 1940s, where he made his first recording. It was via a series of electric blues singles for the Chess label in the 1950s that Waters broke new ground; the biggest of his 16 US R&B hits was 1954's "I'm Your Hoochie Coochie Man." Often referred to as the "Father of Modern Chicago Blues," Waters influenced many 60s British groups, including the Rolling Stones, who took their name from his 1950 single, "Rollin' Stone."
In 1991, Nirvana inked a deal with music mogul David Geffen's DGC label for an advance payment of $290,000, which financed their breakthrough second album, Nevermind. The Seattle-based grunge rock pioneers had previously recorded for Sub Pop, a local indie label.
In 1966, Aftermath, The Rolling Stones' first album of entirely original material, topped the UK chart. Considered a watershed moment in the band's history, its 14 songs were all written by Mick Jagger and Keith Richards.
In 2015, 76-year-old soul singer Ben E. King passed away. Born Benjamin Earl Nelson in North Carolina, he first made his mark with The Drifters, achieving a US No.1 and UK No.2 hit with 1960's "Save The Last Dance For Me." That same year, King left the group to begin a successful solo career that brought him two No.1s on the R&B chart: 1961's "Stand By Me" (a UK No.1 upon its reissue in 1987), and 1975's "Supernatural Thing."
In 2022, country star Naomi Judd died at the age of 76. The singer and actress rose to fame in 1980 with The Judds, a duo with her daughter, Wynonna. Together, they scored nine CMA Awards, five Grammys, and multiple No.1 hits on the US and Canadian country charts. The Judds were inducted into the Country Music Hall of Fame just one day after Naomi's death.
In 1977, Led Zeppelin broke the world record for the number of people attending a rock concert when 76,229 people saw them play the Pontiac Silverdome in Michigan. The feat, ratified by the Guinness Book of Records, had previously been held by another British band; The Who, who were seen and heard by a crowd of 75,962 at the same venue in December 1975.
In 1983, Spandau Ballet scored their only UK No.1 when "True," the title track of their third album, began a month-long run at the summit of the singles chart. It was also the band's first single to crack Billboard's Hot 100, where it made the Top 10.
Looking for more things that happened on this day in music?
Keep scrolling for all of the headlines for April 30.
BORN ON APRIL 30:
1943: Bobby Vee
1948: Wayne Kramer (MC5)
1953: Merrill Osmond (The Osmonds)
1957: Wonder Mike (The Sugarhill Gang)
1962: Robert Reynolds (The Mavericks)
1969: Paulo 'Destructor' Jr (Sepultura)
1971: Darren Emerson (Underworld)
1981: Justin Vernon (Bon Iver)
1982: Lloyd Banks (G-Unit)
1992: Travis Scott
Looking for more artists born on this day?
Keep scrolling for all of our April 30 birthdays.
---
What to find another day?
---
April 30th
30 Apr 2022
US country music star Naomi Judd died at the age of 76. The Kentucky-born singer was part of the Grammy award-winning duo The Judds, performing with her daughter Wynonna. The Judds released six studio albums during a career spanning three decades, winning them many prestigious accolades - including five Grammys and nine Country Music Association Awards.
30 Apr 2019
English musician Boon Gould died age 64. He was one of the four founding members of Level 42 who scored the 1986 hit 'Lessons in Love', which reached No.3 on the UK Singles Chart, and No.12 on the US chart.
30 Apr 2019
American concert promoter and media personality Russ Gibb died. He was best known for his role in the "
Paul McCartney
is dead" phenomenon, a story he broke as a disc jockey on radio station WKNR-FM in Detroit. As a promotor around the Detroit music scene he was instrumental in giving the MC5, Ted Nugent and Iggy Pop their start.
30 Apr 2015
Ben E King, (Benjmin Earl Nelson), soul and R&B singer with The Drifters, died at the Hackensack University Medical Center at the age of 76. The Driffters had the 1960 US No.1 & UK No.2 single 'Save The Last Dance For Me', and King scored the the 1987 UK No.1 solo single 'Stand By Me', (first released in 1961).
30 Apr 2014
Guitarist Wilko Johnson had a major operation in an attempt to treat his pancreatic cancer. Johnson was diagnosed at the end of 2012 and was given 10 months to live after rejecting chemotherapy. Johnson told Q magazine that a cancer doctor had become curious as to why he wasn't dead. And why I wasn't even sick which resulted in more tests.
30 Apr 2008
Gail Renard, who was given the hand written lyrics to 'Give Peace A Chance' by
John Lennon
in 1969, announced plans to sell the lyric sheet at a Christie's auction. At the time, Lennon told Renard to hang on to the piece of paper, saying "It will be worth something someday." The piece of music history was expected to fetch around $400,000, but when it was actually sold in July of this year, it went for $790,000 (£400,000).
30 Apr 2008
Mariah Carey
married actor Nick Cannon in the Bahamas following a whirlwind two-month romance. The pop diva met Cannon, 27, while shooting the music video for her single 'Bye Bye.' It was the second marriage for Carey, who married Columbia Records executive Tommy Mottola in 1993, which ended in 1998.
30 Apr 2005
American guitarist Norma-Jean Wofford died. Known as 'The Duchess', she worked with
Bo Diddley
as a Bo-ette from 1962 to 1966. (Diddley was one of the first artists to have female musicians in his group).
30 Apr 2005
The Dave Matthews Band agreed to pay $200,000 (£105,000) after their tour bus dumped human waste on a boatload of tourists in Chicago in August 2004. Bus driver Stefan Wohl who was alone on board the bus at the time the sewage was dumped was fined $10,000 (£5,200), the band had already donated $100,000 (£54,252) to two group's that protect the Chicago River and its surrounding area. The Dave Matthews Band offered their "deepest apologies" to more than 100 boat passengers who were on an architectural tour.
30 Apr 2004
New child abuse charges were made against
Michael Jackson
including a count of conspiracy, covering allegations of child abduction, extortion and false imprisonment. A new court date of May 28th 2004 was set.
30 Apr 1999
The three former members of Spandau Ballet lost a court case against band songwriter Gary Kemp. They had claimed they were owed £1 million in lost royalties. The Judge said he had become a fan of the bands during the case.
30 Apr 1999
Nazareth drummer Darrell Sweet died aged 52, after suffering a fatal heart attack before a show in New Albany, Indiana. Nazareth had the 1973 UK No.9 single 'Broken Down Angel' 1976 US No. 8 single 'Love Hurts'.
30 Apr 1991
Nirvana
signed a recording contract with Geffen's DGC label for $290,000.
30 Apr 1990
Prince
played a concert at Rupert's Night-club, Minneapolis. The $100 a head ticket proceeds all went to the family of his former bodyguard Charles 'Big Chick' Huntsberry, who had died from a heart attack.
30 Apr 1988
S'Express were at No.1 on the UK singles chart with 'Theme From S'Express'. One of the landmarks of early acid house and late 1980s sampling culture, the British track sampled Rose Royce, TZ's 'I Got the Hots for You' and the count-in 'Uno, dos, uno, dos, tres, quatro' is from Debbie Harry's 1985 single 'Feel the Spin'.
30 Apr 1983
Michael Jackson
started a three week run at No.1 on the US singles chart with 'Beat It', his fifth solo US No.1. The third single from the singer's
Thriller
album featured
Eddie Van Halen
on the song's distinctive overdriven guitar solo, but Halen was prevented by his record label from appearing in the music video.
30 Apr 1983
Spandau Ballet's "True" began a four-week run at the top of the UK singles chart with "True," the group's only No.1. Parts of the track, which was a hit in 20 other countries, would later be sampled and used in a number of songs - most notably PM Dawn's 1991 US No.1 hit 'Set Adrift on Memory Bliss', which contains a sample of the song's famous guitar hook.
30 Apr 1983
American Blues legend Muddy Waters (McKinley Morganfield) died in his sleep at his home in Westmont, Illinois, aged 68. Major influence of many acts,
Cream
,
Eric Clapton
,
Led Zeppelin
, The
Rolling Stones
named themselves after Waters' 1950 song 'Rollin' Stone.' Best known songs include 'I Just Want To Make Love To You', 'I'm Your Hoochie Coochie Man', 'Got My Mojo Working.'
30 Apr 1980
The film 'McVicar' with Roger Daltrey from
The Who
in the title role premiered in London, England. John McVicar was a 1960s armed robber turned writer who Scotland Yard publicly announced to be Public Enemy Number One and "wanted dead or alive".
30 Apr 1977
Led Zeppelin
broke a new world attendance record at a concert when they played to 76,229 people at a gig at the Pontiac Silverdome, Pontiac, Michigan.
The Who
held the previous record at the same venue with 75,962 people.
30 Apr 1977
Glen Campbell
went to No.1 on the US singles chart with 'Southern Nights', his second US No.1.
30 Apr 1976
The Who
's drummer
Keith Moon
paid nine cab drivers to block-off both ends of a New York street so he could throw the contents of his hotel room out of the window.
30 Apr 1970
Twiggs Lyndon, the road manager for
The Allman Brothers Band
was arrested for murder after he stabbed a club manager during an argument over a contract. At the ensuing trial, Lyndon's lawyers argued that he had been temporarily insane at the time of the incident and that touring with the
Allman Brothers
would drive anyone insane. Lyndon was acquitted.
30 Apr 1968
BBC TV launched The Cilla Black Show making Cilla the first British female performer to have her own TV show. The theme song, 'Step Inside Love', was written by
Paul McCartney
.
30 Apr 1966
The
Rolling Stones
fourth album 'Aftermath' went to No.1 on the UK chart, the group's third UK No.1 album. The album is considered an artistic breakthrough for the band and is the first to consist entirely of Jagger–Richards compositions, while
Brian Jones
played a variety of instruments not usually associated with their music, including sitar, Appalachian dulcimer, marimbas and Japanese koto.
30 Apr 1964
During a UK tour
The Beatles
played two shows at The Odeon Cinema in Glasgow. They were also interviewed by BBC Scotland and STV for the evening news programs.
30 Apr 1960
The Everly Brothers started a seven week run at No.1 on the UK singles chart with 'Cathy's Clown', giving Warner Bros a No.1 with their first release.
30 Apr 1957
Elvis Presley
recorded the Leiber and Stoller song 'Jailhouse Rock' as featured in his third motion picture of the same name. In the movie, Mike Stoller had a small role as a piano player. 'Jailhouse Rock' later became the first song to debut at No.1 in Great Britain.
Born on this day in music
30 Apr 1992
American rapper, singer, songwriter and record producer Travis Scott. His 2016 album Birds in the Trap Sing McKnight went to No.1 on the US chart.
30 Apr 1989
Harry Bauer, American record producer of trap and bass music, best known for his 2013 hit song 'Harlem Shake' which stayed at No.1 on the US singles chart for five weeks.
30 Apr 1987
Nikki Webster, Australian singer and model, who had the 2001 Australian No.2 single 'Strawberry Kisses'. Performed at the 2000 Sydney Summer Olympics Opening Ceremony.
30 Apr 1983
Stevie Aiello, American musician, 30 Seconds to Mars. Their 2018 album America peaked at No.2 on the US chart and No.4 in the UK.
30 Apr 1982
Lloyd Banks, (Christopher Lloyd), US singer, rapper, G-Unit , solo, (2004 US No.1 album 'The Hunger For More').
30 Apr 1982
Cleo Higgins, singer from R&B/pop girl group Cleopatra who had the 1998 UK No.3 single 'Cleopatra's Theme'.
30 Apr 1981
English DJ and record producer David Zowie. He is best known for his song 'House Every Weekend', which topped the UK Singles Chart in 2015.
30 Apr 1981
Justin Vernon, American multi-instrumentalist, singer, songwriter and producer best known as the frontman of indie folk band Bon Iver.
30 Apr 1971
Darren Emerson, keyboards, from British electronic music group Underworld who had the 1996 UK No.2 single 'Born Slippy'.
30 Apr 1971
Chris Henderson, guitarist, with American rock band 3 Doors Down who had the 2003 US No.4 single When I'm Gone', and the 2005 US No.1 album Seventeen Days.
30 Apr 1969
Paulo 'Destructor' JR, Sepultura, from Brazilian heavy metal Sepultura. Formed in 1984 by brothers Max and Igor Cavalera, the band was a major force in the thrash metal and groove metal genres during the late 1980s and early 1990s.
30 Apr 1968
Ben Ayres, guitar, vocals, from British indie rock band Cornershop, who had the 1998 UK No.1 single 'Brimful Of Asha'.
30 Apr 1967
Turbo B American musician, rapper and beatboxer from German Eurodance group Snap! who scored the 1990 UK No.1 & US No.2 single 'The Power' and their 1992 hit 'Rhythm Is a Dancer'.
30 Apr 1962
Robert Reynolds, bassist from the American band The Mavericks who had the 1998 UK No.4 single 'Dance The Night Away'. The Mavericks won a Grammy Award for the song 'Here Comes the Rain'.
30 Apr 1957
Wonder Mike (Michael Anthony Wright), rapper from The Sugarhill Gang who were the first hip hop act to have a hit with the cross-over single 'Rapper's Delight' in the pop charts in 1979.
30 Apr 1953
Merrill Osmond, from American family group The
Osmonds
. They had the 1971 US No.1 single 'One Bad Apple', the 1974 hit 'Crazy Horses' and the 1974 UK No.1 single 'Love Me For A Reason'. They had their own 1972–1973 Saturday morning cartoon series, The
Osmonds
, on ABC-TV. The
Osmonds
have sold over 75 million records world wide.
30 Apr 1951
Des Tong, bassist with English group Sad Cafe who had the 1979 UK No.3 single 'Every Day Hurts'.
30 Apr 1948
Wayne Kramer, guitarist, singer, songwriter from American rock band MC5 (Motor City 5) who formed in 1964. Best known for their energetic live performances, one of which was recorded as their 1969 debut album Kick Out the Jams.
30 Apr 1943
Bobby Vee, American singer, songwriter and musician who was a teen idol in the early 1960s. He scored the 1961 US No.1 single & UK No.3 single 'Take Good Care Of My Baby' and thirty-eight Hot 100 chart hits, ten of which reached the Top 20. Vee died on October 24, 2016 aged 73.
30 Apr 1936
American R&B singer, songwriter and record producer Robert Bateman. Among other songs, he co-wrote the hits 'Please Mr. Postman' (the debut single by the Marvelettes for Tamla
Motown
), and the Wilson Pickett hit 'If You Need Me'. He died October 12, 2016 aged 80, following a heart attack after attending an awards ceremony in Los Angeles, California.
30 Apr 1936
American musician Bobby Gregg who performed as a drummer and record producer. Gregg is best is known for his work as a drummer on several seminal 1960s songs, including
Bob Dylan
's 'Like a Rolling Stone' and
Simon And Garfunkel
's 'The Sound of Silence'. He was also temporarily a member of The Hawks, which later became known as The Band. Gregg died on 3 May 2014.
30 Apr 1929
American country music and rockabilly singer Johnny Horton who had the 1959 US No.1 & UK No.16 single 'The Battle Of New Orleans'. Horton was killed in a car crash on 5th November 1960.