April 8th: The Biggest Music Headlines
Scroll down the page to see all the music headlines, stories and events for April 8 throughout music history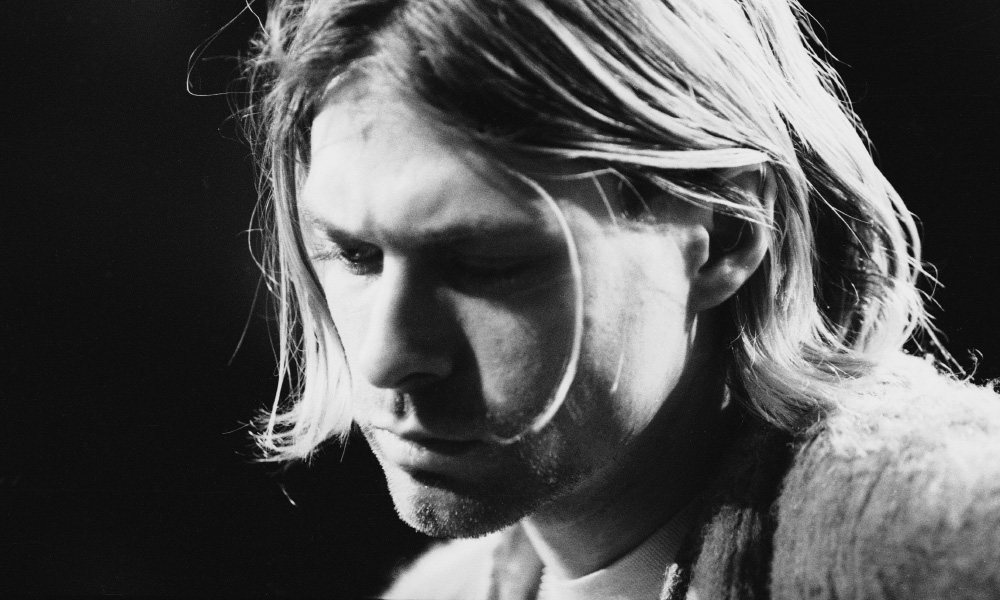 The World Mourns Kurt Cobain
On this day in music, April 8, 1994, Kurt Cobain's body was discovered by an electrician at his Seattle home, several days after the Nirvana frontman took his own life. News broke at 9:40 AM on radio station KXRX and soon spread across the world, while local fans held vigil at the scene. Just one month earlier, the 27-year-old grunge icon had suffered a drug overdose while on tour in support of the band's third album In Utero. The band cut the European run short, in hopes that Cobain would seek treatment.
In 1977, The Clash released their self-titled debut in the UK, which peaked at No.12 on the chart. Interestingly, the punk band's label, CBS, initially refused to release the album in the US, deeming it "unfriendly" for radio play. The Clash quickly became one of America's biggest-selling import records of all time, however, with 100,000 copies brought into the country. It eventually got an official US release in 1979, but with a different track listing.
In 1997, the pioneering American singer-songwriter Laura Nyro succumbed to ovarian cancer at the age of 49. Born in the Bronx, she signed her first record deal as a teenager and forged a unique style that fused soul, gospel, jazz, and Brill Building pop. The first of her nine studio first albums was 1967's More Than A New Discovery, which contained two of her most famous songs, "Stoney End" (later recorded by Barbra Streisand) and "Wedding Bell Blues" (a No.1 US hit for The 5th Dimension). Among the many artists who covered her songs were Suzanne Vega, Roseanne Cash, and Frank Sinatra.
In 2001, ex-Spice Girl Emma Bunton's debut single "What Took You So Long" became her first and only solo No.1. The singer, dubbed "Baby Spice," was the fourth member of the group to score a solo chart-topper.
In 2010, 64-year-old Malcolm McLaren, who rose to fame as the Sex Pistols' manager, lost his battle with cancer. A former art school student, he opened a clothing store called Let It Rock in the early 70s with fashion designer Vivienne Westwood and played a key role in the birth of punk rock. He also established himself as a recording artist, releasing seven albums between 1983 and 2005 and scoring ten UK hit singles, including 1983's "Double Dutch."
In 1991, the influential UK trip-hop collective Massive Attack released their groundbreaking debut, Blue Lines, which included the UK hit single "Unfinished Sympathy." The album was featured in the 2005 book 1001 Albums You Must Hear Before You Die.
In 1967, Sandie Shaw became the first British female artist to win the Eurovision Song Contest with "Puppet On A String." It was also the singer's third and final UK No.1.
Looking for more things that happened on this day in music?
Keep scrolling for all of the headlines for April 8.
BORN ON APRIL 8:
1929: Jacques Brel
1942: Leon Huff (Producer, co-founder of Philadelphia International Records)
1947: Steve Howe (Yes)
1951: Mel Schacher (Grand Funk Railroad)
1962: Izzy Stradlin (Guns N' Roses)
1963: Julian Lennon
1971: Darren Jessee (Ben Folds Five)
1984: Ezra Koenig (Vampire Weekend)
1989: Matthew Healy (The 1975)
Looking for more artists born on this day?
Keep scrolling for all of our April 8 birthdays.
---
What to find another day?
---
April 8th
8 Apr 2022
Pink Floyd
reunited to record their first new material in 28 years, a protest song against the Ukraine war. 'Hey Hey, Rise Up!' featured David Gilmour and Nick Mason alongside long-time Floyd bassist Guy Pratt and Nitin Sawhney on keyboards. The song is built around a refrain from Ukrainian singer Andriy Khlyvnyuk of the band Boombox. Gilmour was inspired after being shown Khlyvnyuk's Instagram feed showing footage of himself in Kyiv's Sofiyskaya Square, fully armed and ready to fight the Russian invasion.
8 Apr 2017
The late rapper
Tupac Shakur
, singer, songwriter Joan Baez and
Pearl Jam
were all entered into the Rock and Roll Hall of Fame.They were inducted alongside the Electric Light Orchestra (ELO), Journey and Yes during a concert in New York City.
8 Apr 2016
Alex Turner secured his seventh consecutive UK No.1 album with The Last Shadow Puppets' Everything You've Come To Expect. It was the second time the band had debuted at the top of the album chart and Turner's five albums with Arctic Monkeys also all debuted at No.1 in the UK.
8 Apr 2012
It was reported that organizers for the 2012 London Olympics ceremony had recently asked the manager of
The Who
if legendary drummer
Keith Moon
would be able to perform at the forthcoming London Olympics Games. Who manager Bill Curbishley, told The Times how he responded to the request. 'I emailed back saying Keith now resides in Golders Green crematorium, having lived up to
The Who
's anthemic line 'I hope I die before I get old,' he said. 'If they have a round table, some glasses and candles, we might contact him.'
8 Apr 2010
Malcolm McLaren former manager of the
Sex Pistols
, the New York Dolls and Bow Wow Wow died from cancer aged 64. As a solo artist he scored the 1983 UK No.3 single 'Double Dutch'. He set up the fashion store Let It Rock in the late 60s with Vivienne Westwood selling rubber and fetish gear.
8 Apr 2008
Babyshambles frontman Pete Doherty was jailed for 14 weeks for violating his probation and for using drugs. Doherty had been given a suspended jail sentence for possession of drugs and driving illegally in October 2007. The singer's supervision order had required him to make regular visits to court for progress reports, as well as take part in a drug rehabilitation programme but he missed one appointment with his probation team and had been late for another. The sentence forced Doherty to cancel his biggest gig to date at the Royal Albert Hall scheduled for later this month.
8 Apr 2006
Following 2003's false starts, The
Rolling Stones
finally performed for the first time in mainland China, at Shanghai's Grand Stage Theatre. The Stones were banned from performing three songs ('Brown Sugar', 'Honky Tonk Women', 'Rough Justice'). Chinese rock star Cui Jian joined the band on stage for a duet with
Mick Jagger
on 'Wild Horses'.
8 Apr 2002
Marilyn Manson denied claims that he was responsible for the death of a woman after a party at his mansion in 2001. Jennifer Syme, a former girlfriend of actor Keanu Reeves, died when her Jeep Cherokee hit three parked cars. Her mother, Maria St John, was suing the singer for wrongful death, claiming Manson was negligent in "instructing the woman to operate a motor vehicle in her incapacitated condition".
8 Apr 2001
Former Spice Girl Emma Bunton scored her first UK No.1 single with 'What Took You So Long.' She became the fourth Spice Girl to have a solo No 1. Written by Richard Stannard who wrote six of the
Spice Girls
' UK No.1 hits.
8 Apr 1998
Rolling Stones
guitarist
Ronnie Wood
was rescued, along with 11 other passengers, in the nick of time, from a boat when an engine caught fire. The boat was exploring the islands near Angra Dos Reis, south of Rio De Janeiro, Brazil, when one of the boat's engines caught fire. Passengers were rescued by nearby journalists, just before the boat exploded.
8 Apr 1997
American singer, songwriter Laura Nyro died from ovarian cancer. Suzanne Vega, Phoebe Snow, Roseane Cash,
Frank Sinatra
and Linda Ronstadt all covered her songs. She wrote 'And When I Die' a hit for Blood, Sweat & Tears and 'Stoney End' which was covered by Barbra Streisand.
8 Apr 1995
Take That
had their sixth UK No.1 single when the Gary Barlow penned 'Back For Good' went to the top of the UK charts. The song sold over 300,000 copies in its first week and was also a US Top 10 hit. The song won Best British Single at the 1996 Brit Awards.
8 Apr 1994
The Recording Industry Association of America announced that
Pink Floyd
's 1973 album
The Dark Side Of The Moon
had become the fourth biggest-selling album in US history and had passed the 13 million mark in sales. The album has sold more than 25 million copies worldwide.
8 Apr 1994
Electrician Gary Smith who was working at
Kurt Cobain
's house in Seattle discovered Cobain's body lying on the floor in the greenhouse. Local radio station KXRX broke the news at 9.40am that the
Nirvana
singer and guitarist was dead. A shotgun was found next to Cobain's body. A suicide note was found that said, 'I haven't felt the excitement of listening to as well as creating music, along with really writing . . . for too many years now'. A high concentration of heroin and traces of Valium were also found in Cobain's body.
8 Apr 1991
English trip hop group Massive Attack released their debut studio album Blue Lines. In 1997, Blue Lines was named the 21st greatest album of all time in a "Music of the Millennium" poll conducted by HMV, Channel 4, The Guardian and Classic FM. The album was also included in the book 1001 Albums You Must Hear Before You Die.
8 Apr 1985
American songwriter J Fred Coots died aged 87. Co-wrote, 'Santa Claus Is Coming To Town' and the Pat Boone US No.1 hit 'Love Letters In The Sand.' He wrote over 700 songs.
8 Apr 1978
Brian and Michael (Kevin Parrott and Michael Coleman), were at No.1 on the UK singles chart with a song inspired by painter LS Lowery 'Matchstalk Men And Matchstalk Cats And Dogs.' The backing vocals are by the St Winifred's School Choir, who had a No.1 in 1980.
8 Apr 1977
CBS released the self- titled first album by
The Clash
in the UK. The album is widely celebrated as one of the greatest punk albums of all time. CBS in the US refused to release it until 1979 and Americans bought over 100,000 imported copies of the record making it one of the biggest- selling import records of all time.
8 Apr 1977
The Damned played at the home of the New York punk scene CBGBS, the first UK Punk group to play live dates in the USA.
8 Apr 1975
Aerosmith
released their third studio album Toys In The Attic. The album is their most commercially successful in the US, with eight million copies sold and features the hit 'Walk This Way' which peaked at No.10 on the Billboard Hot 100 in early 1977 when re-released and was one of the songs that helped break
Aerosmith
into the mainstream in the seventies.
8 Apr 1973
During his
Ziggy Stardust
world tour,
David Bowie
played the first of three sold out nights at Shinjuku Koseinenkin, Kaikan, Tokyo, Japan.
8 Apr 1967
Otis Redding
, Sam & Dave, Eddie Floyd, Arthur Conley and Booker T And The MG's all appeared at London's Hammersmith Odeon, England.
8 Apr 1967
Sandie Shaw won the Eurovision Song Contest held in Vienna representing Britain with the song 'Puppet On A String'. She became the first UK female artist to win the contest.
8 Apr 1967
John Lennon
took his Rolls Royce to coachbuilders J.P. Fallon Ltd in Surrey to enquire if they could paint his car in psychedelic colours. This was based on an idea by Marijke Koger ("The Fool" who was a member of Dutch team of gypsy artists). J.P. Fallon commissioned Steve Weaver's pattern of scroll and flowers for the Phantom V. The cost for having the work done came in at £2,000. A custom interior/exterior sound system was also installed as well as a Sony television; telephone (WEYBRIDGE 46676) and a portable refrigerator.
8 Apr 1965
Unit Four Plus Two were at No.1 on the UK singles chart with 'Concrete And Clay', the English group's only No.1 hit.
8 Apr 1964
The
Supremes
record 'Where Did Our Love Go' at
Motown
Studios in Detroit. The song would become their first US No.1 single. Originally founded as the Primettes in Detroit, Michigan, in 1959, the Supremes were the most commercially successful of Motown's acts and are, to date, America's most successful vocal group with 12 No.1 singles on the Billboard Hot 100.
8 Apr 1942
Glenn Wallichs launched Capitol Records in the US. The label became home to such artists as
Frank Sinatra
,
The Beatles
,
The Beach Boys
, Eddie Cochran, Gene Vincent, Bobby Darin, Dean Martin,
Glen Campbell
, Steve Miller, Dr. Hook, Bob Seger, Tina Turner, Heart and countless others. Wallichs was the man who invented the art of record promotion by sending copies of new releases to disc jockeys.
Born on this day in music
8 Apr 1989
Matthew Healy, lead vocals, guitar and keyboards with English indie rock band The 1975. Their second album released in 2016, I Like It When You Sleep, for You Are So Beautiful Yet So Unaware of It, went to No.1 on both the UK and US album charts, (setting the record for longest title of a Billboard No.1 album with 71 characters).
8 Apr 1984
Ezra Koenig, singer, guitarist, Vampire Weekend. 2010 US & UK No.1 album, 'Contra' and the 2013 US No.1 album 'Modern Vampires of the City'.
8 Apr 1971
Darren Jessee, drummer from American alternative rock trio Ben Folds Five. Their single 'Brick' from the 1997 album Whatever and Ever Amen gained airplay on many mainstream radio stations.
8 Apr 1963
Donita Sparks, guitar, vocals with American rock band L7 who were associated with the grunge movement of the late 1980s and early 1990s. L7 influenced many of the riot grrrl bands of the 1990s.
8 Apr 1963
Julian Lennon, first son of Beatle
John Lennon
and the only child of Lennon's first wife Cynthia Lennon. His godfather was Beatles' manager Brian Epstein. Julian Lennon had the 1991 UK No.6 single 'Saltwater'. Had a cameo role in the 1995 film 'Leaving Las Vegas', as a bartender.
8 Apr 1962
Adam Mole from English alternative rock band, Pop Will Eat Itself who scored the 1991 UK No.15 single 'X Y & Zee' and the 1993 top ten hit, 'Get The Girl! Kill The Baddies!'
8 Apr 1962
American guitarist, singer and songwriter Izzy Stradlin, from Guns N' Roses. Their 1987 debut album, Appetite for Destruction reached No.1 on the Billboard chart a year after its release, on the strength of 'Sweet Child o' Mine', the band's only single to reach No.1. The album has sold approximately 30 million copies worldwide, including 18 million in the US, making it the best-selling debut album of all time as well as the eleventh best-selling album in the US.
8 Apr 1962
Jerry Kelly, from the English new wave band The Lotus Eaters who had the 1983 UK No.15 single 'First Picture Of You' which was a hit in continental Europe, notably France, Italy, Belgium and Spain.
8 Apr 1951
Mel Schacher, best known as the bassist for Grand Funk Railroad who had the US No.1 single with their version of 'The Loco-Motion' which was produced by Todd Rundgren. They were the most successful US Heavy Metal band of the 70s selling over 20m albums.
8 Apr 1947
Steve Howe, guitarist, Yes, (1977 UK No.7 'Wonderous Stories', 1983 US No.1 & UK No. 28 single 'Owner Of A Lonely Heart'). Asia, (1982 US No 4 & UK No. 46 single 'Heat Of The Moment'). Has also been a member of The Syndicats, Bodast, Tomorrow and GTR. Released over a dozen solo albums. Howe was voted Best Overall Guitarist in Guitar Player magazine five years in a row (1977-1981).
8 Apr 1942
Leon A. Huff who as part of the American songwriting and production team with Kenneth Gamble is credited for developing the Philadelphia soul music genre (also known as Philly sound) of the 1970s. In addition to forming their own label, Philadelphia International Records, Gamble and Huff have written and produced 175 gold and platinum records.
8 Apr 1942
Roger Chapman, English rock vocalist best known as a member of the progressive rock band Family, which he joined in 1966 and also the rock, R&B band Streetwalkers formed in 1974. Family scored the 1971 UK No.4 single 'In My Own Time'. They released the 1968 album Music in a Doll's House.
The Beatles
had originally intended to use the title A Doll's House for the album they were recording during 1968. The release of Family's similarly titled debut then prompted them to adopt the minimalist title
The Beatles
for what is now more commonly referred to as The
White Album
.
8 Apr 1929
Jacques Brel, Belgian singer, songwriter. Marc Almond, Alex Harvey,
David Bowie
, Dusty Springfield, Ray Charles,
Frank Sinatra
, Nina Simone, The Kingston Trio and Gavin Friday have all covered his songs. Brel has sold over 25 million records worldwide, including over 12 million albums and singles in France and Belgium. He died of cancer 9th October 1978.