February 14th: The Biggest Music Headlines
Scroll down the page to see all the music headlines, stories, and events for February 14 throughout music history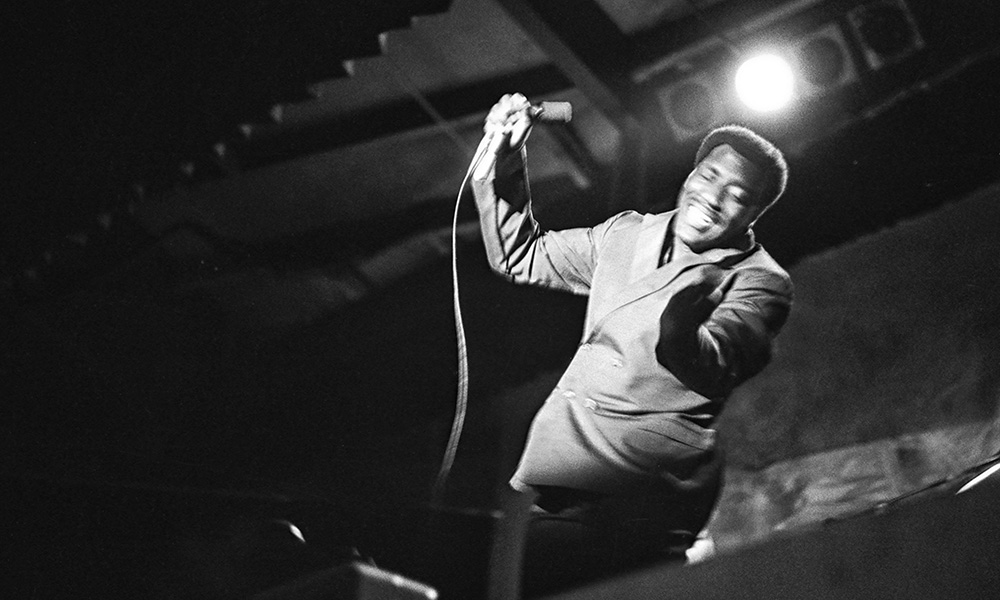 Otis Redding Records "Respect"
On this day in music, February 14, 1965, Otis Redding recorded "Respect" at Stax Records' Memphis headquarters. The song, which appeared on Redding's celebrated third album, Otis Blue/Otis Redding Sings Soul, was initially written by the artist for Speedo Sims and his band, the Singing Demons. Although Speedo's version never came to fruition, Redding recorded the song himself, working with producer and Booker T. & the M.G.'s guitarist, Steve Cropper. While the song was a Top 5 R&B single for Redding, it became a No.1 hit and signature song for Aretha Franklin, who turned it into a feminist anthem two years later.
In 1970, The Who appeared at Leeds University, where they recorded their celebrated debut concert album, Live At Leeds. Featuring many of their biggest hits, the LP included a cover of Mose Allison's "Young Man Blues," which was a staple at the band's shows, plus "Substitute," "My Generation," and "Happy Jack."
In 1972, John Lennon and Yoko Ono took over as temporary cohosts on The Mike Douglas Show. During their week-long stint on the American TV program, the couple was able to book guests, including one of Lennon's idols, Chuck Berry. In a memorable moment, the rock pioneer partnered with Lennon to perform his 1959 hit, "Memphis, Tennessee." When Ono, who was performing in the backing band, added some inspired vocalizations halfway through, Berry was visibly surprised.
In 1992, Wayne's World premiered in the US. Based on a popular Saturday Night Live sketch by Mike Myers and Dana Carvey, the film featured many memorable musical moments, including cameos by Meat Loaf and Alice Cooper. In one of the film's most iconic moments, the lead characters headbang in a car to "Bohemian Rhapsody" – a scene which was approved of by Queen frontman Freddie Mercury before his death. The Wayne's World soundtrack topped the Billboard 200 and introduced "Bohemian Rhapsody" to a new generation of fans, propelling the 1975 song back up the charts.
In 1999, 65-year-old singer-songwriter, Buddy Knox, died of lung cancer. In 1957, Knox became the first artist of the rock'n'roll era to score a chart-topping hit, with "Party Doll."
In 2010, a star-studded charity cover of R.E.M.'s "Everybody Hurts" topped the UK singles chart. Performed by 21 artists – including Mariah Carey, Jon Bon Jovi, Robbie Williams, Kylie Minogue, and Miley Cyrus – the song was recorded to help victims of a devastating earthquake in Haiti.
Looking for more things that happened on this day in music?
Keep scrolling for all of the headlines for February 14.
BORN ON FEBRUARY 14:
1943: Eric Andersen
1943: Maceo Parker
1946: Gregory Hines
1947: Tim Buckley
1951: Sylvain Sylvain (New York Dolls)
1972: Rob Thomas (Matchbox Twenty)
1994: Becky Hill
Looking for more artists born on this day?
Keep scrolling for all of our February 14 birthdays.
---
What to find another day?
---
February 14th
14 Feb 2019
Kanye West hired renowned saxophonist Kenny G to play his sultry sax in a room full of roses for his wife, Kim Kardashian, as a Valentines' Day surprise. They pair end up collaborating, with Kenny G playing on Kanye's Jesus Is King track 'Use This Gospel.'
14 Feb 2014
American hip hop trio De La Soul give away free downloads of their first six albums to anyone who signed up on their website. Their catalogue wasn't available digitally because of rights issues with samples resulting in the act being caught up in legal issues.
14 Feb 2010
American singer-songwriter-musician Doug Fieger died after a long battle with cancer. He was the rhythm guitarist and lead vocalist of The Knack, and co-wrote 'My Sharona', the biggest hit song of 1979 in the USA, and was Capitol Records' fastest gold status debut single since the Beatles' 'I Want to Hold Your Hand' in 1964. When Fieger was 25, he met 17-year-old Sharona Alperin, who he wrote the song for, as well as later becoming Fieger's girlfriend for the next four years.
14 Feb 2010
Everybody Hurts, recorded to help Haiti's earthquake victims went to No.1 on the UK singles chart. The REM cover featured Leona Lewis,
Kylie Minogue
, Robbie Williams and
Take That
sold over 453,000 copies in its first week.
14 Feb 2008
Oasis
singer
Liam Gallagher
married his long-term partner, the ex-All Saints singer Nicole Appleton at a civil ceremony in London. The venue, Westminster Register Office, was where Gallagher married his first wife, Patsy Kensit, in 1997.
14 Feb 2007
Winners at the 27th annual Brit Awards at London's Earls Court included Muse who won Best British Live Act, British Breakthrough Act went to The Fratellis. Winner of the Best International Breakthrough Act was Orson.
Take That
won the first-ever live vote, when they took home the Best British Single for 'Patience.' Arctic Monkeys were named Best British Group, James Morrison was named Best British Male and
Amy Winehouse
won Best British Female. Justin Timberlake won Best International Male and Nelly Furtado won Best International female. The Killers won Best International Group and Best International Album for Sam's Town and
Oasis
won the Outstanding Contribution to Music Award.
14 Feb 2005
Kerrang! magazine announced the results of its readers' poll for the best British rock albums ever. The Top 10 were: No.1,
Black Sabbath
's
Black Sabbath
; No.2,
Iron Maiden
's Number Of The Beast.
Sex Pistols
' Never Mind The Bollock's, Here's The
Sex Pistols
; No. 4,
Led Zeppelin IV
; No.5,
Black Sabbath
's
Paranoid
; No.6, Muse's Absolution; No.7,
The Clash
's London Calling; No.8,
Queen
's
Sheer Heart Attack
; No.9,
Iron Maiden
's
Iron Maiden
and No.10, Manic Street Preachers' The Holy Bible.
14 Feb 2004
Dave Holland, former drummer with Judas Priest was jailed for eight years for indecent assault and the attempted rape of a 17-year old boy. The youth, who had learning difficulties, had been taking drum lessons from Holland.
14 Feb 2003
Stolen reel-to-reel studio recordings by
The Beatles
were found in Australia. Police recovered the tapes of the bands 1968 The
White Album
and the
Abbey Road
album after they were advertised for sale in a Sydney newspaper. Australian police had been tipped off by British detectives from Operation Acetone, an investigation into thefts of original Beatles music from Abbey Road studios in London in the 1960s.
14 Feb 2002
English drummer and singer Mick Tucker with glam rock band Sweet died of leukaemia aged 54. Sweet had the 1973 UK No.1 single 'Blockbuster', plus 14 other UK Top 40 singles. He was a founding member of the band Sweetshop in January 1968. "Sweetshop" was shortened to "The Sweet" in 1968.
14 Feb 1999
American singer and songwriter Buddy Knox died of lung cancer aged 65. Knox had the 1957 US No.1 & UK No.29 single 'Party Doll' which sold over one million copies becoming the first person in the rock 'n' roll era to write and record a No.1 hit. His other hits include 'Rock Your Little Baby To Sleep' and 'Hula Love'.
14 Feb 1999
Lenny Kravitz scored his first UK No.1 single with 'Fly Away' a No.12 hit in the US. The track had been used on a TV ad for cars.
14 Feb 1996
T.A.F.K.A.P. married Mayte Garcia in a Minneapolis church, he also composed a special song for his wife, 'Friend, Lover, Sister, Mother, Wife', which she heard for the first time when they had their first wedding dance. Garcia had appeared on the US television program 'That's Incredible!' at the age of 8 as the world's youngest professional belly dancer. She came to the attention of
Prince
in 1990 when her mother submitted a video cassette of Mayte performing. The couple split in 1998.
14 Feb 1992
The film Waynes World, which featured appearances from
Meat Loaf
and Alice Cooper premiered in the US. The use of
Queen
's '
Bohemian Rhapsody
' in the film propelled the song to No.2 on the US singles charts nearly 20 years after its first release.
14 Feb 1989
English keyboardist Vincent Crane died from a deliberate overdose of Anadin tablets aged 45. He was a member of The Crazy world of Arthur Brown, who had the 1968 UK No.1 and US No.12 single 'Fire' and Atomic Rooster (with drummer Carl Palmer later of Emerson, Lake & Palmer). Atomic Rooster enjoyed success in 1971 with two hit singles, 'Tomorrow Night' and 'Devil's Answer'.
14 Feb 1987
Bon Jovi
started a four week run at No.1 on the US singles chart with 'Livin' On A Prayer', the group's second US No.1, a No.4 hit in the UK.
14 Feb 1986
Frank Zappa
appeared on an episode of the television series Miami Vice. Zappa portrayed a crime boss named 'Mr. Frankie.'
14 Feb 1984
Elton John
married recording engineer Renate Blauer in Sydney, Australia.
Rod Stewart
and Olivia Newton-John were among the guests. The couple stayed together for four years, although John later admitted he knew he was homosexual before the marriage.
14 Feb 1980
Lou Reed married Sylvia Morales at a ceremony in his New York apartment.
14 Feb 1977
US singer songwriter Janis Ian received 461 Valentine's day cards after indicating in the lyrics of her song 'At Seventeen', she had never received any.
14 Feb 1973
David Bowie
collapsed on stage during a concert at Radio City Music Hall in New York City.
14 Feb 1972
John Lennon
and Yoko Ono started a week long run as co-hosts on 'Mike Douglas' US TV show.
14 Feb 1970
The Who
appeared at Leeds University, England. The show was recorded for the bands forthcoming 'Live At Leeds' album. Since its initial reception, Live at Leeds has been cited by several music critics as the best live rock recording of all time. The University of Leeds refectory, has now been named a national landmark in the UK, commemorated with a blue plaque.
14 Feb 1968
Manfred Mann were at No.1 on the UK singles chart with their version of the
Bob Dylan
song 'The Mighty Quinn' which was also a No.10 hit in the US. Dylan recorded the song in 1967 during the Basement Tapes sessions, but did not release a version for another three years.
14 Feb 1965
Otis Redding
recorded 'Respect' at Atlantic Studio, New York City. At first a ballad, 'Respect' was written by Redding for Speedo Sims, who intended to record it with his band, the Singing Demons. Redding rewrote the lyrics and sped up the rhythm. The song became a 1967 hit and signature song for soul singer
Aretha Franklin
.
14 Feb 1961
The Beatles
performed at the Cassanova Club, Liverpool, and at Litherland Town Hall, Liverpool where they played a special Valentine's Day show.
Paul McCartney
sang
Elvis Presley
's 'Wooden Heart', wearing a wooden heart pinned to his coat, covered with satin and embroidered with the names "John", "Paul", "George", and "Pete". The heart was raffled off, and the winner also won a kiss from Paul.
14 Feb 1955
Ruby Murray was at No.1 on the UK singles chart with 'Softly, Softly'. The Belfast-born recording and TV star of the mid 50s was the first act to score five simultaneous Top 20 hits.
Born on this day in music
14 Feb 1994
Becky Hill, English singer and songwriter. She rose to prominence after appearing on the first series of The Voice UK. In 2014 she became the first The Voice UK contestant to score a UK number one when the song, 'Gecko (Overdrive)' with Oliver Heldens topped the UK Singles Chart
14 Feb 1972
American singer, songwriter and multi-instrumentalist Rob Thomas with Matchbox Twenty who had the 2000 US No.1 single 'Bent' and his 'Lonely No More' released in 2005 became his biggest selling solo chart success. Thomas sang on the 1999 US No.1 single 'Smooth' by
Santana
and also had the 2005 US No.1 solo album Something To Be. Willie Nelson,
Mick Jagger
, Marc Anthony, Travis Tritt and Daughtry have all covered his songs.
14 Feb 1964
Rob "The Bass Thing" Jones from British alternative rock band The Wonder Stuff who had the 1991 UK No.1 single with their version of the Tommy Roe hit 'Dizzy' (with Vic Reeves). He died in New York on 31 July 1993, aged 29 due to heart problems caused by drug related causes.
14 Feb 1951
American rock guitarist Sylvain Sylvain of the New York Dolls. Along with the Velvet Underground and the Stooges, they were one of the first bands of the early punk rock scenes. He died from cancer on January 13, 2021, age 69.
14 Feb 1951
Scottish drummer Kenny Hyslop. As a member of Slik they had the 1976 UK No.1 single 'Forever And Ever'. Also a member of Skids who had the 1979 UK No.10 single 'Into The Valley' and
Simple Minds
, who had the 1985 US No.1 single 'Don't You, Forget About Me', and the 1989 UK No.1 single 'Belfast Child'.
14 Feb 1950
Roger Fisher, from American rock band Heart who scored the 1987 US No.1 & UK No.3 single 'Alone'. Heart has sold over 35 million records worldwide.
14 Feb 1947
American singer, songwriter Tim Buckley, who recorded the 1972 album Greetings From LA. His singer, songwriter son
Jeff Buckley
drowned while swimming in 1997. Tim himself died on June 29th 1975 of a heroin and morphine overdose.
14 Feb 1946
American musician Doug Simril from the Steve Miller Band, who had the 1974 US No.1 & 1990 UK No.1 single 'The Joker'. He also worked with Boz Scaggs.
14 Feb 1946
Gregory Hines, American dancer, actor, choreographer and singer. He was considered one of the most celebrated tap dancers of all time. He sang a duet with Luther Vandross 'There's Nothing Better Than Love', which reached No. 1 on the Billboard R&B charts. Hines died of liver cancer on 9 August 2003.
14 Feb 1945
Vic Briggs, English guitarist with Eric Burdon and The Animals during the 1966-1968 period. The Animals had the 1964 UK & US No.1 single 'House Of The Rising Sun'. Briggs, a convert to Sikhism, currently plays classical Indian and Hawaiian music.
14 Feb 1943
Maceo Parker, American funk and soul jazz saxophonist, best known for his work with James Brown in the 1960s, as well as Parliament-Funkadelic in the 1970s. He has also worked with De La Soul, Jane's Addiction, Dave Matthews Band and
Prince
accompanying his band, The New Power Generation.
14 Feb 1943
American folk music singer, songwriter Eric Andersen. He has written songs recorded by
Johnny Cash
,
Bob Dylan
, Judy Collins, Linda Ronstadt, the
Grateful Dead
and many others. Andersen took part in the
Festival Express
tour across Canada in 1970 with the Grateful Dead,
Janis Joplin
, The Band, Delaney Bramlett and others.
14 Feb 1940
English comic musician Bob Kerr who was a member of the Bonzo Dog Doo-Dah Band. He later joined The New Vaudeville Band, before forming his own Bob Kerr's Whoopee Band.
14 Feb 1937
American Chicago blues musician Magic Sam. He had the 1963, his single 'Feelin' Good (We're Gonna Boogie), but his career was cut short when he suddenly died of a heart attack in December 1969. He was 32 years old.