February 15th: The Biggest Music Headlines
Scroll down the page to see all the music headlines, stories, and events for February 15 throughout music history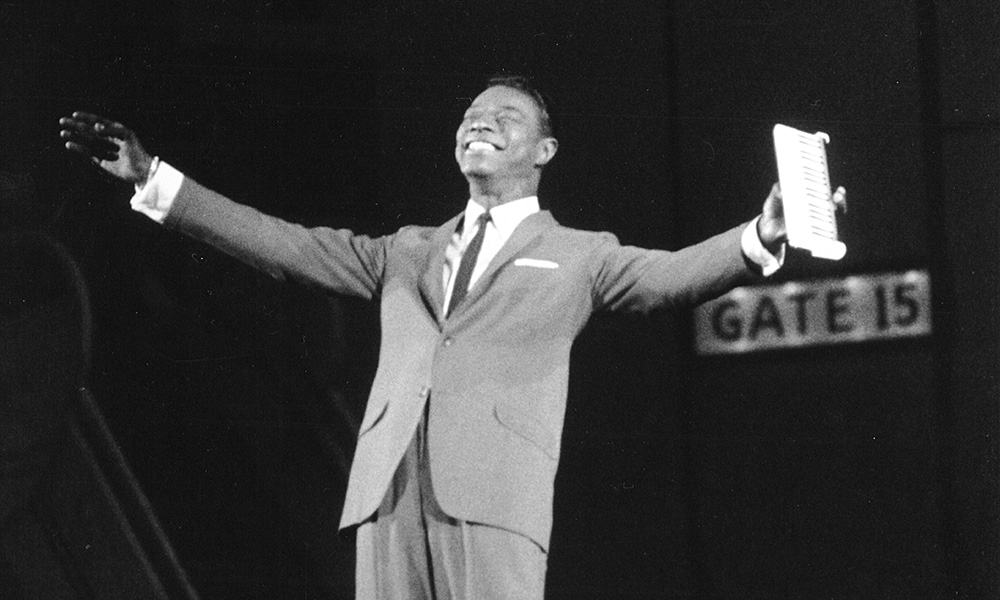 Nat King Cole Dies at Age 45
On this day in music, February 15, 1965, American icon Nat King Cole died of lung cancer at the age of 45. A beloved singer, pianist, and actor, Cole recorded more than 100 hit pop songs during his career – making history along the way as he broke racial barriers. In addition to being the first Black host of an American TV series (the short-lived Nat 'King' Cole Show, Cole and his trio (bassist Wesley Prince and guitarist Oscar Moore) also led "King Cole Trio Time," the first radio program to be sponsored by Black musicians. Among other honors, Cole was awarded the Grammy Lifetime Achievement Award in 1990, while his enduring recording of "The Christmas Song" is a perennial hit on the Billboard charts every holiday season.
In 1964, The Beatles scored their first No.1 album in the US with Meet the Beatles!. Issued by Capitol Records in January 1964, the album held the top spot for 11 weeks before being replaced by The Beatles' Second Album. Meet the Beatles! featured the British group's first US No.1 hit, "I Want to Hold Your Hand," which helped drive the album to Gold status just one month after its release.
In 1968, blues icon Little Walter died at the age of 37. After getting his start in Muddy Waters' band in the late 40s, the harmonica player scored 14 top-ten hits on the Billboard R&B charts, including 1955's "My Babe." In 2008, Walter became the first and only artist to be inducted into the Rock and Roll Hall of Fame specifically as a harmonica player.
In 1962, Ray Charles recorded his chart-topping rendition of Don Gibson's "I Can't Stop Loving You" in Hollywood, CA. While the song has been covered more than 700 times, Charles' version (for his Modern Sounds in Country and Western Music album) is the most famous.
In 2015, Mark Ronson's "Uptown Funk" reached the one million sales mark, 10 weeks after its release. Featuring the incomparable vocals of Bruno Mars, the song was inspired by early 80s funk and resonated with listeners around the globe. Breaking streaming records in the US and the UK, "Uptown Funk" topped the charts in 19 countries. In the US, it was certified 11x Platinum and earned a Record of the Year award at the Grammys.
Looking for more things that happened on this day in music?
Keep scrolling for all of the headlines for February 15.
BORN ON FEBRUARY 15:
1942: Glyn Johns (Producer)
1955: Hugh Padgham (Producer)
1959: Ali Campbell (UB40)
1976: Brandon Boyd (Incubus)
1976: Ronnie Vannucci Jr. (The Killers)
1984: Gary Clark Jr.
1995: Megan Thee Stallion
Looking for more artists born on this day?
Keep scrolling for all of our February 15 birthdays.
---
What to find another day?
---
February 15th
15 Feb 2015
Mark Ronson's 'Uptown Funk' reached the one million sales mark, 10 weeks after it was first released becoming the 158th track to reach the million mark in British charts history. The song, from the soundtrack to the Fifty Shades Of Grey film also became the most-streamed track ever in the UK.
15 Feb 2013
Chubby Checker launched a $500,000 lawsuit against Hewlett-Packard for including an app on its phones and tablets that was not only named after the 71-year-old musician, but measured a man's manhood based on his shoe size.
15 Feb 2008
A flat once rented by
The Beatles
in London went up for sale for £1.75m. The band shared the three-bedroom top floor property in Green Street, Mayfair in the autumn of 1963. A publicity photo of the Fab Four peering over a banister, used as the cover for the December 1963 edition of
The Beatles
Book, was taken at the top of the property's communal stairwell.
15 Feb 2006
Winners at this year's Brit Awards included, James Blunt who won British male solo artist, British female solo artist went to KT Tunstall.
Coldplay
won Best British album for X&Y and Best British single for 'Speed of Sound.' Kaiser Chiefs won Best British group and Best British Live Act, British urban act went to Lemar, British breakthrough act was Arctic Monkeys, International breakthrough act was won by Jack Johnson, with
Madonna
winning International female solo artist.
Green Day
won International group and Best International album with American Idiot and Outstanding contribution to music went to Paul Weller.
15 Feb 2000
Sting pulled-out of a concert in Vienna in protest at the inclusion of Jorg Haider's far right freedom party in Austria's new government. Lou Reed had also cancelled shows in the country.
15 Feb 1997
U2
went to No.1 on the UK singles chart with 'Discotheque', the bands third UK No.1 single. The entire track was leaked onto the internet in December 1996, forcing
U2
to move the release date.
15 Feb 1991
Kelly Emberg the ex-girlfriend of
Rod Stewart
filed a $25 million (£14.7 million) palimony suit in Los Angeles. The couple lived together from 1985 to 1990. Stewart later said: "Instead of getting married again, I'm going to find a woman I don't like and just give her a house."
15 Feb 1988
After singer Jo Elliot had referred to El Paso as 'the place with all those greasy Mexicans',
Def Leppard
were forced to cancel a concert in El Paso, after they received threats that the gig would be disrupted.
15 Feb 1981
American guitarist Mike Bloomfield was found dead in his car in San Francisco from an accidental heroin overdose aged 37. He was a member of the Paul Butterfield band and Electric Flag and had played on
Bob Dylan
's album Highway 61 Revisited. Bloomfield's Telecaster guitar licks were featured on Dylan's 'Like a Rolling Stone', and he appeared onstage with Dylan at the Newport Folk Festival, where Dylan used Bloomfield and the Butterfield Band which marked Dylan's first use of an electric band in a live performance.
15 Feb 1979
At the 21st Grammy Awards, the 'Saturday Night Fever' soundtrack won Album of the Year and The
Bee Gees
were named Best Pop Group and Best Arrangement for Voices for 'Staying Alive'.
Billy Joel
's 'Just the Way You Are' won Record and Song of the Year. Donna Summer's 'Last Dance' won two Grammys: Best Female R&B Vocal and Best R&B Song.
15 Feb 1977
Glen Matlock was fired as bass player from the
Sex Pistols
, being replaced by Sid Vicious. Matlock rejoined in the 90s when the Pistol's reformed.
15 Feb 1975
Linda Ronstadt went to No.1 on the US singles chart with 'You're No Good', the singers only solo chart topper out of 12 other top 40 hits. Also today Ronstadt went to No.1 on the US album chart with 'Heart Like A Wheel.'
15 Feb 1969
Sly and the Family Stone started a four week run at No.1 on the US singles chart with 'Everyday People', their first No.1.
15 Feb 1968
John and Cynthia
John Lennon
, along with George and Patti
Harrison
, flew to India to study meditation with Maharishi Mahesh Yogi.
Paul
and
Ringo
joined them a few days later, but Starr would become bored and leave on March 1st, comparing the experience to be like a 'Butlins holiday camp.' Much of the Beatles' The
White Album
was written during their stay.
15 Feb 1968
American blues musician Little Walter (Marion Walter Jacobs) died in his sleep aged 37 from injuries incurred in a fight while taking a break from a performance at a nightclub in Chicago. Joining Muddy Waters' band in 1948, he was the first harmonica player to amplify his harp (on the 1951 'She Moves Me') giving it a distorted echoing sound.
15 Feb 1965
American singer and pianist Nat King Cole died of lung cancer. First hit was the 1943 'Straighten Up and Fly Right', had the 1955 US No.2 single 'A Blossom Fell' and 1957 UK No.2 single 'When I Fall In Love' plus over 20 other US & UK Top 40 singles. He is the father of singer Natalie Cole. In 1956 he became the first black American to host a television variety show.
15 Feb 1964
The Beatles
scored their first US No.1 album with Meet
The Beatles
! The album stayed at No.1 for eleven weeks. The album sold over four million copies in the US by December 31, 1964.
15 Feb 1962
Ray Charles recorded 'I Can't Stop Loving You' at United Studios in Hollywood, California. The tune would go on to top both the US and UK charts and would be included on the LP 'Modern Sounds In Country / Western Music', which would lead the Billboard album chart for 14 weeks.
Born on this day in music
15 Feb 1995
American rapper, singer, and songwriter Megan Thee Stallion. Her single 'Savage (Remix)' featuring Beyoncé, and she featured on Cardi B's single 'WAP', both released in 2020, reached No.1 on the US Billboard Hot 100 chart.
15 Feb 1984
American musician Gary Clark Jr. He is best known for his fusion of blues, rock and soul music with elements of hip hop. He has shared the stage with
Eric Clapton
,
Tom Petty
and the Heartbreakers, B.B. King and the
Rolling Stones
and recored with
Foo Fighters
. In 2014, Clark was awarded a Grammy for Best Traditional R&B performance for the song 'Please Come Home'.
15 Feb 1981
Olivia Theresa Longott, US R&B singer, and member of G-Unit, who had the 2005 US No.1 & UK No.4 single 'Candy Shop' with 50 Cent.
15 Feb 1976
Ronnie Vannucci Jr, drummer from The Killers, who scored the 2005 UK No.1 with their debut album Hot Fuss. Their 2017 album Wonderful Wonderful peaked at No.1 on the US & UK chart. Vannucci is also involved in a side project called Big Talk.
15 Feb 1976
Brandon Boyd, from American rock band Incubus, who had the 2001 US No.9 & UK No.40 single, 'Drive', and the 2004 US No.2 and UK No.6 album A Crow Left of the Murder', and the 2006 US No.1 album Light Grenades. Worldwide, Incubus has sold over 23 million albums.
15 Feb 1974
Tomi Petteri Putaansuu, Mr. Lordi, lead vocalist Lordi. Became Finland's first ever Eurovision Song Contest winners after their song 'Hard Rock Hallelujah' won the contest held in Athens in 2006.
15 Feb 1974
Stuart Richardson, bassist, with Lostprophets, who had the 2004 UK No.8 single 'Last Train Home', and the 2006 UK No.1 album 'Liberation Transmission'.
15 Feb 1960
Mikey Craig, bassist with Culture Club, who had the 1983 UK No.1 and 1984 US No.12 single 'Karma Chameleon' plus 7 other UK Top 10 singles'.
15 Feb 1959
Ali Campbell, singer with UB40, who had the 1983 UK No.1 & 1988 US No.1 single 'Red Red Wine' and over 30 other top 40 hits. Had the solo 1995 UK No.5 single 'That Look In Your Eye'.
15 Feb 1955
English record producer and audio engineer Hugh Padgham. His co-productions include hits by
Phil Collins
, XTC,
Genesis
, The Human League, Sting, and
The Police
. He has won four Grammy Awards, for Producer of the Year and Album of the Year for 1985, Record of the Year for 1990, and Engineer of the Year for 1993. A 1992 poll in Mixmagazine voted him one of the world's 'Top Ten Most Influential Producers'.
15 Feb 1953
British-American progressive rock and jazz fusion guitarist John Goodsall. He was best known for his work with Brand X and Atomic Rooster. He died on 11 November 2021.
15 Feb 1952
Melissa Manchester, US singer, songwriter who had the 1975 US No.6 single 'Midnight Blue'.
15 Feb 1950
Billy Ficca, American drummer who put together The Neon Boys with Richard Hell, was a founding member of Television and the experimental post-punk band The Waitresses best known for the 1982 hit 'Christmas Wrapping'.
15 Feb 1947
American bassist David Brown who was the primary bass player for
Santana
from 1966 until 1971, then again from 1974 until 1976. Brown played in Santana at
Woodstock
and at Altamont in 1969 and on the band's first three studio albums. Brown died on September 4, 2000, due to liver and kidney failure.
15 Feb 1945
English musician John Helliwell, saxophonist with Supertramp, who had the 1979 UK No.7 & US No.6 single 'The Logical Song'. Helliwell also played on
Pink Floyd
's album A Momentary Lapse of Reason.
15 Feb 1944
Denny Zager, singer with Zager and Evans who had the 1969 US & UK No.1 single 'In The Year 2525'. Despite the record's huge success, follow-up singles such as 'Mr. Turnkey' went largely unnoticed. Zager now builds custom guitars at Zager Guitars, which is based in Lincoln, Nebraska.
15 Feb 1944
Mick Avory, drummer with
The Kinks
who had the 1964 UK No.1 & US No.7 'You Really Got Me', and the 1967 UK No.2 single 'Waterloo Sunset' plus 19 other UK Top 40 singles. He is the longest-serving member of the band, apart from the Davies brothers.
15 Feb 1942
15 Feb 1941
Brian Holland, Holland/Dozier/Holland, producer and songwriter who wrote many hits for
Motown
artists such as The
Supremes
,
Marvin Gaye
,
Four Tops
, Martha Reeves & The Vandellas, Freda Payne and Chairmen Of The Board.