February 16th: The Biggest Music Headlines
Scroll down the page to see all the music headlines, stories, and events for February 16 throughout music history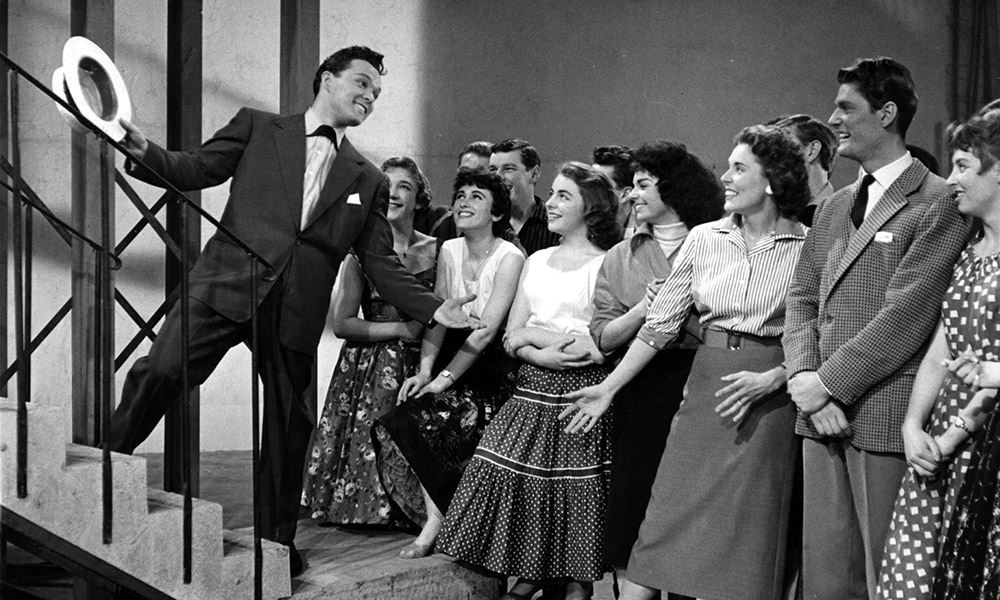 BBC Launches First Rock'N'Roll Program
On this day in music, February 16, 1957, disc jockey Pete Murray became the host of the BBC's first rock'n'roll TV show, The Six-Five Special. Named after the show's start time, five minutes after six, the program was launched after the elimination of the "Toddlers' Truce," a pause in television programming between 6 and 7 pm to put children to bed. Murray's catchphrase was "Time to jive on the old six-five," and the program's resident band was Don Lang and His Frantic Five.
In 1985, Bruce Springsteen made his debut at the top of the UK album chart with Born In The U.S.A.. Released in June 1984, Springsteen's seventh LP was the best-selling album of 1985 in the US, as well as his most successful album ever. The title track served as inspiration for the iconic album cover, which was shot by photographer Annie Leibovitz. In the decades since its release, Born In The U.S.A. has been certified 17x Platinum by the RIAA.
In 1972, Led Zeppelin made their live debut in Australia at the Subiaco Oval in Perth, where they performed songs like "Stairway to Heaven," "Immigrant Song," and "Going to California." Midway through the six-show run, which marked the English rock band's first and only Australasian tour, Jimmy Page shaved off his trademark beard, remaining clean-shaven for the rest of the band's career.
In 1991, animated family The Simpsons topped the UK singles chart with "Do The Bartman." The song was penned by Bryan Loren and Michael Jackson, who was a big fan of the animated series. Jackson called the producers, offering to write Bart Simpson "a number one single" and be a guest star on the show. Jackson stayed true to his word. Not only would he lend his voice to an episode in season three (under the pseudonym John Jay Smith), but he helped make The Simpsons the first cartoon characters to top the chart since the Archies' "Sugar Sugar" in 1969.
In 2015, singer-songwriter Lesley Gore died of lung cancer at age 68. Best known for her single "It's My Party," Gore also wrote songs for the 1980 film Fame, receiving an Academy Award nomination for "Out Here on My Own."
In 1975, Cher launched her eponymous variety show on CBS TV. The series marked a new chapter for the singer and actress, after parting ways with her ex-husband and former co-host, Sonny Bono. The show, which featured a female guest each week, received more fan mail than any other program on the network at the time.
Looking for more things that happened on this day in music?
Keep scrolling for all of the headlines for February 16.
BORN ON FEBRUARY 16:
1918: Patty Andrews (The Andrews Sisters)
1935: Sonny Bono
1959: Ice-T
1961: Andy Taylor (Duran Duran)
1965: Dave Lombardo (Slayer)
1989: Danielle Haim (Haim)
1990: The Weeknd
Looking for more artists born on this day?
Keep scrolling for all of our February 16 birthdays.
---
What to find another day?
---
February 16th
16 Feb 2021
Lauryn Hill's 1998 album The Miseducation Of Lauryn Hill was certified Diamond for 10 million sales in America, making her the first female hip-hop artist to earn that certification. When first released the album debuted at No.1 on the Billboard chart, selling over 422,000 copies in its first week, which broke a record for first-week sales by a female artist. Worldwide, the album has sold over 20 million copies.
16 Feb 2015
American singer, songwriter, actress and activist, Lesley Gore, died of lung cancer aged 68. She is best known for the 1963 US No.1 & UK No.9 single 'It's My Party' which was produced by Quincy Jones. Gore composed songs for the soundtrack of the 1980 film Fame, for which she received an Academy Award nomination for 'Out Here on My Own', written with her brother Michael.
16 Feb 2009
Chris Brown talked about his recent arrest for the first time. The R&B singer was being investigated by police over claims he attacked a woman. In a statement Chris Brown said "I am seeking the counselling of my pastor, my mother and other loved ones and I am committed, with God's help, to emerging a better person." There had been speculation that his girlfriend
Rihanna
was the woman in the attack and had been seen with bruises on her face
16 Feb 2005
Kid Rock was arrested for allegedly punching a DJ at a strip club in Nashville, Tennessee. Police were called to the incident but Rock escaped from the club. Shortly after, he was pulled over by an officer who got an autograph but did not do a breath test despite smelling alcohol. (The officer has since been fired). The star was eventually arrested a few hours later, taken to the night court and released on $3,000 (£1,600) bail.
16 Feb 2005
Yusuf Islam, the former Cat Stevens was awarded substantial damages from The Sunday Times and The Sun, after they had printed articles alleging he was involved in terrorism. Both newspapers apologized to the 56 year old musician for the "false and highly defamatory allegations." The papers also paid his legal bills and pledged not to repeat the allegations. The money awarded was given to Tsunami relief projects.
16 Feb 2004
US singer Doris Troy died. She had been a session singer with Dionne Warwick, sang on
Pink Floyd
's The
Dark Side of the Moon
and released an album on
The Beatles
Apple label. She had a 1964 UK No.37 single 'Whatcha Gonna Do About It' and a 1963 US No. 10 hit 'Just One Look'. She sang backup for many acts including The
Rolling Stones
, ('You Can't Always Get What You Want'), Carly Simon's ('You're So Vain'),
George Harrison
, ('
My Sweet Lord
').
16 Feb 2002
Thieves broke into
George Michael
's London home and stole over £100,000 ($170,000) worth of paintings, jewellery and designer clothes and drove off in his £80,000 ($136,000) Aston Martin DB7. They also caused £200,000 ($340,000) worth of damage to his home.
16 Feb 1999
Robbie Williams won three awards at this year's Brit's. The singer won Best British solo artist, Best Single for 'Angels' and Best Video for 'Millennium.' Manic Street Preachers won Best British Group, Natalie Imbruglia won Best International Female artist and Best Newcomer, Best International Group went to The Corrs.
16 Feb 1991
The Simpsons were at No.1 on the UK singles chart with 'Do The Bartman'. The song was written by
Michael Jackson
and Bryan Lorenand, The Simpsons became the first cartoon characters to make No.1 since the Archies hit '
Sugar Sugar
' in 1969. Jackson was a massive fan of The Simpsons and had called the producers one night offering to write Bart a number one single and do a guest spot on the show.
16 Feb 1985
Bruce Springsteen
went to No.1 on the UK album chart with 'Born In The USA', his first UK No.1 album. The singers seventh studio album, was the best-selling album of 1985 in the United States (and also Springsteen's most successful album ever). The album produced a record-tying string of seven Top 10 singles.
16 Feb 1982
The Jam
were at No.1 on the UK singles chart with 'A Town Called Malice', & 'Precious', their third No.1 spent three weeks at the top of the chart.
16 Feb 1975
Cher started her own weekly hour of a music and comedy show on CBS-TV. The singer had co-presented The Sonny & Cher Comedy Hour with her former husband. Cher's new show featured a female guest each week.
16 Feb 1974
Bob Dylan
started a four week run at No.1 on the US album chart with Planet Waves, his first US No.1. The album was originally set to be titled Ceremonies Of The Horsemen, a reference to the song 'Love Minus Zero / No Limit', from the 1965 album 'Bringing It All Back Home'. When Dylan decided to change the title at the last minute, the release was delayed for two weeks.
16 Feb 1974
During a tour of America the members of Emerson, Lake & Palmer were arrested in Salt Lake City after swimming naked in the hotel pool. They were each fined $75 (£44).
16 Feb 1974
Winners in the UK music weekly Disc Readers Awards Poll; Top UK group went to Slade, Top musician, Roy Wood,
David Bowie
won UK and World male singer, Top single with 'Jean Genie' and album with 'Aladdin Sane', Top female singer was Lynsey De Paul and Brightest hope was won by David Essex.
16 Feb 1972
Led Zeppelin
made their Australian live debut when they kicked off a six-date tour at the Subiaco Oval, Perth. Police battled with over 500 fans who rammed locked gates trying to get into the concert. Over 4,000 fans stood outside the venue without tickets and local residents jammed police phone lines to complain about the noise.
16 Feb 1967
Petula Clark was at No.1 on the UK singles chart with the Charlie Chaplin penned 'This Is My Song', the singers second and last UK No.1.
16 Feb 1964
The Beatles
made their second live appearance on The Ed Sullivan Show, exactly one week after the first. Before an audience of 3,500 at the Deauville Hotel in Miami Beach, Florida,
The Beatles
performed 'She Loves You', 'This Boy', 'All My Loving', 'I Saw Her Standing There', 'From Me to You', and 'I Want to Hold Your Hand'.
16 Feb 1957
Disc jockey Pete Murray began hosting BBC television's first Rock 'n' Roll music program The Six-Five Special, named for the time the show began, five minutes after six. The show was given air-time immediately after the abolition of what was called the Toddlers' Truce, which had seen television stop between 6 and 7pm so children could be put to bed.
Born on this day in music
16 Feb 1994
American singer and songwriter Ava Max. Her breakthrough single 'Sweet but Psycho' released in August 2018 was a No. 1 hit in 22 countries.
16 Feb 1990
Canadian singer-songwriter and record producer The Weeknd, (Abel Makkonen Tesfaye). He has received numerous accolades, including four Grammy Awards, 19 Billboard Music Awards, 15 Juno Awards, six American Music Awards and two MTV Video Music Awards.
16 Feb 1990
Canadian singer, songwriter and record producer Abel Makkonen Tesfaye, known by his stage name The Weeknd who had the 2015 US No.1 hits 'The Hills' and 'Can't Feel My Face'.
16 Feb 1989
American multi-instrumentalist, singer and songwriter Danielle Haim with pop rock band Haim, which also consists of her two sisters, Este Haim and Alana Haim.
16 Feb 1967
Damon Reece, drummer from English space rock band Spiritualized. They released the critically acclaimed 1997 Ladies and Gentlemen We Are Floating in Space, which NME magazine named as their Album of the Year.
16 Feb 1965
Dave Lombardo, drummer with American thrash metal band Slayer who released the 1986 album 'Reign in Blood'.
16 Feb 1962
Tony Kylie, from British new wave group The Blow Monkeys who had the 1986 hit 'Digging Your Scene' and the 1987 UK No.5 single 'It Doesn't Have To Be This Way'.
16 Feb 1961
Andy Taylor, guitarist with
Duran Duran
who had the 1983 UK No.1 single 'Is There Something I Should Know' plus 25 other UK Top 40 singles including the 1984 US No.1 single 'The Reflex'. Also a member of The Power Station who had the 1985 UK No.14 single 'Some Like It Hot'.
16 Feb 1960
British musician Pete Willis, best known as a founding member of
Def Leppard
. He co-wrote many tracks and played guitar on the band's first three albums: On Through the Night, High 'n' Dry, and Pyromania, which was being recorded at the time of his departure.
16 Feb 1959
Ice-T, (Tracy Morrow), male rapper who had the 1993 UK No.21 single 'That's How I'm Livin'.
16 Feb 1953
John Bradbury, best known for having been the drummer in the English ska group The Specials, who co-wrote 'The Selecter', a joint 'A' side with 'Gangsters' and who had the 1981 UK No.1 single 'Ghost Town'. Bradbury died aged 62 on 28 Dec 2015.
16 Feb 1952
James Ingram, American singer, who had the 1987 UK No.8 single with Linda Ronstadt, 'Somewhere Out There', and the 1990 US No.1 single 'I Don't Have The Heart'. Ingram also co-wrote 'P.Y.T. (Pretty Young Thing)' the sixth single from
Michael Jackson
's album,
Thriller
and co-wrote the 1983 hit duet with Michael McDonald 'Yah Mo B There.' Ingram died on 29 January 2019 after a long battle with brain cancer age 66.
16 Feb 1949
Lynn Paul, singer with The New Seekers who had the 1972 UK No.1 single 'I'd Like To Teach The World To Sing'.
16 Feb 1939
American singers Harold and Herbie Kalin, The Kalin Twins who had the 1958 UK No.1 & US No.5 single 'When.' The brothers were the first twins to score a No.1 record followed years later by The Proclaimers.
16 Feb 1935
American singer-songwriter, producer, actor, and politician Sonny Bono, who had the 1965 UK & US No.1 single 'I Got You Babe', as Sonny & Cher. Bono began his music career as a songwriter at Specialty Records, where his song 'Things You Do to Me' was recorded by
Sam Cooke
, and went on to work for record producer Phil Spector in the early 1960s. He was mayor of Palm Springs, California, from 1988 to 1992, and the Republican congressman for California's 44th district, serving from 1995 until his death in 1998. He was killed on 5 January 1998, aged 62, in a skiing accident.
16 Feb 1932
Otis Blackwell, American songwriter and producer, wrote 'All Shook Up', 'Return To Sender', 'Don't Be Cruel', 'Great Balls Of Fire' and 'Fever.' Blackwell died from a heart attack on May 6th 2002.
16 Feb 1918
Patty Andrews from The Andrew Sisters who were an American close harmony singing group of the swing and boogie-woogie eras. Throughout their long career, the sisters sold over 75 million records. Their 1941 hit 'Boogie Woogie Bugle Boy' can be considered an early example of rhythm and blues. She died of natural causes on 30 January 2013 at the age of 94.