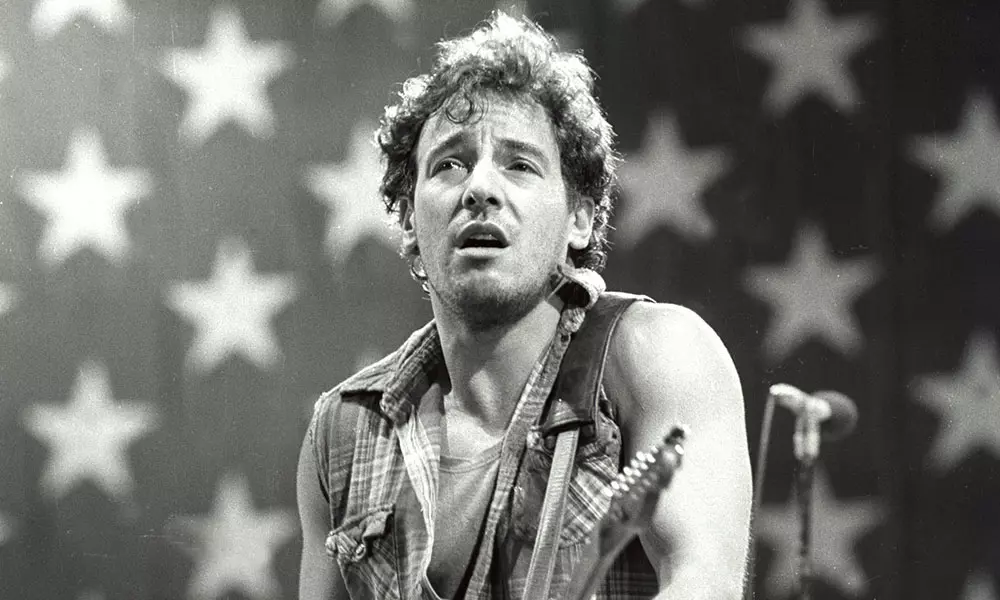 Bruce Springsteen was born of Irish-Italian ancestry on September 23, 1949, in Freehold, New Jersey, the son of Douglas and Adele Springsteen. Freehold during his whole career would be a significant symbol of his musical work, writing about the everyday life and ordinary people from his hometown, representing the average American town and its ordinary, 'real' people.
Springsteen grew up hearing fellow New Jersey singer Frank Sinatra on the radio. He found inspiration in music when he saw Elvis Presley on The Ed Sullivan Show at the age of seven. He bought his first guitar at 13, and after witnessing The Beatles performing on Ed Sullivan, Springsteen has stated that he 'locked himself up in his room for many months trying to learn how to play'. After his first paid gigs in The Rogues he joined The Beatles-influenced Castiles and began playing gigs in New Jersey and New York, and headlined in Café Wha? in Greenwich Village.
Called for conscription in the United States Armed Forces when he was 18, Springsteen failed the physical examination and did not serve in the Vietnam War. He had suffered a concussion in a motorcycle accident when he was 17, and this together with his 'crazy' behaviour at induction gave him a classification of 4F (unfit for military service) which made him unacceptable for service.
Springsteen's next group was Earth, a Cream-style power trio. Then while in college, Springsteen formed Child with some local musicians, including drummer Vini 'Mad Dog' Lopez and keyboardist Danny Federici (re-named Steel Mill). The group was later joined by guitarist Steve Van Zandt. Springsteen disbanded Steel Mill in early 1971. Other acts followed over the next two years; Dr. Zoom & the Sonic Boom with Southside Johnny on harmonica (early to mid-1971), The Sundance Blues Band (mid-1971), and the Bruce Springsteen Band (mid-1971 to mid-1972). With the addition of pianist David Sancious, the core of what would later become the E Street Band was formed, with occasional temporary additions such as horn sections, the Zoomettes (a group of female backing vocalists for Dr. Zoom).
Springsteen had also been playing solo shows in New York City in the beginning of the Seventies and during this time met his first manager, Mike Appel, who arranged an audition for legendary Columbia Records talent scout John Hammond, who had signed Bob Dylan to Columbia. When John Hammond auditioned Bruce Springsteen in his office in 1972, hearing some original songs only on guitar and piano, his response was simply 'You've got to be on Columbia Records'.
Springsteen gathered his previous back up band for the recording of his debut album Greetings from Asbury Park, N.J. released in 1973. The album was well received but sales were disappointing (initially selling about 25,000 copies). Like Dylan, Bruce Springsteen remains at Columbia to this day, and his recordings must rank as among the most exciting spectacles in the living fabric of American culture. When Springsteen then decided to use a tenor saxophone on the songs 'Blinded by the Light' and 'Spirit in the Night,' he called upon Clarence Clemons (who he had previously met in September 1971).
British act Manfred Mann's Earth Band would take the lead off track, 'Blinded by the Light', from Greetings from Asbury Park, N.J. into a number-one hit in 1976. Springsteen's second album The Wild, the Innocent & the E Street Shuffle released in September 1973 also failed to sell despite very good reviews. The album includes the song 'Rosalita (Come Out Tonight),' the band's most-used set-closing song for the first ten years of its career.
Born to Run, the songwriter's third, was his make or break album. The massive Phil Spector sound on almost every song on Born to Run touched on the central mythical image of the rock 'n' roll era – Springsteen has said that he wanted Born to Run to sound like 'Roy Orbison singing Bob Dylan, produced by Spector'. It took Bruce and his band months in total to record the title track, with versions including string section overdubs, a choir on the chorus and one with a double-tracked lead vocal. Bruce's friend, guitarist Steve Van Zandt, a veteran of early Springsteen bands and who joined the E Street Band during the album sessions, now laughs at the thought of it. 'Anytime you spend six months on a song, there's something not exactly going right. A song should take about three hours.'
Born to Run was released in 1975. Advance sales put the album on the chart a week before its release date, and it made the Top Ten shortly afterward going gold in a matter of weeks, cementing Springsteen's success for many years ahead. 'Born to Run' gave Springsteen his first hit single and as he embarked on his first national tour Time and Newsweek ran simultaneous cover stories on Springsteen. Springsteen bought a 1950 Corvette with his first royalty cheque from 'Born to Run', the first car he ever owned, it now resides in a Rock 'n' Roll Hall Of Fame exhibition.
Despite this breakthrough, Springsteen was unable to follow up his ground breaking third album due to legal disputes with former manager Appel. He brought in rock critic Jon Landau as his new manager but was unable to record new material until the dispute was settled. During this period he wrote 'Because the Night' with American singer-songwriter, poet Patti Smith, which became a Top hit for her in the spring of 1978 while The Pointer Sisters hit number two in 1979 with Springsteen's unreleased track 'Fire'.
Darkness on the Edge of Town (which had the working title American Madness) saw Springsteen's return in June 1978. The album marked the end of a three-year gap between albums. His 'Heartland' soul rock sound with a social undertone and positive reviews helped put Springsteen back on top with the album spending 97 weeks on the US chart.
In March 1979 Springsteen attended a Ramones show in Asbury Park, New Jersey and met Joey Ramone who asked him to write a song for the band. Springsteen composed 'Hungry Heart' that night, but decided to keep it for himself on the advice of his producer and manager, Jon Landau. When released 'Hungry Heart' gave Springsteen his first Top Ten hit. The track was also used in the Tom Cruise movie Risky Business, the first time a Springsteen song was used in a film.
Springsteen fully consolidated his status with his following release and Springsteen's only double album, The River, in October 1980. The album was Springsteen's first to go number one on the Billboard chart and spent four weeks at the top – going on to sell over five million copies worldwide.
Nebraska, released on 30 September, 1982 was a stripped down acoustic solo album. Recorded on a four-track machine at his home it marked a major turn for the rock icon. The music captured on the record is what he originally recorded as demos on acoustic guitar and harmonica in January 1982. Because of the album's sombre content, Springsteen chose not to tour in support of the album, making it Springsteen's only major release that was not supported by going out on the road.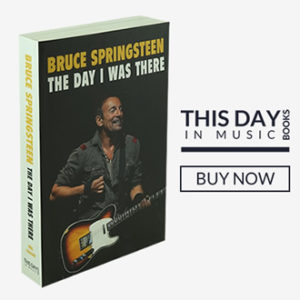 Born in the U.S.A. released on 4 June, 1984 became Springsteen's most successful album ever, with seven Top 10 hits ('Dancing in the Dark', 'Cover Me', 'Born in the U.S.A', 'I'm on Fire', 'Glory Days', 'I'm Goin' Down' and 'My Hometown') and became one of the highest-selling records ever, having sold 30 million copies by 2012. The album received a nomination for Album of the Year at the 1985 Grammy Awards.
Born in the U.S.A. arrived at a time when American politicians with Ronald Reagan as their leader wanted to create a new form of patriotism after the war and tragedies in Vietnam. However, 'Born in the U.S.A.' was in part a tribute to Springsteen's friends who had experienced the Vietnam War, some of whom did not come back and addresses the harmful effects of the War.
In 1984 Springsteen met model and actress Julianne Phillips, and the couple married in May 1985. The marriage quickly began to fall apart, however, and Springsteen began an affair with E Street Band backup singer Patti Scialfa, who shared his working-class New Jersey background. Phillips filed for divorce in 1989. Springsteen moved in with Scialfa and they had two children together before officially marrying in 1991. Their third and last child was born in 1994.
His eighth studio album Tunnel of Love released in October 1987 saw Springsteen record some of his most personal songs and playing most of the parts himself, often with drum machines and synthesizers. The album went triple Platinum in the US, with 'Brilliant Disguise' being one of his biggest hit singles.
Springsteen dissolved The E Street Band in 1989 and worked on the two albums Human Touch and Lucky Town, released simultaneously in 1992. He also wrote the title song for the Jonathan Demme film Philadelphia (1993), one of the first bigger Hollywood productions about AIDS. The song 'Streets of Philadelphia' won the Best Original Song Academy Award that year, and Springsteen became the first rock artist to win an Oscar in this category.
The 1995 album The Ghost of Tom Joad became Springsteen's second acoustic album and won the 1997 Grammy Award for Best Contemporary Folk Album. The character of Tom Joad entered the American consciousness in John Steinbeck's 1939 Pulitzer Prize-winning novel, The Grapes of Wrath, set against the economic hardships of the Great Depression.
The four disc box set Tracks, a career-spanning collection that included 56 previously unreleased recordings a number of single B-sides, as well as demos and alternate versions of already-released material released in 1998 became the first box set ever to debut at number-one on the charts.
Springsteen's twelfth studio album The Rising released in July 2002 debuted at number one on the Billboard 200 chart. It was his first with the E Street Band in 18 years and is widely believed to have been based on Springsteen's reflections during the aftermath of the 11 September, 2001 attacks. Springsteen told journalist Mark Binelli that a stranger in a car had stopped next to him, rolled down his window and said: 'We need you now.' The Rising is predominantly based upon themes of relationship struggles, existential crisis and social uplift. The album won a Grammy Award for Best Rock Album in 2003.
His third acoustic album the 2005 Devils & Dust contained twelve songs of assorted vintage and a narrative setting (Springsteen wrote the title song in 2003, after the start of the Iraq War) became his seventh number one on the US Billboard album chart. He received five Grammy Award nominations for this work, three for the song 'Devils & Dust', Song of the Year, Best Rock Song, and Best Solo Rock Vocal Performance, and two for the album as a whole.
The 2006 We Shall Overcome: The Seeger Sessions won the Grammy Award for Best Traditional Folk Album at the 49th Grammy Awards. The first and so far only album of entirely non-Springsteen material contains his interpretation of thirteen folk music songs made popular by activist folk musician Pete Seeger.
In 2008 keyboardist Danny Federici who had followed the band and forged its sound since the beginnings passed away of melanoma aged 58. After his illness was diagnosed he set up the Danny Federici Melanoma Fund to raise money for research at the Sloan-Kettering hospital in New York City. On the news of his death Springsteen said: 'He was the most wonderfully fluid keyboard player and a pure, natural musician. I loved him very much.'
Magic his fifteenth studio album released in September 2007 was his first with The E Street Band since 2002. It became Springsteen's seventh number-one in the UK and eighth in the US. Magic was nominated for the Grammy Award for Best Rock Album but lost to the Foo Fighters' Echoes, Silence, Patience & Grace and the album ranked number two on Rolling Stone's list of the Top 50 Albums of 2007.
2009 saw the release of Working on a Dream the last to feature new work of founding E Street Band member Danny Federici. The album reached number-one in 17 countries around the world, and reached the Top 10 almost everywhere else. Later in November 2014, Springsteen released a graphic novel titled Outlaw Pete, which is based on the opening track from Working on a Dream.
In June 2011 another founding member, Clarence Clemons, whose saxophone sound had followed Springsteen since day one and created his particular rock groove suffered a stroke and died a few days later. Clemons had been a strong pillar in the E Street sound playing an essential role in Springsteen's songs, particularly in the first years on 'Jungleland,' 'Incident on 57th Street' and 'Rosalita (Come Out Tonight)'. The Big Man, who stood at 6 feet 4 inches tall and built like the football player he might have been was by far the E Street Band's ashiest dresser, in eye-popping suits and broad- brimmed hats.
The 2012 album Wrecking Ball was named best album of 2012 by Rolling Stone and along with the album's first single, 'We Take Care of Our Own', was nominated for three Grammy Awards. Wrecking Ball became Springsteen's tenth number one album in the US, tying him with Elvis Presley for third-most number-one albums of all-time.
Springsteen's eighteenth studio album High Hopes features Springsteen's regular backing band, The E Street Band, plusRage Against the Machine and Audioslave guitarist Tom Morello. Contributions from deceased E Street Band members Clarence Clemons and Danny Federici are also included. High Hopes became his eleventh US number-one placing him third all-time for most number one albums only behind The Beatles and Jay-Z. Rolling Stone named it the second-best album of 2014 on their year-end list.
Western Stars became his nineteenth studio release, produced again by Ron Aniello. Springsteen stated that the album was influenced by "Southern California pop music" of the 1970s, including artists such as Glen Campbell and Burt Bacharach.
To date Springsteen has released 19 studio albums, 70 singles, 8 extended plays, 23 live albums, 7 box sets, 8 compilation albums, 57 music videos and 17 home videos. Worldwide albums sales stand at over 122 million.
We have a book! Bruce Springsteen – The Day I Was There which features over 250 accounts from fans who have witnessed a Bruce Springsteen live show. From late 60s concerts in New Jersey right through to his marathon three hour plus shows from recent times.