Joey Ramone & Dee Dee Ramone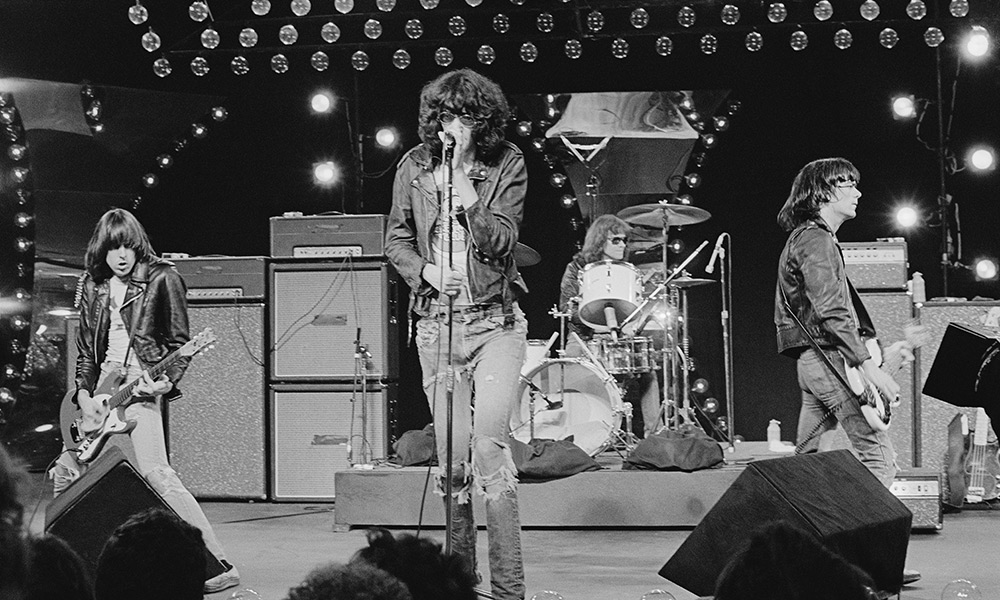 The three-chord guitar riff introduction, and 'Hey! Ho! Let's go!' came the cry, a simple, catchy melody, and they were off. The Ramones created something that was rooted in the early 1960s, rock & roll/garage band rock but sounded revolutionary. And this is what made them the leaders of the emerging New York punk rock scene. Everything about the Ramones felt right. The look, the name, the sound, the attitude. You wanted the Ramones to be your best friends.
Based in the Forest Hills section of Queens, New York, John Cummings (Johnny Ramone), and Thomas Erdelyi (Tommy Ramone), had both been in a high-school garage band from 1966 to 1967 known as the Tangerine Puppets, (what a brilliant name!). They became friends with Douglas Colvin, (Dee Dee Ramone), who had recently moved to the area from Germany, and Jeffry Hyman, (Joey Ramone), who was the initial lead singer of the glam rock band Sniper.
Colvin was the first to adopt the name 'Ramone', calling himself Dee Dee Ramone, taking inspiration from Paul McCartney's use of the pseudonym Paul Ramon during his Silver Beatles days. (McCartney reverted to the name when he pseudonymously contributed to Steve Miller's My Dark Hour recording). Dee Dee convinced the rest of the group to take on the name and came up with the idea of calling the band The Ramones, (why don't more bands do this?). All four dressed in torn blue jeans and leather jackets, in homage to 1950s greaser rockers.
The Ramones played before an audience for the first time in March 1974. Playing fast and loud, most songs in the set clocked in at under two minutes, and a full live set would be under 20 minutes. Around this time, a new music scene was emerging in New York, centered around two clubs in downtown Manhattan: Max's Kansas City and, more famously, CBGBs. The Ramones made their CBGB debut a few months later in August. Legs McNeil, who co-founded Punk magazine, later described the impact of that performance: 'They were all wearing these black leather jackets. And they counted off this song…and it was just this wall of noise… They looked so striking. These guys were not hippies. This was something completely new.'
In late 1975, Linda Stein, the then-wife of Seymour Stein, owner of Sire Records, witnessed a gig at CBGBs and became their co-manager, resulting in The Ramones signing to Sire Records.
The Ramones recorded their debut album, Ramones, in February 1976, at a cost of $6,400, with sessions taking just seven days from start to finish. Clocking in at under 30 minutes, the longest song here is I Don't Wanna Go Down To The Basement, (inspired by horror movies), at 2:35 and the shortest track, Judy Is A Punk, is just 1.32 seconds long.
The recording process was similar to the techniques used by The Beatles from the early 1960s: the guitars can be heard separately on the stereo channels – electric bass on the left, rhythm guitar on the right channel – while drums and vocals are mixed in the middle of the stereo mix.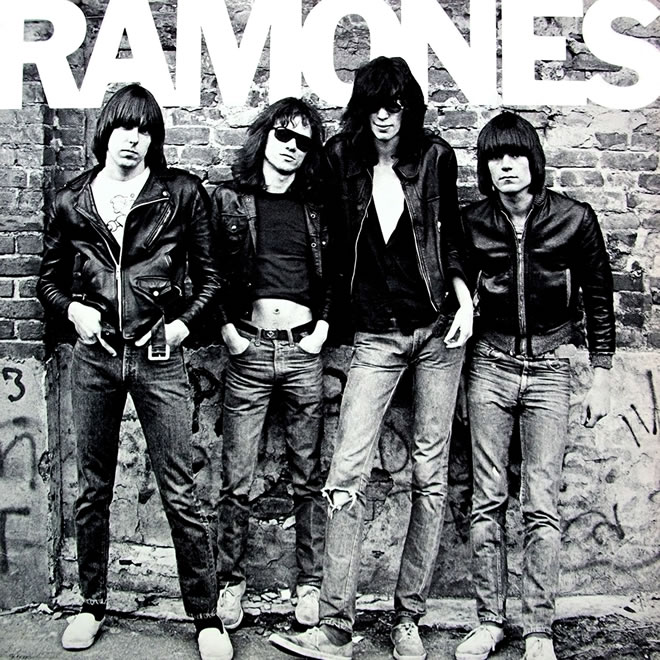 The album features a number of themes, including Nazism, violence, male prostitution and drug use, as well as lighter fare such as horror movies and teenage romance. The opener, Blitzkrieg Bop, the first single lifted from the album, was released in July 1976, originally just on seven inch vinyl. The pace of the album makes you short of breath, but it's all over too quickly. Chain Saw opens with the sound of a running circular saw: influenced by the 1974 horror film The Texas Chainsaw Massacre, at nearly 180 beats per minute it is the fastest track on the album. Now I Want To Sniff Some Glue consists of four lines of minimalist lyrics which are about youthful boredom and inhaling the solvent vapors contained in glue. On the question of the authenticity of the text, Dee Dee said in an interview: 'I hope no one thinks we really sniff glue. I stopped when I was eight years old.'
The Ramones originally wanted an album cover similar to the 1964 album by The Beatles' US release, Meet The Beatles! A photo session was subsequently undertaken at a cost of $2,000, but Sire was dissatisfied with the results. The band later met up with Roberta Bayley, a photographer for Punk magazine, who noted that 'getting the Ramones to pose was like pulling teeth'. Originally featured in an issue of Punk, Bayley's black and white photograph on the front of the album cover was to be the defining inage of the band.
One of the first people to review the album was Robert Christgau, who, writing for Village Voice, said: '…my theory has always been that good rock and roll should damn well make you uneasy…just perfect, a minor classic'.
In the UK, BBC DJ John Peel made his weekly trip to the Virgin record store at Marble Arch in search of new releases. After the store manager, Tim Clark handed him the Ramones LP, Peel threw out the running order for that evening's show and played six tracks from the album. The inexorable rise of punk was now in place on both sides of the Atlantic.
The Ramones parted ways 20 years after the release of their debut album, and sadly, three Ramones are now gone. Joey passed away on April 15, 2001, at age 49, the victim of lymphoma. Little more than a year after Joey's death, Dee Dee was found dead in his home in Los Angeles on June 5, 2002. Two years later, Johnny died on September 15, 2004, after a long battle with cancer. But, if nothing else, their legacy lives on as the bona fide fathers of British punk rock, and as authors of pithy slogans like 'Gabba Gabba Hey!' that galvanised a generation.
Dee Dee Ramone
Dee Dee Ramone was the group's primary songwriter, penning songs such as 'Rockaway Beach', '53rd & 3rd', and 'Poison Heart' for one of the most treasured and loved groups to emerge from the new wave – punk era. Everybody loved The Ramones.
On 5th June 2002, Dee Dee Ramone (Douglas Glenn Colvin), bass guitarist with the group died, aged 49, at his Hollywood, California apartment of a heroin overdose. Dee Dee was initially the band's lead vocalist, though his (then) inability to sing and play bass at the same time resulted in original drummer Joey Ramone taking over the lead vocalist duties.
Born Douglas Glenn Colvin in Fort Lee, Virginia, he was the son of an American soldier and a German woman. As an infant, his family relocated to Berlin, Germany, due to his father's military service. His parents separated during his early teens, and he remained in Berlin until the age of 15, when he, along with his mother and sister Beverley, moved to the Forest Hills section of New York City's borough of Queens, in order to escape Dee Dee's alcoholic father.
There he met John Cummings and Thomas Erdelyi (later dubbed Johnny and Tommy "Ramone"), who were then playing in a band called The Tangerine Puppets, named after a Donovan song.
The three were joined by drummer Jeffrey Hyman in 1974 and The Ramones were born.
Jeffrey became Joey Ramone, taking over vocal duties after Dee Dee decided that it was too hard on his voice to sing lead vocals for more than a few songs. It was Dee Dee who first suggested naming the band the Ramones, after reading that Beatle Paul McCartney often signed into hotels under the alias "Paul Ramon". He added an 'e' to the end of that surname and the band members all agreed to adopt the surname "Ramone" as a means of conveying their unity.
Dee Dee struggled with drug addiction for much of his life, particularly heroin. He began using drugs as a teenager and continued to use them for the majority of his adult life. Appearing to clean up his act in the early 1990s, he resumed his heroin use some time later.
On the evening of June 5, 2002, he was found dead by his wife Barbara at his Hollywood, California apartment; an autopsy established heroin overdose as the official cause of death. He had been booked to play a show at the Ventura Theatre, which ended up being a memorial show in his honor.
Dee Dee Ramone is buried at the Hollywood Forever Cemetery in Hollywood, California, not far from the cenotaph of his former Ramones' bandmate, Johnny Ramone. His headstone features the Ramones seal with the line "I feel so safe flying on a ray on the highest trails above" taken from his song, "Highest Trails Above", from the Ramones' Subterranean Jungle album. At the stone's base is the line "O.K…I gotta go now."
Important Dates In The Life Of The Ramones:
16 Jan 2021
American producer Phil Spector died in prison age 81. Known for his 'Spector Wall Of Sound' he was a member of Teddy Bears, who had the 1958 US No.1 single 'To Know Him Is To Love Him'. He went on to produce many classic songs including; Ben E King, 'Spanish Harlem', The Crystals, 'Da Doo Ron Ron', The Ronettes, 'Baby I Love You', The
Righteous Brothers
, 'You've Lost That Lovin' Feeling', Ike and Tina Turner, 'River Deep, Mountain High'. He also produced albums for The
Ramones
,
John Lennon
,
George Harrison
,
The Beatles
, Cher and Harry Nilsson. The 2003 shooting of actress Lana Clarkson in his Alhambra, California home led to his 2009 conviction of murder in the second degree.
23 Jan 2017
African-American soul and R&B singer, songwriter and record producer Bobby Freeman died of natural causes aged 76. He scored the 1958 US & UK No.5 single 'Do You Want To Dance'. The song has been covered (as 'Do You Wanna Dance') by Del Shannon,
The Beach Boys
, Johnny Rivers, Bette Midler,
John Lennon
, Cliff Richard,
Marc Bolan
& T.Rex, the Mamas & The Papas and the
Ramones
.
11 Jul 2014
Producer and drummer Tommy Ramone (Thomas Erdelyi), from the influential punk rock band the
Ramones
died aged 65 following unsuccessful treatment for bile duct cancer. He was the last surviving original member of the
Ramones
before his death. Erdelyi was also an assistant engineer for the production of the
Jimi Hendrix
album Band of Gypsys.
24 Feb 2010
The personal assistant to former
Ramones
manager Linda Stein was convicted in a New York court of bludgeoning her boss to death at her Manhattan apartment on 30 October 2007. Prosecutors said Natavia Lowery, 28, stole more than $30,000 (£19,500) from Stein, then clubbed her with a piece of exercise equipment. Jurors spent less than a day reaching a second-degree murder verdict.
30 Oct 2007
Linda Stein, former co-manager of punk band the
Ramones
, was found beaten to death at her Manhattan apartment. Mrs Stein was the ex-wife of Seymour Stein, former president of Sire Records, which was the launching pad for the
Ramones
, Talking Heads and
Madonna
. Mrs Stein had become one of New York's leading estate agents, her clients included Sting and
Billy Joel
, long-time friend Sir
Elton John
told the New York Times he was "absolutely shocked and upset".
31 Aug 2007
Hilly Kristal, founder of the New York punk club CBGB died from complications arising from lung cancer at the age of 75. Kristal was credited with discovering Patti Smith and the
Ramones
and his club became a breeding ground for punk rock. The New York City venue, whose full title CBGB OMFUG stood for 'country, bluegrass, blues and other music for uplifting gourmandisers', was originally launched to showcase country music.
16 Oct 2006
CBGB, the legendary New York punk club credited with discovering Patti Smith and
Ramones
, closed after a final gig by Smith herself.
Blondie
and Talking Heads also found fame after performing at the club, which helped launch US punk music. The venue first opened in December 1973, its full name CBGB OMFUG standing for "country, bluegrass, blues and other music for uplifting gormandizers".
25 Oct 2004
John Peel
died in Cuzco, Peru of a heart attack, aged 65. He was BBC's longest-serving radio DJ and the first DJ to introduce the
Ramones
,
The Smiths
,
Rod Stewart
, Blur, the
Sex Pistols
,
T Rex
and others to the masses. He founded Dandelion Records in 1969, and was also known for his 'Peel Sessions', releases of live radio sessions. Peel was appointed an OBE in 1998.
15 Sep 2004
Ramones
guitarist Johnny Ramone (John Cummings) died in Los Angeles after a five-year battle with prostate cancer. Founding member of The
Ramones
, major influence on many punk and 90's bands. Scored the 1977 hit single 'Sheena Is A Punk Rocker'.
30 Nov 2003
A block of East 2nd Street in New York City was officially renamed Joey Ramone Place. It is the block where Joey once lived with band mate Dee Dee Ramone and is near the music club CBGB, where the
Ramones
played their first gigs. In 2010, it was reported that "Joey Ramone Place," was New York City's most stolen sign. As of September 27, the sign has been moved to 20 feet above ground level.
5 Jun 2002
Dee Dee Ramone, (Douglas Glenn Colvin), bass guitarist with the
Ramones
died at his Hollywood, California apartment of a heroin overdose aged 49. He was the group's primary songwriter, penning songs such as 'Rockaway Beach', '53rd & 3rd', and 'Poison Heart'.
18 Mar 2002
Ramones
were inducted into the Rock and Roll Hall of Fame by Eddie Vedder, lead singer of
Pearl Jam
and close friend of the
Ramones
. The ceremony took place at the Waldorf Astoria Hotel in New York City.
15 Apr 2001
Punk pioneer Joey Ramone (Jeffrey Ross Hyman) singer of the
Ramones
died after losing a long battle with lymphatic cancer aged 49. On November 30, 2003, a block of East 2nd Street in New York City was officially renamed Joey Ramone Place.
19 Apr 1993
27 Sep 1990
Dee Dee Ramone of the
Ramones
was arrested for possessing marijuana during a drug bust in New York's Greenwich Village.
21 Aug 1983
Ramones
guitarist Johnny Ramone had a four-hour brain surgery operation, after being found unconscious in a New York Street where he had been involved in a fight.
3 Sep 1982
The three day US Festival in San Bernardino, California took place featuring,
Tom Petty
,
Fleetwood Mac
,
The Police
, The Cars, Talking Heads,
The Kinks
,
Ramones
, B52's, The English Beat, Gang Of Four,
Grateful Dead
, Pat Benatar, Jackson Browne. Apple Computers founder Steven Wozniak bankrolled the festival.
12 Feb 1977
Blondie
,
Tom Petty
& The Heartbreakers and the
Ramones
all appeared at the Whisky a Go Go in Los Angeles, California.
13 Nov 1976
The Melody Maker announced UK dates for the first major punk tour with The
Sex Pistols
and the
Ramones
co-headlining along with Talking Heads, The Vibrators and Chris Spedding. The 14-date tour which was due to start at Newcastle City Hall on Nov 29th never took place.
23 Apr 1976
Ramones
released their eponymous debut album. The front cover depicts the band members standing in a line leaning against a brick wall, taken by Roberta Bayley. The cover was ranked No.58 on Rolling Stone's list of 100 Greatest Album Covers.
10 Dec 1973
The CBGB Club (Country, BlueGrass, and Blues), opened in the lower eastside of New York City. Founded by Hilly Kristal, it was originally intended to feature its namesake musical styles, but became a forum for American punk and New Wave bands such as
Blondie
, Television, Patti Smith and the
Ramones
.