February 18th: The Biggest Music Headlines
Scroll down the page to see all the music headlines, stories, and events for February 18 throughout music history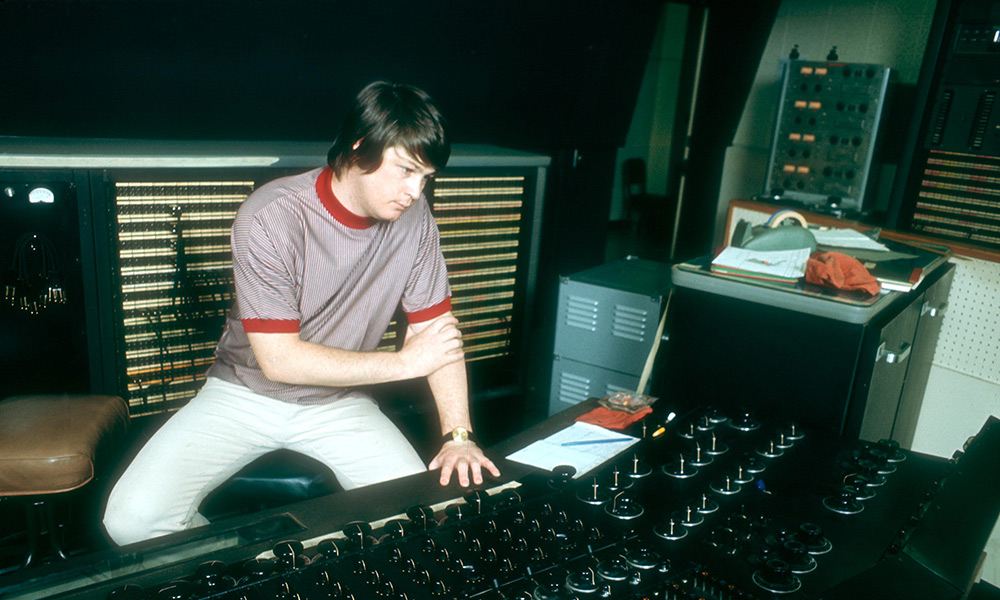 Brian Wilson Begins Innovative Recording of 'Good Vibrations'
On this day in music, February 18, 1966, Beach Boy leader Brian Wilson began recording the band's soon-to-be classic, "Good Vibrations." Riffing on themes of extrasensory perception, Wilson was inspired by a story that his mother often told about dogs barking at people in response to their "bad vibrations." The recording process, meanwhile, was unprecedented and found musicians recording more than 90 hours of interchangeable footage, with Wilson later assembling the fragments into a larger, symphonic structure, which reflected various moods. Released in October of that year, "Good Vibrations" was an instant critical and commercial success. Widely considered to be among the era's most important recordings, the song went on to influence countless other bands, while, in the decades since its release, "Good Vibrations" has ranked on numerous lists, including the Rock and Roll Hall of Fame's "500 Songs that Shaped Rock and Roll" and Rolling Stone's "500 Greatest Songs of All Time." It was inducted into the Grammy Hall of Fame in 1994.
In 1990, Queen frontman Freddie Mercury made his final public appearance at the BRIT Awards, accepting an honor, alongside his bandmates, for "Outstanding Contribution to British Music." Mercury died in November 1991 at age 45, following complications from the AIDS virus.
In 2021, pioneering rapper Prince Markie Dee died a day before his 53rd birthday. Born Mark Anthony Morales, he performed alongside Darren Morales and Damon Wimbley as the Fat Boys in the 80s. After the disbandment of the group, Morales launched a solo career, earning a No.1 single for "Typical Reasons (Swing My Way)," and finding success writing and producing songs for Mary J. Blige, Mariah Carey, and Jennifer Lopez, among others.
In 1962, during a weekend leave from training, The Everly Brothers appeared on The Ed Sullivan Show. Decked in full uniform and regulation cropped hair, the duo performed "Jezebel" and "Crying in the Rain." They enlisted in the US Marine Corps Reserve in October 1961 and resumed their music career after their discharge.
In 1959, Ray Charles recorded one of his signature hits, "What'd I Say," at Atlantic Records' New York City studio. The song, which originated from a call-and-response improvisation between Charles and his background vocalists, The Raelettes, reached the top of the R&B chart and No.6 on the pop chart. It later gave Charles his first Gold record.
Looking for more things that happened on this day in music?
Keep scrolling for all of the headlines for February 18.
BORN ON FEBRUARY 18:
1933: Yoko Ono
1934: Skip Battin (The Byrds)
1947: Dennis Deyoung (Styx)
1948: Keith Knudsen (The Doobie Brothers)
1955: Brian James (The Damned)
1965: Dr. Dre
1994: J-Hope (BTS)
Looking for more artists born on this day?
Keep scrolling for all of our February 18 birthdays.
---
What to find another day?
---
February 18th
18 Feb 2021
American rapper, songwriter and producer, Prince Markie Dee died age 52. He was a member of the Fat Boys, a pioneering rap group that gained fame during the 1980s. Morales was also the vice-president of Uncle Louie Music Group.
18 Feb 2015
American singer Willie C. Jackson from Fifties doo-wop group The Spaniels died aged 79. Their 1954 hit 'Goodnite, Sweetheart, Goodnite' was featured in such films as Three Men and a Baby and American Graffiti. The Spaniels became one of the first artists to sign with Vee-Jay Records, the first large, independent Afro-American owned record label.
18 Feb 2013
African-American soul and R&B singer Otis Damon Harris, who was a member of The
Temptations
, died at the age of 62 after a 14-year battle with prostate cancer. Harris was a member of The
Temptations
from 1971 to 1975, joining shortly after the departure of Eddie Kendricks.
18 Feb 2012
Whitney Houston
had an invitation-only memorial at the New Hope Baptist Church in Newark, New Jersey. Among those who performed at the funeral were
Stevie Wonder
, Alicia Keys and R. Kelly. Kevin Costner read a moving and personal Eulogy.
18 Feb 2009
Welsh songstress Duffy won three trophies at this years Brit awards, taking home Best British Female Solo Artist, British Breakthrough Act and British Album of the Year for her debut Rockferry. Kings of Leon won International Group and International Album for Only By The Night and International Female Solo Artist was Katy Perry. British Male Solo Artist went to Paul Weller,
Iron Maiden
won British Live Act and Elbow won Best British Group. Outstanding Contribution to Music went to the Pet Shop Boys.
18 Feb 2009
Michael Jackson
's management team announced that The King Of Pop was set to auction off his American Music Award for
Thriller
, his Gold and Platinum records, a Rolls Royce limousine, a customized Harley Davidson, a velvet cape given to him by his children for Father's Day in 1998, a pair of rhinestone-trimmed socks from 1981, a basketball signed by Michael Jordan and his own original artwork.
18 Feb 2008
Carpenters
fans were objecting to plans to have pop duo's former family home in Downey, south of Los Angeles knocked down. The current owners of the house, said they objected to fans looking in the windows and leaving floral tributes. The five-bedroom house was immortalised when it featured on the cover of The
Carpenters
' 1973 hit album Now & Then.
18 Feb 2005
Britney Spears
attacked a US magazine after it published photographs of her honeymoon without permission. Weekly publication Us printed five pages of pictures of Spears and husband Kevin Federline on holiday in Fiji. A statement from US said: "Britney should start her own magazine if she'd like to dictate her own coverage."
18 Feb 2004
Dido entered a Top 10 of the music world's biggest earners after making £15.8 million ($26.9 million) in 2003. The singer's second album Life For Rent was the previous years biggest selling UK album. The
Rolling Stones
topped the Heat magazine rich list having earned £55.3 million ($94 million) in 2003.
18 Feb 2004
A court case accusing Marilyn Manson of sexual assault was dismissed after the two sides reached a settlement. Security guard Joshua Keasler had sued Manson after the star allegedly put his legs around Keasler's neck and gyrated against him on stage at a gig in Detroit, Michigan in 2001. Manson was ordered to pay $4,000 (£2,091) in fines and costs in the criminal proceedings.
18 Feb 2000
An American court ordered the release of FBI files relating to
John Lennon
's interests and activities including his support for the Irish Republican cause and the Workers Revolutionary Party. The British Government told the US that it wanted the files to remain secret. MI5 also had files on Lennon, which they had passed on the FBI during the 70s.
18 Feb 1998
Oasis
' Noel Gallagher's Epiphone Supernova guitar raised £4,600 ($7,820) in aid of Children In Need at a Bonhams auction held in London, England.
18 Feb 1995
American guitarist Bob Stinson from The Replacements died from a drug overdose, his body was found in his Uptown, Minneapolis apartment. Founding member of The Replacements, was also a member of Static Taxi.
18 Feb 1990
Freddie Mercury
made his final public appearance on stage when he joined the rest of
Queen
to collect the Brit Award for Outstanding Contribution to Music, held at the Dominion Theatre, London, England.
18 Feb 1972
On their first Australian tour,
Led Zeppelin
rescheduled to the following night their concert at the Memorial Drive, Adelaide, after heavy rain left the stage and equipment unsafe. Zeppelin had brought to Adelaide the largest PA system seen in Australia to produce what was expected to be the loudest rock show ever heard.
18 Feb 1969
Three thousand uninvited guests showed up to see Lulu and The
Bee Gees
Maurice Gibb
get married at St. James' Church, Gerrard's Cross, England. Brother Barry was the best man.
18 Feb 1966
Beach Boy
Brian Wilson
recorded the future classic song 'Good Vibrations', which went on to become the band's third US number-one hit. As a child, his mother told him that dogs could pick up "vibrations" from people, so that the dog would bark at "bad vibrations" Wilson turned this into the general idea for the song.
18 Feb 1965
The Kinks
were at No.1 on the UK singles chart with 'Tired Of Waiting For You', the group's second UK No.1. According to Ray Davies, the music for 'Tired of Waiting for You' was written on the train to the recording studio and the words were written at a coffee shop during a break in the session.
18 Feb 1965
Working at Abbey Road studios in London,
The Beatles
recorded two new songs:
John Lennon
's 'You've Got to Hide Your Love Away' and a new
Paul McCartney
song 'Tell Me What You See'.
18 Feb 1962
On weekend leave from marine training, The Everly Brothers appeared on the US Ed Sullivan show, in full uniform and with regulation cropped hair, singing their new single, 'Crying In The Rain'.
18 Feb 1959
Ray Charles recorded 'What'd I Say', in New York City. The song had evolved in concert as a call-and-response between Charles and his female back-up singers. It became Charles' biggest hit to date, reaching No.1 on the R&B and No.6 on the pop charts.
Born on this day in music
18 Feb 1994
J-Hope (Jung Ho-seok), South Korean singer, songwriter, with the boy band BTS. They became the first Korean act to top the US Billboard chart with their studio album Love Yourself: Tear (2018). BTS also became the fastest group since
The Beatles
to earn four US No.1 albums, doing so in less than two years. They became the first Asian act to chart a No.1 song in the US since Kyu Sakamoto with 'Sukiyaki' (1963).
18 Feb 1970
Twins, Andy Williams (drums, vocals), and Jez Williams, (guitar) who were members of English group Sub Sub who had the 1993 UK No.3 single 'Ain't No Love, (Ain't No Use'). Also members of Doves, who had the 2002 UK No.3 single 'There Goes The Fear' and 2002 UK No.1 album 'The Last Broadcast'.
18 Feb 1966
Tommy Scott, singer from English group Space who had the 1996 UK No.14 single 'Female Of The Species'.
18 Feb 1965
Dr Dre, NWA, who had the 1990 UK No.26 single 'Express Yourself'. As a solo artist had the 1996 US No.1 & UK No.6 single 'California'. Dre is the host of 'Yo!
MTV
Raps.'
18 Feb 1961
Jasper Stainthorpe, with English rock band Then Jerico who had the 1989 UK No.13 single 'Big Area'.
18 Feb 1955
Brian James, from British punk group The Damned, who had the 1986 UK No.3 single 'Eloise', James was also a member of Lords Of The New Church.
18 Feb 1954
John Travolta, American actor, singer, who had the 1978 UK & US No.1 single with Olivia Newton John, 'You're The One That I Want'. The track topped the UK Singles Chart for nine weeks in the summer of 1978 and as of 2008, is still the sixth best-selling single ever in the UK where it has sold over 2,015,000 copies. His mother and his sister Ann appeared as extras in Saturday Night Fever and his sister Ellen appeared as a waitress in Grease.
18 Feb 1953
Canadian drummer Robbie Bachman from Bachman Turner Overdrive (the youngest brother of guitarist, singer and songwriter Randy Bachman), who had the 1974 US No.1 & UK No.2 single 'You Ain't Seen Nothing Yet'. He died on 12 January 2023, aged 69.
18 Feb 1952
Juice Newton American pop and country singer, songwriter, and musician who had the 1981 US No.2 single, 'Queen Of Hearts'. Newton has received five Grammy Award nominations in the Pop and Country Best Female Vocalist categories.
18 Feb 1952
Randy Crawford, US female singer who had the 1980 UK No.2 single 'One Day I'll Fly Away' and with the Crusaders the 1979 UK No.5 & US No.36 single 'Street Life.'
18 Feb 1948
American rock drummer, vocalist, and songwriter Keith Knudsen best known as a drummer and vocalist for The Doobie Brothers. Knudsen died of pneumonia on 8 February 2005 in California, at the age of 56.
18 Feb 1947
American singer, songwriter Dennis Deyoung, from Styx who had the 1979 US No.1 & 1980 UK No.6 single 'Babe'. He was the band's most successful writer, penning 7 of the band's 8 Billboard top 10 singles as well as a solo top 10 single.
18 Feb 1945
British musician Jimmy Jewell, from Gallagher & Lyle who had the 1976 UK No.6 single 'I Wanna Stay With You'.
18 Feb 1941
Herman Santigo, singer with American-Puerto Rican doo wop group Frankie Lymon And The Teenagers, who had the 1956 UK No.1 & US No.6 single 'Why Do Fools Fall In Love'. They are also noted for being rock's first all-teenaged act.
18 Feb 1939
American singer, songwriter Bobby Hart, who had the 1968 US No 8 single with Tommy Boyce, 'I Wonder What She's Doing Tonite'. He also wrote 'Last Train To Clarksville', and 'I'm Not Your Stepping Stone' covered by The
Monkees
.
18 Feb 1934
American singer, songwriter, bassist, Skip Battin, from The Byrds, who had the 1965 US & UK No.1 single 'Mr Tambourine Man'. In 1959-60 he sang in a duo, Skip & Flip, with Gary Paxton when they had two US hits that each went to No.11, Paxton later formed the Hollywood Argyles, who had the No.1 hit, 'Alley Oop'. Battin was in the Byrds from 1970 to 1973. He was also a member of New Riders Of The Purple Sage and The Flying Burrito Brothers. Battin died on 6 July 2003.
18 Feb 1933
Yoko Ono, Japanese artist, singer, poet, author and peace activist and wife of
John Lennon
. Ono moved to New York City from Tokyo aged 14 and first met
John Lennon
in London in 1966, the couple married in 1969.