February 29th: The Biggest Music Headlines
Scroll down the page to see all the music headlines, stories, and events for February 29 throughout music history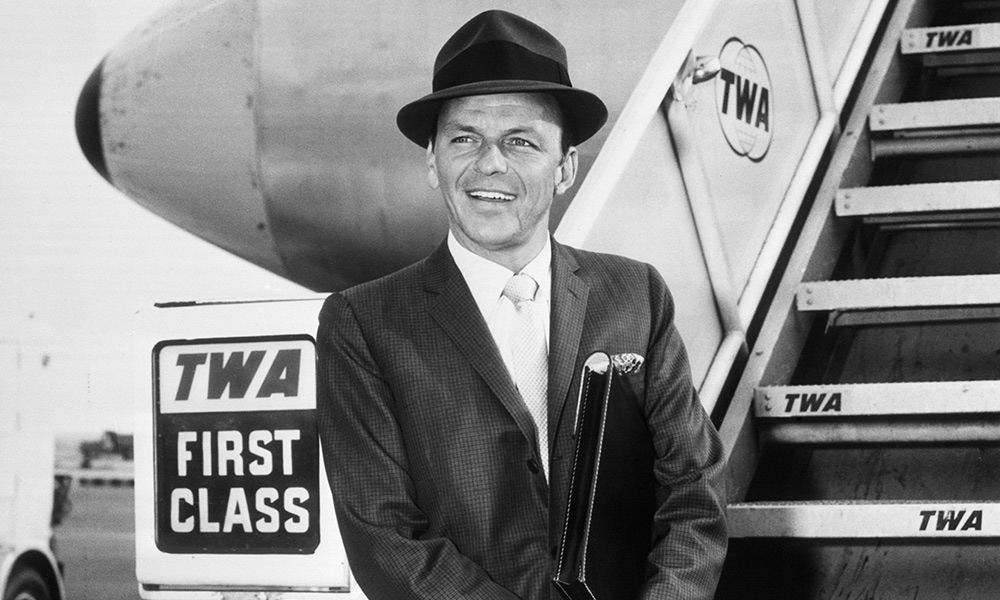 Frank Sinatra Soars Up the Charts with 'Come Fly with Me'
On February 29, 1958, Frank Sinatra's 14th studio album, Come Fly With Me began a five-week run atop the Billboard 200. Featuring its now-iconic title track, penned for Sinatra by Sammy Cahn and Jimmy Van Heusen, the album was designed to take listeners on a musical trip around the world, with classics like "April in Paris," "On the Road to Mandalay," and "Blue Hawaii." Come Fly With Me earned a nod for Album of the Year at the inaugural Grammy Awards, and it was later inducted into the Grammy Hall of Fame.
In 2012, actor and singer Davy Jones of The Monkees died at age 66, following a heart attack. The pop-rock band was formed for The Monkees, a 1966-1968 television show about four men trying to succeed in a rock band. Jones sang lead vocals on many of the band's recordings before the group disbanded in 1970.
In 1968, The Beatles made Grammy history when their eighth studio album, Sgt. Pepper's Lonely Hearts Club Band, became the first rock LP to win Album of the Year.
In 1992, Mr. Big began a three-week run at the top of the Billboard Hot 100 with "To Be with You." While the band was primarily known as a hard rock act, they showed their softer side with the acoustic ballad, which also topped charts across Europe, Australia, and Canada.
In 1976, The Roundhouse in London hosted a special "Leap Year Concert," featuring The Stranglers, Nasty Pop, Deaf School, and Jive Bombers.
Looking for more things that happened on this day in music?
Keep scrolling for all of the headlines for February 29.
BORN ON FEBRUARY 29:
1904: Jimmy Dorsey (bandleader)
1940: Gretchen Christopher (The Fleetwoods)
1972: Saul Williams
1976: Ja Rule
Looking for more artists born on this day?
Keep scrolling for all of our February 29 birthdays.
---
What to find another day?
---
February 29th
29 Feb 2019
Ariana Grande was at No.1 on the US album chart with her fifth studio album Thank U, Next. The album was nominated for Album of the Year and Best Pop Vocal Album at the 62nd Annual Grammy Awards while its second single, '7 Rings', was nominated for Record of the Year and Best Pop Solo Performance.
29 Feb 2012
American guitarist and session musician Roland Bautista died of natural causes. He was a former member of Earth, Wind & Fire and had also worked with artists such as Tom Waits, The
Jackson 5
, B.B. King, Ramsey Lewis, Randy Crawford and George Duke.
29 Feb 2012
Davy Jones, the Manchester-born lead singer with 60s band The
Monkees
, died aged 66, in his sleep at his home in Florida after suffering a massive heart attack. Jones who appeared as a teenager in soap opera Coronation Street, playing Ena Sharples's grandson was also a former apprentice jockey in Newmarket. Jones remained a keen horseman all his life, winning his first race in England as a jockey in 1996.
29 Feb 2008
Mike Smith, the lead singer of 1960s British group The Dave Clark Five, died from pneumonia at Stoke Mandeville Hospital in Buckinghamshire, England at the age of 64. The Dave Clark Five had 19 UK Top 40 hits, including 'Bits and Pieces' and the number one single 'Glad All Over'. The band, which broke up in the 1970s, sold more than 100 million records and recorded 23 albums.
29 Feb 2004
Peter Andre went to No.1 on the UK singles chart with a re-issue of his 1996 No.2 hit 'Mysterious Girl.' Andre had been a contestant in the UK TV show 'I'm A Celebrity... Get Me Out Of Here' set in the Australian outback.
29 Feb 2000
Eric Clapton
was banned from driving for six months after speeding at 45mph in a 30mph zone near his UK home in Surrey.
29 Feb 2000
Sir
Elton John
stormed out of the opening of his new Broadway musical show, 'Aida', after 15 minutes complaining that his songs had been ruined.
29 Feb 1996
American musician, songwriter and record producer, Wes Farrell died aged 56. He was one of the writers behind The Partridge Family American TV show and also wrote 'Hang On Sloopy' the 1965 hit for The McCoys.
29 Feb 1996
Status Quo sued
Radio 1
for £250,000 ($425,000) on the grounds that the BBC station was breaking the law by not including their new record on their playlist.
29 Feb 1992
Mr Big started a three week run at No.1 on the US singles chart with 'To Be With You', a No.3 hit in the UK.
29 Feb 1992
U2
kicked off their north American leg of the 'Zoo TV Tour', at The Lakeland Civic Centre Arena, Florida. Many acts have appeared here, including
Elvis Presley
, The
Rolling Stones
, Rush and
Bob Dylan
. It was here where
Kiss
guitarist Ace Frehley was nearly electrocuted, during a concert on December 11, 1976.
29 Feb 1988
Robert Plant released his fourth solo album, Now And Zen. The album peaked at No. 10 on the UK chart. The tracks Heaven Knows and Tall Cool One featured guitarist
Jimmy Page
.
29 Feb 1980
The glasses that
Buddy Holly
had been wearing when he died were discovered in a police file in Mason, Iowa after being there for over 21 years.
29 Feb 1977
Two members of Lynyrd Skynyrd were knocked unconscious after a scuffle broke out- between the band and members of the metropolitan police boxing team, who were holding a dinner at the Royal Lancaster Hotel in London.
29 Feb 1976
10cc kicked off a 30-date UK tour at the Fairfield Hall, Croydon promoting their new album 'How Dare You'. Also this week 10CC member Eric Stewart had been nominated for a Grammy award in America for his work on the 'Original Soundtrack' album.
29 Feb 1976
A Special 'Leap Year' concert with The Stranglers, Nasty Pop, Deaf School and Jive Bombers, at London's Roundhouse.
29 Feb 1972
On the last date of an Australian tour
Led Zeppelin
played at the Festival Hall in Brisbane.
29 Feb 1968
The Beatles
Sgt. Pepper
's Lonely Hearts Club Band won album of the year, best cover and best-engineered and recorded album at this year's Grammy Awards.
29 Feb 1964
The first night of a 29 date twice-nightly tour featuring The Searchers, Bobby Vee and Dusty Springfield kicked off at The Adelphi Cinema, Slough.
29 Feb 1964
The Hollies appeared on music show Thank Your Lucky Stars. The British television pop music show made by ABC Television was broadcast on ITV from 1961 to 1966 and for millions of British teenagers it was essential viewing.
29 Feb 1958
Frank Sinatra
was at No.1 on the US album chart with Come Fly with Me, an album that was designed as a musical trip around the world. Tracks included 'Isle of Capri', 'Autumn in New York', 'April in Paris' and 'Blue Hawaii'. Sinatra expressed intense dislike for the album cover suggesting it looked like an advertisement for TWA.
Born on this day in music
29 Feb 1976
Ja Rule, US rapper, (Jeffrey Atkins) who had the 2001 UK No.4 with Jennifer Lopez, 'I'm Real', and the 2002 US No.1 & UK No.6 single 'Always On Time', and the 2001 US No.1 album 'Pain Is Love'.
29 Feb 1972
Saul Williams, most known for his blend of poetry and hip-hop. Williams had the 2007 album 'The Inevitable Rise and Liberation of NiggyTardust!'
29 Feb 1940
Gretchen Christopher from American group The Fleetwoods who had the 1959 US No.1 & UK No.6 single 'Come Softly To Me'.
29 Feb 1904
Jimmy Dorsey, alto saxophonist, clarinettist, bandleader, and brother of trombonist-bandleader Tommy Dorsey. Jimmy Dorsey & His Orchestra had 103 chart hits in the US, including 12 number ones. Their biggest hit was 'Amapola' in 1941, featuring the vocals of Bob Eberly and Helen O'Connell. It was number one for ten weeks.