January 11th: The Biggest Music Headlines
Scroll down the page to see all the music headlines, stories and events for January 11 throughout music history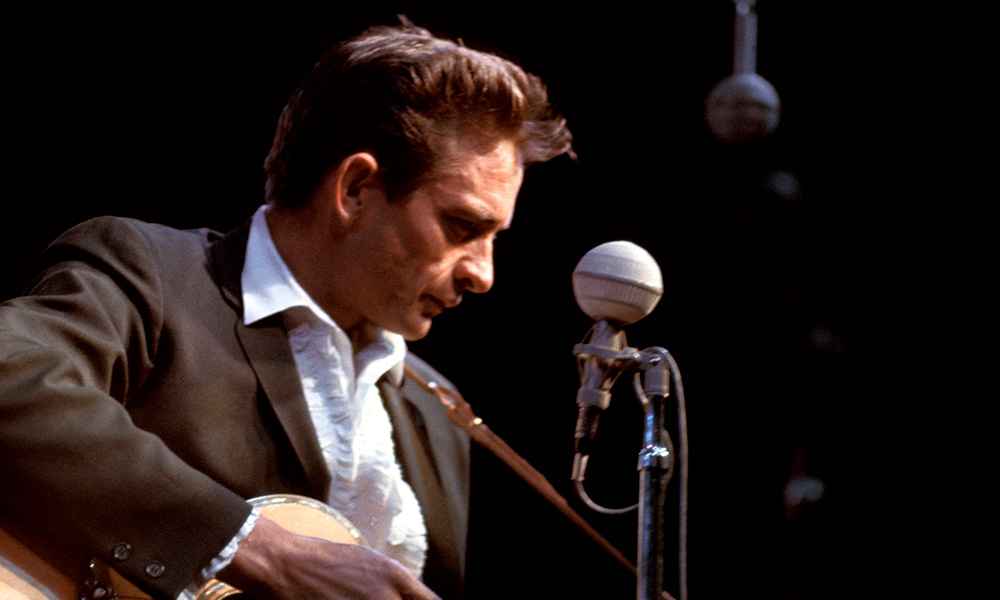 Johnny Cash Scores His First No.1 Country Album
On this day in music, January 11, 1964, Johnny Cash released his first compilation album, Ring of Fire – The Best of Johnny Cash. Perhaps it was fate that the release, which marked his 16th LP overall, happened to coincide with the launch of Billboard's Top Country Albums chart. Featuring hits like "What Do I Care," "The Rebel – Johnny Yuma," and "Ring of Fire," Ring of Fire – The Best of Johnny Cash would set the gold standard for country music by becoming the chart's first-ever No.1 album.
In 1992, Nirvana made their debut on Saturday Night Live. The performance marked a new era of cultural prominence for the grunge movement. Coincidentally, the band's album, Nevermind, also reached No.1 on the same day.
In 1986, The Pet Shop Boys scored their first UK No.1 hit with "West End Girls." Originally released in 1984, the song became a hit in clubs across the US. After the duo signed to EMI, they re-recorded the now-classic version of the song.
In 1967, The Jimi Hendrix Experience recorded "Purple Haze" at De Lane Lea studios in London. Released as the band's second single, and featuring some of Hendrix's most innovative guitar work, the psychedelic track became one of the group's signature hits.
In 1964, The Kingsmen scored a No.1 hit on the US Cashbox chart with "Louie Louie." It was a significant win for the group, who faced the ire of radio stations – and even the FBI – for supposedly crude lyrics in the indecipherable song. Despite the controversy, "Louie Louie" became a garage rock standard and was performed by upstart bands around the globe.
In 1963, The Beatles made their national TV debut in the UK on Thank Your Lucky Stars. The appearance coincided with the release of their single, "Please, Please Me," which the band lip synced on air.
In 1962, Cliff Richard scored his first No.1 hit in the UK with "The Young Ones." The song not only remained at the top spot for six weeks, but it also marked the first time that a British artist entered the charts at the peak position.
Looking for more things that happened on this day in music?
Keep scrolling for all of the headlines for January 11.
BORN ON JANUARY 11:
1924: Slim Harpo
1942: Clarence Clemmons (E-Street Band)
1946: Naomi Judd (The Judds)
1958: Vicki Peterson (The Bangles)
1968: Tom Dumont (No Doubt)
1971: Tom Rowlands (The Chemical Brothers)
1971: Mary J Blige
Looking for more artists born on this day?
Keep scrolling for all of our January 11 birthdays.
---
What to find another day?
---
January 11th
11 Jan 2021
Mark Keds the former frontman with early 90s British indie-punks Senseless Things died of unspecified causes at the age of 50. Keds was also briefly a member of The Wildhearts, as well as Jolt, Lams, Trip Fontaine and Deadcuts.
11 Jan 2017
Rockabilly guitarist Tommy Allsup, who narrowly avoided boarding the plane that killed
Buddy Holly
and the Big Bopper, died aged 85. The musician famously lost a coin toss for a seat on the plane. His place was taken by teen star Ritchie Valens, who also perished when the plane crashed. Allsup went on to become a Grammy-winning musician, who played with Merle Haggard,
Roy Orbison
and Willie Nelson.
11 Jan 2016
David Bowie
topped the UK album chart with his latest release Blackstar less than 24 hours after his death. With sales of over 43,000 units the album outsold its nearest competitor,
Elvis Presley
's If I Can Dream, by 25,000.
11 Jan 2008
Robbie Williams' manager told The Times newspaper that the singer would refuse to make another album for his record label EMI, saying he was unhappy after the label was taken over by Terra Firma. Tim Clark told the paper Williams would not deliver a new album because he had no idea how the label would handle it. Williams had sold 47 million albums around the world since leaving
Take That
in 1995, making him one of EMI's most successful artists.
11 Jan 2008
Ringo Starr
helped launch the celebrations for Liverpool's year as European Capital of Culture. He was joined by acrobats who dangled on wires from cranes as the opening party kicked off a year-long programme of more than 350 events.Organisers hoped the Capital of Culture tag would attract an extra two million visitors to Liverpool and boost the economy by £100m.
11 Jan 2005
Former Bread guitarist and Academy Award-winning songwriter James Griffin died at his home in Nashville at the age of 61 after suffering from cancer. Bread had the 1970s hits 'Make It With You', 'Baby I'm-a Want You', and 'Everything I Own.'
11 Jan 2003
Pete Townshend issued a public statement denying being a paedophile after his name was linked with a police Internet porn inquiry. But
The Who
guitarist did admit studying child pornography for research into a campaign against it.
11 Jan 2002
Mickey Finn percussionist and sideman to
Marc Bolan
in Tyrannosaurus Rex (T. Rex), died of kidney and liver problems aged 55. (1971 UK No.1 single 'Hot Love', plus over 20 other UK Top 40 singles).
11 Jan 2000
It was reported that
Whitney Houston
was under investigation after allegedly trying to smuggle 15.2 grams of Marijuana out of Hawaii. A security officer found the drug in the singer's handbag, Houston then walked away when he tried to detain her.
11 Jan 1999
Barry Pritchard guitarist and singer with The Fortunes died of a heart attack. The group's biggest hit was 'You've Got Your Troubles' which was a UK No.2 hit in 1965, also reaching No.7 seven in the US.
11 Jan 1998
Rolling Stone magazine readers poll picked Be Here Now by
Oasis
as album of the year. Be Here Now was an instant commercial success, becoming the fastest-selling album in British chart history and topping the album chart in 15 countries. It was the biggest-selling album of 1997 in the UK, with 1.47 million units sold that year. As of 2016, the album has sold eight million copies worldwide.
11 Jan 1992
Nirvana
appeared on NBC-TV's Saturday Night Live performing two songs, '
Smells Like Teen Spirit
' and 'Territorial Pissings'. Also on this day the group's
Nevermind
went to No.1 on the US album chart.
11 Jan 1986
The Pet Shop Boys scored their first UK No.1 single with 'West End Girls.' The first version of the song was released in April 1984, becoming a club hit in the United States, after the duo signed with EMI, the song was re-recorded with producer Stephen Hague.
11 Jan 1985
A Brazilian rock Festival held in Rio, claimed to be the biggest ever staged. The festival featured;
Queen
,
Rod Stewart
,
AC/DC
, Whitesnake, Yes and
Iron Maiden
.
11 Jan 1975
The Alan Freeman BBC
Radio 1
show broadcast a
Pink Floyd
show recorded at the Empire Pool, Wembley, London, England on 16th Nov 1974. The band had played four nights at Wembley on their
The Dark Side Of The Moon
tour and tapes from these shows have been remixed.
11 Jan 1975
Led Zeppelin
played their first concert in 18 months when they appeared at the Ahoy, Rotterdam, Holland, playing one of two warm-up shows for their forthcoming North American tour. The set list included some new songs: 'Sick Again', 'The Rain Song', 'Kashmir', 'No Quarter' and 'Trampled Under Foot'.
11 Jan 1973
It was confirmed that the forthcoming
Rolling Stones
tour of Japan had been cancelled, despite record breaking ticket sales.
Mick Jagger
had earlier been informed that he was banned from entering the country because of a drugs conviction.
11 Jan 1967
The
Jimi Hendrix Experience
recorded 'Purple Haze' at De Lane Lea studios in London. Hendrix later stated 'The Purple Haze,' was about a dream he had and that he was walking under the sea." In concert, Hendrix sometimes substituted lyrics for comic effect; "'scuse me while I kiss the sky" was rendered "'scuse me while I kiss this guy" (while gesturing towards his drummer Mitch Mitchell).
11 Jan 1964
'Louie Louie' by The Kingsmen was the No.1 song on the US Cash Box music chart. For a while, the record was banned by a handful of US radio stations because of its indecipherable lyrics, which were rumored to contain some naughty words. Even the F.B.I. investigated the song, but finally concluded that they could find nothing wrong.
11 Jan 1964
Ring Of Fire The Best of
Johnny Cash
became the first No.1 album when Billboard debuted their Country Album Chart. It was his sixteenth album in total and the first compilations album by Cash.
11 Jan 1963
The Beatles
recorded their first national TV show 'Thank Your Lucky Stars'. They mimed to their new single 'Please Please Me' which was released on this day.
11 Jan 1962
Cliff Richard was at No.1 on the UK singles chart with 'The Young Ones'. It stayed at the top of the charts for six weeks and made Cliff the first UK artist to enter the chart at No.1.
11 Jan 1958
The release date for the
Elvis Presley
single 'Jailhouse Rock' was put back a week after Decca Records pressing plant in the UK were unable to meet the advance orders of 250,000 copies. Some of the characters named in the song are real people. Shifty Henry was a well-known LA musician, not a criminal. The Purple Gang was a real mob. "Sad Sack" was a U.S. Army nickname in World War II for a loser.
Born on this day in music
11 Jan 1985
Newton Faulkner, UK singer, songwriter, (2007 UK No.1 album 'Hand Built By Robots', 2007 UK Top 10 single 'Dream Catch Me').
11 Jan 1981
Thomas Meighan, lead singer, Kasabian, (2005 UK No.8 single 'Cutt Off', 2006 UK No.1 album 'Empire'). Kasabian won a Brit Award in 2010 for Best British Group.
11 Jan 1981
Jamelia, UK R&B singer, (2003, UK No.4 album 'Thank You').
11 Jan 1971
Mary Jane Blige, American R&B soul singer, songwriter, actress. (1997 US No.1 album, 'Share My World', 1999 UK No.4 single' 'As', 2001 US No.1 single, 'Family Affair', 2006 US No.1 album 'The Breakthrough'). Blige has sold over 60 million records world-wide and is known as the 'Queen of hip-hop soul.'
11 Jan 1971
Tom Rowlands, from English electronic music duo The Chemical Brothers who had the 1996 UK No.1 single 'Setting Sun', and the 2007 UK No.1 album We Are The Night.
11 Jan 1968
Tom Dumont, No Doubt, (1997 UK No.1 single 'Don't Speak').
11 Jan 1958
Vicki Peterson, guitar, vocals, The Bangles, (1986 UK No.2 single with the
Prince
song 'Manic Monday', 1986 US No.1 single 'Walk Like An Egyptian').
11 Jan 1956
Big Bank Hank (Henry Lee Jackson), rapper from The Sugarhill Gang who were the first hip hop act to have a hit with the cross-over single 'Rapper's Delight' in the pop charts in 1979. He died on Nov 11th 2014 aged 58 from kidney complications due to cancer.
11 Jan 1952
Lee Ritenour, American jazz guitarist. When he was 16 he played on his first recording session with the Mamas & the Papas. In 1979, he "was brought in to beef up" one of
Pink Floyd
's The Wall's heaviest rock numbers, 'Run Like Hell'. He has worked with many artists including: Carly Simon,
Art Garfunkel,
Glen Campbell
and Roberta Flack.
11 Jan 1951
American rock singer and guitarist Charlie Huhn. He has worked with many artists including, Ted Nugent, Gary Moore, Trevor Rabin, Humble Pie and Foghat.
11 Jan 1949
Australian singer Daryl Braithwaite, lead vocalist of Sherbet who scored 15 singles in the Australian top 40, including two No.1 hits. 'Howzat (1976) was also a top 5 UK hit.
11 Jan 1949
Frederick Dennis Greene, who was a member of Sha Na Na, the US rock 'n' roll group. Sha Na Na hosted the Sha Na Na syndicated variety series that ran from 1977 to 1981.
11 Jan 1948
Welsh rock drummer Terry Williams, who has worked with
Dire Straits
, Dave Edmunds' band Love Sculpture, Graham Parker, Man, Nick Lowe, The Everly Brothers, Tina Turner and others.
11 Jan 1946
American country music singer Naomi Judd. With her daughter, Wynonna Judd, she formed the highly successful singing duo known as the Judds. They scored twenty top-10 country hits (including fifteen at No.1) and went undefeated for eight consecutive years at all three major country music awards shows. In addition, the duo won five Grammy Awards. She died on 30 April 2022 age 76.
11 Jan 1946
English keyboardist, songwriter, producer and manager Tony Kaye. He was a founding member of the rock band Yes and later played in Badfinger.
11 Jan 1942
Clarence Clemons, also known as The Big Man, saxophonist with E Street Band, (1987 UK No.16 single
Born To Run
). He released several solo albums and in 1985, had a hit single with "You're a Friend of Mine," a duet with Jackson Browne and as an actor Clemons featured in several films, including New York, New York and Bill & Ted's Excellent Adventure. Clemons died from complications caused by a stroke on June 18, 2011.
11 Jan 1933
American country music singer Goldie Hill. She became one of the first women to reach the top of the country music charts with her 1953 No.1 hit, 'I Let the Stars Get In My Eyes'. Along with Kitty Wells, she helped set the standard for later women in country music. Hill died from complications of cancer on 24 Feb 2005.
11 Jan 1924
American blues musician Slim Harpo. His most successful and influential recordings included 'I'm a King Bee' (1957), 'Rainin' In My Heart' (1961), and 'Baby Scratch My Back' (1966). A master of the blues harmonica, his stage name was derived from the popular nickname for that instrument, the "harp". He died of a heart attack on 31 January 1970 aged 46.
11 Jan 1895