January 21st: The Biggest Music Headlines
Scroll down the page to see all the music headlines, stories and events for January 21 throughout music history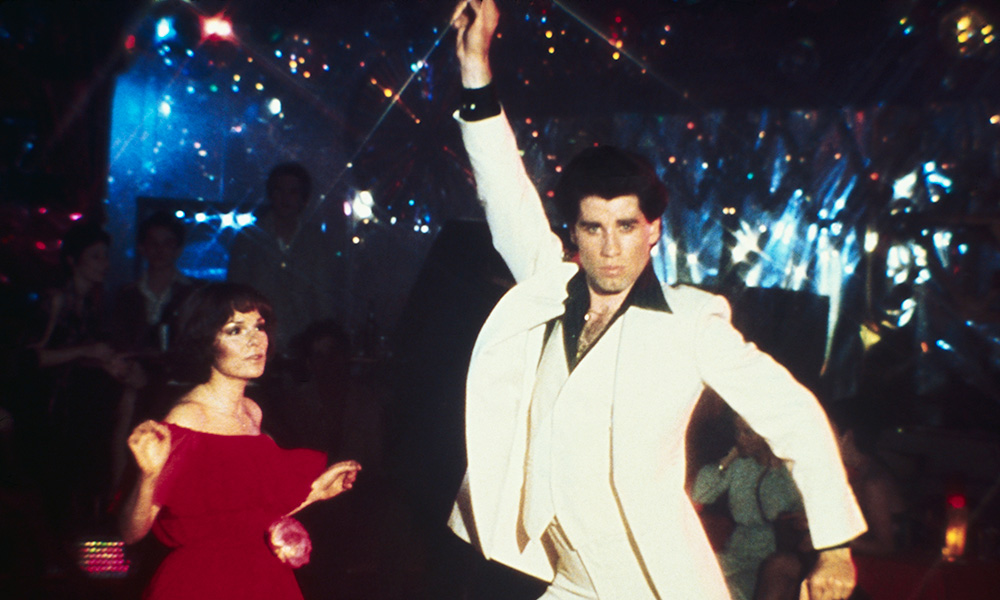 'Saturday Night Fever' Soundtrack Boogies Into Chart History
On this day in music, January 21, 1978, the defining soundtrack of the disco era, Saturday Night Fever, began a 24-week run at the top of the US album chart. Released in November 1977, several weeks before the John Travolta film hit theaters, the Bee Gees-led double LP spawned multiple No.1 hits, including "Night Fever," "Stayin' Alive," and "If I Can't Have You." The record went on to win Album of the Year at the 1979 Grammy Awards and eventually sold more than 40 million copies worldwide, making it one of the best-selling soundtracks album of all time, second only to The Bodyguard.
In 2012, Adele topped the Billboard 200 with her second studio album, 21. The LP yielded five hit singles, including "Rolling in the Deep," "Someone Like You," and "Set Fire to the Rain." The monumental album has since sold more than 31 million copies worldwide.
In 1968, the talents of two great artists intertwined when Jimi Hendrix and the Experience recorded their stunning version of the Bob Dylan song "All Along the Watchtower" at London's Olympic Studios. Joining the band was the Rolling Stones' Brian Jones (percussion) and Traffic's Dave Mason (twelve-string guitar). Now a classic rock staple, the track was released as a single in the US, where it became Hendrix's highest-charting song, peaking at No.20.
In 2002, pioneering singer, songwriter, and actress Peggy Lee died at the age of 81. With a career that spanned more than 60 years, Lee recorded more than 60 albums and 1000 songs, including her signature hits "Fever" (1958) and the Grammy-winning "Is That All There Is?" (1969). The hugely influential and versatile artist was inducted into the Songwriter's Hall of Fame in 1999 and received a Lifetime Achievement Award at the 1995 Grammys.
Looking for more things that happened on this day in music?
Keep scrolling for all of the headlines for January 21.
BORN ON JANUARY 21:
1938: Wolfman Jack (DJ)
1941: Richie Havens
1941: Placido Domingo
1942: Edwin Starr
1950: Billy Ocean
1965: Jam Master Jay (Run DMC)
1973: Chris Kilmore (Incubus)
1976: Emma Bunton (The Spice Girls)
1980: Benjamin Moody (Evanescence)
Looking for more artists born on this day?
Keep scrolling for all of our January 21 birthdays.
---
What to find another day?
---
January 21st
21 Jan 2022
Adele postponed her entire Las Vegas residency, just 24 hours before the opening night due to half of her team having Covid. The shows would have been her first live concerts in five years and Adele was forecast to make more than £500,000 per performance.
21 Jan 2015
An Israeli man was arrested on suspicion of hacking into the computers of pop stars including
Madonna
and selling unreleased songs online. During the investigation it appeared the suspect had broken into the computers of a number of international artists, stole unreleased demos and final tracks and sold them over the internet.
21 Jan 2012
Adele
was at No.1 on the US album chart with her second studio album 21. The album which yielded five hit singles including the lead single 'Rolling in the Deep', has now 31 million copies worldwide.
21 Jan 2007
Mika scored his debut UK number one hit single with 'Grace Kelly', which went on to be became the third biggest-selling single in the UK in 2007.
Amy Winehouse
kept her place at the top of the UK album chart with 'Back to Black'.
21 Jan 2004
As the third season of American Idol was aired on US TV a memo was leaked showing a list of songs banned from being performed at this year's auditions that included,
Elton John
's 'Candle In The Wind' and 'Fallin' by Alicia Keys. Also all songs by
Bruce Springsteen
,
Mariah Carey
, No Doubt, R. Kelly,
Tom Petty
, Korn and
Linkin Park
were not allowed after concerns over the cost of securing rights for the song's use, (or the composers not wanting their song's to be performed on the show).
21 Jan 2003
Dee Palmer, former keyboard player for Jethro Tull, came out as transgender. Palmer was born with genital ambiguity and assigned male at birth, and experienced gender dysphoria for her entire life, before undergoing several surgeries after the death of her wife, Maggie, in 1995. Palmer was the keyboard player for Jethro Tull between 1969 and 1980, playing on all the Tull classics including 'Thick As A Brick' and 'Aqualung'.
21 Jan 2002
American singer and actress Peggy Lee died of complications from diabetes and a heart attack at the age of 81. 1958 US No. 8 & UK No.5 single 'Fever.' Lee worked with Benny Goodman, Randy Newman, Quincy Jones and was nominated for 12 Grammy Awards, winning Best Contemporary Vocal Performance for her 1969 hit 'Is That All There Is?'
21 Jan 1997
'Colonel' Tom Parker,
Elvis Presley
's manager and agent died of a stroke in Las Vegas, Nevada, at the age of 87. Born Andreas van Kuijk, a Dutch immigrant who changed his name as soon as he arrived in the US, Parker never applied for a green card and feared deportation his entire life. He briefly managed country singers Eddy Arnold and Hank Snow.
21 Jan 1997
American songwriter Irwin Levine died of kidney failure aged 58. He co-wrote, 'Knock Three Times' and 'Tie A Yellow Ribbon' both US & UK No.1's for Tony Orlando and Dawn in the early Seventies.
21 Jan 1992
Billy Idol pleaded guilty to assault and battery charges after an incident outside a West Hollywood restaurant. He was fined $2,700 (£1,588) and ordered to appear in a series of anti-drug commercials.
21 Jan 1989
Six weeks after his death
Roy Orbison
started a three-week run at No.1 on the UK album chart with 'The Legendary
Roy Orbison
' collection.
21 Jan 1984
Soul singer Jackie Wilson died aged 49. Wilson suffered a massive heart attack while playing a Dick Clark show at the Latin Casino in New Jersey on September 29, 1975, falling head-first to the stage while singing 'Lonely Teardrops', and had remained in a coma until his death 8 years later. His 1957 single Reet Petite became a posthumous No.1 when re-issued in 1987 due in part to a new animated video made for the song, featuring a clay model of Wilson. Van Morrison wrote 'Jackie Wilson Said' which was covered by Dexy's Midnight Runners.
21 Jan 1983
The Allman Brothers Band
bassist Lamar Williams died of lung cancer age 34. He joined the band in 1972 after the death of original bassist Berry Oakley. His doctors believed that the disease was derived from exposure to Agent Orange during his Vietnam service. Opposed to the war and to killing in general, Williams went AWOL frequently and wandered around the jungles of South Vietnam, occasionally returning to various units. He was given an honorable discharge in 1970.
21 Jan 1982
B.B. King donated his entire record collection of over 20,000 discs to Mississippi University's centre for the Study of Southern Culture.
21 Jan 1978
The soundtrack album 'Saturday Night Fever' started a 24-week run at No.1 on the US album charts. It went on to sell over 40 million copies worldwide, making it one of the best-selling soundtrack albums of all time, second only to The Bodyguard.
21 Jan 1972
Pink Floyd
appeared at The Guildhall, Portsmouth, England. This was the first time that they were able to perform the whole of what became the
The Dark Side Of The Moon
album in its entirety, the previous night's performance in Brighton having been halted for technical reasons.
21 Jan 1968
Jimi Hendrix
recorded his version of the
Bob Dylan
song 'All Along the Watchtower' at Olympic Studios in London. Rolling Stone
Brian Jones
(percussion) and Dave Mason from Traffic (twelve-string guitar) both played on the session. The track was released in the US as a single in 1968, peaking at No.20.
21 Jan 1966
George Harrison
married Patti Boyd at Leatherhead Register Office in Surrey with
Paul McCartney
as Best man. George had first met Patti on the set of
The Beatles
movie 'A Hard Day's Night'. She left Harrison in the mid-'70s and started an affair with Harrison's friend
Eric Clapton
, who wrote the song "Layla" about her. The two married in May 1979, but split in 1988.
21 Jan 1965
Over 3,000 screaming fans met The
Rolling Stones
and
Roy Orbison
at Sydney Airport when they arrived for a 16 date tour of Australia and New Zealand.
21 Jan 1963
The Beatles
made their third appearance on the Radio Luxembourg program The Friday Spectacular.
The Beatles
were interviewed by the host and played two tracks, 'Please Please Me' and 'Ask Me Why.
Born on this day in music
21 Jan 1980
Benjamin Moody, guitar, with American rock band Evanescence who had the 2003 UK No.1 & US No.5 single 'Bring Me To Life', and the 2003 UK No.1 & US No.3 album Fallen.
21 Jan 1979
Nokio, Dru Hill, (1999 US No.1 & UK No.2 single with Will Smith, 'Wild Wild West').
21 Jan 1976
English singer, songwriter, actress, and radio and television presenter Emma Bunton, (Baby Spice in The
Spice Girls
) who scored the 1996 UK No.1 & 1997 US No.1 single 'Wannabe'. She had the 2001 UK No.1 solo single 'What Took You So Long'.
21 Jan 1973
Chris Kilmore, from American rock band Incubus, who had the 2001 US No.9 & UK No.40 single, 'Drive', and the 2004 US No.2 and UK No.6 album A Crow Left of the Murder', and the 2006 US No.1 album Light Grenades. Worldwide, Incubus has sold over 23 million albums.
21 Jan 1966
Wendy James, singer with English group Transvision Vamp who had the 1989 UK No.3 single 'Baby I Don't Care'.
21 Jan 1965
American musician and DJ Jam Master Jay, (Jason Mizell), Run-D.M.C. He was murdered by an assassin's single bullet on 30th Oct 2002. Run-D.M.C. had the 1986 UK No.8 single with
Aerosmith
'Walk This Way' and the 1998 UK No.1 single 'It's Like That.'
21 Jan 1965
Robert Del Naja, 3- D, Massive Attack, (1991 UK No.13 single 'Unfinished Sympathy').
21 Jan 1956
Rob Brill, drummer from American new wave band Berlin, who scored the 1986 UK & US No.1 single 'Take My Breath Away' which was featured in the 1986 film Top Gun.
21 Jan 1954
Nigel Glockler, drummer from English heavy metal band Saxon. As one of the leaders of the new wave of British heavy metal, they had eight UK Top 40 albums in the 1980s.
21 Jan 1950
Billy Ocean, singer, (1988 US No.1 & UK No.3 single 'Get Out Of My Dreams Get Into My Car').
21 Jan 1947
Jim Ibbotson, from American country rock band, Nitty Gritty Dirt Band who scored the 1971 US No.9 single 'Mr Bojangles'.
21 Jan 1942
Australian artist, cartoonist, songwriter and film-maker Martin Sharp - Australia's foremost pop artist. His psychedelic posters of
Bob Dylan
, Donovan and others, rank as classics of the genre. Martin co-wrote one of
Cream
's best known songs, 'Tales of Brave Ulysses', created the cover art for
Cream
's
Disraeli Gears
and Wheels of Fire albums, and in the 1970s became a champion of singer Tiny Tim. Sharp died from emphysema on 1 Dec 2013 aged 71.
21 Jan 1942
American singer and songwriter Edwin Starr. He had the 1970 Norman Whitfield-produced US No.1 and UK No.3 single 'War' on
Motown
Records. Starr died from a heart attack age 61 on 2 April 2003.
21 Jan 1942
American singer, songwriter Mac Davis, who had the 1972 US No.1 single 'Baby Don't Get Hooked On Me'. He wrote 'In The Ghetto' and 'Don't Cry Daddy' for
Elvis Presley
) and also starred in his own variety show, a Broadway musical, and various films and TV shows. He died age 78 on 29 September 2020.
21 Jan 1941
Placido Domingo, Spanish singer, (1994 UK No.21 single with Jose Carreras and Luciano Pavarotti, 'Libiamo / La Donna E Mobile').
21 Jan 1941
Richie Havens, folk singer, (1971 US No.16 single with his version of
George Harrison
's 'Here Comes The Sun', appeared at
Woodstock
, Newport, and Isle Of Wight festivals). Havens died of a heart attack at home in Jersey City, New Jersey aged 72 on 22nd April 2013.
21 Jan 1938
DJ Wolfman Jack. Master of ceremonies for the rock 'n' roll generation of the '60s on radio, and later on television during the '70s. Died of a heart attack 1 July 1995.
21 Jan 1922
Telly Savalas, singer, actor (1975 UK No.1 single 'If'). Played Lt. Theo Kojak a bald New York City detective in the television series Kojak, with a fondness for lollipops and whose trademark line was "Who loves ya, baby?" Died of cancer on 22nd January 1994.