July 18th: The Biggest Music Headlines
Scroll down the page to see all the music headlines, stories and events for July 18 throughout music history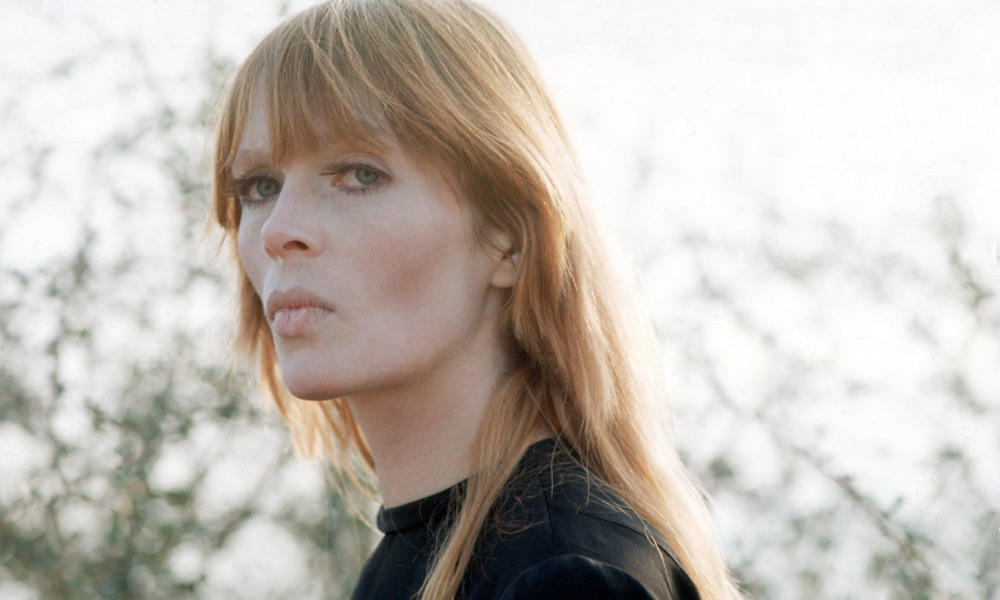 Singer, Songwriter, and Icon, Nico, Dies
On this day in music, July 18, 1988, 49-year-old singer, songwriter, model, and actress Nico died in Ibiza. Born Christa Päffgen in Cologne, Germany, she started out as a teenage fashion model before moving into movies and music. Her association with pop-art guru Andy Warhol, who managed The Velvet Underground, led her to appear on the band's debut album, The Velvet Underground & Nico, in 1967. The same year, she released her solo debut, Chelsea Girl, the first of seven studio albums.
In 1974, the US Board of Immigration Appeals informed John Lennon that he had 60 days to leave the country or face deportation. This was the second time that the ex-Beatle – who was deemed undesirable because of a 1968 marijuana possession charge – had faced a deportation order, the first coming the previous year. To Lennon's relief, the US Court of Appeals overturned the deportation threat in 1975, and the following year, he was granted permanent resident status.
In 1982, Willie Nelson topped Billboard's Country chart with his rendition of "Always on My Mind." Written by Wayne Carson, Mark James, and Johnny Christopher a decade earlier, the frequently-covered ballad had previously been recorded by Brenda Lee and Elvis Presley, among others. Nelson's heartfelt version, however, was one of the most successful, spending a total of 21 weeks on the chart and landing in the Billboard Hot 100's Top 5. In 1983, the recording earned three Grammy Awards.
In 1978, Def Leppard made their live debut in their hometown at Westfield School, Sheffield. The gig took place in the school's dining hall before an audience of 150 students. The group would record an independently released EP a year later, launching a career that would take off in the 1980s and yield several platinum LPs.
In 2019, Ed Sheeran shattered Spotify's streaming record with the release of No. 6 Collaborations Project, a collection of musical alliances with Justin Bieber, Camila Cabello, Cardi B, Eminem, and others. The album accrued 69 million streams in the first month of its release, the highest amount achieved by a recording artist at that time.
In 1960, Brenda Lee scored her first No.1 hit on the Billboard Hot 100 with "I'm Sorry," a haunting ballad that had originally been the B-side to her tenth single, the rockabilly style "That's All You Gotta Do." The 4'11" teenage pop sensation, who was born Brenda Mae Tarpley in Atlanta, was nicknamed "Little Miss Dynamite."
In 1964, The Rolling Stones made their US chart debut with "Not Fade Away," their lively R&B-tinged remake of a Buddy Holly and The Crickets song. It peaked at No.48 during a 13-week run. It would take them three further singles to crack the Top 10.
Looking for more things that happened on this day in music?
Keep scrolling for all of the headlines for July 18.
BORN ON JULY 18:
1929: Screamin' Jay Hawkins
1939: Dion
1939: Brian Auger (Organist)
1941: Martha Reeves
1950: Richard Branson (Virgin Records Founder)
1954: Ricky Scaggs
1957: Keith Levene (Public Image Ltd)
1958: Nigel Twist (The Alarm)
1975: Daron Malakian (System Of A Down)
Looking for more artists born on this day?
Keep scrolling for all of our July 18 birthdays.
---
What to find another day?
---
July 18th
18 Jul 2019
Ed Sheeran
broke yet another streaming record. His latest collaborative album No. 6 Collaborations Project, racked up 69 million streams in a month on Spotify, which was the highest by any artist. This new record wasn't the first that Sheeran has broken. His last album Divide set a new record of 56 million streams on the day of release, while 'Shape Of You' picked up over 10 million streams on its first day.
18 Jul 2017
R&B singer R Kelly denied allegations that he was holding several young women in an "abusive cult". The singer's lawyer said he would work "diligently and forcibly to pursue his accusers and clear his name". A report accused the singer of brainwashing women, who got closer to him in an effort to boost their musical careers.He had faced previous accusations of sexual misconduct, but was never found guilty.
18 Jul 2013
During her The Truth About Love Tour
Pink
broke two records at the Rod Laver Arena in Melbourne, Australia becoming the artist who had performed the most shows at the venue, with 18 sold out shows and the first artist to sell more than 250,000 tickets at the venue.
18 Jul 2008
Rolling Stone
guitarist
Ronnie Wood
was 'seeking help' with his battle with alcohol in a rehabilitation centre. The move followed tabloid speculation over the state of his 23-year marriage to former model Jo Wood. 'Following Ronnie's continued battle with alcohol he has entered a period of rehab,' his spokeswoman said.
18 Jul 2007
Paul Simon
filed a law suit against Rhythm USA Inc. a Georgia-based subsidiary of a Japanese firm, claiming the company never had his permission to sell wall clocks that played '
Bridge Over Troubled Water
'. The suit claimed that as one of the best known songs throughout the world, a proper licensing agreement would earn at least a $1 million licensing fee.
18 Jul 2007
Sting and his wife, Trudie Styler were ordered to pay their former chef compensation after losing a sexual discrimination case. Jane Martin, 41, was awarded £24,944 at an employment tribunal in Southampton, England after she was sacked by Miss Styler from the couple's estate in Wiltshire because she became pregnant.
18 Jul 2002
The
Rolling Stones
crew chief, 54 year old Royden Magee, who had worked with the band for 30 years, died during a rehearsal in Toronto. A spokesman for the band said Magee had said that he wasn't feeling well and went to another room to take a nap. The Stones had just finished dinner and resumed rehearsing when they got word that Magee had collapsed and stopped breathing. He was taken by ambulance to nearby Sunnybrook Hospital. He was pronounced dead on arrival. The members of the band said they were devastated by his death.
18 Jul 2002
Rapper Mystikal and two other men were arrested on suspicion of raping a 40-year-old woman in Baton Rouge, Louisiana. Mystikal, (real name Michael Tyler), was charged with the offence as well as one of extortion after giving himself up to police, he was subsequently released on $250,000 (£161,000) bail.
18 Jul 2001
Kiss
added another product to their ever-growing merchandising universe: the "Kiss Kasket." The coffin featured the faces of the four founding members of the band, the Kiss logo and the words "Kiss Forever." Pantera guitarist Dimebag Darrell was buried in one after he was shot and killed on-stage in Dec 2004.
18 Jul 1998
The Beastie Boys went to No.1 on the UK album chart with 'Hello Nasty', only the second rap album to make No.1 in the UK, the first being Wu-Tang Clan.
18 Jul 1992
Bobby Brown married
Whitney Houston
at her New Jersey estate who was dressed in a $40,000 Marc Bouwer wedding gown. Those in attendance included
Stevie Wonder
, Gloria Estefan, Natalie Cole, Patti LaBelle and Freddie Jackson. After years of making tabloid headlines, she would file for divorce in September, 2006.
18 Jul 1991
The first night of the 'Lollapalooza' tour at The Compton Terrace, Phoenix, featuring, Living Colour, Siouxsie and the Banshees, Jane's Addiction, Nine Inch Nails, Henry Rollins Band and The Butthole Surfers.
18 Jul 1988
Ike Turner was sentenced in Santa Monica, California to one year in jail for possessing and transporting cocaine. Police had stopped Turner, former husband of Tina Turner, in August 1987 for driving erratically and found about six grams of rock cocaine in his car.
18 Jul 1988
Nico died after suffering a minor heart attack while riding a bicycle on holiday with her son in Ibiza Spain. The German born singer-songwriter and keyboard player with Velvet Underground, had also worked as a fashion model and actress.
18 Jul 1982
Willie Nelson was at No.1 on the country album chart with Always on My Mind, which became the Billboard No.1 country album of the year. The album spent 22 weeks at the top of the charts and stayed for a total of 253 weeks on the Billboard Country charts. The track 'Always on My Mind' was originally recorded by B.J. Thomas in 1970, and has since been recorded by dozens of performers including
Elvis Presley
, Brenda Lee, John Wesley Ryles and Pet Shop Boys.
18 Jul 1980
Billy Joel
held the top position of both the US albums and singles charts. His album Glass Houses contained his first and biggest No.1 hit, 'It's Still Rock 'n' Roll to Me.'
18 Jul 1978
Def Leppard
made their live debut at Westfield School, Sheffield, England in front of 150 students.
18 Jul 1974
The US Justice Department ordered
John Lennon
out of the country by September 10th. The Immigration and Naturalization Service denied him an extension of his non-immigrant visa because of his guilty plea in England to a 1968 marijuana possession charge. The US Court of Appeal would overturn the deportation order in 1975 and Lennon was granted permanent resident status the following year.
18 Jul 1973
Bruce Springsteen
played the first of four nights at Max's Kansas City in New York City, New York, supported by
Bob Marley
and The Wailers who were on their first ever North American tour.
18 Jul 1972
Members from Sly and the Family Stone were arrested after police found two pounds of marijuana in the group's motor home.
18 Jul 1970
Pink Floyd
, Roy Harper, Kevin Ayers, and the Edgar Broughton Band, all appeared at a free concert held in Hyde Park, London, England.
18 Jul 1970
UK BBC
Radio 1
DJ Kenny Everett was sacked after he joked on air that the wife of the conservative transport minister Mary Peyton had 'crammed a fiver into the examiner's hand', when taking her driving test'.
18 Jul 1969
During sessions at Abbey Road studios, London,
Ringo Starr
recorded his vocal to 'Octopus's Garden', for the
Abbey Road
album. Starr had written the song when he 'quit'
The Beatles
the previous year and was staying on actorPeter Seller's yacht in the Mediterranean.
18 Jul 1968
Working at Abbey Road studios
The Beatles
recorded 'Cry Baby Cry' and 'Helter Skelter'. One take of 'Helter Skelter' lasted 27' 11'', the longest Beatle recording ever.
18 Jul 1966
Bobby Fuller
leader of The
Bobby Fuller
Four was found dead in his car in Los Angeles aged 23. Fuller died mysteriously from gasoline asphyxiation, while parked outside his apartment. Police labelled it a suicide, but the possibility of foul play has always been mentioned. Had the 1966 US No.9 single 'I Fought The Law' written by Sonny Curtis of
Buddy Holly
's Crickets and covered by
The Clash
.
18 Jul 1964
The
Rolling Stones
appeared on the US chart for the first time when their cover of
Buddy Holly
's 'Not Fade Away' peaked at No.48.
18 Jul 1964
The Four Seasons started a two week run at No.1 on the US singles chart with 'Rag Doll', the group's fourth No.1 and a No.2 hit on the UK chart. Co-writer Bob Gaudio said that he got the inspiration for the song from a young girl in tattered clothes that cleaned his car windows at a stop light.
18 Jul 1960
Brenda Lee went to No.1 on the US singles chart with 'I'm Sorry' it made No.12 in the UK. Seeking publicity the 4' 11 tall singer was once billed as a 32-year- old midget and had the nickname Little Miss Dynamite.
18 Jul 1953
Truck driver
Elvis Presley
made his first ever recording when he paid $3.98 at the Memphis recording service singing two songs, 'My Happiness' and 'That's When Your Heartaches Begin'. The so-called vanity disc, was a gift for his mother. It would surface 37 years later as part of an RCA compilation called 'Elvis - the Great Performances'.
Born on this day in music
18 Jul 1975
Daron Malakian, guitarist with Armenian-American heavy metal band System of a Down who had the 2001 US No.1 album Toxicity and the 2005 US No.1 & UK No.2 album Mezmerize.
18 Jul 1962
18 Jul 1962
Daniel de los Reyes American musician with the Grammy Award winning country music group, Zac Brown Band. Their 2015 album Jekyll + Hyde which debuted at No.1 on the US chart featured the single 'Heavy Is the Head' with vocals from Chris Cornell. De los Reyes has performed with various artists such as Don Henley, Earth, Wind & Fire, Sting,
Billy Joel
, Sheryl Crow, Jennifer Lopez and Ricky Martin.
18 Jul 1958
Nigel Twist, drummer from Welsh rock band The Alarm, who had the 1983 UK No.17 single '68 Guns'. They Initially formed as a punk band, the Toilets, in 1977.
18 Jul 1957
Keith Levene, guitar, Public Image Ltd, (1983 UK No.5 single 'This Is Not A Love Song'). He died from complications of liver cancer on 11 November 2022 age 65.
18 Jul 1955
Terry Chambers, drums, XTC, (1982 UK No.10 single 'Senses Working Over Time').
18 Jul 1954
Ricky Scaggs, country singer, 1982 Country Music Association singer of the year, (US country No.1 single 'Crying My Heart Out Over You').
18 Jul 1950
Cesar Zuiderwijk from Golden Earring who had the 1974 UK No.7 & US No.13 single 'Radar Love'.
18 Jul 1950
Glenn Hughes from American disco group The Village People. They had the hit singles 'Macho Man', 'In the Navy', 'Go West and the 1978 US No.2 hit 'YMCA'. The group's name refers to New York City's Greenwich Village, at the time known for its large gay population. Hughes died on 4th March 2001.
18 Jul 1950
Richard Branson, founder of Virgin Records and the Virgin Empire. In 1972 Branson bought a country estate in Oxford, England in which he installed a residential recording studio, The Manor Studio. He leased studio time to fledgling artists, including multi-instrumentalist Mike Oldfield, whose debut album Tubular Bells (1973) was the first release for Virgin Records and became a chart-topping best-seller. Virgin signed controversial bands such as the Sex Pistols, and Virgin Records would go on to sign the Rolling Stones, Peter Gabriel, XTC, Japan, UB40, Steve Winwood and Paula Abdul, and become the world's largest independent record label.
18 Jul 1949
Wally Bryson, The Raspberries, (1972 US N.5 single 'Go All The Way').
18 Jul 1948
Phil Harris, Ace, (1974 UK No.20 single 'How Long').
18 Jul 1946
Tim Lynch, from American rock bandThe Flamin Groovies who had the 1976 album 'Shake Some Action. In addition to the band's role in the advancement of power pop, the Flamin' Groovies have also been called one of the forerunners of punk rock.
18 Jul 1945
Danny McCullock, guitarist in The Animals who had the 1964 UK & US No.1 single 'House Of The Rising Sun'.
18 Jul 1943
Robin McDonald, guitarist, from Billy J Kramer and the Dakotas who had the 1964 UK No.1 & US N0.7 single 'Little Children'.
18 Jul 1941
Martha Reeves, American R&B and pop singer and former politician, (1964 US No.2 & 1969 UK No.4 single with The Vandellas 'Dancing In The Street', plus ten US & six UK other top 40 singles).
18 Jul 1941
Lonnie Mack, American rock, blues and country singer-guitarist. In the early 1960s, he was a "pioneer" in virtuoso rock guitar soloing whose recordings were pivotal to the emergence of the electric guitar as a lead voice in rock music. For this, it has been said that he launched the era of "modern rock guitar". He scored the hit single instrumentals, 'Memphis' and 'Wham!' Mack died of natural causes on April 21, 2016, in hospital near his log-cabin home, seventy miles east of Nashville, Tennessee.
18 Jul 1940
American saxophonist, songwriter, Mike Terry. His baritone sax solos feature on the hits of Martha and the Vandellas ('Heat Wave', 1963), and The
Supremes
('Where Did Our Love Go', 1964). As a member of the
Funk Brothers
he performed on thousands of Motown recordings from 1960-1967, including at least seven US No.1 hits. As was Motown's policy at the time, none of the studio musicians were credited by name. Terry was the musical arranger of the 1966 hit 'Cool Jerk' by The Capitols, and later became a record producer. He died age 68 on October 30, 2008.
18 Jul 1939
Brian Auger, keyboards, (1968 UK No.5 single with Julie Driscoll, Brian Auger And The Trinity, 'This Wheel's On Fire').
18 Jul 1939
American singer and songwriter Dion Dimucci, best known for his 1961 US No.1 & UK No.11 single 'Runaround Sue'. He had 39 Top 40 hits in the late 1950s and early 1960s as a solo performer, with the Belmonts or with the Del Satins.
18 Jul 1938
Ian Stewart, keyboard player, The
Rolling Stones
. Stewart died of a heart attack in his doctor's Harley Street waiting room on 12th December 1985.
18 Jul 1935
Johnny Funches, American singer with The Dells, (1968 US No.10 single 'Stay In My Corner'). He died on 23 January 1998 aged 62.
18 Jul 1929
American singer, songwriter, musician Screamin' Jay Hawkins. A Golden Gloves boxing champion at 16, he was married nine times, fathered over 30 children, spent two years in jail and was temporary blinded by one of his flaming props on stage in 1976. He recorded 'I Put A Spell On You' in 1956, (which was covered by many acts including The Animals,
Creedence Clearwater Revival
and Nina Simone). He died on 12 February 2000 aged 70 after emergency surgery for an aneurysm.
18 Jul 1924
American singer Earl T. Beal from The Silhouettes. The doo wop/R&B groups single 'Get A Job' was a No.1 hit on the Billboard R&B singles chart and pop singles chart in 1958. The doo-wop revival group Sha Na Na derived their name from the song's lyrics. 'Get A Job' is included in the soundtracks of the film American Graffiti, Trading Places and Stand By Me. Beal died on 22 March 2001.