July 22nd: The Biggest Music Headlines
Scroll down the page to see all the music headlines, stories and events for July 22 throughout music history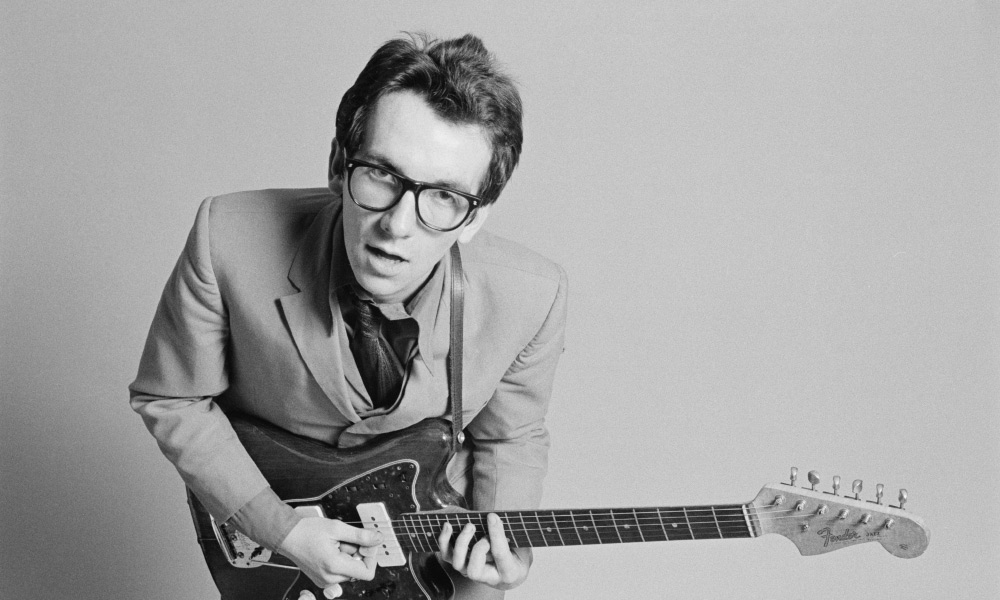 Elvis Costello Releases His Debut Album
On this day in music, July 22, 1977, Elvis Costello released his debut album, My Aim Is True, in the UK via Stiff Records. The artist, who was born Declan McManus in London, was accompanied by members of the San Francisco country rock band Clover, who had moved to the UK, though their names were omitted from the credits due to record company politics. My Aim Is True marked Costello's first of five LPs helmed by producer Nick Lowe and featured such enduring favorites as "Alison" and "The Angels Wanna Wear My Shoes."
In 2006, the late country legend Johnny Cash scored the second and final chart-topping LP of his career with the Rick Rubin-produced American V: A Hundred Highways, released nearly four years after his death. Rubin, who had signed the aging country star to his American label in 1994, added the instrumental parts to pre-existing vocal tracks after Cash's death. Cash first topped The Billboard 200 more than three decades earlier with At San Quentin.
In 2019, 81-year-old singer, songwriter, and keyboardist, Art Neville, passed away. The New Orleans-born artist rose to fame in the late 60s with The Meters, scoring such instrumental hits as "Sophisticated Cissy" and "Cissy Strut." After the group split in 1977, Neville joined his siblings to form the Neville Brothers, whose track "Healing Chant" from 1989's Yellow Moon won a Grammy for Best Pop Instrumental Performance. Neville also appeared on tracks by Paul McCartney, Labelle, and Robert Palmer.
In 1989, American singer and actress Martika scored her sole US chart-topper with "Toy Soldiers," a song about drug addiction that was a No. 5 smash in the UK. Born Marta Marrero in California, Martika attracted the interest of Prince, who worked with her in 1991 on her second and final studio album, Martika's Kitchen.
In 2005, Eugene Record, a founder member of the Chicago-based R&B harmony group The Chi-Lites, died of cancer at the age of 64. Famed for his falsetto voice, Record led the group on 43 R&B chart hits between 1969 and 1998, including the two early 70s No.1s "Have You Seen Her" and "Oh Girl." Record also put out three solo albums.
In 2019, Queen's iconic "Bohemian Rhapsody" video reached one billion views on YouTube, making it the first pre-1990s visual to reach the milestone on the platform. "Bohemian Rhapsody" was also named the most Googled song of 2018.
Looking for more things that happened on this day in music?
Keep scrolling for all of the headlines for July 22.
BORN ON JULY 22:
1941: George Clinton (Parliament-Funkadelic)
1944: Rick Davies (Supertramp)
1947: Don Henley (Eagles)
1961: Keith Sweat
1963: Emily Saliers (Indigo Girls)
1964: Will Calhoun (Living Colour)
1967: Pat Badger (Extreme)
1973: Daniel Jones (Savage Garden)
1973: Rufus Wainwright
1992: Selena Gomez
Looking for more artists born on this day?
Keep scrolling for all of our July 22 birthdays.
---
What to find another day?
---
July 22nd
22 Jul 2019
American singer, songwriter and keyboardist Art Neville died aged 81. Art shot to fame as part of the Neville Brothers when they started singing as children, but went their separate ways in the 1950s and 1960s. It was not until 1977 that the brothers finally got together again and in 1978 they recorded their first Neville Brothers album. Art was a founding member of The Meters, whose musical style represents New Orleans funk. He also played on recordings by many notable artists including Labelle (on "Lady Marmalade"),
Paul McCartney
, Lee Dorsey, Robert Palmer, Dr. John and Professor Longhair.
22 Jul 2015
New research found that a person's taste in music may offer insight into the way in which they think. A study found empathetic people preferred more mellow, low-energy music, while those who were "systemisers" - people who seeked to analyse patterns in the world enjoyed punk, heavy metal and more complex music overall. Researchers at Cambridge University, England had recruited 4,000 participants and put them through a series of different tests.
22 Jul 2007
Ja Rule and Lil Wayne were arrested after a concert in Manhattan on charges of carrying illegal firearms. The rappers were arrested separately, Rule was stopped for speeding when a weapon was discovered in his car and officers who arrested Wayne for smoking marijuana also found a pistol in his car.
22 Jul 2006
Johnny Cash
was at No.1 on the US album chart with 'American V: A Hundred Highways.' Released posthumously on July 4, the vocal parts were recorded before Cash's death, but the instruments were not recorded until 2005.
22 Jul 2005
Founder member and singer with The Chi-lites, Eugene Record died of cancer. Had the 1972 US No.1 single 'Oh Girl' and 1972 UK No.3 single 'Have You Seen Her.' He also released three solo albums.
22 Jul 2005
Research by a car insurance company showed that listening to the wrong sort of music when driving can lead to aggression and distraction. Dr Nicola Dibben a music psychologist said 'singing while driving stimulates the mind.' Songs recommended included Pulp's 'Disco 2000' and 'Hey Ya' by Outcast, but the Dr said songs like The Prodigy's 'Firestarter' should be avoided.
22 Jul 2004
French singer and guitarist Sacha Distel died after a long battle with deteriorating health. He scored the 1970 UK No.10 single 'Raindrops Keep Falling On My Head.' As a professional jazz guitarist he worked alongside Dizzy Gillespie and Tony Bennett.
22 Jul 2004
American singer, songwriter and producer Arthur Crier died of heart failure. Member of The Chimes and had worked with Little Eva, Gene Pitney, The
Four Tops
, The
Temptations
, Ben E. King, Johnny Nash and The Coasters.
22 Jul 1996
Donovan was forced to postpone a comeback tour of the US because of a 30-year-old marijuana conviction in the UK. American authorities delayed granting him a waiver to enter the country.
22 Jul 1989
Former actress Martika started a two week run at No.1 on the US singles chart with 'Toy Soldiers', a No.5 hit in the UK.
22 Jul 1979
Little Richard
now known as the Reverend Richard Pennman told his congregation about the evils of rock & roll music, declaring 'If God can save an old homosexual like me, he can save anybody.'
22 Jul 1977
Stiff Records
released 'My Aim Is True' the debut album from Elvis Costello in the UK. The musicians who were featured on the album were uncredited on the original release (due to contractual difficulties), although the backing band was made up of members of the band Clover.
22 Jul 1971
John Lennon
and Yoko Ono spent the second day filming the Imagine promotional film at their home in Tittenhurst Park Ascot, England. Today's footage included the morning walk on the grounds though the mist and John Lennon singing '
Imagine
' in the white room on his white piano.
22 Jul 1969
Aretha Franklin
was arrested for causing a disturbance in a Detroit parking lot. After posting 50-dollars bail, she ran down a road sign while leaving the police station.
22 Jul 1967
Pink Floyd
appeared at The Beach Ballroom, Aberdeen, Scotland. The venue is home to one of Scotland's finest dance floors - famous for its bounce - which floats on fixed steel springs. During the 1960s
The Beatles
(in 1963),
Small Faces
and
Cream
all appeared at the Beach.
22 Jul 1965
Mick Jagger
,
Brian Jones
and Bill Wyman from The
Rolling Stones
were each fined £5 at East Ham Magistrates Court, London, after being found guilty of 'insulting behaviour' at a Romford Road service station. The three had all urinated against a wall after the service station attendant had refused them the use of the facilities.
22 Jul 1963
The Beatles
first US album, Introducing The Beatles was pressed by Vee-Jay Records, who thought they had obtained the legal rights from EMI affiliate, Trans-Global Records. When it was finally released in January, 1964, Capitol Records would hit Vee Jay with an injunction against manufacturing, distributing, advertising, or otherwise disposing of records by the Beatles. After a trial, Vee-Jay was allowed to release any Beatles records that they had masters of in any form until October 15th, 1964. After that time, they no longer had the right to issue any Beatles product.
Born on this day in music
22 Jul 1992
American singer and actress Selena Gomez. She released her solo debut album Stars Dance in 2013 which debuted atop the Billboard 200 in the US and included the top ten single 'Come & Get It'.
22 Jul 1973
Rufus Wainwright, Canadian / American, singer-songwriter, son of Loudon Wainwright III and Kate McGarrigle and the brother of Martha Wainwright. 2003 album 'Want One', 2005 UK No.21 album 'Want Two', 2007 UK No.2 album 'Release the Stars.'
22 Jul 1973
Australian musician, songwriter, Daniel Jones, who with Savage Garden had the 1998 US No.1 & UK Top 5 single 'Truly Madly Deeply', the hit 'To the Moon and Back'.
22 Jul 1971
Chris Helme, vocals, The Seahorses, (1997 UK No.3 single 'Love Is The Law', UK No.2 album, 'Do It Yourself').
22 Jul 1967
Pat Badger, bass, Extreme, (1991 US No.1 & UK No.2 single 'More Than Words').
22 Jul 1964
William Calhoun, drums, Living Colour, (1991 UK No.12 single 'Love Rears Its Ugly Head').
22 Jul 1963
Emily Saliers from Grammy Award–winning folk rock music American duo Indigo Girls who have released over 15 albums.
22 Jul 1961
Keith Sweat, American R&B, soul, singer-songwriter, record producer, radio personality and an innovator of New Jack Swing.
22 Jul 1956
Mick Pointer, from British rock band Marillion who had the 1985 UK No.2 single 'Kayleigh'. The band achieved eight Top Ten UK albums between 1983 and 1994, including a No.1 album in 1985 with Misplaced Childhood.
22 Jul 1953
English rock singer Brian Howe, best known for replacing
Paul Rodgers
as the lead vocalist of
Bad Company
. Howe's career was jump-started in 1983 when Ted Nugent recruited him to handle lead vocals for his Penetrator album and front its subsequent world tour. He died on 6 May 2020 of cardiac arrest age 66.
22 Jul 1951
American guitarist and record producer Richard Bennett. As a touring sideman, he performed with Neil Diamond for seventeen years and Mark Knopfler since 1994. As a session musician, he has worked with Billy Joel, Barbra Streisand, Rodney Crowell, and Vince Gill and has produced albums for Steve Earle and Emmylou Harris.
22 Jul 1947
Don Henley, singer, songwriter, and drummer with the
Eagles
, who had the 1977 US No.1 & UK No.8 single 'Hotel California', plus 5 US No.1 albums. The Eagles 'Greatest Hits 1971-1975' is the second biggest selling album in the world with sales over 30m. Henley had the 1985 solo US No.5 & UK No.12 single 'The Boys of Summer'.
22 Jul 1944
Estelle Bennett, The Ronettes, (1963 US No.4 & UK No.4 single 'Be My Baby'). Died at her home in Englewood, N.J. on 11th Feb 2009, aged 67.
22 Jul 1944
Rick Davies, vocalist and keyboardist with Supertramp, who had the 1979 UK No.7 and US No.6 single with 'The Logical Song' and the 1979 US No.1 and UK No.3 album Breakfast In America. Davies is the only member of Supertramp to have been with the group for their entire history, and has composed many of their most well-known songs, including 'Goodbye Stranger', and 'Bloody Well Right'.
22 Jul 1943
Bobby Sherman, US singer, (1969 US No.3 single 'Little Woman' and six other US Top 30 hits).
22 Jul 1941
American singer, songwriter, bandleader and record producer George Clinton. He is regarded, along with
James Brown
and Sly Stone, as one of the foremost innovators of funk music.