July 5th: The Biggest Music Headlines
Scroll down the page to see all the music headlines, stories and events for July 5 throughout music history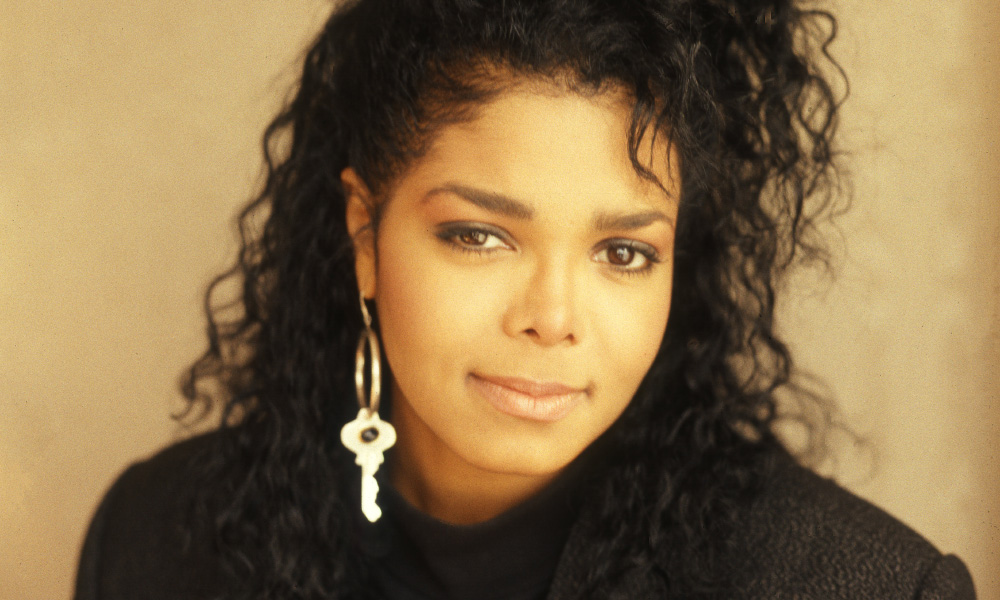 Janet Jackson Takes 'Control' with Her Breakthrough Album
In 1986, Janet Jackson scored her first No.1 on the Billboard 200 with her third album, Control. The LP, which marked her commercial breakthrough, established Jackson as a force in pop and R&B music and marked her first release with her longtime collaborators, Jimmy Jam and Terry Lewis. Control featured a record-breaking five Top 5 hits on the Billboard Hot 100, including "Nasty," "When I Think of You," and "What Have You Done for Me Lately," while the Grammy-nominated album remained on the US charts for more than two years. Today, it remains a definitive title in the American pop canon.
In 2003, country icon Johnny Cash played his final concert – a 30-minute set at the Carter Family Fold in VA. During the performance, which featured classics like "Folsom Prison Blues" and "I Walk The Line," the 71-year-old artist paid tribute to his late wife, singer-songwriter June Carter Cash, who had passed away weeks earlier. "We connect somewhere between here and Heaven," he said. "She came down for a short visit, I guess, from Heaven to visit with me tonight to give me courage and inspiration like she always has." Cash passed away less than two months later.
In 1966, Animals bassist Chas Chandler attended a Jimi Hendrix concert at New York's Cafe Wha. He was immediately taken with the talented singer, songwriter, and guitarist – so much so that he became his manager. Within months, at Chandler's suggestion, Hendrix relocated to London, where he would form his band (The Experience) and find initial success.
In 1969, two days after the death of their former bandmate, Brian Jones, The Rolling Stones played a free tribute concert in London's Hyde Park. Approximately 250,000 fans showed up to watch the performance, which also marked guitarist Mick Taylor's debut with the group.
Looking for more things that happened on this day in music?
Keep scrolling for all of the headlines for July 5.
BORN ON JULY 5:
1943: Robbie Robertson (The Band)
1950: Huey Lewis (Huey Lewis and the News)
1959: Marc Cohn
1973: Roisin Murphy (Moloko)
1979: Shane Filan (Westlife)
1980: Jason Wade (Lifehouse)
1982: Dave Haywood (Lady A)
1985: Nick O'Malley (Arctic Monkeys)
1986: Adam Young (Owl City)
Looking for more artists born on this day?
Keep scrolling for all of our July 5 birthdays.
---
What to find another day?
---
July 5th
5 Jul 2019
Madonna was at No.1 on the US album chart with her fourteenth studio album Madame X. It became Madonna's ninth No.1 album in the US.
5 Jul 2014
The four surviving members of the
Grateful Dead
gave what they said would be their final performance, playing to over 70,000 fans at Chicago's Soldier Field. The shows came 20 years after the death of lead guitarist
Jerry Garcia
, who played his last show in the nation's third-largest city in 1995.
5 Jul 2012
For the second year in a row,
Rolling Stones
guitarist
Ronnie Wood
was honoured in two categories at the annual Arqiva Commercial Radio Awards. The 65-year-old won the specialist programme of the year award for his Absolute Radio show, and saw his weekly guest slot named best feature. Absolute also took the station of the year award.
5 Jul 2009
Michael Jackson
started a seven week run at No.1 on the UK album charts with The Essential Michael Jackson and was one of eight Jackson albums in the top twenty after the singers death on 25th June.
5 Jul 2007
English jazz and blues singer and film critic George Melly died at his London home at the age of 80 of lung cancer and vascular dementia. His final concert took place at the 100 Club in London on 10th June of this year in aid of Admiral Nurses, part of the charity for Dementia.
5 Jul 2005
Pink Floyd
's David Gilmour said artists who had seen album sales soar after the Live 8 concerts should donate their profits to charity, saying: "This is money that should be used to save lives." UK sales figures released two days after the London concert showed Pink Floyd's Echoes: The Best of Pink Floyd had risen by 1343%,
The Who
- Then and Now by 863% and Annie Lennox - Eurythmics Greatest Hits by 500%.
5 Jul 2003
The Daily Star ran a front-page story claiming that the body of Manic Street Preachers guitarist
Richey Edwards
had been found. Fishermen in an angling contest discovered bones half buried in mud on the riverbank near Avonmouth. Edwards disappeared in Feb 1995, his car was found at a service station at the Seven Bridge a well-known suicide spot.
5 Jul 2003
Johnny Cash
made his last ever live performance when he appeared at the Carter Ranch. Before singing "Ring of Fire", Cash read a statement about his late wife that he had written shortly before taking the stage: "The spirit of June Carter overshadows me tonight with the love she had for me and the love I have for her. We connect somewhere between here and heaven. She came down for a short visit, I guess, from heaven to visit with me tonight to give me courage and inspiration like she always has." Cash died on Sept 12th of this year.
5 Jul 2002
It was reported that Dr Dre had become the richest music star after earning £62m in the last year, £37m from his own earnings plus £25m from his record label Aftermath.
5 Jul 2000
Cub Koda (Michael "Cub" Koda), founder member of Brownsville Station died of complications from kidney failure. Wrote the 2 million selling 1974 hit 'Smokin' In The Boys Room', (which Motley Crue covered). He took his nickname from Cubby on television's Mickey Mouse Club.
5 Jul 1999
The Eurythmics announced their first world tour for more than 10 years and that all profits would be given to charity. The duo made the announcement from the Greenpeace boat 'Rainbow Warrior' moored on the River Thames in London.
5 Jul 1995
More than 100
Grateful Dead
fans were hurt when a wooden deck collapsed at a campground lodge in Wentzville, Missouri. Hundreds of people were on or under the deck sheltering from heavy rain. More than 4,000 Deadheads were staying at the campground while attending Grateful Dead concerts in the St. Louis suburb.
5 Jul 1986
Janet Jackson
started a two-week run at No.1 on the US album chart with 'Control'. The album featured the hit singles: 'What Have You Done for Me Lately', 'Nasty', 'Control', 'When I Think of You', and 'Let's Wait Awhile'.
5 Jul 1982
Sun records musical director Bill Justis died of cancer aged 55. He worked with Sam Phillips at Sun Records, worked with also worked with
Johnny Cash
,
Elvis Presley
,
Roy Orbison
, Charlie Rich and Jerry Lee Lewis. Had the 1957 US No. 2 single 'Raunchy' (the first Rock and Roll instrumental hit). Also had a No.1 hit in Australia in 1963 with 'Tamoure.'
5 Jul 1978
The manufacturing of
Some Girls
the new album by The
Rolling Stones
was halted at EMI's pressing plant after complaints from celebrities including Lucille Ball who were featured in mock advertisements on the album sleeve.
5 Jul 1975
Pink Floyd
, Captain Beefheart, Steve Miller and Roy Harper all appeared at The Knebworth Festival, England, tickets cost £3.50. Pink Floyd premiered their new album
Wish You Were Here
with the help of Spitfires, pyrotechnics and an exploding plane which flies into the stage.
5 Jul 1975
Rolling Stone
Keith Richards
was arrested by the highway patrol in Arkansas on charges of reckless driving and possessing an offensive weapon, a seven-inch hunting knife.
5 Jul 1969
The
Rolling Stones
gave a free concert in London's Hyde Park before an audience of 250,000, as a tribute to
Brian Jones
who had died two days earlier.
Mick Jagger
read an extract from Percy Bysshe Shelley's 'Adonais' and released 3,500 butterflies; it was also guitarist's Mick Taylor's debut with the Stones, King Crimson, Family, The Third Ear Band, Screw and Alexis Korner's New Church also appeared on the day.
5 Jul 1966
On the recommendation of Rolling Stone
Keith Richards
' girlfriend, Chas Chandler from The Animals went to see
Jimi Hendrix
play at The Cafe Wha in New York City. Chandler suggests that Hendrix should come to England, which he does and Chandler became his manager.
5 Jul 1965
Marty Balin and Paul Kantner formed a Folk-Rock group that would evolve into the Jefferson Airplane, the premier San Francisco psychedelic band of the late '60s. The Airplane made its debut the following month at a Haight-Ashbury club, and was signed to RCA later in the year.
5 Jul 1963
The Beatles
played at the Plaza Ballroom in Dudley in the West Midlands. Appearing The Beatles was Denny and the Diplomats, led by Denny Laine, who went on to join the Moody Blues and eventually,
Paul McCartney
's group Wings.
5 Jul 1954
Working together for the first time in a recording studio with Scotty Moore and Bill Black,
Elvis Presley
fools around during a break with an up-tempo version of 'That's All Right.' Producer Sam Phillips has them repeat the jam and records it. It became Presley's first release on Sun Records.
Born on this day in music
5 Jul 1986
Adam Young, keyboards, vocals, Owl City, 2009 / 2010 worldwide No.1 single 'Fireflies', 2009 debut album Ocean Eyes.
5 Jul 1985
Nick O'Malley, bassist with English rock band Arctic Monkeys who had the 2005, UK No.1 single 'I Bet You Look Good On The Dancefloor', and the 2006 UK No.1 album Whatever People Say I Am That's What I'm Not. The band has won six Brit Awards – winning both Best British Group and Best British Album three times, and have been nominated for three Grammy Awards.
5 Jul 1982
American country music singer-songwriter, Dave Haywood from Lady A. Their debut album included the trio's debut hit, 'Love Don't Live Here', along with the singles, 'Lookin' for a Good Time' and 'I Run to You'.
5 Jul 1980
Jason Wade, guitar, vocals, with American rock band Lifehouse who had the 2001 US No.10 & UK No.25 single 'Hanging By A Moment' from their debut studio album, No Name Face.
5 Jul 1979
Shane Filan, from Irish pop vocal group Westlife who scored 14 UK No.1 singles, and have sold over 50 million records worldwide. Despite their success worldwide, Westlife never managed to break into the US market, achieving only one hit single in 2000, 'Swear It Again'.
5 Jul 1973
Bengt Fredrik Lagerburg, drummer with Swedish rock band The Cardigans who had the 1997 UK No.2 single 'Lovefool' which was included in the soundtrack to the 1996 film Romeo + Juliet.
5 Jul 1973
Roisin Murphy, Irish singer, Moloko (1999 UK No.4 single 'Sing It Back'), now solo.
5 Jul 1969
Aled Richards, drummer with alternative rock band Catatonia who had the 1998 UK No.3 single 'Mulder And Scully'.
5 Jul 1959
Marc Cohn, US singer, songwriter, (1991 UK No. 22 single 'Walking In Memphis').
5 Jul 1954
5 Jul 1953
American guitarist, singer and songwriter Ron Thompson. He released nine albums and worked with Little Joe Blue, John Lee Hooker, Lowell Fulson, Etta James and Big Mama Thornton. His second album Resister Twister released in 1987 was nominated for a Grammy Award. He died on 15 February 2020 age 66.
5 Jul 1950
Andy Ellison, John's Children, (with
Marc Bolan
1967-68).
5 Jul 1950
American singer, songwriter and actor Huey Lewis from Huey Lewis and the News, who had the 1985 UK No.11 & US No.1 single 'The Power Of Love'. Their third, and best-selling, album was 1983's 'Sports,' and they contributed to the soundtrack of the 1985 feature film 'Back to the Future.' Lewis previously played with the band Clover from 1972 to 1979.
5 Jul 1948
Cassie Gaines, backing singer best known for her work with Southern rock band Lynyrd Skynyrd. Gaines was killed in a plane crash on 20th October 1977 with two other members of the band.
5 Jul 1946
Michael Monarch, guitarist from Steppenwolf who had the 1969 US No.2 hit single 'Born To Be Wild' which is sometimes described as the first heavy metal song. Steppenwolf sold over 25 million records worldwide, released eight gold albums and scored 12 Billboard Hot 100 singles.
5 Jul 1945
Dick Scoppettone, Harpers Bizarre, (1967 US No. 13 & UK No.34 single 'The 59th Street Bridge Song, Feelin' Groovy').
5 Jul 1943
Canadian musician, songwriter, film composer, producer, actor, Robbie Robertson. He joined The Hawks in 1962 who became know as The Band.
Bob Dylan
and the Hawks toured the United States throughout 1965 and a world tour the following year. As a songwriter, Robertson is credited for writing 'The Weight', 'The Night They Drove Old Dixie Down', 'Up on Cripple Creek', 'Broken Arrow' and 'Somewhere Down the Crazy River'.
5 Jul 1920
Smiley Lewis, R&B singer. Wrote 'One Night' covered by
Elvis Presley
and 'I Hear You Knocking' 1955 US No.2 for Gale Storm & UK No.1 & US No.2 for Dave Edmunds'. Lewis died on 20th October 1966.