May 1st: The Biggest Music Headlines
Scroll down the page to see all the music headlines, stories and events for May 1 throughout music history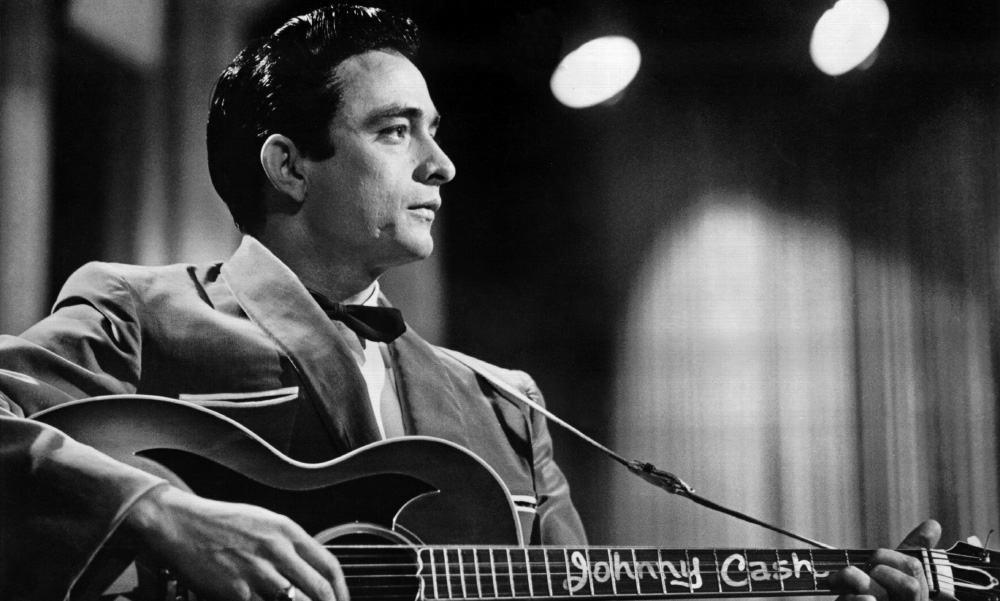 Johnny Cash Releases Iconic Single "I Walk the Line"
On this day in music, May 1, 1956, Johnny Cash released "I Walk the Line." His first No.1 on the Billboard country charts, the now-iconic single remained on the charts for over 43 weeks and peaked at No.17 on the US pop charts. Inspired by the backward playback of guitar runs on his tape recorder, the legendary artist used the technique to produce the unique chord progression of the hit song. It also includes Cash's distinctive "boom-chicka-boom" sound, created by putting a dollar bill in the neck of his guitar.
In 1966, The Beatles performed in the UK for the final time, appearing at the NME Poll Winners concert at Wembley Empire Pool. The British rock group performed five songs to 10,000 attendees, including "I Feel Fine," "If I Needed Someone," and "Nowhere Man." Also featured on the bill were the Rolling Stones, The Who, The Yardbirds, and Dusty Springfield. Both The Rolling Stones and Beatles opted not to have their sets filmed.
In 2005, Matchbox Twenty frontman Rob Thomas topped the Billboard 200 with his solo debut, …Something To Be. The feat made Thomas the first male artist from a rock group to debut at No.1 with a solo LP. Released in April 2005, …Something To Be featured Thomas' debut single "Lonely No More," which peaked at No.6 on the Billboard Hot 100. It was also the first major album to be released in the DualDisc format and was later certified 2x Platinum by the RIAA.
In 1986, American songwriter and producer Hugo Peretti died in New Jersey at age 69. Peretti began working with his cousin, Luigi Creatore, as the Hugo & Luigi songwriting team in the 1950s before the duo was brought into Roulette Records in 1957. They later signed a contract with RCA Records in 1959, where they co-wrote Elvis Presley's "Can't Help Falling in Love" with George David Weiss.
Looking for more things that happened on this day in music?
Keep scrolling for all of the headlines for May 1.
BORN ON MAY 1:
1930: Little Walter
1939: Judy Collins
1945: Rita Coolidge
1953: Glen Ballard (Producer)
1954: Ray Parker Jr.
1966: Johnny Colt (The Black Crowes, Lynyrd Skynyrd)
1967: Tim McGraw
1968: D'arcy Wretsky (Smashing Pumpkins)
Looking for more artists born on this day?
Keep scrolling for all of our May 1 birthdays.
---
What to find another day?
---
May 1st
1 May 2015
Mark Ronson and Bruno Mars gave The Gap Band a writing credit on their huge hit 'Uptown Funk', due to its similarities with their 1979 track 'Oops Up Side Your Head'. 'Uptown Funk', which had topped the UK chart for seven weeks and the US chart for 14, originally had six songwriters but was now credited to The Gap Band as well.
1 May 2014
Justin Bieber's personal assistant was ordered to do community service after police found ecstasy in his room. Xavier Domonique Smith, who is also known as Lil Za, was also sentenced to probation and ordered into a drug treatment programme. He was fined $1,000 (£592).
1 May 2013
A Minnesota man was accused of pretending to be a member of
Pink Floyd
at a US hospital racked up as much as $100,000 in unpaid medical bills. Phillip Michael Schaeffer, 53, went for treatment April 20 and claimed he was
Pink Floyd
singer-guitarist David Gilmour and that he didn't have health insurance. The man was treated and released from the St. Cloud Hospital, Minnesota, but not before he signed an autograph for an employee's son.
1 May 2013
Chris Kelly, one half of the 1990s rap duo Kris Kross, died in an Atlanta hospital at the age of 34. Kelly had been found "unresponsive" at his home. Kris Kross was made up of Kelly, known as "Mac Daddy", and Chris "Daddy Mac" Smith. They are most widely remembered for their 1992 hit 'Jump'.
1 May 2005
Bruce Springsteen
went to No.1 on the UK album chart with 'Devils & Dust' the American singer songwriters sixth UK No.1.
1 May 2005
Tony Christie made chart history by hanging on to the UK number one spot for the seventh week in a row with '(Is This The Way To) Amarillo.' The last single to spend that long at number one was 'Believe' by Cher from October to December 1998.
1 May 2005
Matchbox Twenty singer Rob Thomas went to No.1 on the US album chart with his first solo album Something To Be. This marked the first time a male artist from a rock group had debuted at No.1 with his first solo album since the Billboard Top 200 was introduced 50 years ago.
1 May 2003
American soul singer Barry White suffered a stroke while being treated for kidney failure. The singer died two months later on July 4th 2003.
1 May 2000
A writer who claimed
Neil Young
went back on an agreement to have a biography written about him filed a $1.8 million civil fraud suit against Young in Los Angeles Superior Court. Young had blocked the book's publication.
1 May 1999
The Paintings of
Paul McCartney
exhibit opened at the Lyz Art Forum, Siegen, Germany. The exhibit featured 70 paintings by the former Beatle, including a piece called 'Bowie Spewing' McCartney's representation of a young
David Bowie
.
1 May 1997
Status Quo guitarist Rick Parfitt had a quadruple heart by-pass operation after visiting his Harley Street doctor and complaining of chest pains.
1 May 1997
The house where
Kurt Cobain
committed suicide went up for sale. The asking price for the five-bedroom house built in 1902 was $3 million. The carriage house where the
Nirvana
guitarist died had been demolished.
1 May 1993
George Michael
,
Queen
and Lisa Stansfield went to No.1 on the UK singles chart with 'The Five Live EP' which was recorded at the
Freddie Mercury
tribute concert held in April 1992, at Wembley Stadium, London.
1 May 1986
American songwriter and producer Hugo Peretti died aged 70. Wrote and produced many classic hits including, 'Can't Help Falling In Love', 'Twistin' The Night Away', 'Shout', 'The Hustle' and 'You Make Me Feel Brand New.'
1 May 1984
Fleetwood Mac
drummer Mick Fleetwood filed for bankruptcy. It was reported that the drummer had spent thousands of dollars of cocaine a month, and had refused to listen to financial advisers, buying up several homes, a $400,000 spread in Hawaii and a $1.8 million farm outside Sydney, Australia.
1 May 1980
The South African government banned
Pink Floyd
's single 'Another Brick In
The Wall
(Part 2)' after black children adopted the song as their anthem in protest against inferior education.
1 May 1977
1 May 1976
Led Zeppelin
started a two-week run at No.1 on the US album chart with Presence, the group's fifth No.1 album.
1 May 1976
The Bellamy Brothers went to No.1 on the US singles chart with 'Let Your Love Flow', the duo's only US No.1, a No.7 hit in the UK.
1 May 1975
During a press conference held at the 5th Avenue Hotel in New York City to announce The
Rolling Stones
forthcoming American tour, the Stones themselves came down the street playing live from the back of a flat-bed truck. Stones drummer Charlie Watts came up with the idea, after the practise of New Orleans jazz musicians, who would play walking down the street.
1 May 1971
Dave and Ansel Collins were at No.1 in the UK singles chart with 'Double Barrel'. It featured renowned drummer Sly Dunbar who was only 14 when the song was recorded.
1 May 1969
Bob Dylan
recorded an appearance for The
Johnny Cash
Show at the Ryman Auditorium in Nashville, Tennessee. After two solo numbers from Dylan,
Johnny Cash
joined him for a rendition of 'Girl From The North Country'. In this primetime show, Cash enjoyed booking contemporary performers as guests;
Neil Young
, James Taylor, Ray Charles and
Eric Clapton
were all booked to appear on forthcoming shows.
1 May 1967
32 year old
Elvis Presley
married 21 year old Priscilla Beaulieu, a girl he first met in 1959 when she was just 14 years old. When Elvis got out of the army in 1960, Beaulieu moved into the singer's Graceland mansion with her family's blessing. The wedding ceremony took place at the Aladdin Hotel in Las Vegas and although the marriage license was only $15, the wedding cake cost $3,500. The couple divorced after five years of marriage on October 9, 1973.
1 May 1967
The F.B.I. arrested
The Beach Boys
Carl Wilson on charges of avoiding the military draft and refusing to take the Oath of Allegiance. He was later released and joined the rest of the band in Ireland for a British tour.
1 May 1966
The Beatles
played live for the last time in the UK when they appeared at the NME Poll Winners concert at Wembley Empire Pool.
The Beatles
set included; 'I Feel Fine', 'Nowhere Man', 'Day Tripper', 'If I Needed Someone' and 'I'm Down'. Also on the bill, The Spencer Davis Group, The Fortunes, Herman's Hermits,
Roy Orbison
, The
Rolling Stones
, The Seekers, The
Small Faces
, Dusty Springfield, The Walker Brothers,
The Who
and The Yardbirds.
1 May 1965
Herman's Hermits started a three week run at No.1 in the US singles chart with 'Mrs Brown You've Got A Lovely Daughter'.
1 May 1964
The Beatles
received $140,000 dollars for the rights to having their pictures included in packages of bubble gum in the USA.
1 May 1962
The Beatles
started a month long residency at The Star Club, Hamburg, Germany. American musicians including Ray Charles,
Bo Diddley
, Fats Domino, Everly Brothers,
Bill Haley
,
Jimi Hendrix
and Jerry Lee Lewis also all appeared here.
1 May 1956
Johnny Cash
released his classic song, 'I Walk the Line', which became his first No.1 Billboard country hit and remained on the charts for over 43 weeks, selling over 2 million copies. The unique chord progression for the song was inspired by backwards playback of guitar runs on Cash's tape recorder while he was in the Air Force stationed in Germany.
Born on this day in music
1 May 1970
Bernard Butler, guitarist, from English alternative rock band Suede, who had the 1994 UK No.3 single 'Stay Together'. After leaving Suede he formed the duo McAlmont and Butler with David McAlmont and they released two singles, 'Yes' and 'You Do'. Butler has played on or produced records by, Aimee Mann, Edwyn Collins, Neneh Cherry, Eddi Reader,
Roy Orbison
, Bert Jansch, The Libertines, The Cribs and the Pretenders.
1 May 1968
D'arcy Wretsky-Brown, bassist with American alternative rock band, Smashing Pumpkins who had the 1995 US No.1 album Mellon Collie and the Infinite Sadness.
1 May 1967
Tim McGraw country singer and actor. Many of McGraw's albums and singles have topped the country music charts with total album sales in excess of 40 million units in the US. McGraw had 11 consecutive albums debut at No.1 on the Billboard albums charts, as well as twenty-one singles hitting No.1 on the Billboard Hot Country Songs chart. He is married to country singer Faith Hill and is the son of former baseball player Tug McGraw.
1 May 1966
American bassist Johnny Colt with The Black Crowes who had the 1991 hit single 'Hard To Handle' and the 1992 US No.1 & UK No.2 album The Southern Harmony And Musical Companion. The band have sold more than 30 million albums. Colt also played with Lynyrd Skynyrd.
1 May 1962
Owen Paul, Scottish singer who had the 1986 UK No. 3 single 'My Favourite Waste Of Time', a cover version of a song that was originally written and recorded by American singer-songwriter Marshall Crenshaw.
1 May 1959
Phil Smith, sax, Haircut 100. The band had four UK Top 10 hit singles between 1981 and 1982, including 'Favourite Shirts (Boy Meets Girl)', 'Love Plus One' and 'Fantastic Day'.
1 May 1957
Rick Driscoll, from English pop and glam rock band Kenny who had several hit singles in the UK in the mid-1970s, including 'The Bump' and 'Fancy Pants'.
1 May 1957
Steve Farris, from American pop rock band Mr Mister who scored the 1985 US No.1 & 1986 UK No.4 single 'Broken Wings'.
1 May 1954
American guitarist, singer-songwriter Ray Parker Jr. who had the 1984 US No.1 & UK No.2 single 'Ghostbusters'.
1 May 1953
American songwriter, lyricist, and record producer Glen Ballard who is best known for co-writing and producing
Alanis Morissette
's album Jagged Little Pill. He was involved in the recording and writing of
Michael Jackson
's
Thriller
and Bad and as a writer he co-wrote Jackson's 'Man in the Mirror'.
1 May 1946
Nick Fortune, bassist with American Sunshine pop group The Buckinghams who had the 1967 US No.1 single 'Kind Of A Drag' and became one of the top selling US acts of 1967.
1 May 1945
American recording artist. Rita Coolidge who was a backing singer with Joe Cocker, Leon Russell,
Bob Dylan
,
Jimi Hendrix
,
Eric Clapton
and Delaney and Bonnie. She scored the 1977 UK No.6 & US No.7 single 'We're All Alone'). She was married to singer, songwriter, actor Kris Kristofferson from 1973 to 1980.
1 May 1939
American singer and songwriter Judy Collins who had the 1968 US No. 8 & 1970 UK No.14 single with her cover of the
Joni Mitchell
song 'Both Sides Now' which won Collins her first Grammy Award for Best Folk Performance.
1 May 1930
American blues musician, singer, and songwriter Little Walter. He was the first harp player to amplify his harmonica, giving it a distorted echoing sound. His virtuosity and musical innovations fundamentally altered many listeners' expectations of what was possible on blues harmonica. Walter died on February 15th 1968.
1 May 1928
James Loden who became known as Sonny James, best known for his 1957 hit, 'Young Love'. Dubbed the Southern Gentleman, James has had 72 country and pop chart hits from 1953 to 1983, including 23 No.1 hits. He died on 22nd Feb 2016 aged 87.