May 2nd: The Biggest Music Headlines
Scroll down the page to see all the music headlines, stories and events for May 2 throughout music history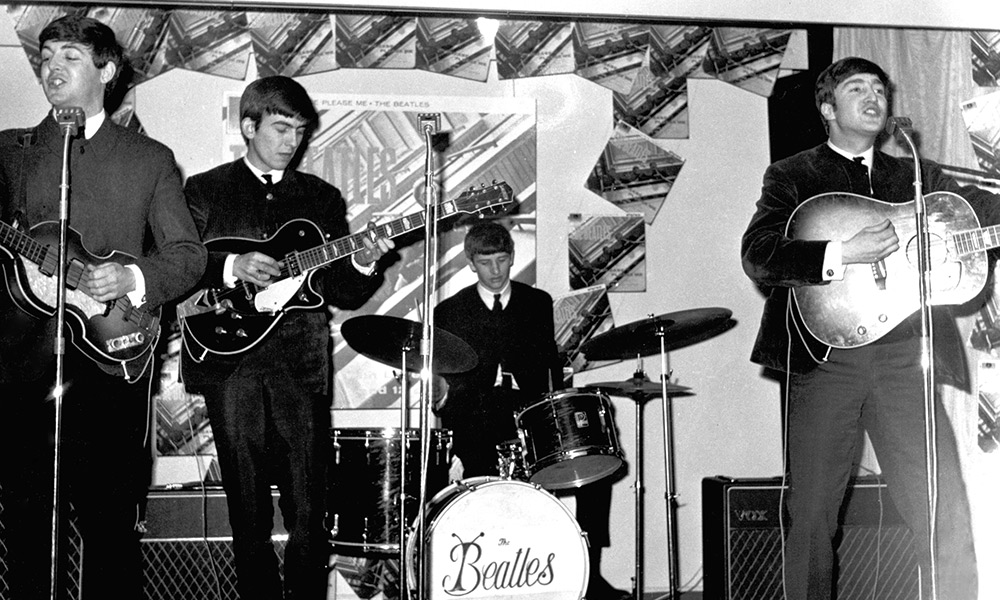 The Beatles Score First No.1 UK Single
On this day in music, May 2, 1963, The Beatles scored their first UK No.1 hit with "From Me to You." Written by Paul McCartney and John Lennon, the song's title was inspired by the name of the NME's Letters section. Although the single did not initially appear on the US Hot 100, it did give the band their first entry on the Billboard charts, peaking at No.116 on the Bubbling Under ranking, while a cover of the tune by Del Shannon gained traction shortly after.
In 1964, The Rolling Stones' eponymous debut began a 12-week run at the top of the UK album chart. Recorded at Regent Sound Studios in London, the English rock band's album was produced by then-managers Andrew Loog Oldham and Eric Easton. While the US version was released several weeks later, it swapped out "I Need You Baby" for "Not Fade Away." It was the Stones' only American album that did not place within the Billboard 200's Top 5.
In 1980, post-punk pioneers Joy Division played their final show together at Birmingham University. Formed in 1976, the English rock band recorded two albums before frontman Ian Curtis took his own life at 23 – just one day before the group was due to depart on their first North American tour. After Curtis' death, the remaining band members regrouped as New Order.
In 1991, Nirvana began recording their sophomore album, Nevermind, at Southern California's Sound City Studios. With producer Butch Vig at the helm and a budget of $65,000, the grunge pioneers would soon make history with their era-defining album.
In 1998, Japanese rock star Hideto "Hide" Matsumoto was found dead at age 33. Hide was the lead guitarist of X Japan and formed the rock supergroup, Zilch. His funeral was attended by over 70,000 people, requiring 100 police officers, 170 security guards, police boats, and helicopters to keep crowds at bay.
In 1969, The Who gave a press preview of their new rock opera, Tommy, at London's Ronnie Scott club. It was inducted into the Grammy Hall of Fame in 1998 and has sold over 20 million copies worldwide.
Looking for more things that happened on this day in music?
Keep scrolling for all of the headlines for May 2.
BORN ON MAY 2:
1929: Link Wray
1936: Engelbert Humperdinck
1946: Lesley Gore
1950: Lou Gramm (Foreigner)
1985: Lily Allen
1987: Justin Hayward-Young (The Vaccines)
Looking for more artists born on this day?
Keep scrolling for all of our May 2 birthdays.
---
What to find another day?
---
May 2nd
2 May 2020
Dua Lipa was at No.1 on the UK chart with her second album Future Nostalgia. The album won a Brit Award for British Album of the Year and at the 63rd Annual Grammy Awards, Future Nostalgia was nominated for Album of the Year and won Best Pop Vocal Album, whilst the single 'Don't Start Now' was nominated for Record of the Year, Song of the Year and Best Pop Solo Performance.
2 May 2014
American singer and songwriter Jessica Cleaves died age 65 following complications from a stroke. She had been a member of The Friends of Distinction, Earth, Wind & Fire, Parliament Funkadelic and Raw Silk.
2 May 2013
It was announced that the
Spice Girls
musical Viva Forever! was to close at the end of June 2013. The production, which was written by Jennifer Saunders, suffered poor ticket sales after damning reviews.
2 May 2013
Jeff Hanneman, founding member of rock band Slayer, died at the age of 49. The guitarist had been suffering from necrotising fasciitis, a flesh-eating disease that he is believed to have contracted from a spider bite in 2011. Hanneman was being treated in a local hospital when he "suffered liver failure."
2 May 2009
A rare
Motown
seven-inch single sold for £25,742, ($38,378), setting a new world record. Kenny Burrell, from Fife in Scotland, put the unreleased 1965 single 'Do I Love You (Indeed I Do)' by Frank Wilson up for auction; the single was one of only two in the world.
Motown
boss
Berry Gordy
had all other copies destroyed after Wilson moved into songwriting and producing. British Record dealer John Manship, who organised the sale, said the buyer wished to remain anonymous. Wilson went on to write hits for The
Supremes
and The
Four Tops
.
2 May 2009
Bob Dylan
mingled unnoticed with other Beatles tourists during a minibus tour to
John Lennon
's childhood home. He was one of 14 tourists to examine photos and documents in the National Trust-owned home, where Lennon grew up with his aunt Mimi and uncle George. Dylan who was on a day off on a European tour paid £16 for the public trip to the 1940s house in Woolton, Liverpool.
2 May 2008
Chad Kroeger was banned from driving for a year after being convicted of drink-driving in the Canadian city of Vancouver. The 33-year-old Nickelback singer had almost twice the legal limit of alcohol in his system when he was stopped by police speeding in his Lamborghini.
2 May 2007
Almost 2,000 musicians gathered in the Polish city of Wroclaw to play a rock anthem by
Jimi Hendrix
. The guitarists were aiming to set a new Guinness World Record by gathering 1,876 guitarist's in the city's market square to play 'Hey Joe'. Organisers say it was the biggest guitar ensemble in recorded history.
2 May 2006
Rolling Stones
guitarist
Keith Richards
was released from hospital in New Zealand after the 62 year-old suffered "mild concussion" when he fell out of a coconut tree while on holiday in Fiji. He was airlifted to Auckland's Ascot Hospital for observation, where he underwent a brain scan.
2 May 2005
Eric Clapton
joined former
Cream
members
Ginger Baker
and
Jack Bruce
for the first of four nights at London's Royal Albert Hall 36 years after they had split up. Tickets were changing hands for more than £500 on eBay and fans had flown over from the USA to witness the reunion, which Clapton aged 60, is said to have agreed to because of the failing health of the other former members of the band.
2 May 2004
Total Guitar magazine's readers voted Guns N' Roses' anthem 'Sweet Child O' Mine' as the greatest guitar riff ever ahead of
Nirvana
's grunge anthem '
Smells Like Teen Spirit
'.
Led Zeppelin
's 'Whole Lotta Love' came third, followed by
Deep Purple
's 'Smoke On The Water'. Total Guitar editor Scott Rowley said: "To a new generation of guitarist's, Guns N' Roses are more thrilling than the
Sex Pistols
".
2 May 1998
Japanese rock star Hideto Matsumoto was found hanged in the bathroom at his Tokyo apartment and died in hospital a short time later at the age of 33. His funeral, held on May 7th, was attended by over 70,000 people and required 100 police officers, 170 security guards, police boats and helicopters. 21 people were hospitalised for injuries caused by the massive crowd at his funeral.
2 May 1992
Little known UK duo
Nirvana
filed a suit against the American band of the same name claiming that they had been using the name since 1968. The dispute was settled out of court in the British bands favour.
2 May 1991
The video for the
R.E.M.
song 'Losing My Religion', was banned in Ireland because its religious imagery was seen as unfit for broadcast.
2 May 1991
Nirvana
booked into Sound City Studios in Van Nuys, California for 16 days. On a budget of $65,000 and with Butch Vig producing the band started recording what would become the
Nevermind
album.
2 May 1989
English rock band the Stone Roses released their self titled debut album on Silvertone Records. In 2008, it was named the fifth "greatest British album ever" by a Q magazine/HMV poll. The album has now sold over 4 million copies worldwide.
2 May 1989
A security guard alerted the police after a man wearing a wig, fake moustache and false teeth walked into Zales Jewellers, California. Three squad cars arrived and police detained the man, who turned out to be
Michael Jackson
in disguise.
2 May 1987
Cutting Crew started a two week run at No.1 on the US singles chart with '(I Just), Died In Your Arms', a No.4 hit in the UK.
2 May 1981
Scottish singer Sheena Easton started a two week run at No.1 on the US singles chart with 'Morning Train (9 to 5)'. The title of the song was changed to avoid any confusion with the
Dolly Parton
hit '9 to 5', in the same year.
2 May 1980
Joy Division
played what would be their last gig with singer
Ian Curtis
when they appeared at Birmingham University, England. Curtis committed suicide two weeks later.
2 May 1978
Kate Bush
was on the UK charts with her debut album 'The Kick Inside'. The album which featured the singers No.1 hit 'Wuthering Heights' peaked at No.3 spent a total of 70 weeks on the UK chart.
2 May 1972
Bruce Springsteen
auditioned for CBS Records A&R man John Hammond in New York. Springsteen played a short set for him in his office; Hammond was so impressed that he arranged a real audition that night at the Gaslight Club in New York for other Columbia executives. Bruce passed the audition.
2 May 1970
One Hit Wonder Norman Greenbaum was at No.1 on the UK singles chart with 'Spirit In The Sky.' Also a No.1 hit for Doctor and the Medics in 1986 and Gareth Gates in 2003.
2 May 1969
The Who
gave a press preview of their new rock opera 'Tommy' at Ronnie Scott's in London, England. The double album about a "deaf, dumb and blind boy" who becomes the leader of a messianic movement, was the first musical work to be billed overtly as a rock opera. In 1998 it was inducted into the Grammy Hall of Fame for "historical, artistic and significant value" and has now sold over 20 million copies worldwide.
2 May 1969
2 May 1969
2 May 1969
Pink Floyd
appeared at Manchester Chamber Of Commerce, England. The show was recorded for the forthcoming album 'Ummagumma'.
2 May 1964
The
Rolling Stones
self-titled debut album started a 12-week run at No.1 on the UK charts. The album spent a total of 51 weeks on the UK chart. Also on his day The Stones made their first appearance on the US singles chart when 'Not Fade Away' entered the chart at No.98.
2 May 1963
The Beatles
were at No.1 on the UK singles chart with 'From Me To You', the group's first No.1 and the first of eleven consecutive No.1's. The title of the song was inspired from a letters column called From You To Us that ran in the British music newspaper, The New Musical Express.
Born on this day in music
2 May 1987
Justin Hayward-Young, English singer, songwriter and the lead singer and guitarist of English indie rock band The Vaccines.
2 May 1985
English singer, songwriter Lily Allen who had the 2006 UK No.1 single 'Smile', and the 2006 UK No.2 album Alright, Still which sold over 2.6 million copies worldwide and brought Allen a nomination at the Grammy Awards, Brit Awards and
MTV
Video Music Awards. She is the daughter of actor Keith Allen and film producer Alison Owen.
2 May 1969
Ben Leach, of Liverpool-based group The Farm who had the 1990 UK No.4 single 'All Together Now'.
2 May 1967
English vocalist and songwriter David McAlmont who scored the 1995 UK No.8 hit single 'Yes' (with guitarist Bernard Butler).
2 May 1962
Chilean-American multi-instrumentalist, producer and vocalist Alain Johannes, who has worked with Queens of the Stone Age, Them Crooked Vultures, PJ Harvey, Chris Cornell and Arctic Monkeys.
2 May 1961
Dr Robert, singer from British new wave group The Blow Monkeys who had the 1986 hit 'Digging Your Scene' and the 1987 UK No.5 single 'It Doesn't Have To Be This Way'.
2 May 1954
Prescott Niles, bassist with The Knack. Their first single, 'My Sharona' was an international No.1 hit in 1979. Their album Get the Knack became one of the most successful debuts in history, selling over one million copies in less than two months and spending five weeks at No.1 on the Billboard album chart.
2 May 1951
Jo Callis, Synthesizer, keyboards, guitar, Human League, (1981 UK No.1 & 1982 US No.1 single 'Don't You Want Me' plus over 15 other UK Top 40 singles). Callis had been a member of the Rezillos and wrote their 1978 hit
'Top Of The Pops'
.
2 May 1950
Lou Gramm, singer, songwriter,with English-American rock band Foreigner, who scored the 1985 UK & US No.1 single 'I Want To Know What Love Is'. They are one of the world's best-selling bands of all time with worldwide sales of more than 80 million records.
2 May 1946
Bob Henrit, drummer with English rock band Argent who had the 1972 UK No.5 single 'Hold Your Head Up' and the hit and 'God Gave Rock and Roll to You'. He was also a member of
The Kinks
.
2 May 1946
American singer, songwriter, actress and activist, Lesley Gore, who had the 1963 US No.1 & UK No.9 single 'It's My Party', (which was produced by Quincy Jones). Gore composed songs for the soundtrack of the 1980 film Fame, for which she received an Academy Award nomination for 'Out Here on My Own', written with her brother Michael. She died on February 16, 2015, at the NYU Langone Medical Center in Manhattan, New York City, of lung cancer.
2 May 1945
Goldy McJohn, from Steppenwolf who had the 1969 US No.2 hit single 'Born To Be Wild'. Steppenwolf sold over 25 million records worldwide, released eight gold albums and scored 12 Billboard Hot 100 singles.
2 May 1945
Randy Cain, singer from American R&B/soul vocal group The Delfonics who had the 1968 US No.4 single 'La-La Means I Love You', and the hits 'Didn't I (Blow Your Mind This Time)', and 'Ready or Not Here I Come (Can't Hide from Love)'. Cain died on 9th April 2009 at the age of 63.
2 May 1939
British-American lyricist Tony Asher. He co-wrote eight songs on the Beach Boys 1966 album
Brian Wilson
, including 'God Only Knows' and 'Wouldn't It Be Nice.' He also wrote several songs with composer-arranger John Bahler for The Partridge Family and used on their television show.
2 May 1936
English pop singer Engelbert Humperdinck (born Arnold George Dorsey), who scored the 1967 UK No.1 and US No. 4 single 'Release Me' and the hit 'The Last Waltz'. Humperdinck has sold more than 150 million records worldwide.
2 May 1929
Native American Shawnee rock and roll guitarist, songwriter, and vocalist Link Wray, famous for his 1958 hit single 'Rumble'. Wray was credited with inventing 'fuzz' guitar after punching a hole in a speaker giving him a distorted sound. Wray is also said to have popularised "the power chord. Wray died of heart failure at his home in Copenhagen, on 5th Nov 2005 at the age of 76.