May 22nd: The Biggest Music Headlines
Scroll down the page to see all the music headlines, stories and events for May 22 throughout music history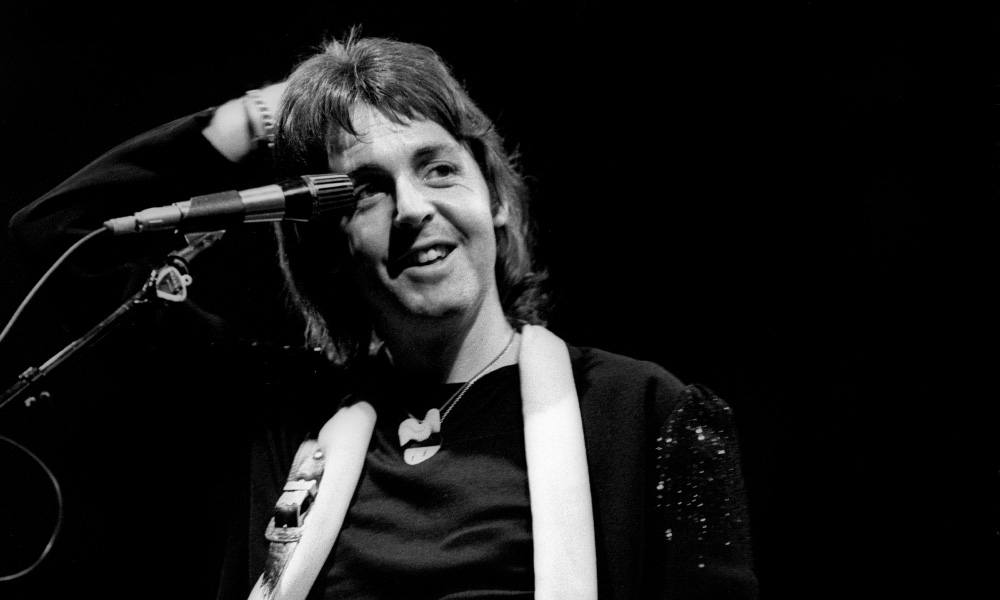 Paul McCartney Becomes America's No.1 Songwriter
On this day in music, May 22, 1976, Paul McCartney and Wings began a five-week run at the top of the Billboard Hot 100 with "Silly Love Songs." The single, which marked the former Beatle's fifth No.1 as a solo artist, was written in response to taunts by critics that he wrote "lightweight" love songs. McCartney, however, had the last laugh. Not only did the song rank as the biggest hit of the year in the US, but it also gave him the record for the most No.1 singles ever by a songwriter – 27, to be exact.
In 1971, Sticky Fingers became The Rolling Stones' second chart-topping album in the US. In addition to being considered among the band's best works by critics over the decades, Sticky Fingers also boasted some of the era's most inventive (and suggestive) jacket art, featuring a zippable image of a man's jeans, designed by Andy Warhol. The release also marked the first use of the Stones' now-classic "tongue and lips" logo.
In 1993, Swedish pop group Ace of Base scored their first No.1 hit in the UK with "All That She Wants." The song also topped the charts in more than ten countries, including Canada, Australia, and Italy. In the US, it peaked at No.2 and became one of the best-selling singles of the year.
In 2017, Drake set a new bar for the most wins at the Billboard Music Awards when he took home 13 BMAs, breaking a record previously held by Adele (with 12 wins). The Canadian rapper, singer, and songwriter won Top Artist, Top Male Artist, and Top Billboard 200 Album, among other categories – all based around the success of his fourth studio album, Views, and its singles.
In 2004, on his 45th birthday, Morrissey returned to Manchester for his first hometown show in 12 years. All 18,000 tickets to the M.E.N. Arena concert sold out in 90 minutes.
Looking for more things that happened on this day in music?
Keep scrolling for all of the headlines for May 22.
BORN ON MAY 22:
1924: Charles Aznavour
1950: Bernie Taupin (Lyricist)
1955: Mary Black
1959: Morrissey (The Smiths)
1962: Jesse Valenzuela (Gin Blossoms)
1966: Johnny Gill (New Edition, LSG)
1981: Su-Elise Nash (Mis-Teeq)
Looking for more artists born on this day?
Keep scrolling for all of our May 22 birthdays.
---
What to find another day?
---
May 22nd
22 May 2017
Drake
broke
Adele
's record for the most wins at the Billboard Music Awards after the Canadian rapper picked up 13 prizes, beating
Adele
by one. The event which was held in Las Vegas also saw Twenty One Pilots pick up top duo/group and top rock artist with
Metallica
winning in the rock album category.
22 May 2016
A guitar that
Elvis Presley
was given by his father sold for $334,000 (£230,000) at an auction in New York. It was thought that Vernon Presley changed the finish on the Gibson Dove to black after his son earned a black belt in karate. Presley later gave the guitar to a fan during a concert in North Carolina in 1975. Auctioneers Julien's also sold
John Lennon
's handwritten lyrics for
The Beatles
' 'Being For The Benefit of Mr Kite!' for $354,400 (£244,000) and a red neoprene vinyl jacket which
Michael Jackson
wore for his 1996-97 HIStory world tour which sold for $256,000.
22 May 2014
Fleetwood Mac
's Christine McVie was honoured with a lifetime achievement at this year's Ivor Novello songwriting awards. McVie played with
Fleetwood Mac
for 28 years and wrote some of their most famous songs, including 'Don't Stop' and 'Little Lies'. Other winners at the ceremony in London included London Grammar, The Chemical Brothers and Nile Rodgers.
22 May 2012
British newspaper The Sun, reported that
Mick Jagger
's lavish Caribbean holiday home on Mustique was available for hire, at £9,500 a week, but added that Mick, demanded full details of applicants' backgrounds, including professions, before they were even considered. Bandmate
Keith Richards
' beach-front Caribbean holiday home at Parrot Cay Resort in the Turks and Caicos Islands was also available for rent, at £35,000 a week.
22 May 2011
Four dead dogs in 'sealed containers' were found in the Tennessee home of former
Kiss
guitarist Vinnie Vincent during an investigation that led to his arrest on charges of assaulting his wife. Vincent, a member of Kiss from 1982 to 1984, was released after posting $10,000 bond after his arrest by the Rutherford County Sheriff's Department.
22 May 2010
Alanis Morissette
married rapper Mario "Souleye" Treadway in a private ceremony at their Los Angeles home.
22 May 2009
White Stripes drummer Meg White married Jackson Smith at ex-husband and bandmate Jack White's Nashville home. Jack and Meg White were married for four years and divorced in 2000. The event was part of a double wedding, which also saw Jack Lawrence and Jo McCaughey marry. Lawrence plays bass in Jack White's other musical projects, The Raconteurs and The Dead Weather.
22 May 2005
Dave Matthews Band were at No.1 on the US album chart with 'Stand Up.' The album entered the chart at No.1 with sales of 465,000. Features the singles 'American Baby,' 'Dreamgirl,' and 'Everybody Wake Up.'
22 May 2004
Morrissey appeared at the M.E.N. arena Manchester, England on his 45th birthday. It was Morrissey's return to his home city Manchester after an absence of 12 years and the 18000 tickets sold out in only 90 minutes. During the set Morrissey performed five
Smiths
songs.
22 May 2002
Adam Ant appeared at The Old Bailey in London charged with possession of an imitation firearm. Ant, (Stuart Goddard) had been arrested in January after an altercation at The Prince of Wales pub in London when a bouncer refused to let him in.
22 May 2000
Robbie Williams set up a children's charity with the cash he earned from a deal with Pepsi. The trust, 'Give It Sum', boasted £2m seed money. Beneficiaries would include UNICEF and Jeans For Genes.
22 May 2000
Travis swept the board at the Ivor Novello awards. Singer Fran Healy won two awards for Best Contemporary Song for the single 'Why Does It Always Rain On Me'' And Songwriter Of The Year for the Travis album 'The Man Who.'
22 May 1993
Swedish group Ace Of Base started a three-week run at No.1 on the UK singles chart with 'All That She Wants', a No.2 hit in the US.
22 May 1991
Wil Sinnott from The Shamen drowned while swimming off the coast of La Gomera when he was pulled under by strong currents. The Shamen were in Tenerife filming a video for their new single 'Move Any Mountain.'
22 May 1989
Rap group Public Enemy fired one of its members, Professor Griff, after he made anti-Semitic remarks in the Washington Post.
22 May 1980
U2
kicked off their 23 date '11 O'Clock Tick Tock' tour at The Hope & Anchor in London.
22 May 1976
Wings started a five week run at No.1 on the US singles chart with 'Silly Love Songs', McCartney's fifth US No.1 since leaving
The Beatles
.
Paul McCartney
had often been teased by music critics as well as former Beatle and friend,
John Lennon
, for writing lightweight songs and he wrote this number in response.
22 May 1971
The
Rolling Stones
album
Sticky Fingers
started a four-week run at No.1 on the US charts, the group's second US No.1 album. The artwork for Sticky Fingers which, on the original vinyl release, featured a working zipper that opened to reveal cotton briefs, was conceived by American pop artist Andy Warhol. The cover, a photo of Joe Dallesandro's crotch clad in tight blue jeans, was assumed by many fans to be an image of
Mick Jagger
. The album also features the first usage of the "Tongue and Lip Design" designed by John Pasche.
22 May 1968
Gary Puckett and the Union Gap were at No.1 on the UK singles chart with 'Young Girl.' The song which was about under-age sex, was the acts only UK No.1.
22 May 1965
The Beatles
went to No.1 on the US singles chart with 'Ticket To Ride', the group's eighth US No.1. The American single's label declared that the song was from the United Artists release Eight Arms to Hold You. This was the original title of the Beatles' second movie; the title changed to
Help!
after the single was initially released.
22 May 1961
Ernie K Doe went to No.1 on the US singles chart with 'Mother In Law'. The song was written and produced by Allen Toussaint who also played the piano solo. Huey Lewis and the News recorded the song for the 1994 covers album, Four Chords & Several Years Ago.
22 May 1958
Jerry Lee Lewis arrived at London's Heathrow Airport to begin his first British tour, along with his new bride, 14 year old third cousin, Myra. Although advised not to mention it, Lewis answered all questions about his private life. The public's shock over Lewis' marriage marks the start of a controversy leading to his British tour being cancelled after just 3 of the scheduled 37 performances.
Born on this day in music
22 May 1981
Su-Elise Nash, from British girl group Mis-Teeq who had the 2001 UK No.2 single 'All I Want' and seven consecutive top-ten singles.
22 May 1979
Russell Pritchard, bassist with English indie rock band The Zutons. Their 2006 UK No.9 single 'Valerie' was later covered by Mark Ronson (with the lead vocals provided by
Amy Winehouse
.
22 May 1967
Dan Roberts, bassist with Canadian rock band Crash Test Dummies best known internationally for their 1993 single 'Mmm Mmm Mmm Mmm'.
22 May 1966
American singer-songwriter and actor Johnny Gill who had the 1992 UK No.17 single, 'Slow And Sexy'. Gill was the sixth and final member of the R&B pop group New Edition, and was also a member of the supergroup called LSG, with Gerald Levert and Keith Sweat.
22 May 1962
Jesse Valenzuela, from American rock band Gin Blossoms, who had the 1994 UK top 30 hit single 'Hey Jealousy', from their first major label album, New Miserable Experience (1992).
22 May 1959
English singer, songwriter Steven Morrissey from
The Smiths
, who scored the 1984 UK No.10 single 'Heaven Knows I'm Miserable Now', plus over 15 other UK Top 40 singles'. As a solo artist he scored the 1988 UK No.5 single 'Suedehead' plus over 15 other UK Top 40 singles. Widely regarded as an important innovator in the indie music scene, he has also attracted media attention for his advocacy of vegetarianism and animal rights.
22 May 1956
Latvian-born Russian-American musician and actress Natasha Shneider. She was most notably the keyboardist and vocalist in the band Eleven, along with her partner, bandmate Alain Johannes. Shneider contributed to tracks for Chris Cornell and Queens of the Stone Age. Shneider died from cancer on July 2, 2008, age 52.
22 May 1955
Iva Davis, singer-songwriter, musician from Australian rock band Icehouse who had the 1983 UK hit single 'Hey Little Girl'. Their best known singles on the Australian charts were 'Great Southern Land', 'Crazy' and 'Electric Blue'.
22 May 1955
Mary Black, Irish singer, songwriter, who has released over 12 solo albums. For a number of years, What Hi-Fi? magazine considered Black's voice to be so pure, that it was used as an audiophile benchmark for comparing the sound quality of different high fidelity systems.
22 May 1954
Jerry Dammers, founder member and keyboard play with The Specials who had the 1981 UK No.1 single 'Ghost Town'. He contributed to the founding of the Coventry based 2 Tone Records.
22 May 1950
Bernie Taupin, English lyricist, poet, and singer and
Elton John
's long-time song writing partner. Rod Stewart, Cher, The Motels, John Waite, Starship and Alice Cooper have all recorded his songs. In 1967, Taupin answered an advertisement placed in the UK music paper New Musical Express by Liberty Records, a company that was seeking new songwriters,
Elton John
responded to the advertisement, and the pair were brought together.
22 May 1947
American drummer Bill Lordan who worked with Sly & The Family Stone, Bobby Womack, Ike and Tina Turner and the Robin Trower Band.
22 May 1942
American singer Calvin Simon, a former member of the band's Parliament and Funkadelic who had the 1978 US No.16 album 'One Nation Under A Groove'. Simon died on January 6, 2022, at the age of 79.
22 May 1941
Jackie Landry Jackson, singer, from African-American girl group The Chantels, who had the 1958 top 20 hit 'Maybe' and the 1961 hit 'Look In My Eyes'. She died on December 23, 1997.
22 May 1941
Bruce Rowland, drummer, best known for his memberships of The Grease Band (he played for Joe Cocker's performance at the
Woodstock
Festival) and folk rock band Fairport Convention as well as Ronnie Lane's Slim Chance. He was also a prolific session musician. He died on 29 June 2015.
22 May 1931
Kenny Ball, English jazz musician, best known as the bandleader, lead trumpet player and vocalist in Kenny Ball and his Jazzmen who had the 1961 UK & US No.2 single 'Midnight In Moscow'. Ball died on 7 March 2013 at Basildon Hospital, Essex, where he was being treated for pneumonia.
22 May 1924
Charles Aznavour, French singer, actor, public activist and diplomat, famous for his 1974 UK No.1 single 'She'. He was one of France's most popular and enduring singers and was dubbed France's
Frank Sinatra
, selling more than 180 million records, recording more than 1,200 songs (interpreted in nine languages) and he wrote or co-wrote more than 1,000 songs for himself and others. On 1 October 2018, Aznavour was found dead in a bathtub at his home at Mouriès at the age of 94.