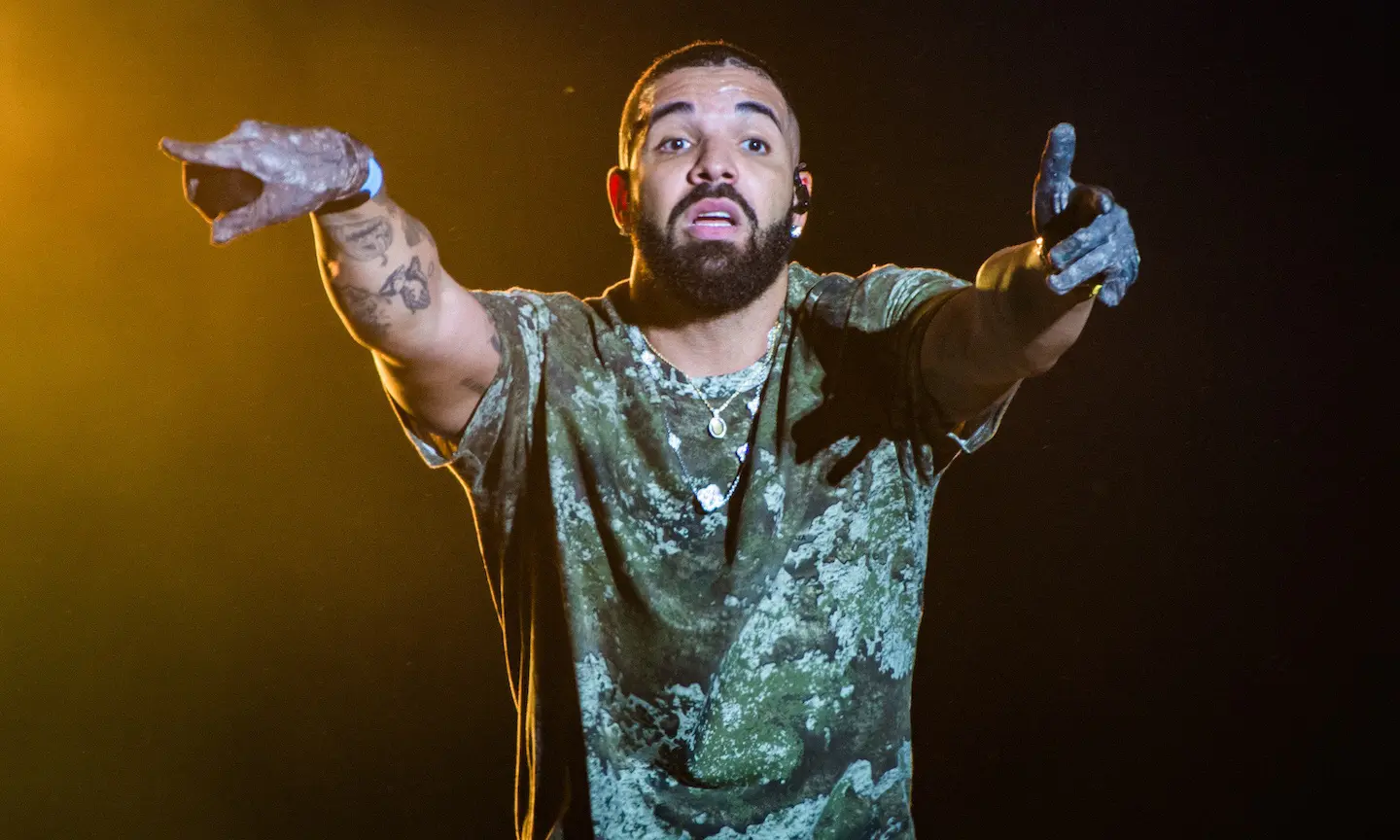 1. His real name is Aubrey Graham. Drake is actually his middle name; he was born on October 24, 1986, in Toronto, Ontario.
2. Drake's parents divorced when he was five years old. After the divorce, he and his mother remained in Toronto, while his father returned to Memphis.
3. His father worked as a drummer, performing alongside rock and roll's first great wild man Jerry Lee Lewis.
4. At 15, eager to begin as an actor, a high school friend introduced Drake to an agent that found Drake a role on Canadian teen drama series Degrassi: The Next Generation. Drake portrayed Jimmy Brooks, a basketball star who became physically disabled, after a classmate shot him.
5. Drake released his debut studio album Thank Me Later in 2010 which debuted at number one on the US Billboard 200.
6. Drake's paternal uncles are bass guitarist Larry Graham (Sly and the Family Stone, Graham Central Station and Prince) and musician Teenie Hodges (Al Green, Ann Peebles and Syl Johnson).
7. His fourth album, Views (2016), broke several chart records. The album sat atop the Billboard 200 for 13 non-consecutive weeks, becoming the first album by a male solo artist to do so in over 10 years.
8. Drake holds several Billboard chart records. He has the most charted songs (186) among solo artists in the history of the Billboard Hot 100, the most simultaneously charted Hot 100 songs in a single week (27), the most time on the Hot 100 (431 weeks).
9. Drake, along with being a record producer under the pseudonym Champagne Papi, has also written songs for other artists, including Alicia Keys ('Un-Thinkable (I'm Ready)'), Rita Ora ("'R.I.P.'), Jamie Foxx and Trey Songz.
10. Drake has won three Juno Awards, six American Music Awards, a record thirteen Billboard Music Awards, and is one of the most popular and best-selling artists of all time, with over 200 million estimated global sales.
11. Drake has cited several hip-hop artists as influencing his rapping style, including Jay Z, and Lil Wayne.
12. Drake for popularizing the phrase 'YOLO' in the United States, with his single, 'The Motto', which includes, 'You only live once: that's the motto, nigga, YOLO.'
13. June 10 was declared 'Drake Day' in Houston, Texas.
14. An Italian chef has immortalized Drake, along with some of the biggest rap icons in the world, in sushi form. Dark seaweed makes up his hair and beard, and his skin is made of white rice.
15. Drake is a father to son Adonis, who was born on October 11, 2017, to French artist and former adult actress Sophie Brussaux.
16. Drake is the highest-certified singles artist ever in the United States, with 142 million total units sold and holds the record for most singles gaining platinum certification in one day, with 55.
17. In 2016, Drake was the world's most popular recording artist. He had the year's bestselling single with "One Dance" and Views was the world's third best-selling album.
18. Business magazine Forbes commented his endorsement deals and business partnerships "combined heavily" for Drake's reported pre-tax earnings at $94 million between June 2016 to June 2017, being one of the highest-paid celebrities during that period.
19. Drake collaborated with the creator of DeLeon Tequila to launch his own whiskey, Virginia Black. When the whiskey hit LCBO (Ontario's liquor stores) in September 2016, it set a single day sales record moving 1779 bottles.
20. Drake has a unique ethnic and religious background. His father is an African-American Catholic, and his mother is white, Canadian and Jewish.
Important Dates In The Life Of Drake:
24 Mar 2022
It was reported that Spotify paid $7bn to music industry rights holders in 2021, accounting for almost 25% of the industry's total revenues. The streaming giant said 52,600 artists earned more than $10,000 (£7,500) from Spotify in 2021. Of those, 130 were paid more than $5m (£3.8m) over the last 12 months. Spotify didn't name any of the artists involved, but its most-streamed acts last year were Bad Bunny,
Taylor Swift
, BTS,
Drake
and Justin Bieber; while the most streamed-song was Olivia Rodrigo's 'Drivers License'.
8 Jan 2021
Morgan Wallen released Dangerous: The Double Album, with the hit '7 Summers.' It peaked at No. 1 in America and stayed there for 10 weeks, the longest run at the top since Drake's Views in 2016. In March 2022, the album established the all-time record for the longest duration in the No. 1 spot (84 weeks and counting) on Billboard's Country Albums chart. It achieved the most weeks in the top ten of the Billboard 200 by a solo studio album.
26 Jul 2019
A number of lawsuits over royalties on
Drake's
first six albums were officially settled included lawsuits and counterclaims spanning back to 2017 filed between Aspire Music Group and Cash Money Records. Aspire had claimed that in 2008 it signed an exclusive recording agreement with Drake before making a deal with Cash Money in June 2009 allowing Drake to record for the label in exchange for one-third of the net profits. The terms of the settlement were not disclosed.
23 Jul 2018
The National Transportation Safety Board (NTSB) warned against the growing trend of people jumping out of moving cars and dancing to Drake's 'In My Feelings'.
19 Mar 2018
Drake
was at No.1 on the US singles chart with 'God's Plan'. The lead single from his fifth studio album, Scorpion, topped the Hot 100 for 11 weeks and spent 26 weeks in the top ten. The song broke first-day streaming records on both Apple Music and Spotify and topped the charts in fourteen countries.
22 May 2017
Drake
broke
Adele
's record for the most wins at the Billboard Music Awards after the Canadian rapper picked up 13 prizes, beating
Adele
by one. The event which was held in Las Vegas also saw Twenty One Pilots pick up top duo/group and top rock artist with
Metallica
winning in the rock album category.
1 Dec 2016
Drake
was named Spotify's most-streamed artist of 2016, with his single 'One Dance' the site's biggest song of the year. The Canadian had 4.7 billion streams in this year, more than half of which were for his album Views. 'One Dance' alone was streamed 960 million times. Played consecutively, that would take more than 5,200 years.
8 Jul 2016
Canadian rapper and singer
Drake
was at No.1 on the US chart with his fourth studio album Views. With Views, Drake also joined
Adele
, Michael Bublé and
Taylor Swift
as the only artists in the 2010s decade to have an album remain at No.1 on the Billboard 200 for six consecutive weeks.
6 Jul 2016
Drake
equalled
Michael Jackson
's 1983 US chart record after he had the No.1 album and song in the American charts for seven consecutive weeks. 'Views' and 'One Dance' remained unbeaten on the Billboard charts respectively. In the UK 'One Dance' scored its twelfth week atop the UK charts, overtaking the
Rihanna
song 'Umbrella' which was the millennium's previous longest-running No.1.
24 Jun 2016
Drake
has achieved a notable feat by having the longest-running UK number one single since legal music downloads began counting towards chart positions. The rapper topped the singles chart for an 11th straight week with One Dance, his collaboration with Wizkid and Kyla.
5 Apr 2016
Canadian hip hop artist
Drake
released the single 'One Dance'. The track reached No.1 in ten countries including the US and topped the UK Singles Chart for 15 consecutive weeks, making it the joint-second longest consecutive No.1 in the country with Scottish band Wet Wet Wet's cover of 'Love Is All Around'. The track also became the most played song on streaming media service Spotify, with over 950 million individual streams.
21 May 2013
Chris Brown was charged with a misdemeanour hit-and-run and driving without a valid license following an accident in the San Fernando Valley, California. If convicted, the singer could face up to one year in jail with other recent incidents including an outburst at a valet, a parking lot brawl with Frank Ocean and a fight with
Drake
in a New York nightclub.
7 Sep 2002
The Frankie Miller tribute concert was held at Barrowlands in Glasgow, Scotland with all profits going to the Drake Music Project. The Sensational Alex Harvey Band, Nazareth, Gallagher & Lyle, Hamish Stuart, former
Thin Lizzy
, guitarist Brian Robertson, ex-
Genesis
singer Ray Wilson and Joe Walsh all appeared. Miller attended the show, but was still recovering from a 1994 brain hemorrhage, and so was unable to join in.
17 Jul 1996
Chas Chandler died aged 57 at Newcastle General Hospital, England, where he was undergoing tests related to an aortic aneurysm. He had been the bass player with The Animals and manager of Slade,
Nick Drake
and
Jimi Hendrix
.
29 Jul 1988
American record producer and pedal steel guitar player Pete Drake died of lung disease. Worked with
Elvis Presley
,
George Harrison
and
Ringo Starr
. Played on such hits as Lynn Anderson's 'Rose Garden', Charlie Rich's 'Behind Closed Doors',
Bob Dylan
's 'Lay Lady Lay' and
Tammy Wynette
's 'Stand by Your Man'.
1 Aug 1981
Australian singer Rick Springfield started a two week run at No.1 on the US singles chart with 'Jessie's Girl', which later won the singer a Grammy Award for Best Male Rock Vocal Performance. The song was at No.1 when
MTV
launched on 1 August 1981. Rick had played Noah Drake in the TV show General Hospital.
25 Nov 1974
UK singer, songwriter
Nick Drake
died in his sleep aged 26 of an overdose of tryptasol an anti-depressant drug. Drake signed to Island Records when he was twenty years old, recorded the classic 1972 album Pink Moon. In 2000, Volkswagen featured the title track from Pink Moon in a television advertisement, and within a month Drake had sold more records than he had in the previous thirty years.
29 Jul 1973
Led Zeppelin
played the last of three nights at Madison Square Garden, New York at the end of a 33-date North American tour. It was on this day that Led Zeppelin lost around $203,000 in cash after a thief made off with the receipts from the two Madison Square Garden concerts. The theft took place from the safe at The Drake Hotel in New York where the group were staying. Tour manager Richard Cole, who discovered the theft, was arrested as a suspect and questioned by police but was later released.