May 27th: The Biggest Music Headlines
Scroll down the page to see all the music headlines, stories and events for May 27 throughout music history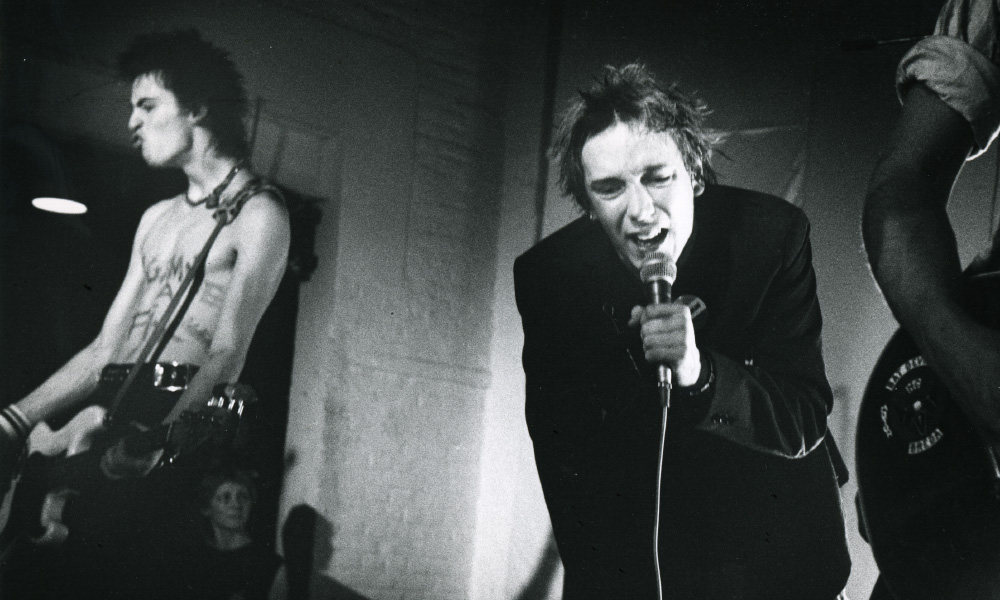 The Sex Pistols Release a Controversial Punk Anthem
In 1977, the Sex Pistols released their controversial-yet-iconic punk anthem, "God Save the Queen." Released just in time for Queen Elizabeth II's Silver Jubilee celebrations, the single was banned by most mainstream media in the UK, while the biggest retailers refused to sell the 45. At the record plant, many workers reportedly refused to handle the vinyl. Despite the lack of promotion, the single immediately flew off shelves, landing at No.2 on the Official Charts (where a blank line represented the song's title). The NME's chart, however, listed the song as No.1 – leading fans to speculate that the single was kept from reaching the top spot by the British Market Research Bureau, due to its offensive nature.
In 1963, The Freewheelin' Bob Dylan was released in the US. In stark contrast to his debut, which featured nearly all covers, Dylan's second studio album showcased his talents as a songwriter, with now-classic tracks like "Blowin' in the Wind," "Don't Think Twice, It's All Right," and "Girl from the North Country." Frequently ranked among one of the greatest albums of all time, the influential title peaked at No.22 on the Billboard 200 and, two years later, topped the UK chart.
In 2016, Gregg Allman, a founding member of The Allman Brothers, lost his battle with cancer at 69. Forming the band in 1969 with his brother, Duane, Allman was a pioneer of the Southern Rock sound. During the band's lengthy tenure, Allman wrote such enduring hits as "Whipping Post," "Midnight Rider," and "Melissa."
In 1957, Buddy Holly and the Crickets released one of their biggest hits, "That'll Be the Day." The song, which topped the pop charts in the US and UK, would later be added to the Library of Congress's National Recording Registry and ranked at No.39 on Rolling Stone's 500 Greatest Songs of All Time list.
In 1989, British icon Cliff Richard released his 100th single, "The Best of Me." The song, which arrived in the 30th year of the singer's career, became Richard's 26th Top 3 hit on the UK pop chart.
Looking for more things that happened on this day in music?
Keep scrolling for all of the headlines for May 27.
BORN ON MAY 27:
1935: Rudy Lewis (The Drifters)
1943: Cilla Black
1957: Siouxsie Sioux (Siouxsie and the Banshees)
1958: Neil Finn (Crowded House, Split Enz)
1966: Sean Kinney (Alice in Chains)
1971: Lisa "Left Eye" Lopes (TLC)
1975: André 3000 (Outkast)
Looking for more artists born on this day?
Keep scrolling for all of our May 27 birthdays.
---
What to find another day?
---
May 27th
27 May 2017
Gregg Allman
, founding member of the
The Allman Brothers Band
died at the age of 69 at his home in Savannah, Georgia. Allman had suffered a recurrruence of liver cancer five years ago, died from complications of the disease. The band's main songwriter early on, Allman contributed compositions like 'Dreams' and 'Whipping Post' to the
Allman Brothers
repertoire. Both songs became staples of their live shows; a cathartic 22-minute version of 'Whipping Post' was a highlight of their acclaimed 1971 live album, At Fillmore East.
27 May 2013
A report was published saying how many musicians were frustrated with fans filming gigs on their smartphones. Jack White and the Yeah Yeah Yeahs had both put up signs at their concerts asking people to leave their mobiles in their pockets.
27 May 2010
Dozens of
AC/DC
fans needed treatment after complaining of burning eyes during a concert on the runway of Wels Airport, Wels, Austria. Around 150 fans had to be treated. Doctors found that the fans showed allergic reactions to bark mulch spread at the venue - the runway of Wels Airport, to avoid the soil getting too muddy after hours of massive rainfall.
27 May 2009
A credit card company sued Courtney Love, claiming she owed more than $350,000 (£220,000). In court papers filed in Los Angeles, American Express said it had suspended Love's Amex Gold card after she "failed and refused" to make payments.
27 May 2008
Sir
Paul McCartney
was awarded an honorary Doctor of Music degree from Yale University in the United States. Yale's president, Richard Levin, said; The former Beatle had 'awakened a generation, giving a fresh sound to rock and roll and to rhythm and blues'. A band played
'Hey Jude'
as Sir Paul, 65, walked on stage to accept his degree.
27 May 2008
UK High street chain Woolworths announced it would stop selling CD singles in its stores saying that the format was in "terminal decline" and would be removed from the shelves from August. Sales of CD singles had fallen sharply as the popularity of downloading music from the internet had increased.
27 May 2007
Saatchi & Saatchi were fired by Dr Martens for running an advertising campaign featuring dead rock stars such as
Kurt Cobain
and Sid Vicious wearing the brand's boots in heaven. David Suddens, the chief executive of Dr Martens parent company Airwear, said the brand had not commissioned the series of four print ads. "Dr Martens are very sorry for any offence that has been caused by the publication of images showing dead rock icons wearing Dr Martens boots."
27 May 2005
27 May 2000
Paula Yates was awarded £400,000 ($680,000) in an out-of-court settlement from her boyfriend
Michael Hutchence's
fortune. The INXS singer was found dead in his hotel suite in Sydney in 1997 aged 37
27 May 1999
Winners at the Ivor Novello song writing awards included
Rod Stewart
who won a Lifetime Achievement Award, Robbie Williams and Guy Chambers won songwriters of the year and Chrissie Hynde won outstanding contribution to British Music.
27 May 1997
Oasis
singer
Liam Gallagher
was left with cuts and bruises after a scuffle with a youth at the Tower Thistle Hotel in east London. Members of the band had been drinking at the bar when the fight broke out.
27 May 1994
The
Eagles
played their first show in fourteen years when they played a show in Burbank, California. The two-and-a-half-hour show ended with two encores, closing with 'Desperado'.
27 May 1990
The Stone Roses played at Spike Island, Widnes, Cheshire, England to a capacity crowd of 30,000. The event, considered a failure at the time due to sound problems and bad organisation, has become legendary over the years as a "
Woodstock
for the baggy generation."
27 May 1989
Cliff Richard released his one hundredth single, 'The Best Of Me', which became his 26th Top 3 UK hit.
27 May 1988
Def Leppard
kicked off the third leg of their North American Hysteria world tour at George M. Sullivan Arena, Anchorage, Alaska.
27 May 1983
The Smiths
were at No.1 on the UK independent chart with their debut single 'Hand In Glove.' The Smiths recorded the track after their manager Joe Moss paid £250 for a one-day recording session at Strawberry Studios in Stockport, England.
27 May 1977
The
Sex Pistols
single 'God Save The Queen' was released in the UK. Banned by TV and radio, high street shops and pressing plant workers refused to handle the record. It sold 200,000 copies in one week and peaked at No.2 on the UK charts behind
Rod Stewart
's 'I Don't Want to Talk About It'. There have been persistent rumours, (never confirmed or denied), that it was actually the biggest-selling single in the UK at the time, and the British Phonographic Industry conspired to keep it off the No.1 slot.
27 May 1964
Eleven boys were suspended from a school in Coventry, England for having
Mick Jagger
haircuts.
27 May 1963
The album The Freewheelin'
Bob Dylan
was released by Columbia in the USA. Establishing Dylan as a leader in the singer-songwriter genre and a supposed spokesman for the youth-orientated protest movement, it reached No.22 in the US charts and No.1 in the UK charts. The Freewheelin' Bob Dylan showcased Dylan's songwriting talent for the first time and propelled him to national and international fame.
27 May 1957
Buddy Holly
and the Crickets released 'That'll Be The Day' which became a UK No.1 and US No.3 hit. The song had its genesis in a trip to the movies by Holly, Allison and Sonny Curtis in June 1956. The John Wayne film The Searchers was playing. Wayne's frequently-used, world-weary catchphrase, "that'll be the day" was the Inspiration behind the song. It was also the first song to be recorded by The Quarrymen, the skiffle group that subsequently became
The Beatles
.
Born on this day in music
27 May 1975
André 3000, (Andre Benjamin), American rapper, singer, songwriter who with Outkast had the 2001 US No.1 & UK No.2 single 'Ms Jackson.' In 2015, Billboard included Benjamin on its list of the 10 Greatest Rappers of All Time.
27 May 1971
Lisa Lopes, Left-Eye, singer with American girl group TLC. They scored nine top-ten hits on the Billboard Hot 100, including four No.1 singles, 'Creep', 'Waterfalls', 'No Scrubs', and 'Unpretty'. Their 1999 US No.1 album Fanmail spent 57 weeks on the UK chart. Having sold over 65 million records worldwide, TLC is the best-selling American girl group. Lopes was killed in a car accident on April 25th 2002 aged 30.
27 May 1966
Sean Kinney, American musician, best known for being the drummer and co-founder of the rock band Alice in Chains.
27 May 1958
Neil Finn, guitar, vocals, from New Zealand group Split Enz who had the 1980 UK No.12 single 'I Got You'. Split Enz had ten albums (including seven studio albums) reach the top ten of the Official New Zealand Music Chart. And with Crowded House had the 1992 UK No.7 single 'Weather With You' and a hit with 'It's Only Natural'. Finn has released many solo albums and replaced Lindsey Buckingham in Fleetwood Mac as part of their 2018 tour.
27 May 1957
Eddie Harsch, keyboardist with The Black Crowes who had the 1991 hit single 'Hard To Handle' and the 1992 US No.1 & UK No.2 album The Southern Harmony And Musical Companion. The band have sold more than 30 million albums.
27 May 1957
Susan Janet Ballion, (Siouxsie Sioux), vocals, Siouxsie And The Banshees, 1983 UK No.3 single 'Dear Prudence', plus over 15 other UK Top 40 singles). Also a member of The Creatures, (1983 UK No.14 single 'Right Now').
27 May 1948
English rock musician Pete Sears, who has worked with many artists including Jefferson Starship, and Rod Stewart on his Every Picture Tells a Story including the hit singles 'Maggie May' and 'Reason To Believe'.
27 May 1947
Marty Kristian, singer from The New Seekers who had the 1972 UK No.1 and US No.7 single 'I'd Like To Teach The World To Sing' and hits with 'You Won't Find Another Fool Like Me' and 'Beg, Steal or Borrow'.
27 May 1947
Peter Knight, violinist with English folk rock band Steeleye Span who formed in 1969. They had the 1975 UK No.5 single 'All Around My Hat' and a hit with 'Gaudete'.
27 May 1944
Billy Adamson, drummer with The Searchers from 1969 to 1998, (the longest serving drummer in the group). He died on 11 November 2013
27 May 1943
Priscilla White (Cilla Black), singer, TV presenter, 1964 UK No.1 single 'Anyone Who Had A Heart' plus 18 other UK Top 40 singles). Black died at her holiday home near Marbella, Spain, on 1 August 2015. She was 72.
27 May 1935
Rudy Lewis, from American doo-wop and R&B vocal group The Drifters who had the 1960 US No.1 & UK No.2 single 'Save The Last Dance For Me' and over 12 other chart hits. He died on May 10th 1964.
27 May 1935
Ramsey Lewis, American jazz composer, pianist and radio personality who had the 1965 US No.5 single 'The In Crowd', and the 1972 hit single 'Wade In The Water'.
27 May 1933
Gene "Bowlegs" Miller, American trumpeter and band leader. He worked with many artists including
Otis Redding
, and
Aretha Franklin
. He died on 25 December 1987.