May 30th: The Biggest Music Headlines
Scroll down the page to see all the music headlines, stories and events for May 30 throughout music history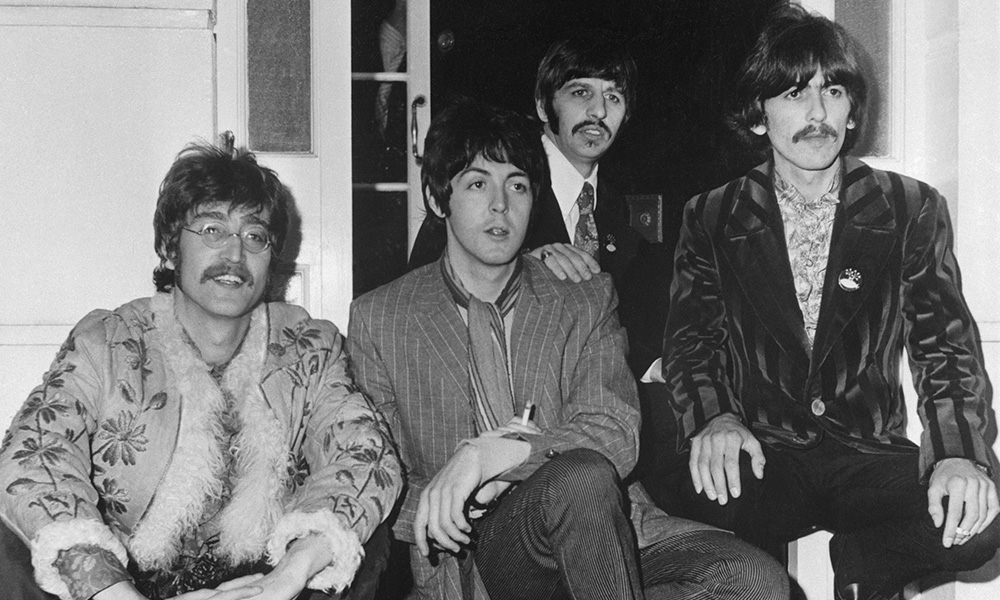 The Beatles Begin Recording 'The White Album'
On this day in music, March 30, 1968, The Beatles entered London's EMI Studios to begin work on their 30-track self-titled masterpiece (popularly referred to as The White Album, due to its all-white jacket design). The band had recently returned from a trip to India, where they studied Transcendental Meditation with Maharishi Mahesh Yogi and wrote 19 of the songs that would end up on the album. Sessions would last six months, beginning with the track "Revolution," while the resulting double album was released to broad acclaim and commercial success around the world. Today, The White Album ranks among one of the greatest LPs of all time.
In 2003, British record producer Mickie Most died at the age of 64. Born Michael Peter Hayes, Most began his career as a recording artist, scoring 11 singles in South Africa with his band, Mickie Most and the Playboys. In the mid-60s, Most transitioned to work behind the console, producing the likes of The Animals (including their hit "The House of the Rising Sun"), Herman's Hermits ("I'm Into Something Good"), and Donovan ("Sunshine Superman"), among many others. Most also created his own label, RAK Records, and recording facilities, RAK Studios, in London.
In 1987, David Bowie kicked off his Glass Spider tour, while setting new standards for stage design. Believed to be the largest touring set ever at the time, the stage was designed to resemble a giant spider – complete with light-up legs. 43 trucks transported the set to each of the run's 87 shows.
In 2013, a husband-and-wife team opened The Johnny Cash Museum in Nashville. Officially endorsed by the estate of the iconic artist, the museum boasts the world's largest display of memorabilia and artifacts from Cash.
Looking for more things that happened on this day in music?
Keep scrolling for all of the headlines for May 30.
BORN ON MAY 30:
1964: Armando Peraza (Santana)
1944: Lenny Davidson (The Dave Clark Five)
1945: Gladys Horton (The Marvelettes)
1949: Klaus Flouride (Dead Kennedys)
1955: Topper Headon (The Clash)
1958: Marie Fredriksson (Roxette)
1964: Tom Morello (Rage Against the Machine)
1964: Wynonna Judd (The Judds)
1966: Stephen Malkmus (Pavement)
1968: Tim Burgess (The Charlatans)
1974: Cee-Lo Green (Gnarles Barkley)
1975: Brian Fair (Shadows Fall)
Looking for more artists born on this day?
Keep scrolling for all of our May 30 birthdays.
---
What to find another day?
---
May 30th
30 May 2019
Singer-songwriter, guitarist, actor Leon Redbone died age 69. Redbone rose to fame in the '70s folk scene when
Bob Dylan
sought him out at a Canadian music festival. He later performed in several TV commercials, including Budweiser beer, in which he lay on a surfboard singing "This Bud's for You."
30 May 2016
Germany's highest court ruled in favour of a hip-hop artist who used a two-second sample of music from the pioneering electro-pop band Kraftwerk. Kraftwerk's Ralf Hutter sued Moses Pelham, alleging that his use of the clip, without asking, infringed the band's intellectual property rights. But the German Constitutional Court decided that the impact on Kraftwerk did not outweigh "artistic freedom".
30 May 2015
Jeremy Brown, guitarist for Scott Weiland and the Wildabouts, died of unknown causes at the age of 34. Brown began playing with the Stone Temple Pilots singer in 2008.
30 May 2015
Enrique Iglesias sliced his fingers open when he tried to grab a drone camera, which was taking pictures of the audience, at a concert in Tijuana, Mexico. He was "semi-treated" at the side of the stage to stop the bleeding, and was advised to end the show.
30 May 2014
Aretha Franklin
received an honorary degree from Harvard University. The Soul legend became an honorary doctor of arts at the Harvard ceremony, which came a year after she was forced to cancel a string of concerts due to ill health.
30 May 2013
A new museum dedicated to the life of
Johnny Cash
staged its official opening. The museum in Nashville, Tennessee, was set up by wife and husband team Shannon and Bill Miller and features the largest and most comprehensive collection of
Johnny Cash
artifacts and memorabilia in the world.
30 May 2010
American R&B singer, songwriter, Ali-Ollie Woodson died from cancer aged 58. Woodson was best known for singing with The
Temptations
from 1984 to 1996 and also worked with
Aretha Franklin
, Jean Carn, and Bill Pinkney.
30 May 2009
Mick Jagger
offered to buy an ice cream van but was turned down by its owner - who'd promised his daughter he would drive her to her wedding in it. Guiseppe Della Camera, had spent ten years restoring the rusting van to perfection after he spotted it on a farm - being used as a chicken shed. The restoration was such a success Sir Mick offered to buy the vehicle when he saw it at a show on Wandsworth Common. Camera said, 'Jagger told me he'd really fallen in love with my van and asked me if I would consider selling it. I was stunned when he offered me £100,000.
30 May 2009
Ozzy Osbourne
was suing the band's guitarist Tony Iommi over royalty payments. The 60-year-old had accused Iommi of falsely claiming to have sole rights to the band's name which has cost him royalties from merchandise sales. Osbourne was seeking unspecified damages, lost profits and a declaration he is a half-owner of the trademark. Iommi claims Osbourne legally relinquished rights to the band's name in the 1980s. Osbourne said he believed all four original members of the band should share
Black Sabbath
's name equally.
30 May 2008
Music mogul Simon Fuller married his long-term girlfriend Natalie Swanston at a ceremony in California's Napa Valley. Guests at the wedding included Victoria Beckham, Emma Bunton, Geri Halliwell and Annie Lennox. Earlier this year Billboard magazine named him the "most successful British music manager of all time", with an estimated fortune of $450m (£229m).
30 May 2007
A leaked copy of the new White Stripes album 'Icky Thump' was played completely on Chicago's radio station Q101-WKQX. Jack White personally called the US radio station from Spain, where he was touring, to voice his displeasure.
30 May 2007
A coroner told the murder trial of music producer Phil Spector that US actress Lana Clarkson's death was a homicide. Dr Louis Pena said bruising suggested the barrel of a gun may have been forced into Ms Clarkson's mouth before she was fatally shot in 2003. Spector was accused of murdering Clarkson on 3 February 2003 at his home in California.
30 May 2005
Coldplay
's new album was illegally put on the internet a week before its UK and US release. The leak took place on the day copies were sent to UK radio stations and the day before it went on sale in Japan. Security measures around the release included hosting album playbacks at Abbey Road studios for journalists instead of sending them copies of the album, any CDs that were sent out were labelled with a false name - The Fir Trees - to throw would-be pirates off the scent.
30 May 2004
Madonna
was forced to pay out £250,000 in a lawsuit after copying ideas by the late French erotic photographer Guy Burton.
Madonna
had admitted that the video for her song 'Hollywood' was inspired by Burton.
30 May 2003
Record producer Mickie Most died aged 64. Member of The Most Brothers during late 50s, and Mickie Most and the Playboys, produced hits for The Animals, Hermans Hermits, Donovan, Kim Wilde, Lulu and
Jeff Beck
. Most ran his own record label RAK in the 1970s, having hits with Hot Chocolate, Suzi Quatro and Mud.
30 May 2003
Singer Finley Quaye was threatened with jail after his mobile phone rang when he was in the dock waiting to be sentenced on charges of assault. After being found guilty of assaulting his former girlfriend he was ordered to attend a six-month domestic violence programme by a district Judge.
30 May 2002
Diana Ross voluntarily entered a Malibu drug and alcohol rehabilitation center called Promises to "clear up some personal issues" before setting out on a summer concert tour.
30 May 1996
Alan Whitaker from Penzance appeared on the UK TV quiz show Mastermind, his specialist subject being the
Sex Pistols
. He won a place in the semi-final of the show answering all but one of the 18 questions correctly.
30 May 1987
David Bowie
kicked off his 87-date Glass Spider world tour at the Feyenoord Stadium, Rotterdam, Holland. The tour's set, described at the time as "the largest touring set ever," was designed to look like a giant spider. It was 60 feet (18.3m) high, 64 feet (19.5m) wide and included giant vacuumed tube legs that were lit from the inside with 20,000' (6,096m) of color-changing lights. A single set took 43 trucks to move.
30 May 1980
Carl Radle bass player with Derek and the Dominoes died of kidney failure aged 38. Also worked with Gary Lewis & the Playboys,
George Harrison
, Joe Cocker, Dave Mason & Delaney and Bonnie.
30 May 1974
Bernadette Whelan a 14 year-old David Cassidy fan died of heart failure four days after attending a UK concert of his. Over 1,000 other fans had to be given first aid during the singers White City Stadium show.
30 May 1970
Ray Stevens went to No.1 on the US singles chart with 'Everything Is Beautiful'. The former DJ had a string of novelty hits, including 'Jeremiah Peabody's Poly Unsaturated Quick Dissolving Fast Acting Pleasant Tasting Green & Purple Pill'.
30 May 1968
The Beatles
began recording what became known as The
White Album
. The double-LP whose official title was simply '
The Beatles
' became the first Beatles album released with the Apple label. The first track they recorded was 'Revolution'.
30 May 1965
The
Rolling Stones
played the final night of a US tour at the New York Academy of Music. During the afternoon the band recorded six songs for the Clay Pole TV show.
30 May 1964
The Beatles
went to No.1 on the US singles chart with '
Love Me Do
', the group's fourth US No.1 in five months. The version released in America had Andy White playing drums while Ringo played the tambourine. The British single was a take on which
Ringo Starr
played the drums.
Born on this day in music
30 May 1975
American musician Brian Fair, lead vocalist of the heavy metal band Shadows Fall.
30 May 1974
American singer, songwriter, rapper, record producer Cee-Lo Green (Thomas Callaway), who with Gnarls Barkley had the 2006 UK No.1 & US No.2 single 'Crazy'. His work has earned numerous awards and accolades, including five Grammy Awards.
30 May 1971
Patrick Dalheimer, bassist, from American rock band Live who achieved worldwide success with their 1994 album Throwing Copper, which sold eight million copies in the US.
30 May 1968
Tim Burgess, singer, songwriter with English indie rock band The Charlatans who had the 1990 UK No.9 single 'The Only One I Know'. In the UK, all of the band's thirteen studio albums have charted in the Top 40 of the UK Albums Chart, three of them being No.1s.
30 May 1967
German musician Sven Pipien, bassist with The Black Crowes. He replaced original bassist Johnny Colt.
30 May 1966
American musician and lead singer and guitarist of the indie rock band Pavement. He also performs with Stephen Malkmus and the Jicks.
30 May 1964
American country music singer Wynonna Judd who first rose to fame in the 1980s alongside her mother, Naomi, in the country music duo The Judds. The duo released seven albums and scored 26 US hit singles, of which 14 were No.1 hits.
30 May 1964
American musician, singer-songwriter and political activist Tom Morello, guitar, from Rage Against The Machine, who had the 1996 US No.1 album Evil Empire. With Audioslave the 2005 US No.1 album Out of Exile. Morello was most recently a touring musician with
Bruce Springsteen
and the E Street Band.
30 May 1960
Stephen Duffy, singer, songwriter, guitarist, founding member of
Duran Duran
with John Taylor and Nick Rhodes (left in 1979). Member of Lilac Time, Me Me Me, (1996 UK No.19 singe 'Hanging Around'), solo, (1985 UK No.4 single 'Kiss Me').
30 May 1958
Swedish pop singer-songwriter and pianist Marie Fredriksson, with Swedish group Roxette, who had the 1990 US No.1 & UK No.3 single 'It Must Have Been Love'. Roxette have sold an estimated 75 million records worldwide. Fredriksson died on 9 December 2019, aged 61 following a 17-year long battle with cancer.
30 May 1955
Nicky 'Topper' Headon, drummer from
The Clash
, who had the 1979 UK No. 11 single 'London Calling' and the 1982 US No. 8 single 'Rock The Casbah. Their 1991 UK No.1 single 'Should I Stay Or Should I Go', was first released 1982. Also worked with Mirkwood, and The Moors Murderers.
30 May 1949
Klaus Flouride, from Dead Kennedys the American punk rock band that formed in San Francisco. The band was one of the first American hardcore bands to make a significant impact in the United Kingdom.
30 May 1945
American singer Gladys Horton. She was the founder and lead singer of the
Motown
all-female vocal group The
Marvelettes
who had the hits 'Please Mr. Postman', (when Horton was reportedly just fifteen years old). Horton would later sing lead on
Marvelettes
' classics such as 'Playboy', 'Beechwood 4-5789' and 'Too Many Fish in the Sea'. Horton died on 26 January 2011 aged 65.
30 May 1944
Lenny Davidson, from English pop rock band, Dave Clark Five, who scored the 1964 UK No.1 single 'Glad All Over', and the 1965 US No.1 single 'Over And Over' , plus over 15 other UK top 40 singles.
30 May 1924
Latin jazz percussionist Armando Peraza who was a member of
Santana
from 1972 until the early 90s appearing on over 15 of the groups albums. He died of pneumonia on April 14, 2014 at the age of 89