November 15th: The Biggest Music Headlines
Scroll down the page to see all the music headlines, stories and events for November 15 throughout music history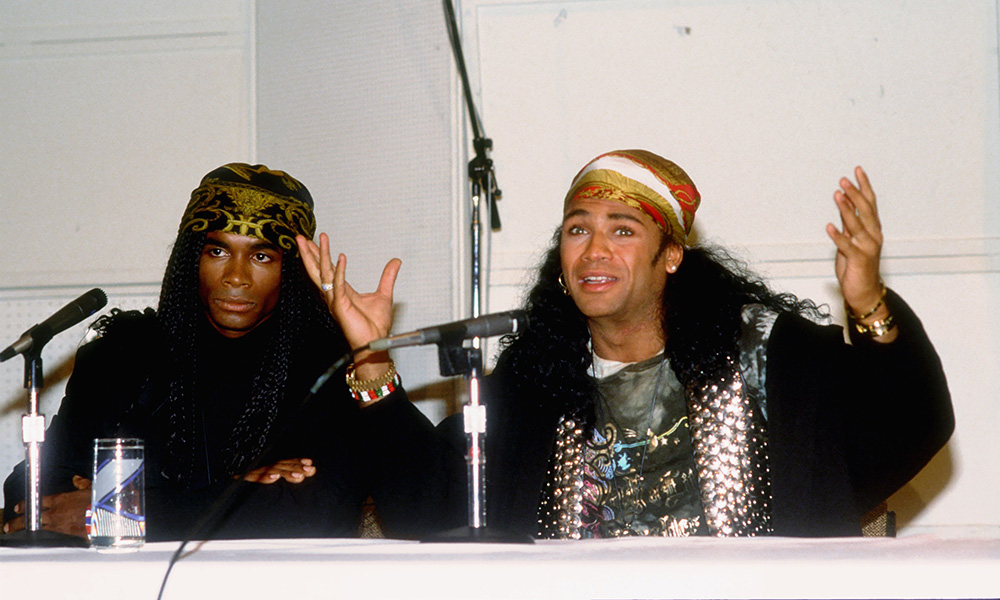 Milli Vanilli Disappoint Fans With Shocking Revelations
In 1990, German producer Frank Farian held a press conference, where he confessed that Milli Vanilli's Fab Morvan and Rob Pilatus had not sung any of the vocals on their records. The duo had become one of the biggest pop acts of the late 80s and early 90s, even winning a Grammy Award for Best New Artist at the top of the year. The pair's vocal abilities first came into question in July 1989, when they were caught lip-synching during a live performance for MTV.
In 2007, Jay-Z tied Elvis Presley for the most No.1 albums on the Billboard 200 with his broadly-acclaimed American Gangster. Two years later, the music mogul would break that record, when The Blueprint 3 debuted at No.1.
In 1987, with Brothers in Arms, Dire Straits became the first act to sell more than three million copies of an album in the UK. The BRIT and Grammy-winning title later became the first LP to be certified 10x Platinum in the UK, while it remains one of the world's best-selling albums.
In 1969, The Carpenters released their debut album, Offering, which produced one minor hit, a cover of The Beatles' "Ticket to Ride." After the group's commercial breakthrough in 1970, the album was re-released internationally as Ticket to Ride.
In 1965, The Rolling Stones made their US TV debut on the variety show Hullabaloo, where they performed "Get Off Of My Cloud."
In 1986, for the very first time, female acts or female-fronted bands held the top five spots on the UK pop chart, including Swing Out Sister, Mel and Kim, The Bangles, Kim Wilde, and Berlin, who held the No.1 spot with "Take My Breath Away."
Looking for more things that happened on this day in music?
Keep scrolling for all of the headlines for November 15.
BORN ON NOVEMBER 15:
1905: Annunzio Paolo Mantovani (composer)
1932: Petula Clark
1945: Anni-Frid Lyngstad (ABBA)
1963: Jay Bennett (Wilco)
1968: Ol' Dirty Bastard
1974: Chad Kroeger (Nickelback)
1988: B.o.B.
Looking for more artists born on this day?
Keep scrolling for all of our November 15 birthdays.
---
What to find another day?
---
November 15th
15 Nov 2018
American singer and musician Roy Clark died aged 85 at his Tulsa home due to complications of pneumonia. He scored the 1969 US hit single, 'Yesterday, When I Was Young' and was best known for hosting Hee Haw, a nationally televised country variety show, from 1969 to 1997.
15 Nov 2016
American jazz and blues pianist, singer, and songwriter Mose Allison died aged 89. He became notable for playing a unique mix of blues and modern jazz. His music influenced many blues and rock artists, including
Jimi Hendrix
, the
Rolling Stones
, Tom Waits, the Yardbirds, John Mayall, J. J. Cale, the Who (who made 'Young Man Blues' a staple of their live performances and is featured on their Live At Leeds album).
15 Nov 2015
Trumpeter Miles Davis was voted the greatest jazz artist of all time by listeners of UK stations BBC Radio and Jazz FM. Louis Armstrong, Duke Ellington, Ella Fitzgerald, Charlie Parker and Billie Holiday also all made the top 10.
15 Nov 2011
A cardboard sign reading Bed Peace, created by
John Lennon
for his 1969 bed-in peace protest in Montreal, was sold by Christie's auction house to an anonymous telephone bidder for $155,600.
15 Nov 2007
Jay-Z went to No.1 on the US album chart with American Gangster his 10th No.1 album. This made the rapper joint second with
Elvis Presley
for the most No.1 albums on the chart; only
The Beatles
have had more, with 19. Since 1998, all eight of Jay-Z's solo studio albums had hit No. 1, in addition to his Collision Course project with
Linkin Park
and his Unfinished Business collaboration with R. Kelly.
15 Nov 2007
Kenneth Donnell, from Glasgow, paid £83,000 for two tickets to see
Led Zeppelin
rehearse and perform at the O2 arena in London on the 10th December. Donnell bid for the tickets as part of an auction for the BBC's Children in Need.
15 Nov 2005
Robbie Williams snubbed a
Take That
reunion when he decided to stay at his Los Angeles home. A behind the scenes TV documentary had arranged for all five members to reunite to coincide with the release of a greatest hits CD and DVD.
15 Nov 2002
The UK music industry made the decision to include computer downloads as part of the pop singles chart in an attempt to restore credibility to the Top 40. OD2 the online music distributor would compile the new chart with the official chart company.
15 Nov 2000
Michael Abram, the Liverpool man who stabbed
George Harrison
after breaking into his home, was awarded a not guilty verdict at Oxford's Crown Court. But the verdict was returned in view of Abrams mental history, and he was taken into care.
15 Nov 2000
Winners at The
MTV
Europe Awards included All Saints for best pop act, Ricky Martin won best male artist,
Madonna
won best female artist,
Red Hot Chili Peppers
won best rock band, Blink 182 won best new act & Jennifer Lopez won best R&B act.
15 Nov 1992
Ozzy Osbourne
announced his retirement from touring after a gig in California, saying "Who wants to be touring at 46."
15 Nov 1991
French music producer and songwriter Jacques Morali, died of complications from AIDS. Morali formed The Village People and co-produced their film, 'Can't Stop the Music'. Between 1974 and 1982, he produced over 65 albums.
15 Nov 1990
Milli Vanilli producer Frank Farian held a press conference to confirm the rumours that the two members of the group Rob and Fab had not sung on any of their hit records.
15 Nov 1987
Dire Straits
became the first act to sell over three million copies of an album in the UK. Brothers in Arms contained five, top 40 singles: 'Money for Nothing,' 'So Far Away,' 'Walk of Life,' 'Brothers in Arms' and 'Your Latest Trick.' The album is the eighth-best-selling album in UK chart history.
15 Nov 1986
Pop history was made when the Top 5 UK singles were all by female vocalists; Corinne Drewery from Swing Out Sister, Mel and Kim, Susannah Hoffs from The Bangles, Kim Wilde and Terri Nunn from Berlin who were at No.1 with 'Take My Breath Away.'
15 Nov 1980
Blondie
had their fifth UK No.1 single and third No.1 of this year with 'The Tide Is High' a song written by reggae star John Holt, also a No.1 in the US.
15 Nov 1971
In this week's Disc and Music Echo's Progressive album chart: No.5, Cat Stevens, 'Teaser and the Firecat, No.4, Hawkwind, 'In Search Of Space', No.3,
Santana
, No.2,
Rod Stewart
, 'Every Picture Tell's A Story' and No.1
John Lennon
,
Imagine
.
15 Nov 1969
The
Carpenters
released their debut album, Offering, (later re-named as Ticket To Ride) on A&M Records. It was a commercial failure and produced only one minor hit single, a ballad version of
The Beatles
song 'Ticket to Ride'.
15 Nov 1969
Janis Joplin
was arrested during a gig in Tampa, Florida, after badmouthing a policeman and using vulgar and indecent language. Joplin became upset after police moved into the hall forcing fans to move back to their seats. As the singer left the stage she confronted a detective calling him 'a son of a bitch' and told him she would kick his face in. She was released on $504 bail.
15 Nov 1965
The
Rolling Stones
made their US TV debut on Hullabaloo, performing 'Get Off Of My Cloud'. Hullabaloo was an American one-hour musical variety series that ran on NBC from January 1965 through August 1966.
15 Nov 1964
Rolling Stone
Brian Jones
was admitted to Passavant Hospital in Chicago with a temperature of 105, causing Jones to miss the last few dates on the Stones current tour.
15 Nov 1959
Johnny and the Moondogs, (
The Beatles
) played in the final heat of the 'TV Star Search' competition at The Hippodrome Theatre, Manchester, England. Judging was done by the volume of applause each group received when it is called back onto stage at the end of the night. Since the Moondogs had no money to stay overnight in Manchester, they were forced to head back to Liverpool before they were called back onto stage.
Born on this day in music
15 Nov 1988
Bobby Ray Simmons Jr. known professionally as B.o.B, American rapper, singer, songwriter, record producer. B.o.B rose to fame after his 2009 debut single 'Nothin' on You', reached No.1 in both the US and the UK charts.
15 Nov 1974
Chad Kroeger, guitarist from Canadian rock band, Nickelback who had the 2002 US No.1 & UK No. 4 single 'How To Remind You', and the 2001 album Silver Side Up. Nickelback is one of the most commercially successful Canadian groups, having sold more than 50 million albums worldwide.
15 Nov 1968
Ol' Dirty Bastard (also known as ODB, Dirty, Dirt McGirt, Dirt Dog, Big Baby Jesus, Osirus, Joe Bannanas), born Russell Tyrone Jones. (1997 US & UK No.1 album 'Wu-Tang Forever'). Collapsed and died at a Manhattan recording studio in New York on 13th November 2004 aged 35.
15 Nov 1966
Christian "Flake" Lorenz, keyboardist, for the German rock band Rammstein who formed in Berlin in 1994. Five of their albums reached No.1 on the German album charts.
15 Nov 1963
Jay Bennett, guitarist, multi-instrumentalist, from American alternative rock band Wilco who released the albums Yankee Hotel Foxtrot, A Ghost Is Born, Sky Blue Sky and Wilco (The Album). Bennett died unexpectedly in his sleep on 24 May 2009 age 45.
15 Nov 1960
American record producer and songwriter Dann Huff. As a session guitarist and producer Huff played guitar on albums for Michael Jackson, Amy Grant, Scritti Politti, Whitesnake, Roger Hodgson, and Whitney Houston's debut album.
15 Nov 1957
Joe Leeway, percussion, Thompson Twins, (1984 UK No.2 single 'You Take Me Up', 1984 US No.3 single, 'Hold Me Now').
15 Nov 1956
American funk/rock guitarist Michael Hampton. He was recruited as a seventeen-year-old guitar prodigy by the band Funkadelic and made his debut with the band's album Let's Take It to the Stage in 1975.
15 Nov 1954
American R&B singer, songwriter and arranger Alexander O'Neal who scored the 1987 UK No.4 single 'Criticize'.
15 Nov 1954
Tony Thompson, Chic, (1978 US No.1 & UK No.7 single 'Le Freak'). Thompson died on 12th November 2003.
15 Nov 1949
Steve Fossen, from American rock band Heart who scored the 1987 US No.1 & UK No.3 single 'Alone'. Heart has sold over 35 million records worldwide.
15 Nov 1945
1945, Swedish singer, songwriter Anni-Frid Lyngstad from
ABBA
. Their first UK hit was the 1974 No.1 single 'Waterloo', followed by 8 other UK No.1 singles and 9 UK No.1 albums.
ABBA
are one of the best-selling music artists of all time. In 1967, Frida won the Swedish national talent competition, New Faces winning a recording contract with EMI Sweden.
15 Nov 1941
Rick Kemp, bassist with English folk rock band Steeleye Span who formed in 1969. They had the 1975 UK No.5 single 'All Around My Hat' and a hit with 'Gaudete'.
15 Nov 1933
Clyde McPhatter, from American doo-wop and R&B vocal group The Drifters who had the 1960 US No.1 & UK No.2 single 'Save The Last Dance For Me' and over 12 other chart hits. He died on 13th June 1972.
15 Nov 1932
British singer, actress, and composer Petula Clark, who had the 1961 UK No.1 single 'Sailor', and the 1967 UK No.1 single 'This Is My Song', plus over 15 other UK Top 40 singles. She scored the 1965 US No.1 'Downtown', becoming the first UK female singer to score a No.1 single in the US. In America, Clark was dubbed "the First Lady of the British Invasion".
15 Nov 1928
American singer, activist and politician Bill Fries, (CW McCall), best known for the 1976 US No.1 and UK No.2 single 'Convoy', which came at the peak of the CB fad in the United States.
15 Nov 1905
Anglo-Italian conductor, composer Mantovani, who had the 1953 UK No.1 single 'Moulin Rouge', and the 1957 US No. 12 single 'Around The World In Eighty Days'). Mantovani was the most successful album act before
The Beatles
and the first act to sell over one million stereo albums and have six albums simultaneously in the US Top 30 in 1959. He died on 30th March 1980 age 74.