October 27th: The Biggest Music Headlines
Scroll down the page to see all the music headlines, stories and events for October 27 throughout music history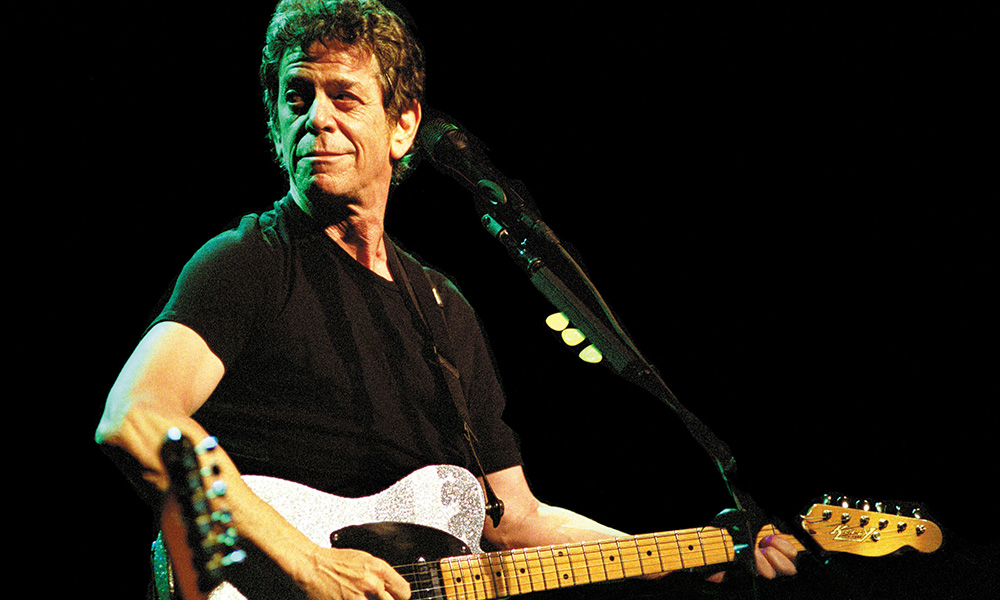 The Music Industry Mourns The Death Of Lou Reed
On October 27, 2013, Singer, songwriter, poet, and art-rock pioneer, Lou Reed, died at the age of 71. A foundational figure in New York's underground rock scene, Reed began his career as a songwriter, before forming the Velvet Underground in the mid-60s. The group became an avant-garde sensation, eventually gaining the attention of Andy Warhol, who became the band's manager. After quitting the band to pursue a solo career in 1970, Reed found mainstream success with albums like Transformer and Sally Can't Dance. Beloved for his deadpan vocals, his poetic lyricism, and his experimentation in the studio, Reed was inducted posthumously into the Rock and Roll Hall of Fame as a solo artist in 2015.
In 2006, Amy Winehouse released her second and final studio album, Back to Black. The broadly-acclaimed album featured such signature hits as "Rehab," "You Know I'm No Good," and "Tears Dry on Their Own." In addition to topping charts around the world, Back to Black and its tracks swept the 2008 Grammys, winning Best Pop Vocal Album, Record of the Year and Song of the Year ("Rehab"), and earning Winehouse a Best New Artist award, among others.
In 2019, Lewis Capaldi achieved his first No.1 single in the US with "Someone You Loved." The track also topped the UK and Canadian charts and was nominated for Song of the Year at the 62nd Grammy Awards.
In 1988, U2's concert film, Rattle And Hum, received its world premiere in the band's hometown of Dublin. The rockumentary was directed by Phil Joanou, while its accompanying album was produced by Jimmy Iovine.
In 1966, The Four Tops scored their sole No.1 hit in the UK with "Reach Out I'll Be There." The song also topped the US charts for two weeks.
In 1975, Bruce Springsteen had the rare honor of simultaneous covers on both TIME and Newsweek magazines. Springsteen was celebrating the release of his breakthrough album, Born To Run.
In 1973, Gladys Knight and the Pips scored their first No.1 hit on the Billboard Hot 100 with "Midnight Train To Georgia."
Looking for more things that happened on this day in music?
Keep scrolling for all of the headlines for October 27.
BORN ON OCTOBER 27:
1949: Byron Allred (Steve Miller Band)
1949: Garry Tallent (E Street Band)
1951: K. K. Downing (Judas Priest)
1952: Bill Bottrell (Producer)
1958: Simon Le Bon (Duran Duran)
1967: Scott Weiland (Stone Temple Pilots)
Looking for more artists born on this day?
Keep scrolling for all of our October 27 birthdays.
---
What to find another day?
---
October 27th
27 Oct 2019
Scottish singer, songwriter Lewis Capaldi achieved his first No.1 single in the US with 'Someone You Loved' after the track had spent 23 weeks in the US charts before reaching the top. The singer celebrated by painting his face in the style of the Stars and Stripes.
27 Oct 2016
A letter
John Lennon
wrote to the
Queen
explaining why he was returning his MBE was found tucked in a record sleeve from a £10 car boot haul. The anonymous owner took the document to a valuation day at
The Beatles
Story in Liverpool and discovered it was worth about £60,000. Lennon had returned the MBE in protest at Britain's involvement in a civil war.
27 Oct 2014
The Pet Shop Boys' 'Always On My Mind' was voted the top cover version of all time in a BBC Music vote. The song, written by John Christopher, Mark James and Wayne Carson, was first made famous by Brenda Lee and
Elvis Presley
in 1972.
Johnny Cash
's cover of Nine Inch Nails' 'Hurt' came in second place, followed by The Stranglers' version of Dionne Warwick's 'Walk On By'.
Jimi Hendrix
's take on
Bob Dylan
's 'All Along The Watchtower' came fourth and
Jeff Buckley
's cover of Leonard Cohen's 'Hallelujah' completed the top five.
27 Oct 2014
The Last Ship, Sting's musical about shipbuilding in north-east England, opened on Broadway. The former frontman with
The Police
described watching the opening night as "an out-of-body experience".
Billy Joel
,
Bruce Springsteen
and
Blondie
's Deborah Harry were among the first night audience at the Neil Simon Theatre.
27 Oct 2013
Velvet Underground frontman Lou Reed died at the age of 71. An admitted hard drinker and drug user for many years, he underwent a liver transplant in Cleveland in April 2013. Afterwards he claimed on his website to be 'bigger and stronger' than ever.
27 Oct 2009
Eric Clapton
pulled out of Rock and Roll Hall of Fame concert in New York City after he underwent an operation to remove gallstones. His place at the Madison Square Garden gig was taken by
Jeff Beck
.
27 Oct 2007
Keith Richards
marched with campaigners protesting against possible Sussex hospital cuts. The Stones guitarist joined 15,000 people for the walk through Chichester to oppose plans which could see St Richard's Hospital downgraded. A spokeswoman for the guitarist said: "Keith is a long-standing member of the West Wittering community and is pleased to lend his support to local efforts to save St Richard's Hospital.'
27 Oct 2007
Former Moloko singer Roisin Murphy was recovering in hospital after damaging her eye socket during a show in Russia. The singer hit her head on a chair during the show at Moscow's Ikra Club and was rushed to hospital for surgery. A spokesman said she lost "a lot of blood" and had severe concussion, but her vision was unaffected and she was "recovering well".
27 Oct 2006
Amy Winehouse
released her second and final studio album Back to Black. The album spawned five singles: 'Rehab', 'You Know I'm No Good', 'Back to Black', 'Tears Dry on Their Own' and 'Love Is a Losing Game' and won Best Pop Vocal Album at the 50th Annual Grammy Awards. Back to Black sold 3.58 million copies in the UK alone, becoming the UK's second best-selling album of the 21st century. Worldwide, the album has sold over 20 million copies.
27 Oct 2005
The distributor of rapper 50 Cent's new film said it would remove posters advertising the film after complaints they glorify gun violence. Posters for 'Get Rich or Die Tryin' showed 50 Cent holding a gun in his left hand and a microphone the other. Los Angeles County Supervisor Michael Antonovich wrote to Paramount Pictures, urging them to take down the posters. The company said it had taken down one poster near a Los Angeles nursery school, and planned to remove more.
27 Oct 2003
Scott Weiland singer with The Stone Temple Pilots was arrested on his birthday in Hollywood, California, after being involved in a traffic collision. He was charged with driving under the influence of drugs and alcohol, but these charges were later dismissed after the singer successfully completed rehab and underwent subsequent drug tests.
27 Oct 2002
American record producer Tom Dowd died of emphysema. He recorded albums by many artists including:
Eric Clapton
, Lynyrd Skynyrd, Derek and the Dominos,
Rod Stewart
,
Aretha Franklin
,
Cream
, Lulu, Chicago,
The Allman Brothers Band
, The J. Geils Band,
Meat Loaf
, Sonny & Cher, The Rascals, Willie Nelson, Diana Ross, Kenny Loggins, Dusty Springfield, The Drifters and
Otis Redding
.
27 Oct 2000
Lonnie Donegan went to Buckingham Palace to receive his MBE for his services to pop music. Lonnie pioneered skiffle in the 1950s and inspired a generation of teenagers to start bands.
27 Oct 1992
Bo Diddley
took his ex-manager to court claiming he had taken $75,000 through unauthorised personal expenses.
27 Oct 1989
U2
bass player Adam Clayton was convicted of a drink driving offence by a Dublin court after being found driving twice over the legal limit. He was fined £500 and banned from driving for 1 year
27 Oct 1988
U2
's film 'Rattle And Hum', received its world wide premiere in the group's hometown Dublin.
27 Oct 1984
During a US tour
Grateful Dead
allocated a specific recording area for fans to bootleg the show; tonight's gig was in Berkeley, California.
27 Oct 1980
Mark Chapman bought a five-shot .38 special for $169. A little over six weeks later, he would use the gun to kill
John Lennon
outside his New York City apartment.
27 Oct 1980
Former
T. Rex
member Steve Took, choked to death on a cherry stone, after some magic mushrooms he had eaten, numbed all sensation in his throat, he was aged 31. Took was also a member of The Deviants with Pink Fairies members Twink and Mick Farren.
27 Oct 1979
During a US tour
Elton John
collapsed on stage at Hollywood's Universal Amphitheatre suffering from exhaustion.
27 Oct 1977
Baccara were at No.1 in the UK singles chart with 'Yes Sir, I Can Boogie'. They were the first Spanish act to score a UK No.1, and first female duo to do so. 'Yes Sir, I Can Boogie' is also one of the thirty all-time singles to have sold 10 million (or more) copies worldwide.
27 Oct 1977
American musician Roy Estrada known as a founding member of Little Feat and who also worked with
Frank Zappa
was convicted of sexual assault on a child. Estrada served six years in prison. In January 2012, he pleaded guilty to a charge of continuous sexual abuse of a child which happened in March 2008. In the plea bargain agreement, he was sentenced to 25 years in prison and is not eligible for parole
27 Oct 1975
After releasing the single and album Born to Run,
Bruce Springsteen
had the rare honour of simultaneous covers on both Time and Newsweek magazines in the US.
27 Oct 1973
Gladys Knight
and the Pips started a two week run at No.1 on the US singles chart with 'Midnight Train To Georgia'. It was the group's 18th Top 40 hit and first No.1. The record won the 1974 Grammy Award for Best R&B Vocal Performance By A Duo, Group Or Chorus and has become Knight's signature song.
27 Oct 1969
Muddy Waters was seriously injured in a car crash in Champagne, Illinois. Three people were killed in the accident.
27 Oct 1966
The
Four Tops
were at No.1 on the UK singles chart with 'Reach Out I'll Be There.' The group's only UK No.1.
27 Oct 1964
31 year old Salvatore Philip Bono married 18 year old Cherilyn Sarkisian La Piere. For a time they performed together as Caesar and Cleo before changing the name of their act to Sonny and Cher. Their union lasted 12 years.
27 Oct 1957
The Crickets
started a three-week run at No.1 on the UK singles chart with 'That'll Be The Day'. It was also a No.3 hit in the US where it went on to sell over a million. The song was inspired by a trip to the movies by Holly, Jerry Allison and Sonny Curtis in June 1956. The John Wayne film The Searchers was playing and Wayne's frequently-used, world-weary catchphrase, "that'll be the day" inspired the young musicians.
Born on this day in music
27 Oct 1984
Kelly Osbourne (2002 UK No.3 single 'Papa Don't Preach', 2003 UK No.1 with
Ozzy Osbourne
, 'Changes'.
27 Oct 1967
Scott Weiland, vocals, Stone Temple Pilots, (1993 UK No.23 single 'Plush'). Velvet Revolver, (2004 US No.1 & UK No.11 album 'Contraband'). Weiland has also established himself as a solo artist, releasing three studio albums, a cover album, and collaborations with several other musicians since 1998. Weiland died on December 3, 2015 after being found in cardiac arrest on his tour bus in Bloomington, Minnesota, just before he was scheduled to go on stage with his band The Wildabouts. He was 48 years old.
27 Oct 1958
Hazell Dean, UK singer, (1988 UK No.4 single 'Who's Leaving Who').
27 Oct 1958
Simon Le Bon, vocals,
Duran Duran
who scored the 1983 UK No.1 single 'Is There Something I Should Know', plus 25 other UK Top 40 singles, and the 1984 US No.1 single 'The Reflex'. Le Bon is also a member of its offshoot Arcadia, who had the 1985 UK No.7 single 'Election Day'. Le Bon went to Pinner County Grammar School, the same school that
Elton John
attended some years earlier.
27 Oct 1953
Peter Dodd, guitar, The Thompson Twins, (1984 UK No.2 single 'You Take Me Up', 1984 US No.3 single, 'Hold Me Now').
27 Oct 1952
American record producer, songwriter and multi-instrumentalist Bill Bottrell. He has collaborated with
Michael Jackson
,
Madonna
, Electric Light Orchestra,
George Harrison
, Starship,
Tom Petty
and Sheryl Crow. Bottrell was a co-writer of Michael Jackson's hit 'Black or White' and also worked on Jackson's Bad album.
27 Oct 1951
K. K. Downing, English guitarist and songwriter, and one of the founding members of the British heavy metal band Judas Priest. Downing officially left Judas Priest in 2011.
27 Oct 1949
American musician and record producer Garry Tallent who is the bass player with the
Bruce Springsteen
E Street Band. He started playing with Springsteen in 1971 and as of 2013, and not counting Springsteen himself, Tallent is the only original member of the E Street Band remaining in the band.
27 Oct 1949
Byron Allred, keyboards, Steve Miller Band, (1974 US No.1 & 1990 UK No.1 single 'The Joker')
27 Oct 1933
Floyd Cramer, country piano player, (1961 UK No.1 single 'On The Rebound'). Worked with
Elvis Presley
on '
Heartbreak Hotel
' and other hits. Cramer died on 31st December 1997.