October 30th: The Biggest Music Headlines
Scroll down the page to see all the music headlines, stories and events for October 30 throughout music history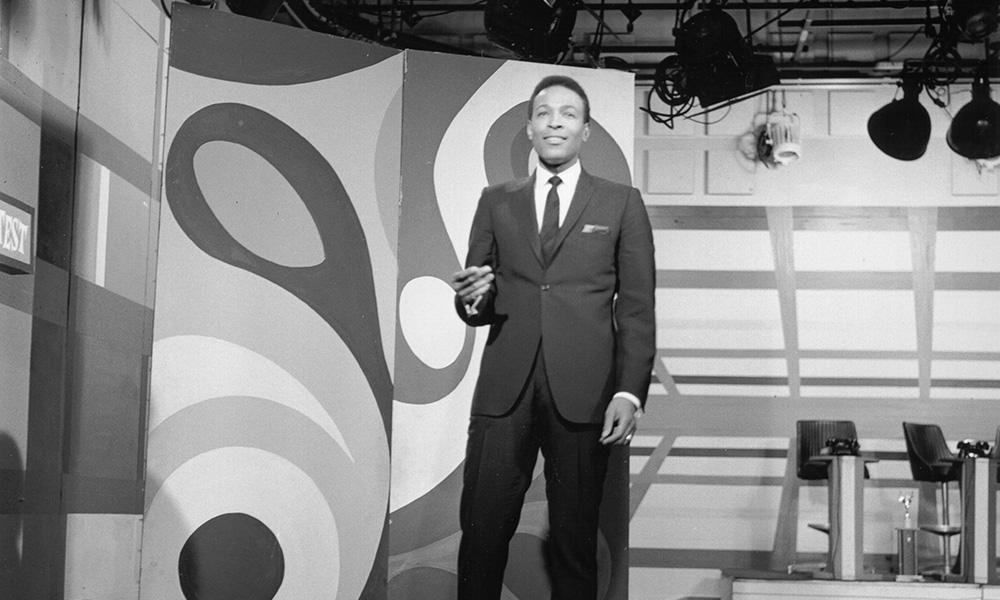 Marvin Gaye's 'I Heard It Through The Grapevine' Hits No.1
On October 30, 1968, Marvin Gaye scored his first No.1 hit on the Billboard Hot 100 with "I Heard It Through The Grapevine." Though the Norman Whitfield/Barrett Strong song is now a soul classic affiliated with Gaye, that wasn't always the case. Gaye's rendition was actually the third to be released, following versions by The Miracles (1966), as well as by Gladys Knight & the Pips, who also scored a major hit with the song in 1967. Gaye's recording first caught the attention of DJs in 1968, as a track on his album, In the Groove. Thanks to their warm reception of the song, it was eventually released as a single.
In 2002, 37-year-old producer and DJ Jam Master Jay, of the pioneering hip-hop group, Run-DMC, was fatally shot at his New York City recording studio. The talented turntablist joined Run-DMC in 1982, providing beats for Joseph "Run" Simmons and Darryl "DMC" McDaniels shortly after they all graduated from high school. As a trio, they changed the course of rap music by incorporating rock samples into their unique tunes.
In 2015, Adele went to No.1 on the UK singles chart with her record-smashing hit, "Hello." The blockbuster track topped the charts in 36 countries, including the US, where it reigned at No.1 for ten consecutive weeks. Today, the BRIT and Grammy-winning song remains one of the best-selling digital singles of all time.
In 1971, ​​John Lennon's sophomore solo album, Imagine, topped the UK charts. Co-produced by Lennon, Phil Spector, and Yoko Ono, the broadly acclaimed album also went to No.1 in Japan, the US, and Australia, among other territories. Today, Imagine is considered to be among Lennon's best solo works (and one of the greatest albums of all time), with such enduring songs as "Jealous Guy," "Oh Yoko!," and the iconic title track.
In 1982, Australian band Men At Work scored their first No.1 hit in the US with "Who Can It Be Now."
In 1998, all four original members of Black Sabbath reunited to play "Paranoid" on the David Letterman Show.
Looking for more things that happened on this day in music?
Keep scrolling for all of the headlines for October 30.
BORN ON OCTOBER 30:
1939: Otis Williams (The Temptations)
1939: Eddie Holland
1939: Grace Slick (Jefferson Airplane)
1947: Timothy B Schmit, (Eagles, Poco)
1960: Joey Belladonna (Anthrax)
1967: Gavin Rossdale (Bush)
Looking for more artists born on this day?
Keep scrolling for all of our October 30 birthdays.
---
What to find another day?
---
October 30th
30 Oct 2019
The top-earning dead celebrities revealed by Forbes showed that
Michael Jackson's
earnings dwarfed others in the list for a seventh year in a row - he earned $60m (£46m) as streams of his music rose to 2.1 billion and money continued to pour in from his back catalogue.
Elvis Presley
was said to have made $39m (£30m),
George Harrison
an estimated $9m (£7m) in the last 12 months, while
John Lennon
made $14m (£10.8m).
30 Oct 2016
American songwriter Curly Putman died aged 85. He wrote 'Green, Green Grass of Home' which was covered by many artists including:
Elvis Presley
, Johnny Darrell,
Gram Parsons
, Joan Baez, Jerry Lee Lewis,
Johnny Cash
, Porter Wagoner, Merle Haggard, Joe Tex and Tom Jones. He also co-wrote (with Bobby Braddock), 'D-I-V-O-R-C-E' made famous by
Tammy Wynette
.
30 Oct 2015
Adele
went to No.1 on the UK singles chart with 'Hello', the lead track from her third album 25. The track was streamed 7.32 million times in its first week, breaking the streaming record previously held by Justin Bieber's 'What Do You Mean?' The song also debuted at No.1 in Belgium, Czech Republic, France, Germany, Greece, Hungary, Ireland, Israel, Italy, Lebanon, Luxembourg, The Netherlands, Norway, Portugal, Scotland, Slovakia and Switzerland.
30 Oct 2008
American producer and saxophonist Mike Terry died in Detroit aged 68. Worked with Martha And The Vandellas, Jackie Wilson, Mary Wells, The
Four Tops
, The
Supremes
, Kim Weston,
Marvin Gaye
, The Isley Brothers and Edwin Starr.
30 Oct 2007
Forbes.com reported that
Elvis Presley
had regained his crown as the highest-earning dead celebrity, with an annual income of $49m (£23.7m) during the past year.
John Lennon
ranked second with $44m (£21.3m), while Peanuts cartoon creator Charles M Schulz was third on the list, Beatle
George Harrison
was fourth with $22m (£10.6m).
Nirvana
's
Kurt Cobain
topped the list in 2006.
30 Oct 2007
Linda Stein, former co-manager of punk band the
Ramones
, was found beaten to death at her Manhattan apartment. Mrs Stein was the ex-wife of Seymour Stein, former president of Sire Records, which was the launching pad for the
Ramones
, Talking Heads and
Madonna
. Mrs Stein had become one of New York's leading estate agents, her clients included Sting and
Billy Joel
, long-time friend Sir
Elton John
told the New York Times he was "absolutely shocked and upset".
30 Oct 2006
Winners at the 2006 Q Awards included The Arctic Monkeys who had four nominations, the Sheffield group won the best album and the people's choice awards, while
U2
picked up the prize for innovation.
Smokey Robinson
was honoured with his first ever UK award for his outstanding contribution to music, and Boy George won the classic song award for Karma Chameleon. Muse won best live act,
The Who
received the Q legend award and Primal Scream won the Q groundbreaker award and Corinne Bailey Rae won best new act.
30 Oct 2005
Hundreds of people queued outside the Sheffield Arena to make sure of getting tickets to see a Sir Cliff Richard. By the time the tickets went on sale some fans had been outside the Arena for nine days, the concert was not until November 2006.
30 Oct 2004
An arrest warrant was issued for Motley Crue singer Vince Neil after he allegedly knocked a soundman unconscious during a concert. Neil was said to have punched Michael Talbert in the face at Gilley's nightclub in Dallas after he asked the soundman for more volume on his guitar but attacked Talbert as he adjusted it, leaving him unconscious for 45 seconds.
30 Oct 2003
Steve O'Rourke suffered a stroke and died in Miami, Florida. O'Rourke had managed
Pink Floyd
since 1968, and was the executive producer for their 1982 film
The Wall
.
30 Oct 2002
Jam Master Jay from Run-DMC was murdered by an assassin's single bullet at his recording studio in
Queen
s, New York.
30 Oct 2000
A new web site was launched to help teach children basic Physics. www.britneyspears.ac featured the singer to illustrate mathematical equations. Visitors could access physics theories generously interspersed with photos of
Britney Spears
.
30 Oct 1998
All four original members of
Black Sabbath
reunited momentarily to play '
Paranoid
' on US TV's David Letterman Show.
30 Oct 1990
Guns N' Roses singer Axl Rose was released on $10,000 bail, after being arrested for allegedly hitting a neighbour over the head with a bottle. The incident happened after a complaint to the police about loud music coming from the singer's house.
30 Oct 1982
Australian band Men At Work went to No.1 on the US singles chart with 'Who Can It Be Now'' the group's first US No.1, a No.45 hit in the UK.
30 Oct 1978
Blondie
released the single 'Hanging on the Telephone', as the second single from the album Parallel Lines. Written by Jack Lee from US West Coast power pop trio The Nerves. The song gave
Blondie
their first UK Top 10 hit.
30 Oct 1971
John Lennon
and The Plastic Ono Band went to No.1 on the UK album chart with
Imagine
. The album contained two tracks attacking
Paul McCartney
, 'How Do You Sleep' and 'Crippled Inside.' Early editions of the LP included a postcard featuring a photo of Lennon holding a pig, in mockery of McCartney's similar pose with a sheep on the cover of Ram. The front cover photo was a Polaroid taken by Andy Warhol.
30 Oct 1971
Pink Floyd
released their sixth studio album
Meddle
in the US. The album features 'One Of These Days' and the 23-minute track 'Echoes' which took up all of side 2 on the vinyl record. The cover image was photographed by Bob Dowling. The image represents an ear, underwater, collecting waves of sound, represented by ripples in the water.
30 Oct 1970
Elton John
released his third studio album Tumbleweed Connection. The cover photo for the album was taken at Horsted Keynes railway station, 30 miles south of London and captured John and Bernie Taupin in front of the late-nineteenth-century station to represent the album's rural Americana concept, despite the English location.
30 Oct 1970
Hotlegs made their live debut supporting The Moody Blues at the Festival Hall, London. Their only hit 'Neanderthal Man' made No. 2 in July 1970. The members from the group went on to become 10cc.
30 Oct 1970
Jim Morrison
of
The Doors
was fined and sentenced to six months in jail after being found guilty of exposing himself during a gig in Miami.
30 Oct 1968
Marvin Gaye
released 'I Heard It Through The Grapevine' which became his first US No.1 single. It was Marvin's 15th solo hit and also his first UK No.1 single in March 69. Written by Norman Whitfield and
Barrett Strong
in 1966, the single was first recorded by
Smokey Robinson
& the Miracles as well as
Gladys Knight
& the Pips.
30 Oct 1967
Rolling Stones
guitarist
Brian Jones
admitted in court to possession of cannabis and allowing his flat to be used for the smoking of the drug. His plea of 'not guilty' to the charge of possessing methedrine and cocaine was accepted. Jones was sentenced to nine months in Wormwood Scrubs prison. He was released on bail the following day.
30 Oct 1967
Tyrannosaurus Rex recorded a session for the UK
Radio 1
'Top Gear' show, the first group to do so without a recording contract.
30 Oct 1963
On the final day of their Swedish tour,
The Beatles
recorded an appearance for the Sverige Television program 'Drop In' in Stockholm. They performed 'She Loves You', 'Twist and Shout', 'I Saw Her Standing There', and 'Long Tall Sally.'
30 Oct 1961
Two days after Beatles fan Raymond Jones asked for
The Beatles
' German single 'My Bonnie' (recorded with Tony Sheridan) at Brian Epstein's NEMS record store in Liverpool, two girls asked for the same record. Epstein's difficulty in locating the record was due to him not knowing that the record was released, not by
The Beatles
, but by Tony Sheridan and 'The Beat Brothers' ('Beatles' resembles a vulgar slang word in German, so
The Beatles
' name was changed for this single).
30 Oct 1959
Cliff Richard and the Shadows were at No.1 on the UK singles chart with 'Travellin' Light'. Their 6th release and second No.1 hit.
Born on this day in music
30 Oct 1989
Vanessa White, best known for being a member of girl group The Saturdays who scored the 2013 UK No.1 hit single 'What About Us' featuring Sean Paul.
30 Oct 1973
Maurizio Lobina, keyboards, Italian group Eiffel 65, (1999 UK No.1 single 'Blue (Da Ba Dee'). The single was also No.1 in Norway, Austria, Finland, Germany and Denmark.
30 Oct 1970
Tommy Walter, bassist, songwriter, with Eels
30 Oct 1969
Canadian rapper Snow, (Darrin O'Brien), 1993 US No.1 & UK No.2 single 'Informer').
30 Oct 1967
Gavin Rossdale, English musician and actor, and the lead singer and rhythm guitarist of the rock band Bush who had the 1997 UK No.7 single 'Swallowed'. The bands debut album, Sixteen Stone sold over 7 million copies in the US.
30 Oct 1963
Jerry De Borg, guitarist with English group Jesus Jones who had the 1990 US No.2 hit with 'Right Here Right Now' and the 1991 UK No.7 single 'International Bright Young Thing'.
30 Oct 1962
Geoff Beauchamp, Eighth Wonder, (1988 UK No.7 single 'I'm Not Scared').
30 Oct 1960
Joey Belladonna, Anthrax, (1991 UK No.16 single 'Got The Time').
30 Oct 1949
David Green, bass, for the Australian soft rock band Air Supply who scored the 1980 UK No.11 single 'All Out Of Love' and the 1981 US No.1 single 'The One That You Love'.
30 Oct 1947
Timothy B Schmit, bass, vocals, Poco, the
Eagles
, joined in 1977, (1977 US No.1 & UK No.8 single 'Hotel California', plus 5 US No.1 albums. 'Greatest Hits 1971-1975' is the second biggest selling album in the world with sales over 30m).
30 Oct 1946
Chris Slade, drummer, who has worked with Australian rock band
AC/DC
, Manfred Mann's Earth Band, Gary Moore and The Firm.
30 Oct 1939
Eddie Holland (Holland/Dozier/Holland), producer, songwriter, wrote
Motown
hits for
Supremes
,
Four Tops
,
Marvin Gaye
, Martha & The Vandellas, Freda Payne, Chairmen Of The Board.
30 Oct 1939
American singer-songwriter Grace Slick from Jefferson Airplane, Starship. Slick provided vocals on a number of iconic songs, including 'Somebody to Love', 'White Rabbit', 'We Built This City' and 'Nothing's Gonna Stop Us Now'.
30 Oct 1939
American singer Otis Williams, who with The
Temptations
had the 1971 US No.1 & UK No.8 single 'Just My Imagination' and re-issued 'My Girl' which was a UK No.2 hit in 1992