October 31st: The Biggest Music Headlines
Scroll down the page to see all the music headlines, stories and events for October 31 throughout music history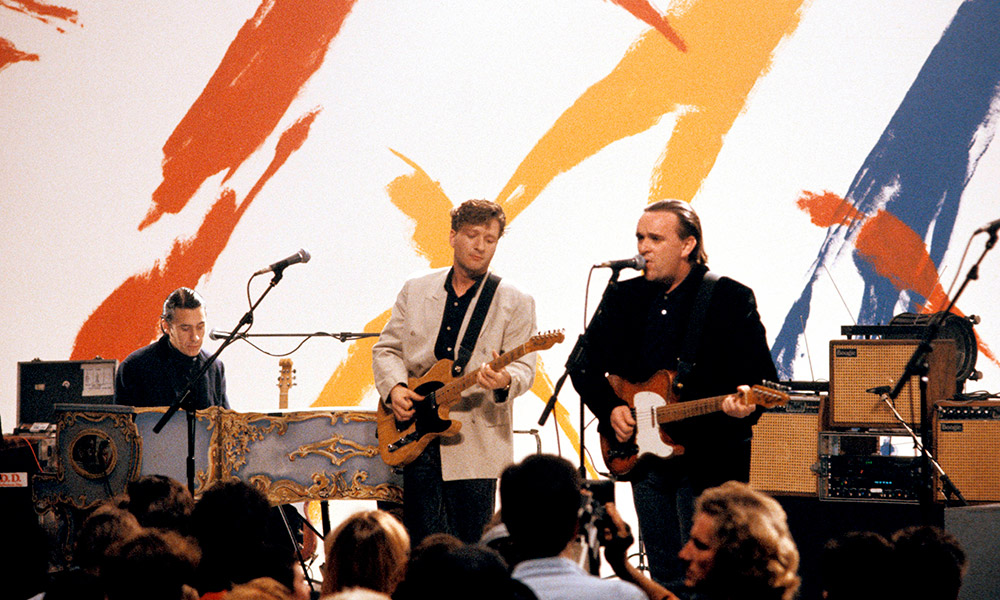 Squeeze Launches MTV'S Iconic 'Unplugged' Series
On October 31, 1989, MTV aired the first episode of its long-running concert series, Unplugged, with a stripped-down performance by Squeeze. Encouraging guests to play an acoustic set of hits and covers, the show has propelled countless artists to greater levels of fame, while many acts, including Nirvana, Eric Clapton, Mariah Carey, Tony Bennett, and 10,000 Maniacs, found phenomenal success by releasing their sessions as live albums. Clapton's MTV Unplugged album, for instance, sold 26 million copies worldwide and eventually became the best-selling live album ever. Nirvana's MTV Unplugged in New York, meanwhile, has long been considered to be one of the greatest live albums of all time.
In 2015, One Direction played the final show of their nearly year-long world tour before their self-proclaimed extended hiatus. While the "On the Road Again Tour" was the second-highest grossing concert tour of the year, it also marked the beginning of the end for the teen group. Two months into the run of dates, Zayn Malik departed the group, while the remaining members of One Direction went their separate ways in the months following the tour.
In 1996, Slash announced his departure from Guns N' Roses. While he returned to his post exactly two decades later, the legendary guitarist stayed busy during his hiatus, co-founding the supergroup Velvet Revolver (with Scott Weiland, Duff McKagan, Matt Sorum, and Dave Kushner) and releasing several solo albums.
In 1970, Led Zeppelin began a four-week run at the top of the US album chart with Led Zeppelin III. The album, which features such favorites as "Immigrant Song" and "Celebration Day," found the band incorporating folk-rock and acoustic elements into many of their songs.
In 1964, The Supremes began a four-week run at the top of the Billboard Hot 100 with "Baby Love," the group's second of a remarkable five consecutive No.1s.
In 1992, Boyz II Men landed at the top of the UK singles chart with "End Of The Road," their only chart-topper in the country. In the US, the track spent a record-breaking 13 weeks at No.1.
Looking for more things that happened on this day in music?
Keep scrolling for all of the headlines for October 31.
BORN ON OCTOBER 31:
1961: Larry Mullen Jr. (U2)
1963: Johnny Marr (The Smiths)
1964: Colm O'Ciosoig (My Bloody Valentine)
1966: Ad-Rock (Beastie Boys)
1967: Adam Schlesinger (Fountains of Wayne)
1970: Rogers Stevens (Blind Melon)
1980: Isabella Summers (Florence + The Machine)
1981: Frank Anthony Iero (My Chemical Romance)
Looking for more artists born on this day?
Keep scrolling for all of our October 31 birthdays.
---
What to find another day?
---
October 31st
31 Oct 2015
One Direction played the final gig of their world tour before their self-proclaimed extended break. The show in Sheffield, England was the last of 80 shows across 20 countries. But 1D insisted they were not splitting up and instead wanted to focus on solo projects.
31 Oct 2013
Marvin Gaye
's family were taking legal action against Robin Thicke and Pharrell Williams for copyright infringement over their hit song Blurred Lines. Three of Gaye's children filed legal papers accusing them of copying elements of the song 'Got To Give It Up'. The Gaye family cited excerpts of magazine interviews given by Thicke to support their claim he had admitted to drawing on 'Got to Give it Up' when producing Blurred Lines.
31 Oct 2008
A couple who admitted supplying drugs including cocaine and ecstasy to singer
Amy Winehouse
were warned they faced a jail term as they appeared in Snaresbrook Crown Court, England. The charges related to video footage which appeared to show Winehouse smoking a crack pipe. The singer was arrested and questioned over the images but she was not charged.
31 Oct 2007
22-year-old
X Factor
winner singer Leona Lewis helped boost UK online music downloads to a record 1.7 million in one week making it the biggest week ever for download sales. Lewis sold more than 106,000 downloads of her track 'Bleeding Love.'
31 Oct 2005
The white suit worn by
John Lennon
on the cover of the Beatles'
Abbey Road
album sold for $118,000 (£66,385) at an auction in Las Vegas. And an Austin Princess hearse driven by the late star in the documentary
Imagine
sold for $150,000 (£84,388). A portion of the proceeds from the sale of the items went to Amnesty International.
31 Oct 2004
R. Kelly was kicked off a tour with Jay-Z, a day after claiming he was attacked with pepper spray by a member of the rapper's entourage. Kelly alleged he had been sprayed by a member of Jay-Z's entourage during a performance in New York. But Jay-Z's publicist denied that the rapper or any of his associates were involved. Jay-Z and R Kelly were in the midst of the 40-city Best of Both World's tour, scheduled to run until 28 November.
31 Oct 2002
The mother of pop star Bjork ended a hunger strike she had staged to protest against plans for a by a US company to build a aluminum smelter and hydroelectric plant power plant in the Icelandic wilderness. Hildur Runa Hauksdottir began eating again after four week's of fasting.
31 Oct 2000
Winners at this years Q Awards included, David Gray, best single for 'Babylon',
Oasis
won best live act,
Coldplay
won best album for Parachutes, best act in the world went to Travis, Badly Drawn Boy won best new act and former Clash member
Joe Strummer
won the Q Inspiration award.
31 Oct 2000
Britney Spears
paid £6,000 to hire a private bar in Leipzig, Germany during a night off on her 'Oops!... I did It Again Tour.' Britney who at 18 was banned from drinking in the US was reported to be knocking back vodka laced White Russians and Pina Coladas.
31 Oct 1998
Chart history was made when the UK Top 5 singles chart was made up entirely of new entries.
Alanis Morissette
went in at No.5, Culture Club at No.4,
U2
at No.3,
George Michael
at No.2 and Cher with 'Believe' at No.1. It made Cher (who was 52) the first female artist to have a No.1 single over the age of 50. The song was a No.1 in 23 countries.
31 Oct 1996
Slash announced he was no longer in Guns N' Roses. The guitarist said that Axl Rose and he had only been civil to each other on two occasions since 1994.
31 Oct 1995
James Brown
was arrested in Aiken, South Carolina for assaulting his 47 year old wife, Adrienne, who said that her husband hit her with a mirror. Adrienne died in January, 1996 and the assault charges against James were dropped.
31 Oct 1993
Red Hot Chili Peppers
bassist Flea was at the scene of actor's River Phoenix fatal collapse in Los Angeles.
31 Oct 1992
Boyz II Men were at No.1 on the UK singles chart with 'End Of The Road', taken from the film 'Boomerang'. The quartet from Philadelphia were
Motown
's biggest selling act of the 1990s, with 5 US No.1,s.
31 Oct 1990
UK DJ Roger Scott died of cancer aged 46. Scott was one of the most respected broadcasters in the UK, working on Capital Radio for 15 years and then BBC
Radio 1
. Working as a presenter at the Montreal station 1470 CFOX, Scott sang on 'Give Peace a Chance', recorded by
John Lennon
and Yoko Ono during their "Bed-in" for peace at the Queen Elizabeth Hotel in Montreal, Canada.
31 Oct 1990
During a gig in Seattle, Washington, Billy Idol dumped 600 dead fish in Faith No More's dressing room. They responded by walking on stage, naked during Idol's set.
31 Oct 1989
The very first
MTV
unplugged show was recorded in New York, featuring UK band Squeeze, the program was aired on 26th Nov 1989.
31 Oct 1987
31 Oct 1986
A new series of TV's Channel 4's
The Tube
started with Jermaine Stewart, Troublefunk,
Bob Geldof
and Frankie Goes To Hollywood plus Spandau Ballet who played live in the studio at Newcastle upon Tyne.
31 Oct 1986
Roger Waters went to the high court to try and stop David Gilmour and Nick Mason from using the name '
Pink Floyd
', for future touring and recording.
31 Oct 1974
Led Zeppelin
held the UK launch for their new record label Swan Song at Chislehurst Caves, Kent, England on Halloween night. Drinks were served by nuns in suspenders, a naked woman lay in a coffin covered in jelly and naked male wrestlers cavorted in recesses of the caves. Label mates Bad Company, The Pretty Things and Maggie Bell also attended. The launch also tied in with the releases of The Pretty Things new album Silk Torpedo. The label was named after an unreleased Zeppelin instrumental track.
31 Oct 1970
31 Oct 1970
31 Oct 1969
David Bowie
appeared at a Halloween night at the General Gordon, Gravesend, England. The gig lasted about 15 minutes, after Bowie sang '
Space Oddity
' to everyone's delight and then dragged a stool on stage, along with a huge book. He then sat and read poems and was booed off stage.
31 Oct 1967
Rolling Stone
Brian Jones
was released from Wormwood Scrubs prison on £750 bail pending appeal. Jones had been found guilty of possession of cannabis. Seven Stones fans were arrested and charged with obstructing the police after demonstrating outside the prison gates.
31 Oct 1964
Ray Charles was arrested by Logan Airport customs officials in Boston and charged with possession of heroin. This was his third drug charge, following incidents in 1958 and 1961. Charles avoided prison after kicking the habit in a clinic in Los Angeles, but spent a year on parole in 1966.
31 Oct 1964
The
Supremes
started a four week run at No.1 on the US singles chart with 'Baby Love', the group's second of five consecutive US No.1's. The group were formerly known as the five piece group The Primettes.
31 Oct 1963
Gerry And The Pacemakers were at No.1 on the UK singles chart with 'You'll Never Walk Alone.' The group's third and final No.1.
31 Oct 1963
The Beatles
returned to London from Sweden and were greeted by hundreds of screaming fans and a mob of photographers and journalists. American television host Ed Sullivan was at Heathrow as
The Beatles
arrived, and was struck by the sight of Beatlemania in full swing; he decided to look into getting this group to appear on his US television program.
31 Oct 1959
The Quarry Men decided to change their name to Johnny and the Moondogs. The band were in Liverpool auditioning for the Carrol Levis show. The Quarry Men featured
John Lennon
,
Paul McCartney
, and
George Harrison
.
31 Oct 1954
Vera Lynn was at No.1 on the UK singles chart with 'My Son, My Son.' The singers only No.1 hit. Lynn who had three songs in the first ever Top 12 in 1952 was known as the "Forces Sweetheart" during World War II.
31 Oct 1952
Pianist Johnnie Johnson hired 26 year old
Chuck Berry
as a guitarist in his band. While playing evening gigs in the St. Louis area, Berry kept his day job as a hairdresser for the next three years.
Born on this day in music
31 Oct 1982
Monica and Gabriela Irimia, Cheeky Girls, Romanian duo, (2002 UK No.2 single 'Cheeky Song', Touch My Bum).
31 Oct 1981
Frank Anthony Iero, rhythm guitarist with American rock band My Chemical Romance who had the 2006 UK No.1 single 'Welcome to the Black Parade', and the 2006 US No.2 album The Black Parade.
31 Oct 1980
Charles Moniz, Canadian bassist in Avril Lavigne's band and the drummer for the band Grade.
31 Oct 1980
English musician Isabella Summers with Florence and the Machine. Summers has also produced remixes for artists including Beyoncé, Juliette Lewis, Nas, Jessica Simpson, Chloe and Halle, Flux Pavilion, Maxine Ashley, Rita Ora, Judith Hill, and The Game.
31 Oct 1970
Malin Berggren, from Swedish pop group Ace Of Base who had the 1993 UK No.1 single 'All That She Wants' and the 1994 US No.1 single 'The Sign'. The group sold more than 30 million albums worldwide, making it the third-most successful Swedish band of all time, after
ABBA
and Roxette.
31 Oct 1970
Rogers Stevens guitarist from Blind Melon, a rock band, which began in the 1990s and is most famous for their hit song 'No Rain'. He has also been a member of the bands Extra Virgin and The Tender Trio, and is an attorney.
31 Oct 1970
American blues guitarist Johnny Moeller with The Fabulous Thunderbirds who he joined the group in 2007.
31 Oct 1968
Alistair Mcerlaine, guitarist, from Scottish pop rock band Texas who had the 1997 UK No.3 single 'Say What You Want', and the 1997 UK No.1 album White On Blonde which has been certified six-times platinum in the UK.
31 Oct 1968
Al Mackenzie, D:Ream, (1994 UK No.1 single 'Things Can Only Get Better').
31 Oct 1967
American singer-songwriter, record producer and guitarist Adam Schlesinger, best known for his work with Fountains Of Wayne and for its 2003 Grammy-nominated single 'Stacy's Mom'. Schlesinger died on 1 April 2020 from complications brought on by COVID-19.
31 Oct 1966
Ad-Rock, (Adam Horovitz), The Beastie Boys, (1987 US No.7 & UK No.11 single 'You Gotta Fight For Your Right To Party', 1987 US No.1 and UK No.7 album 'Licence To Ill', plus 3 other US No.1 albums).
31 Oct 1965
Annabella Lwin, vocals, Bow Wow Wow, (1982 UK No.7 single 'Go Wild In The Country').
31 Oct 1964
Colm O'Ciosoig, My Bloody Valentine, (1991 UK No.29 single 'To Here Knows When').
31 Oct 1963
Johnny Marr, guitarist with English rock band
The Smiths
who had the 1984 UK No.10 single 'Heaven Knows I'm Miserable Now', plus 15 other UK Top 40 singles. With Electronic he had the 1991 UK No.8 single 'Get The Message' and with Modest Mouse, the 2007 US No.1 album 'We Were Dead Before the Ship Even Sank'. Marr has also worked with The The, The Pretenders, The Cribbs, and Johnny Marr and the Healers.
31 Oct 1963
Swedish rock musician and multi-instrumentalist Mikkey Dee, best known as the last drummer for British rock band
Motorhead
from 1991 until its dissolution following the death of Lemmy in December 2015.
31 Oct 1961
Larry Mullen Jr. Irish musician best known as the drummer of
U2
. Their 1987 UK and worldwide No.1 album
Joshua Tree
spent 156 weeks on the UK chart.
U2
scored five consecutive US No.1 albums from 1987.
31 Oct 1956
Tony Bowers, from Alberto Y Los Trios Paranoias and then Simply Red, who had the 1986 US No.1 & UK No.2 single 'Holding Back The Years'.
31 Oct 1952
Bernard Edwards, producer and member of Chic, (1978 UK No.7 single 'Le Freak'). Produced ABC, Power Station and Rod Stewart. Edwards died on 18th April 1996.
31 Oct 1950
American singer, songwriter and guitarist Moon Martin. Originally a rockabilly artist, he wrote the songs 'Bad Case of Loving You (Doctor, Doctor)', made famous by the English singer Robert Palmer, and 'Cadillac Walk', a hit for American singer Willy DeVille. Hi died on 11 May 2020 age 74.
31 Oct 1947
Singer, songwriter and musician Russ Ballard from English rock band Argent who had the 1972 UK No.5 single 'Hold Your Head Up' and the hit and 'God Gave Rock and Roll to You'. Ballard has written songs for many artists including,
Roger Daltrey
, America, Three Dog Night,
Santana
and Brian May.
31 Oct 1946
Dutch record producer, Jaap Eggermont best known for his Stars on 45 project and as the drummer of the band Golden Earring. Stars on 45 recorded hit songs as faithfully as possible as a medley and joined them together with a common tempo and underlying drum track.
31 Oct 1937
American folk singer-songwriter Tom Paxton. His songs have been recorded by many artists including: Bob Dylan, Sandy Denny, Joan Baez, The Seekers, Marianne Faithfull, John Denver, Dolly Parton and Porter Wagoner, Johnny Cash, Willie Nelson and The Move.