September 10th: The Biggest Music Headlines
Scroll down the page to see all the music headlines, stories and events for September 10 throughout music history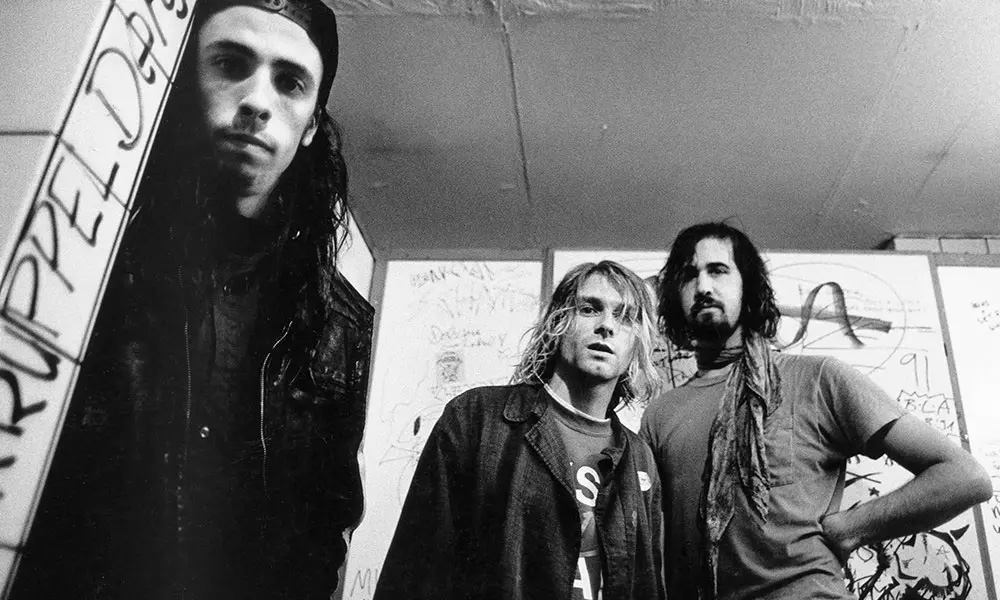 Nirvana Changes The Course Of Rock Music With 'Smells Like Teen Spirit'
On September 10, 1991, Nirvana's breakthrough single, "Smells Like Teen Spirit," was released in the US. But the song, which appeared on their sophomore album, Nevermind, was not an immediate hit. It wasn't until its accompanying music video – in which a high school pep rally breaks out into a riot – began to pick up traction on MTV that the song rose up the charts. By the end of the year, it had become an international sensation, landing in the Top Ten on the singles charts in the US, UK, Australia, Canada, and across Europe. Dubbed an "anthem for apathetic" Gen X kids by TIME Magazine, "Smells Like Teen Spirit" also propelled Nevermind to the top of the charts, marking the moment when alternative rock (and particularly grunge) entered the mainstream.
In 1988, Guns N' Roses scored their first US No.1 with "Sweet Child O' Mine." The song came together in a surprising way, according to 2005 article in Q Magazine. During a jam session, drummer Steven Adler and Slash were noodling around, when the guitarist began to play a circus-style melody, trying to get Adler to crack a smile. Rhythm guitarist Izzy Stradlin, however, saw the potential in the guitar line. Stradlin came up with some chords, Duff McKagan added a bassline, and Adler began playing a beat…The rest is history.
In 1974, The New York Dolls announced their split. While the group was only together for two years (during which they released two studio albums, 1973's New York Dolls and 1974's Too Much Too Soon) their influence would endure for far longer.
In 1964, Rod Stewart recorded his first single, a cover of Willie Dixon's "Good Morning Little School Girl." Future Led Zeppelin bassist John Paul Jones played on the session.
Looking for more things that happened on this day in music?
Keep scrolling for all of the headlines for September 10.
BORN ON SEPTEMBER 10:
1898: Waldo Semon (Inventor of vinyl)
1942: Danny Hutton (Three Dog Night)
1945: Jose Feliciano
1949: Barrie Barlow (Jethro Tull)
1950: Joe Perry (Aerosmith)
1957: Siobhan Fahey (Bananarama)
1980: Mikey Way (My Chemical Romance)
1984: Matthew Followill (Kings of Leon)
Looking for more artists born on this day?
Keep scrolling for all of our September 10 birthdays.
---
What to find another day?
---
September 10th
10 Sep 2021
English singer-songwriter, and virtuosic guitar player Michael Chapman died at the age of 80. He became well known in the folk clubs of the late 1960s, as well as on the 'progressive' music scene, and released over 50 albums.
10 Sep 2021
ABBA
returned to the top-ten of the UK Singles Chart for the first time in almost forty years when 'Don't Shut Me Down' debuted at No.9, becoming their 20th top-ten single. The group's last single to reach the top-ten of the UK charts was 'One of Us', which peaked at No.3 in December 1981.
10 Sep 2015
American guitarist Don Griffin was killed in a car accident in Denver, Colorado. He was 60 years old. Griffin appeared on The Miracles 1976 No.1 hit, 'Love Machine' and had also worked with Anita Baker. Griffin's dance band Madagascar was signed by Clive Davis to Arista Records in 1981 and released the single 'Baby Not Tonight.
10 Sep 2009
A harmonica owned by
Bob Dylan
sold for £2,700 at auction in Norfolk, England, more than four times the guide price. The singer-songwriter had presented the chromonica harmonica, made by Hohner, to a member of his wardrobe department in 1974. Lifetime Dylan fan John Fellas, of Gorleston, Norfolk, who wore Dylan-style sunglasses while bidding, outbid fans from across the world for the instrument. The inside of the harmonica case was signed and dedicated by Dylan. It had is expected to fetch more than £600 at the sale by Barnes Auctioneers. Fellas told reporters he was still plucking up the courage to tell his wife about what he had done.
10 Sep 2007
Pamela Anderson's ex-husband Kid Rock was involved in an alleged assault on drummer
Tommy Lee
, (who was also married to the actress up until 1998). Police interviewed witnesses to a tussle involving the pair at the
MTV
Music Video Awards in Las Vegas. Lee was removed from the ceremony while Rock, was allowed to stay.
10 Sep 2007
Girls Aloud broke the record for most consecutive top 10 hits in the U.K. singles chart by a female act. Their latest single 'Sexy! No No No' entered the chart at number five giving them a run of 16 top 10 hits.
10 Sep 2006
Scissor Sisters were at No.1 on the UK singles chart with 'I Don't Feel Like Dancin', the American's band first UK No.1. The song was co-written with
Elton John
, who also played piano on the song.
10 Sep 2005
The 1967 Beatles track 'A Day In The Life' from
Sgt Pepper
's Lonely Hearts Club Band was voted the best British song of all time by music experts. The survey by Q magazine called the track "the ultimate sonic rendition of what it means to be British".
The Kinks
' song 'Waterloo Sunset' came second in the poll and 'Wonderwall' by
Oasis
was voted in third place.
10 Sep 2005
Grammy-award winning guitarist and singer Clarence 'Gatemouth' Brown died in Texas at the age of 81. Recorded with
Eric Clapton
, Ry Cooder and
Frank Zappa
during a career that spanned 50 years.
10 Sep 2002
Chris Cowey the man behind the UK's longest running music TV show
Top Of The Pops
accused record bosses of controlling the singles chart with marketing scams and as a result the chart lacked credibility and was 'full of crap records.'
10 Sep 2001
Jamiroquai singer Jay Kay pleaded not guilty to assault charges after being accused of hitting a photographer and destroying camera equipment outside London night-club. Photographer, Dennis Gill, alleged that on April 14, Jay Kay punched him and destroyed camera equipment worth £250 outside the Attica night-club in London's West End, the case was adjourned until October 22.
10 Sep 1999
Paul McCartney
made headline news after being seen at a New York City party minus one of his front teeth after a crown broke off when he was eating. He'd lost the tooth in a motorcycle accident in 1967.
10 Sep 1997
An electric chair, which was used in Alcatraz and once owned by Andy Warhol, sold for £4,800 at an auction in Bristol. Warhol used to sit in the chair and watch horror movies.
10 Sep 1996
10 Sep 1994
REM were at No.9 on the UK singles chart with 'What's The Frequency Kenneth'. The song's title refers to an incident in 1986 when two unknown assailants attacked journalist Dan Rather while repeating "Kenneth, what is the frequency?"
10 Sep 1991
10 Sep 1988
Guns N' Roses started a two week run at No.1 on the US singles chart with 'Sweet Child O' Mine', the group's first US No.1, a No.24 hit in the UK.
10 Sep 1988
Phil Collins
was at No.1 on the UK singles chart with 'A Groovy Kind Of Love.' Taken from his film Buster the song had been a No.2 hit for The Mindbenders in 1966. The song was written by Carole Bayer Sager when she was a 22-year-old schoolteacher, and Toni Wine who was a 17-year-old high school student.
10 Sep 1983
Former
Stevie Wonder
guitarist Michael Sembello, started a two week run at No.1 on the US singles chart with 'Maniac'. The track was featured in the film 'Flashdance'. A No.43 hit in the UK.
10 Sep 1974
The New York Dolls split up. The influential American band formed in 1972 and made just two albums, the 1973 'New York Dolls' and 1974 'Too Much Too Soon'.
10 Sep 1973
The BBC banned The
Rolling Stones
single 'Star Star', from their Goat's Head Soup album because it contained the word "Star-fucker" in the chorus a dozen times.
10 Sep 1967
Elvis Presley
recorded 'Guitar Man' at RCA studio, Nashville, Tennessee. The Jerry Reed song became the last of eleven number one country hits for Presley.
10 Sep 1966
The Beatles
started a six-week run at No.1 on the US album chart with
Revolver
the group's ninth US chart topper. The title '
Revolver
', like
Rubber Soul
before it, is a pun, referring both to a kind of handgun as well as the "revolving" motion of the record as it is played on a turntable.
10 Sep 1966
The
Supremes
started a two week run at No.1 on the US singles chart with 'You Can't Hurry Love', the group's sixth US No.1. It made No.3 in the UK and gave
Phil Collins
a UK No.1 in 1982.
10 Sep 1965
The Byrds begin recording 'Turn! Turn! Turn!'. Unlike their first hit, 'Mr. Tambourine Man', members of the group itself were permitted to play instead of session musicians.
10 Sep 1964
The Kinks
third single 'You Really Got Me', was at No.1 on the UK singles chart. Future
Led Zeppelin
founder and guitarist
Jimmy Page
played tambourine on the track.
10 Sep 1964
Rod Stewart
recorded his first single, a version of Willie Dixon's 'Good Morning Little School Girl.' Future
Led Zeppelin
bass player John Paul Jones played on the session.
10 Sep 1963
During a chance meeting between The
Rolling Stones
at Studio 51 Jazz Club in London with
Paul McCartney
and
John Lennon
, the two played the Stones a partly finished song 'I Wanna Be Your Man' which the Stones later record.
10 Sep 1963
The Daily Mirror published a two-page article about
The Beatles
. Written by Donald Zec, the feature is entitled 'Four Frenzied Little Lord Fauntleroys Who Are Earning 5,000 Pounds A Week' Zec, who had attended a Beatles concert in Luton on Sept. 6 and then invited them to his home to complete the interview, referred to
The Beatles
' haircuts as 'A stone-age hair style'. The article provided a major boost to their career.
10 Sep 1962
The BBC banned Bobby 'Boris' Pickett and the Crypt Kickers single 'Monster Mash' saying it was offensive. The single went on to be a UK No.3 hit in 1973.
Born on this day in music
10 Sep 1985
Matthew Johnson, from British boy band One True Voice, created on the ITV television series Popstars: The Rivals who had the 2002 UK No.2 single 'Sacred Trust / After You're Gone'.
10 Sep 1984
Matthew Followill, lead guitarist, from American rock band Kings of Leon who had the 2007 UK No.1 album Because Of The Times, and the 2008 UK No.1 single 'Sex on Fire'. The band has sold over 21 million albums worldwide and 38 million singles.
10 Sep 1980
Mikey Way, bassist with American rock band My Chemical Romance who had the 2006 UK No.1 single 'Welcome to the Black Parade', and the 2006 US No.2 album The Black Parade.
10 Sep 1966
Robin Goodridge, of the rock band Bush who had the 1997 UK No.7 single 'Swallowed'. The bands debut album, Sixteen Stone sold over 7 million copies in the US.
10 Sep 1964
American singer, dancer and songwriter Donna De Lory. She has accompanied
Madonna
as backing vocalist and dancer on every concert from the Who's That Girl Tour in 1987, up to the Confessions Tour in 2006. De Lory has also worked with Carly Simon, Kim Carnes,
Santana
, Martika, Laura Branigan, Belinda Carlisle, Bette Midler, Barry Manilow and Alisha.
10 Sep 1957
Carol Decker, vocals, T'Pau, who had the 1987 UK No.1 single 'China In Your Hand' and the 1987 US & UK No.4 single 'Heart And Soul', (which was initially a flop in the UK). T'Pau took their name from a Vulcan elder of the same name in the sci-fi series Star Trek.
10 Sep 1957
Siobhan Fahey, singer with British female pop group Bananarama who had the 1984 UK No.3 single 'Robert De Niro's Waiting', plus over 20 other UK Top 40 singles, and the 1986 US No.1 single 'Venus' a cover of the Dutch rock band Shocking Blue 1970 hit. Fahey was also a member of Shakespeares Sister who had the 1992 UK No.1 single 'Stay'.
10 Sep 1956
Johnnie 'Fingers' Moylett, The Boomtown Rats, (1979 UK No.1 single 'I Don't Like Mondays', plus 10 other UK Top 40 hits).
10 Sep 1955
Pat Mastelotto, drummer, from American pop rock band Mr Mister who scored the 1985 US No.1 & 1986 UK No.4 single 'Broken Wings'. Mastelotto has also worked with King Crimson, Al Jarreau, The Pointer Sisters, Patti LaBelle, Kenny Loggins, Martika and others.
10 Sep 1952
Chris Wilson guitarist and multi instrumentalist of San Francisco cult band The Flamin Groovies who had the 1976 album 'Shake Some Action.
10 Sep 1950
Don Powell, drummer with English rock band Slade who scored 17 consecutive top 20 hits and six No.1's on the UK Singles Chart becoming the most successful British group of the 1970s based on sales of singles.
10 Sep 1950
Joe Perry, guitarist with
Aerosmith
who scored the 1989 UK No.13 single 'Love In An Elevator', and their 1989 album Pump spent 53 weeks on the US charts They had the 1993 US No.1 & UK No.2 album Get A Grip and the 1998 US No.1 & UK No.4 single 'I Don't Want To Miss A Thing'.
Aerosmith
is the best-selling American hard rock band of all time, having sold more than 150 million records worldwide.
10 Sep 1949
American musician Rick Rosas, one of the most sought after studio session musicians in Los Angeles. Throughout his career, he played with
Neil Young
, Joe Walsh, Crosby, Stills, Nash & Young, Jerry Lee Lewis,
Ron Wood
and many others. Rosas died on 6 November 2014 aged 65.
10 Sep 1949
Barrie Barlow, English musician, best known as the drummer and percussionist for the rock band Jethro Tull, from May 1971 to June 1980. Barlow has also worked with work with Robert Plant, John Miles, and
Jimmy Page
.
10 Sep 1945
Puerto Rican musician, singer and composer Jose Feliciano, best known for many international hits, including his rendition of The Doors' 'Light My Fire'. His 1968 album Feliciano! reached No. 2 on the US charts. Jose was born blind as a result of congenital glaucoma.
10 Sep 1942
Danny Hutton, singer with Three Dog Night, who had the 1970 UK No.3 & US No.1 single with a cover of the Randy Newman song 'Mama Told Me Not To Come'. The band scored 21 Billboard Top 40 hits (with three hitting No.1) between 1969 and 1975.
10 Sep 1939
Cynthia Lennon first wife of
John Lennon
, the couple divorced on 8th November 1968. She died at her home in Spain on 1st April 2015 following a short battle with cancer.
10 Sep 1898
Waldo Semon, invented vinyl in 1926, which was used to make LP and 45 records. Died on 26th May 1998 aged 100.