September 14th: The Biggest Music Headlines
Scroll down the page to see all the music headlines, stories and events for September 14 throughout music history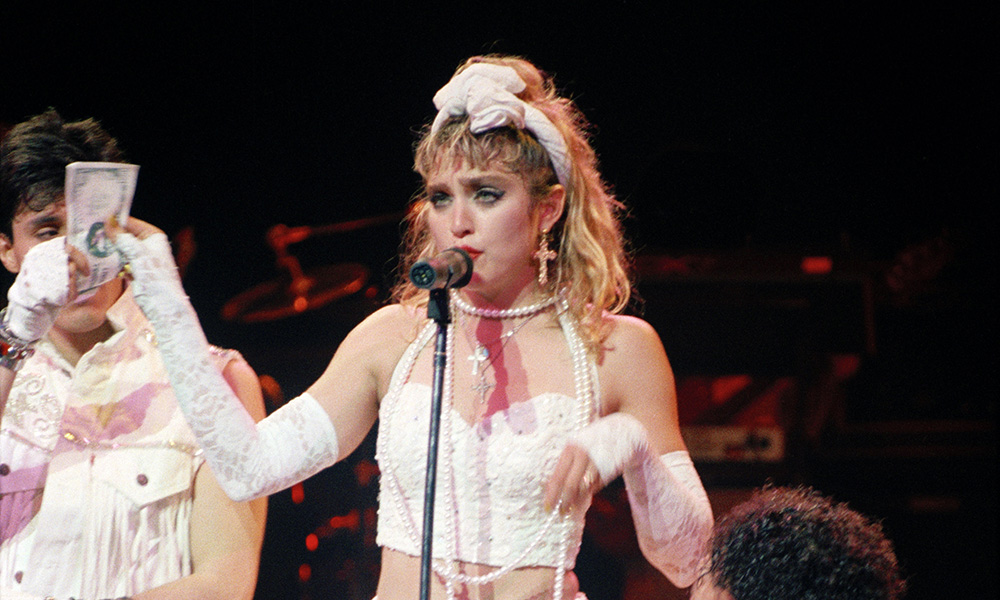 Madonna Makes A Scene At MTV's First Video Music Awards
In 1984, MTV aired its inaugural Video Music Award show. Hosted by Dan Aykroyd and Bette Midler at New York City's Radio City Music Hall, the ceremony was perhaps best remembered for a revealing performance by Madonna, who donned a not-so-innocent wedding dress while performing "Like a Virgin." In an attempt to retrieve a fallen shoe, the former dancer made some impromptu moves – rolling around on stage and, consequently, showing the world her undergarments, much to the shock of audiences at home. Among the other highlights in the evening were performances by Tina Turner, Rod Stewart, Huey Lewis and the News, David Bowie, ZZ Top, and Ray Parker, Jr., while the very first Moonman statues were awarded to the likes of Cyndi Lauper, Eurythmics, Michael Jackson, Van Halen, and Herbie Hancock.
In 1955, Little Richard recorded his debut hit, "Tutti Frutti" at J&M Studio in New Orleans. Written by Richard and Dorothy LaBostrie and produced by Bumps Blackwell, the high-energy song (which began with the refrain "a-wop-bop-a-loo-bop-a-lop-bam-boom") set the blueprint for rock'n'roll.
In 2008, Kings Of Leon began a three-week run at the top of the UK Pop chart with their breakthrough hit, "Sex On Fire." The song, which appeared on their fourth studio album, Only by the Night, would also become the second-most downloaded digital single ever in the UK. The song also had significant success in the band's home country, topping Billboard's Hot Modern Rock Tracks chart, as well as in Australia, Finland, and Ireland, where it went to No.1
In 2014, a life-size bronze statue of Amy Winehouse was unveiled in London, in the late singer-songwriter's favorite neighborhood, Camden. Winehouse, who would have turned 31 years old that day, passed away in 2011.
In 1968, animated series The Archies aired on televisions across America. Based on the popular comic strip, the show featured plenty of original music, thanks to contributions from Ron Dante, Andy Kim, Jeff Barry, and music mogul Don Kirshner, and even resulted in a chart-topping hit the following year, with "Sugar Sugar."
In 1979, the film Quadrophenia premiered at the Toronto Film Festival. While the movie was loosely based on The Who's 1973 rock opera of the same name, it was not a musical, ala Tommy. Directed by Franc Roddam, Quadrophenia starred Phil Daniels, Toyah Willcox, Ray Winstone, Michael Elphick, and Sting. The band, however, did not appear in the film.
In 1981, Rolling Stones fans were treated to a surprise when the band played a secret warm-up show, ahead of their tour, at the Sir Morgan's Cove club in Worcester, MA. While the band was billed as Little Boy Blue & The Cockroaches, a local radio station blew their cover, resulting in the 350-capacity club being besieged by over 4,000 fans.
Looking for more things that happened on this day in music?
Keep scrolling for all of the headlines for September 14.
BORN ON SEPTEMBER 14:
1949: Steve Gaines (Lynyrd Skynyrd)
1950: Paul Kossoff (Free)
1959: Morten Harket (A-Ha)
1970: Mark Webber (Pulp)
1972: Nas
1983: Amy Winehouse
Looking for more artists born on this day?
Keep scrolling for all of our September 14 birthdays.
---
What to find another day?
---
September 14th
14 Sep 2018
Verve Records held a launch party at the Rainbow Room in New York City to celebrate the release of Tony Bennett and Diana Krall's album Love Is Here To Stay. After the duo performed their rendition of 'Fascinating Rhythm,' Guinness World Records adjudicator Alex Angert announced Bennett - who first recorded the tune under the stage name Joe Bari over 68 years earlier - was now the title holder for "the longest time between the release of an original recording and a re-recording of the same single."
14 Sep 2014
A life-size bronze statue of singer
Amy Winehouse
was unveiled in Camden, north London. Her father, Mitch Winehouse, said she was "in love with Camden" and it was the place fans associated with her. Created by sculptor Scott Eaton, the statue features the Back to Black star with her hand on hip and her trademark beehive hairdo.
14 Sep 2011
It was reported that a Swedish
Bob Dylan
fan had been arrested for singing
Bob Dylan
songs outside his ex-girlfriends house. The love-sick man had also cobbled together a group of five other men to serve as vocal accompaniment for the late-night live performance, each of who donned hoodies with their hoods up. But soon after the man began to serenade his ex, who had previously taken out a restraining order against him, she called the police, leaving 50-year-old guitarist blowin in the wind. 'I had the idea that I'd play a
Bob Dylan
song for her,' the man told police. (No word on which song, unfortunately.)
14 Sep 2008
Iron Maiden
singer Bruce Dickinson was one of the pilots who flew specially chartered flights after 85,000 tourists were stranded in the US, the Caribbean, Africa and Europe after Britain's third-largest tour operator went into administration. The singer, who had worked for the airline Astraeus for nine years, took up flying during a low point in his solo career after he quit the band in 1993.
14 Sep 2008
Kings Of Leon started a three week run at No.1 on the UK singles chart with 'Sex On Fire' taken from the band's fourth studio album Only by the Night.
14 Sep 2005
Britney Spears
gave birth to a baby boy by Caesarean section. Spears and husband Kevin Federline had been taken to the UCLA Medical Center, Santa Monica, under police escort, early in the morning.
14 Sep 2005
HMV stores in Canada removed
Bob Dylan
CDs from their shelves in protest at the singer's deal to only sell his new album in Starbucks after he signed an exclusive contract with the coffee giant. The chain has previously boycotted CDs by
Alanis Morissette
and The
Rolling Stones
to complain at exclusive deals.
14 Sep 2005
The newly refurbished
Grateful Dead
's original tour bus went on display at the Volo Auto Museum in Volo, Illinois. The 1965 Gillig bus, which
Jerry Garcia
and the rest of the Dead dubbed 'Sugar Magnolia' was used by the band on their frequent tours across the US between 1967 and 1985. The ceiling was lined with hundreds of vintage rock posters featuring
The Beatles
,
Jimi Hendrix
,
Janis Joplin
and others who had visited the bus.
14 Sep 1999
It was reported that
George Michael
was being sued for $10m by the policeman who arrested the singer in a public lavatory. Marcelo Rodriguez claimed he was mocked in the video 'Outside' leaving him in physical distress.
14 Sep 1997
Over 2000 fans watched Pete Townshend unveil a English Heritage Blue Plaque at 23 Brook Street, Mayfair London, to mark where
Jimi Hendrix
had lived in 1968-69. Hendrix was the first pop star to be awarded with the plaque.
14 Sep 1996
Peter Andre scored his first UK No.1 single when 'Flava' went to the top for one week. The English-born Australian singer became a major television personality after taking part in the British reality TV series I'm a Celebrity... Get Me Out of Here!; during which he met and subsequently married glamour model Jordan. The couple split in May 2009 after three and a half years of marriage.
14 Sep 1995
The lyrics to
The Beatles
song 'Getting Better' hand-written by
Paul McCartney
sold for £161,000 at a Sotheby's auction in London.
14 Sep 1994
US singer Steve Earle was sentenced to 1 year in jail after being found guilty of possession of crack cocaine.
14 Sep 1989
Cuban bandleader and composer Perez Prado died of a stroke in Mexico City. Had the US & UK 1955 No.1 single 'Cherry Pink & Apple Blossom White'.
14 Sep 1984
David Bowie
won Video of the year for 'China Girl' at the first
MTV
Video awards. The song co-written by
David Bowie
and Iggy Pop during their years in Berlin, first appeared on Pop's album The Idiot released in 1977.
14 Sep 1981
The Rolling Stones
played a secret pre-tour warm-up show at the Sir Morgan's Cove club in Worcester, Massachusetts, USA. Billed as Little Boy Blue & The Cockroaches, a local radio station announced that the Stones were in town, resulting in the club being besieged by over 4,000 fans attempting to get into the 350-person venue. Police were drafted in to control the crowds, which resulted in eleven fans being arrested.
14 Sep 1979
The film Quadrophenia was released. Based on
The Who
's 1973 rock opera the film featured Phil Daniels, Toyah Willcox, Ray Winstone, Michael Elphick and Sting.
14 Sep 1974
Eric Clapton
scored a US No.1 with his version of the
Bob Marley
song 'I Shot The Sheriff' which was first released in 1973 on The Wailers' album Burnin'. Clapton's version was included on his 1974 album 461 Ocean Boulevard.
14 Sep 1974
Stevie Wonder
started a two-week run at No.1 on the US album chart with 'Fulfillingness First Finale' his second US No.1. The album received three Grammy Awards, including Album of the Year, in 1974.
14 Sep 1971
During a US tour
Led Zeppelin
appeared at Berkley Community Theatre, Berkley, California. Countless major acts have appeared here, including
Jimi Hendrix
,
The Who
, Van Morrison,
The Kinks
,  
Bruce Springsteen
,
Genesis
, Elvis Costello,
The Clash
, Iggy Pop and
David Bowie
.
14 Sep 1968
Roy Orbison
's house in Nashville burnt down, his two eldest sons both died in the blaze. Orbison was on tour in the UK at the time of the accident.
14 Sep 1968
The first episode of the comic strip 'The Archies' was aired on US TV. The recording group had contributions from Ron Dante, Andy Kim, Jeff Barry and others. Rock mogul, Don Kirshner (who also brought us The
Monkees
) was put in charge of the studio group. The following year The Archies started a eight-week run at No.1 on the UK singles chart with '
Sugar Sugar
,' becoming the longest running One Hit Wonder in the UK.
14 Sep 1967
Filming continued for
The Beatles
'Magical Mystery Tour' in South West England.
The Beatles
searched for a quiet, secluded field in which they could conduct filming but once they'd disembarked from the bus and set up for shooting, scores of onlookers began to crowd around, causing a traffic jam that required the police to step in.
14 Sep 1955
Little Richard
entered a New Orleans recording studio to begin two days of recording. Things were not going well and during a break, Richard and his producer; Bumps Blackwell went to the Dew Drop Inn for lunch. Richard started playing the piano in the bar like crazy, singing a loud and lewd version of 'Tutti Frutti.' With only fifteen minutes left in the session, Richard recorded the song and coined the phrase, 'a-wop-bop-a-loo-bop-a-lop-bam-boom.'
Born on this day in music
14 Sep 1983
Amy Winehouse
, UK singer, songwriter. Winehouse's debut album, Frank (2003), was a critical success in the UK and was nominated for the Mercury Prize. Her follow-up album, Back to Black (2006), led to five 2008 Grammy Awards, tying the then record for the most wins by a female artist in a single night, and made her the first British female to win five Grammys. Winehouse died of alcohol poisoning on 23 July 2011, aged 27. Her album Back to Black posthumously became, for a time, the UK's best-selling album of the 21st century.
14 Sep 1981
Ashley Roberts, singer, The Pussycat Dolls, (2005, US No.2 & UK No.1 with their debut single 'Don't Cha' featuring Busta Rhymes). The Pussycat Dolls became only the fourth ever girl band to enter the UK charts at No.1 with their debut single. (The other's being the
Spice Girls
, B*Witched and Girls Aloud).
14 Sep 1972
Nas, (Nasir Jones), US rapper, (1996 UK No.12 single 'If I Ruled The World', 2007 US No.1 album 'Hip Hop Is Dead').
14 Sep 1970
Graig Montoya, bassist from American rock band Everclear. The band found success with their first three albums Sparkle and Fade, So Much for the Afterglow, and Songs from an American Movie Vol. One:
14 Sep 1970
Mark Webber, from English rock band Pulp, who had the 1995 UK No.2 single 'Common People'. He quit the band in January 1997. Pulp were regarded among the Britpop "big four", along with
Oasis
, Blur and Suede.
14 Sep 1967
John Power, singer, songwriter with The La's who had the 1990 UK No.13 single 'There She Goes'. As a member of Cast he had the 1996 UK No.4 single 'Flying'.
14 Sep 1959
Morten Harket, singer, songwriter
A-Ha
. With their 1985 single 'Take On Me', A-ha became the first Norwegian group to score a US No.1. and later at the 1986 MTV Video Music Awards, the video for 'Take On Me' won six awards. On 17 February 2020, the music video for 'Take On Me' reached one billion views on YouTube.
14 Sep 1955
American saxophonist and keyboardist Steve Berlin from Los Lobos (Spanish for "the Wolves"), who had the 1987 UK & US No.1 single with their cover version of 'La Bamba', which was a 1958 hit for Ritchie Valens and one of early rock and roll's best-known songs.
14 Sep 1954
Barry Cowsill, from American singing group The Cowsills, who had the 1967 US No.2 single 'The Rain, The Park & Other Things', and the 1969 US No.2 single the theme from 'Hair'. TV's Partridge Family was based on The Cowsills family. He died from injuries caused by Hurricane Katrina in 2005. His body was not recovered until December 28th, 2005, from the Chartres Street Wharf, New Orleans. He was 51.
14 Sep 1950
Paul Kossoff, guitar,
Free
(1970 UK No.2 & US No.4 single '
All Right Now
'). Formed Back Street Crawler. Kossoff died of a heart attack on 19th March 1976 during a flight from Los Angeles to New York.
14 Sep 1949
American musician, Ed King. He was a guitarist for the psychedelic rock band Strawberry Alarm Clock and guitarist and bassist for the Southern rock band Lynyrd Skynyrd from 1972 to 1975 and again from 1987 to 1996. King died in his Nashville, Tennessee, home on 22 August 2018 at 68 years of age.
14 Sep 1949
American musicia Steve Gaines, guitarist with Lynyrd Skynyrd who had the 1974 US No. 8 single 'Sweet Home Alabama' and the 1982 UK No.21 single 'Freebird'. Gaines was killed in a plane crash on 20th October 1977. The plane carrying the band between shows from Greenville, South Carolina to Baton Rouge, Louisiana, crashed outside of Gillsburg, Mississippi. Gaines died from blunt-force trauma to the head; he was 28 years old. The crash also killed Ronnie Van Zant, Steve's sister Cassie Gaines from the band.
14 Sep 1946
Pete Agnew, from Scottish hard rock band Nazareth, who had the 1973 UK No.9 single 'Broken Down Angel', and the 1976 US No.8 single, 'Love Hurts'.
14 Sep 1939
English singer-songwriter and musician Tony Hooper. He was best known as a founder-member of Strawbs together with Dave Cousins. They are best known for their hit 'Part of the Union', which reached No.2 in the UK in 1973. He died on 18 Nov 2020 aged 81.
14 Sep 1914
Songwriter Mae Boren Axton, known as the '
Queen
Mother of Nashville' she wrote over 200 songs including a co-writing credit on the
Elvis Presley
hit '
Heartbreak Hotel
'. She died on April 9th 1997 aged 82 after drowning in her bath at her home in Hendersonville, Tennessee after an apparent heart attack.