September 24th: The Biggest Music Headlines
Scroll down the page to see all the music headlines, stories and events for September 24 throughout music history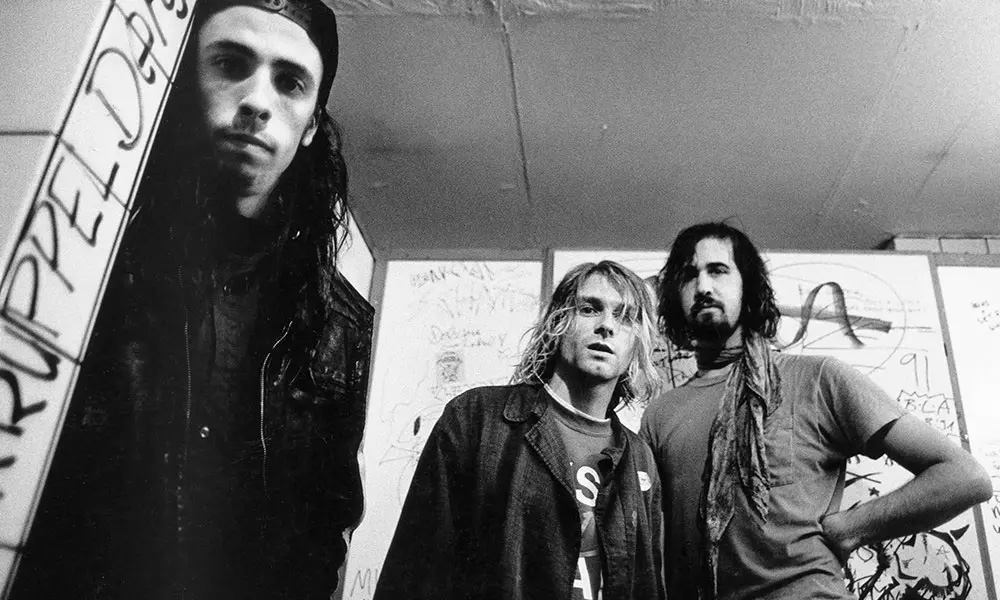 Nirvana Release 'Nevermind'
On September 24, 1991, Nirvana released Nevermind. The seminal album, which marked the Seattle band's sophomore full-length and major label debut, was recorded at Sound City Studios in Van Nuys, CA, in May and June of 1991 and produced by Butch Vig. While Nevermind was initially slow to move up the charts, the success of single "Smells Like Teen Spirit" eventually pushed the album to No.1 in January 1992. It has since become one of the world's best-selling albums of all time. The influence of Nevermind, meanwhile, cannot be understated. Featuring such genre-defining songs as "Come as You Are," "Lithium," "In Bloom," and, of course, "Smells Like Teen Spirit," the album shifted the course of modern music and paved the way for countless alt-rock bands to find mainstream success in their wake.
In 1957, Elvis Presley released his classic hit, "Jailhouse Rock." The song was recorded for the film of the same name, in which Presley plays Vince Everett – an inmate who learns the guitar while in prison and eventually becomes a star after his release. The influential song was a massive hit, topping the US and UK pop charts, and landing in the Top 10 across the globe.
In 1984, Culture Club scored their second No.1 hit in the UK with "Karma Chameleon." The track followed their first chart-topper, "Do You Really Want to Hurt Me."
In 1988, jazz vocalist Bobby McFerrin began a two-week run at the top of the Billboard Hot 100 with his laid-back classic, "Don't Worry Be Happy."
In 2012, Mumford & Sons released their second studio album, Babel. Topping the charts in both the US and the UK, Babel became the fastest-selling album of 2012 in the UK and marked the year's highest-selling debut in the US.
In 2006, Scissor Sisters enjoyed concurrent runs atop the UK's album and singles charts with their sophomore effort, Ta-Da, and "'I Don't Feel Like Dancin'," respectively.
In 1966, Jimi Hendrix landed in London, where he would soon find success as an artist. Joined by his manager, Chas Chandler, Hendrix famously arrived with just the clothes on his back, having sold the rest of his threads to settle a hotel bill in New York.
Looking for more things that happened on this day in music?
Keep scrolling for all of the headlines for September 24.
BORN ON SEPTEMBER 24:
1940: Barbara Allbut (The Angels)
1942: Gerry Marsden (Gerry And The Pacemakers)
1942: Phyllis Allbut (The Angels)
1942: Linda McCartney
1946: Jerry Donahue (Fairport Convention)
1971: Peter Salisbury (The Verve)
Looking for more artists born on this day?
Keep scrolling for all of our September 24 birthdays.
---
What to find another day?
---
September 24th
24 Sep 2022
South Korean girl group Blackpink were at No.1 in the UK with thier second studio album Born Pink. Dubbed the "biggest girl group in the world", they are regarded as the most successful Korean girl group internationally and one of the leaders of the Korean Wave. In the United States, it became the first album by a female group to reach No.1 on the Billboard chart since Danity Kane in 2008. Additionally, Born Pink became the first album by a K-pop girl group to land atop the Billboard 200 and the UK Albums Chart, which earned Blackpink two Guinness World Records.
24 Sep 2017
British television and record producer Jack Good died of complications from a fall at the age of 86. As a television producer, he was responsible for the early popular music shows Six-Five Special, Oh Boy!, Boy Meets Girls and Wham!!, the first UK teenage music programmes. Good managed some of the UK's first rock and roll stars, including Tommy Steele, Marty Wilde, Billy Fury and Cliff Richard. He also recorded with Lord Rockingham's XI. Their hit singles included the 1958 UK No.1 single 'Hoots Mon'.
24 Sep 2014
American soul singer George Hilliard from The Tymes died age 73. The Tymes had hits in the UK in the 1960s with songs such as 'So Much in Love', a US chart-topper and million-seller in 1963, then in the 1970s with 'You Little Trustmaker' and 'Ms Grace'. The last of these became the group's biggest UK hit, reaching No.1 on the UK Singles Chart in 1975.
24 Sep 2012
Mumford & Sons released their second studio album 'Babel' which debuted at number one on both the UK Albums Chart and the US Billboard 200. It became the fastest selling album of 2012 in the UK and was nominated in the category of "Album of the Year" for both a Brit Award and Grammy Award, winning the latter.
24 Sep 2006
Scissor Sisters topped the UK album and singles charts. The New Yorkers' second album, 'Ta-Dah', entered in the top spot, while the single 'I Don't Feel Like Dancin' spent a third week at number one.
24 Sep 2004
The Strat Pack: Live in Concert was held at Wembley Arena in London marking the 50th Anniversary of the Fender Stratocaster guitar. The concert featured
Ronnie Wood
, Joe Walsh, Gary Moore, Brian May, David Gilmour, Albert Lee, Andy Fairweather-Low, Hank Marvin and many more.
24 Sep 2003
Singer-songwriter Matthew Jay died aged 24 after falling from a seventh-storey window in London. Released the 2001 album 'Draw' and toured with The Doves, Stereophonics, Dido and Starsailor.
24 Sep 2003
The Dave Matthews Band played at Central Park in New York City, in front of almost 100,000, the band's largest audience to date. The Central Park Concert was later released as an album.
24 Sep 2000
Madonna
started a two-week run at No.1 on the UK album chart with 'Music', the singers seventh UK No.1 album.
24 Sep 1998
Former Guns N' Roses drummer Steven Adler, 33, was sentenced to 150 days in jail for beating two women he dated and for violating his probation from an earlier domestic violence conviction. He was also given the condition of undergoing a year of domestic violence counseling and a ban on using illegal drugs.
24 Sep 1997
Barry Loukaitis was convicted of shooting and killing two pupils and a teacher at a school in Washington. His defence team claimed he had copied scenes from
Pearl Jam
's video 'Jeremy'.
24 Sep 1995
The Charlatans were arrested by 24-armed police after a flight to New York. The band were accused of trying to disrupt the planes flight path, passengers complained of the group being drunk, spitting and interfering with in flight TV sets.
24 Sep 1991
Nirvana
's album
Nevermind
was released in America, entering the chart at No. 144 on its first week. The album which peaked at No. 1 in January 1992 has now sold over 30m copies world wide. The idea for the now iconic front cover shot of the baby swimming came after
Kurt Cobain
and drummer Dave Grohl saw a TV documentary on water babies.
24 Sep 1990
AC/DC
released 'The Razors Edge' their 11th internationally released studio album. The only studio album to feature drummer Chris Slade, reached No.2 on the US chart and #4 in the UK.
24 Sep 1988
James Brown led police on an hour-long, two-state car chase starting in Augusta, Georgia. Brown was later arrested and eventually served six years for a variety of charges including carrying a deadly weapon at a public gathering, attempting to flee police, and driving under the influence of drugs.
24 Sep 1988
Bobby McFerrin started a two week run at No.1 on the US singles chart with 'Don't Worry Be Happy', the first a-cappella record to be a No.1. It made No.2 in the UK. 'Don't Worry, Be Happy, was also included in the movie, Cocktail. The song would go on to win Grammy Awards for both Record of the Year and Song of the Year.
24 Sep 1988
The Hollies were at No.1 on the UK singles chart with 'He Ain't Heavy He's My Brother' after the song was used on a UK TV beer commercial, the song was originally a hit in 1969 and featured a young
Elton John
on piano.
24 Sep 1983
Culture Club had their second UK No.1 single with 'Karma Chameleon', which stayed at the top of the charts for six weeks and became the best-selling single of 1983. The harmonica part was played by Judd Lander, who had been a member of Merseybeat group The Hideaways in the 1960s.
24 Sep 1983
Billy Joel
went to No.1 on the US singles chart with 'Tell Her About It', the former boxers second US No.1, a No.4 hit in the UK.
24 Sep 1980
The mixing of the forthcoming
John Lennon
and Yoko Ono album Double Fantasy moved from the Hit Factory in New York City to Record Plant East. During this session,
John Lennon
gave one of last ever interviews to Lisa Robinson from 97-FM in Buffalo.
24 Sep 1975
Rush released their third album, Caress of Steel. The album didn't sell as well as its predecessor, Fly by Night, and was poorly received by critics. Rush later admitted the album's lack of focus and quality to copious amounts of marijuana consumed during its making.
24 Sep 1975
Rod Stewart was at No.1 on the UK singles chart with 'Sailing'. The song became a hit after it was used in a TV documentary series.
24 Sep 1967
Filming continued for
The Beatles
'Magical Mystery Tour' at West Malling Air Station, Maidstone, Kent with the shooting of the 'Your Mother Should Know' ballroom finale. With
The Beatles
all dressed in white suits and shoes, gliding down a glittery staircase as 160 members of Peggy Spencer's dance team swirled round about.
24 Sep 1966
Jimi Hendrix
arrived in London with manager Chas chandler on a flight from New York City. With only the clothes he was wearing, Hendrix had sold his other belongings to pay a hotel bill in New York. One of the first things he did after arriving in England was to legally change his name from James to Jimi.
24 Sep 1966
The Association started a three week run at No.1 on the US singles chart with 'Cherish'. The New Christy Minstrels almost recorded the track but Association member and songwriter, Terry Kirkman, held onto 'Cherish' instead of selling it for $1000. The finished recording played for 3 minutes and 25 seconds, but the single's label listed the time as 3:00 so that DJs wouldn't be discouraged from playing a 'long song.'
24 Sep 1962
Elvis Presley
received an invitation to appear at the Royal Variety Performance in the UK which is attended by members of the British Royal Family. Presley's manager, Colonel Tom Parker graciously declined, citing motion picture commitments. The real reason was that Parker was an illegal Dutch immigrant living in the United States who feared he might not be allowed to return if he left the country.
24 Sep 1961
John Leyton was at No.1 on the UK singles chart with 'Johnny Remember Me.' The UK singers only UK No.1 and producer, Joe Meek's first No.1 hit.
24 Sep 1957
The
Elvis Presley
classic, 'Jailhouse Rock' was released. It became his ninth US number one single and stayed on the Billboard chart for nineteen weeks. The film clip from the movie where he sang the song is considered by many historians to be the first rock video.
Born on this day in music
24 Sep 1971
Marty Cintron III, No Mercy, (1997 UK No.2 single 'Where Do You Go').
24 Sep 1971
Peter Salisbury, drummer from English rock band The Verve, who had the 1997 album Urban Hymns, one of the best-selling albums in UK Chart history. The album features the hit singles 'Bitter Sweet Symphony', 'The Drugs Don't Work' and 'Lucky Man'.
24 Sep 1969
Shawn Crahan more commonly known by his stage persona "Clown", American musician best known as one of the two custom percussionists and co-founder of the Grammy-winning heavy metal band Slipknot.
24 Sep 1946
American comics creator and musician Carson Osten. He played in the band Woody's Truck Stop, before forming the rock group Nazz with Todd Rundgren in 1967.
24 Sep 1946
American guitarist and producer Jerry Donahue from UK folk group, Fairport Convention, (1969 UK No.21 single 'Si Tu Dois Partir'). And has also been a member of Fotheringay.
24 Sep 1946
Kjell Asperud, Titanic, (1971 UK No.5 single 'Sultana').
24 Sep 1942
American singer Phyllis Allbut. With The Angels she had the 1963 US No.1 & UK No.50 single 'My Boyfriend's Back'. The Angels were the first white girl group to have a US No.1 hit.
24 Sep 1942
Gerry Marsden, who with Gerry And The Pacemakers had the 1963 UK No.1 single 'How Do You Do It' and the 1965 US No.6 single, 'Ferry Cross The Mersey'. In common with
The Beatles
they came from Liverpool, were managed by Brian Epstein, and were recorded by George Martin. Marsden died on 3 January 2021 in Merseyside, after being diagnosed with a blood infection in his heart. He was 78 years old.
24 Sep 1942
Linda McCartney, (Linda Eastman). Wife of
Paul McCartney
. Photographer, animal rights campaigner, launched her own brand of vegetarian food. Played keyboards with Wings and solo McCartney records. 1971 Paul and Linda McCartney UK No.1 album 'Ram'. She died of breast cancer on 17th April 1998.
24 Sep 1940
Barbara Allbut, The Angels, (1963 US No.1 & UK No.50 single 'My Boyfriend's Back'). The Angels were the first white girl group to have a US No.1 hit. She died on 10 July 2021.
24 Sep 1939
American singer Sonny Turner best known for replacing Tony Williams as lead singer of The Platters. He died age 82 January 13, 2022.
24 Sep 1938
American saxophonist and flautist Steve Douglas who recorded with Duane Eddy,
Aretha Franklin
,
Elvis Presley
Willy DeVille,
Bob Dylan
Ramones
and others. On April 19, 1993, while warming up with Ry Cooder, Douglas collapsed and died aged 54. Heart Failure was the official cause of death.
24 Sep 1933
American musician Mel Taylor, drummer with The Ventures, who scored the 1960 US No.2 & UK No.8 single 'Walk Don't Run.' Taylor died of lung cancer on 11th August 1996.
24 Sep 1931
English actor, singer and songwriter Anthony Newley, who had the 1960 UK No.1 single 'Why'. Newley wrote 'Feeling Good', which was popularised by Nina Simone and covered by many other popular artists, as well as the lyrics for the title song of 1964 film Goldfinger. Newley died from cancer on 14 April 1999.