September 25th: The Biggest Music Headlines
Scroll down the page to see all the music headlines, stories and events for September 25 throughout music history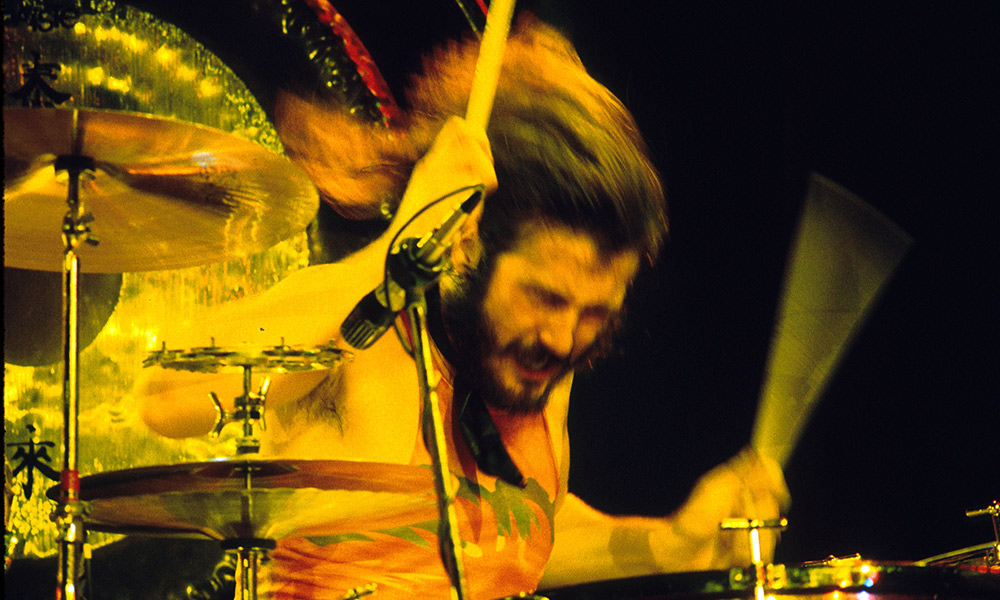 The Tragic Death Of John Bonham And The Breakup Of Led Zeppelin
On September 25, 1980, Led Zeppelin's hard-partying drummer, John Bonham, died at the age of 32. Regarded as one of the greatest drummers of all time, Bonham was known for his epic velocity, power, and versatility as a percussionist. A founding member of Led Zeppelin, the self-taught drummer influenced countless artists, including Dave Grohl, Neil Peart, Tommy Lee, and Chad Smith. After Bonham's death, Led Zeppelin chose to call it quits to honor their bandmate, rather than find a new drummer. In a press release, they explained, "We wish it to be known that the loss of our dear friend and the deep respect we have for his family, together with the sense of undivided harmony felt by ourselves and our manager, have led us to decide that we could not continue as we were."
In 1990, 21-year-old drummer Dave Grohl auditioned for Nirvana and was instantly given the job. Frontman Kurt Cobain first met the drummer when he was touring with the band Scream. In an interview with Ultimate Classic Rock, sound engineer Craig Montgomery recalled the moment. "Kurt said, 'That's the kind of drummer we need.' Dave had an energy that was hard to miss…He seemed like a good fit for what they were doing."
In 1964, The Temptations began recording their enduring soul hit, "My Girl," at Motown's "Hitsville USA" studios. Written and produced by Miracles members Smokey Robinson and Ronald White, the song became the Temptations' first US No.1 single.
In 1982, Queen made their one and only appearance on Saturday Night Live, performing "Crazy Little Thing Called Love" and "Under Pressure." Famously, singer Freddie Mercury blew out his voice earlier in the day and barely recovered in time for the show.
In 1993, Nirvana scored their first No.1 album in the UK with In Utero. The band's third and final album also topped the charts in the US.
In 2017, Tom Petty and the Heartbreakers performed what would be their final show at the Hollywood Bowl. The concert, which concluded the band's 40th-anniversary reunion tour, ended with "American Girl." Petty passed away a week later at 66.
Looking for more things that happened on this day in music?
Keep scrolling for all of the headlines for September 25.
BORN ON SEPTEMBER 25:
1930: Shel Silverstein (Poet, Songwriter)
1946: Bryan MacLean (Love)
1955: Zucchero
1968: Will Smith
1969: Ron "Bumblefoot" Thal (Guitarist)
1980: T.I.
1983: Donald Glover (Childish Gambino)
Looking for more artists born on this day?
Keep scrolling for all of our September 25 birthdays.
---
What to find another day?
---
September 25th
25 Sep 2017
Tom Petty
and the Heartbreakers appeared at the Hollywood Bowl in Hollywood, California. The concert, which would ultimately be the Heartbreakers' final show, ended with a performance of 'American Girl'. Tom Petty died of an accidental drug overdose a week later on October 2, 2017.
25 Sep 2015
David Gilmour's fourth studio album Rattle That Lock went to No.1 on the UK album chart. Gilmour had been writing the material for Rattle That Lock over the past five years, though he pointed out that one piano piece was recorded 18 years ago in his living room.
25 Sep 2013
Kurt Cobain
's childhood home in Aberdeen, Washington went on the market. Cobain's mother Wendy O'Connor and sister Kim Cobain put up for sale the East 1st St. house, where he was raised, for $500,000, in hopes of connecting with someone who would turn it into a museum.
25 Sep 2011
The New York Post reported that Sly Stone was living in a van, parked in the notoriously rough Los Angeles neighborhood of Crenshaw. The 68-year-old was quoted as saying "I like my small camper. I just do not want to return to a fixed home. I cannot stand being in one place. I must keep moving."
25 Sep 2007
Foo Fighters
released their sixth studio album Echoes, Silence, Patience & Grace. The album was nominated for five Grammy Awards, winning Best Rock Album, and was also awarded the Brit Award of Best International Album.
25 Sep 2006
'I Don't Feel Like Dancin' by the Scissor Sisters was at No.1 on the UK singles chart, 'Sexyback' by Justin Timberlake was at No.1 on the US charts and Sandi Thom had the Australian No.1 single with 'I Wish I Was a Punk Rocker (with Flowers in My Hair).
25 Sep 2000
Ozzy Osbourne
formally requested that
Black Sabbath
be removed from the nomination list for the Rock and Roll Hall of Fame. Calling the inclusion "meaningless", Osbourne went on to say "Let's face it.
Black Sabbath
have never been media darlings. We're a people's band and that suits us just fine."
25 Sep 1999
Oasis
singer,
Liam Gallagher
was stopped by customs officials at Heathrow airport and made to pay £1300 after not declaring a fur coat he had bought in America.
25 Sep 1999
Former
Rolling Stone
Bill Wyman became the first major artist to release an album on his own personalised digital MP3 player. The matchbox-sized device with no moving parts was one of the smallest of its kind in the world and featured encryption software designed in the UK to prevent piracy.
25 Sep 1999
Stephen Canaday of The Ozark Mountain Daredevils was killed when the vintage WW II plane he was flying in, rolled, inverted and crashed into a tree. The pilot failed to maintain speed which resulted in a stall.
25 Sep 1995
Courtney Love was given a one-year prison sentence, suspended for two years, fined $1000 and ordered to attend a anger management course after being found guilty of assaulting Bikini Kill singer Kathleen Hanna.
25 Sep 1993
Jazzy Jeff and The Fresh Prince started a two week run at No.1 in the UK with the single 'Boom! Shake The Room'. Featuring Will Smith who was a rapper and actor starring in TV show The Fresh Prince of Belle Aire in 1993.
25 Sep 1993
Nirvana
went to No.1 on the UK album chart with 'In Utero' the bands first UK No.1 album.
25 Sep 1992
Two fans were stabbed and 20 arrests were made after trouble broke out at a
Ozzy Osbourne
gig in Oklahoma City. The sale of alcohol at the concert was blamed for the incident.
25 Sep 1990
Drummer Dave Grohl auditioned for
Nirvana
and was instantly given the job. Grohl's last band Scream had recently split-up.
25 Sep 1982
Queen
made a guest appearance on US TV's Saturday Night Live, where they performed 'Crazy Little Thing Called Love' and '
Under Pressure
'.
25 Sep 1980
John Bonham
, drummer with
Led Zeppelin
, died aged 32 after a heavy drinking session. 'Bonzo' was found dead at guitarists
Jimmy Page
's house of what was described as asphyxiation, after inhaling his own vomit after excessive vodka consumption, (40 shots in 4 hours). During live sets his drum solo, 'Moby Dick,' would often last for half an hour and regularly featured his use of his bare hands. In 2007, Ludwig issued a limited edition drum kit in Bonham's memory.
25 Sep 1976
Paul McCartney
and Wings played a charity concert in St Marks Square, Venice to raise funds for the historic city. The night was a success but the weight of the equipment used by the group caused more damage to the square.
25 Sep 1975
Jackie Wilson had a heart attack while performing live on stage at the Latin Casino, New Jersey. Wilson collapsed into a coma suffering severe brain damage. Ironically, he was in the middle of singing one of his biggest hits, 'Lonely Teardrops' and was two words into the line, "....my heart is crying" when he collapsed to the stage, striking his head heavily. He remained semi-comatose for the nine years until his death in 1984, at the age of 49. Van Morrison wrote the song 'Jackie Wilson Said', covered by Dexy's Midnight Runners.
25 Sep 1972
Black Sabbath
released their fourth studio album, '
Black Sabbath
Vol. 4'. The album which features a monochrome photograph of
Ozzy Osbourne
with hands raised, taken during a
Black Sabbath
concert was originally to be titled 'Snowblind', after one of several songs referring to the band's cocaine use.
25 Sep 1970
The first episode of The Partridge Family was shown on US TV, featuring Shirley Jones, David Cassidy, Susan Dey and Danny Bonaduce.
25 Sep 1969
25 Sep 1968
Welsh singer Mary Hopkin was at No.1 on the UK singles chart with 'Those Were The Days'. Hopkins had signed to
The Beatles
Apple label after appearing on UK TV talent show Opportunity Knocks.
25 Sep 1965
The Beatles
cartoon series premiered on ABC TV in the US. The first story was titled 'I Want To Hold Your Hand' and had the group exploring the ocean floor in a diving bell where they met a lovesick octopus.
25 Sep 1964
The
Temptations
begin recording 'My Girl' at Hitsville USA (Studio A), Detroit, Michigan, (the first Temptations single to feature David Ruffin on lead vocals). Written by Smokey Robinson and Ronald White, the song went on to become their first US No.1 and the first of fifteen US Top Ten hits.
25 Sep 1954
Elvis Presley
released his second single on Sun Records, 'Good Rockin' Tonight,' a song made popular in 1948 by Wynonie Harris.
Born on this day in music
25 Sep 1983
American actor, musician, and DJ, Childish Gambino (born Donald Glover). His 2018 US No.1 hit 'This Is America' won four Grammy Awards at the 61st Annual Grammy Awards: Record of the Year, Song of the Year, Best Rap/Sung Performance and Best Music Video.
25 Sep 1980
Clifford Joseph Harris Jr. (T.I. and also by his alter ego T.I.P.) American Grammy Award-winning rapper, songwriter, actor. (2007 US No.1 album T.I. vs T.I.P.). Featured on the 2013 worldwide hit Blurred Lines with Robin Thicke.
25 Sep 1975
Declan Donnelly, P.J. & Duncan, actor, singer, 1994 UK No.9 single 'Lets Get Ready To Rhumble'). TV presenter.
25 Sep 1974
Richie Edwards, bassist, The Darkness, replacing Frankie Poullain in June 2005. Edwards had worked as a guitar technician for the band and was also once a member of Onion Trump.
25 Sep 1969
Ron "Bumblefoot" Thal, American guitarist, songwriter, (He adopted his nickname from the bacterial infection of the same name, which he learned about while helping his wife study for her veterinary exams). He was one of two lead guitarists in Guns N' Roses from 2006 until 2014 and performed on their sixth studio album Chinese Democracy.
25 Sep 1968
Will Smith, actor, singer, DJ Jazzy Jeff & The Fresh Prince, (1993 UK No.1 single 'Boom! Shake The Room'). Solo (1997 UK No.1 single 'Men In Black').
25 Sep 1955
Steve Severin, bass, Siouxsie and the Banshees, (1983 UK No.3 single 'Dear Prudence').
25 Sep 1955
Zucchero, (Adelmo Fornaciari), Italian singer, (1991 UK No. 4 with Paul Young, 'Senza Una Donna').
25 Sep 1949
American tenor saxophone player Steve Mackay who worked with the Stooges, Violent Femmes, Snakefinger, Commander Cody and others. Mackay died on 10 October 2015 from sepsis at a hospital in Daly City, California at the age of 66.
25 Sep 1947
John Fiddler, Medicine Head, (1973 UK No.3 single 'One And One Is One').
25 Sep 1947
Cecil Womack, American R&B singer, songwriter and record producer. He was one of the musical Womack brothers, and had success both as a songwriter and recording artist, notably with his wife Linda as Womack and Womack. In later years he took the name Zekkariyas. Womack died on February 1, 2013.
25 Sep 1946
American bassist Jerry Penrod from
Iron Butterfly
. The 17-minute 'In-A-Gadda-Da-Vida', the title track of their 1968 album, became a Top Thirty hit in the US.
25 Sep 1946
Bryan MacLean, guitar, vocals, Love, 1966 US No.33 single '7 And 7 Is', 1968 UK No.24 album Forever Changes. He died of a heart attack on 25th December 1998.
25 Sep 1945
Onnie Mcintyre, from Scottish funk and R&B group the Average White Band who scored the 1975 US No.1 and UK No.6 single 'Pick Up The Pieces'.
25 Sep 1943
Gary Alexander guitar, vocals, The Association, (1967 US No.1 single 'Windy').
25 Sep 1943
John Locke, from American group Spirit who had the 1969 US No.25 single 'I Got A Line On You'. He died on 4 August 2006.
25 Sep 1942
Billy Mundi, American drummer best known as a member of
The Mothers of Invention
and Rhinoceros and working with Linda Ronstadt, Geoff Muldaur and Maria Muldaur. He died on 29 March 2014.
25 Sep 1939
25 Sep 1933
American songwriter and a folk music artist Erik Darling. With The Tarriers their version of the 'Banana Boat Song reached No. 4 on the Billboard chart. He was also a member of The Weavers, and had a 1963 US No.1 hit with 'Walk Right In' with the Rooftop Singers.
25 Sep 1930
Shel Silverstein, American poet, singer-songwriter, cartoonist, screenwriter, and author of children's books. He wrote Tompall Glaser's highest-charting solo single 'Put Another Log on the Fire', 'One's on the Way' (a hit for Loretta Lynn), and wrote one of Johnny Cash's best known whimsical hits, 'A Boy Named Sue.' Other songs co-written by Silverstein include 'The Taker' by Waylon Jennings and hits for Dr. Hook & The Medicine Show. He died 10 May 1999.