Calling All Nations – A Fan History of INXS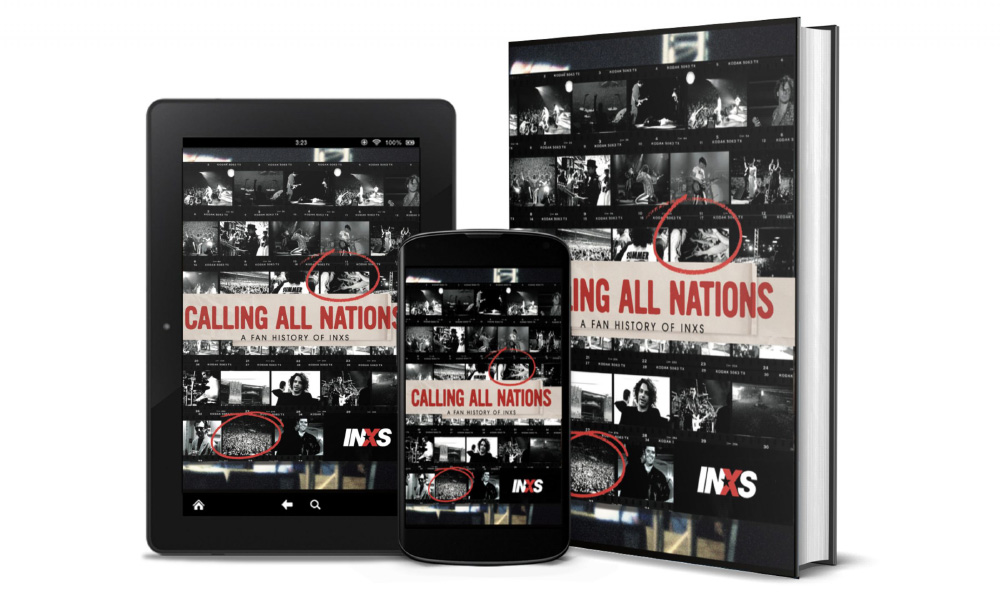 This official new book – Calling All Nations – A Fan History of INXS is a moving and enlightening tribute to one of the world's greatest bands…INXS.
The book includes contributions and memories from all 5 members of INXS and is available in 3 different editions. Super Deluxe box, with bonus items and signed by 5 members of INXS, Special Edition box and limited hardback edition.
This is the journey of 6 Australian school boys who wanted to be in a band. Brothers Andrew, Jon and Tim Farriss and school friends Michael Hutchence, Kirk Pengilly and Garry Gary Beers.
In 1977 they made it happen.
Over the next 4 decades, they went on to become of the worlds greatest bands winning countless awards, playing over 2500 shows to millions of fans. In July 13, 1991, they delivered the show of their lives at Wembley, with a career-defining gig.
Thousands of journalists have interviewed and told the band's story but this is the story told by those who loved them the most…the fans.
In 1984, INXS had their first number-one hit in Australia with "Original Sin". The band would later achieve international success in the mid-to-late 1980s and early 1990s with the hit albums Listen Like Thieves, Kick, and X, as well as the singles "What You Need", "Need You Tonight" ( a US number-one single), "Devil Inside", "Never Tear Us Apart", "Suicide Blonde" and "New Sensation". INXS has sold over 80 million albums worldwide, making them one of Australia's highest selling music acts of all time.
Super Deluxe Edition limited to 250 copies includes the following items:
• 408-page full-colour limited first edition – 'Red' hardback book signed by INXS
• Original dressing room curtain patch with logo
• 7" Vinyl Interview Pressing
• 2 numbered art prints – the book cover art and Calling All Nations print
• INXS logo key ring
• 3 x INXS logo pin badges
• VIP Pass & Lanyard
• 6 Polaroid photographs of INXS
• 3 Fan Club Reproductions
• 11 x postcard set of INXS studio albums
• Guitar Picks
• A numbered certificate of authenticity
The 408-page full-colour hardback book is available as a Limited first edition embossed and numbered book.