April 24th: The Biggest Music Headlines
Scroll down the page to see all the music headlines, stories and events for April 24 throughout music history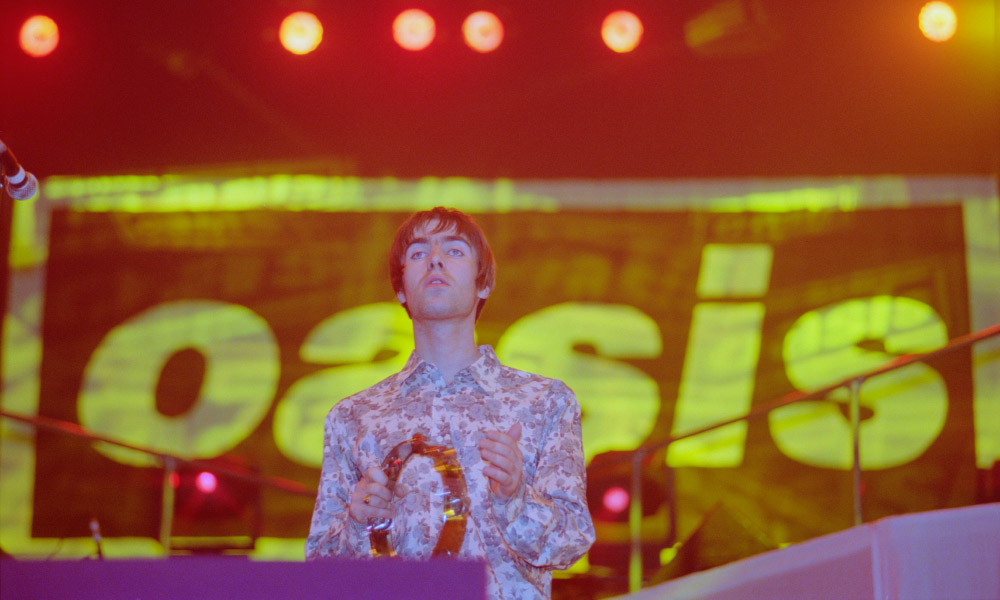 Oasis Score Their First No.1 Hit in the UK
On this day in music, April 24, 1995, Oasis scored their first No.1 hit in the UK with their sixth single, "Some Might Say." Written by Noel Gallagher, the tune was taken from the Manchester band's second album, (What's The Story) Morning Glory?, and marked the last recording made with their original drummer, Tony Carroll. The song became a defining hit for the band and was one of the biggest singles of the year in the UK.
In 1970, Elton John released his single "Border Song" in North America. While the song tanked during its initial release in the UK, it found better success across the Atlantic, where it gave the British singer and pianist his first appearance on any chart (peaking at No.34 in Canada). Co-written with John's longtime collaborator Bernie Taupin, "Border Song" was plucked from the singer's self-titled second album.
In 2016, Philadelphia soul legend Billy Paul died at 81. Born Paul Williams in the City of Brotherly Love, the singer made his recording debut in 1952 but didn't begin to enjoy success until 1970, when he began collaborating with noted songwriters and producers Kenny Gamble and Leon Huff, who signed him to their Philadelphia International label. He was best remembered for 1972's "Me and Mrs. Jones," a No.1 hit on the Billboard Hot 100. The song, which peaked at No.12 in the UK, also earned Paul a Grammy for Best R&B Vocal Performance by a Male Artist.
In 1968, The Beatles' newly formed Apple label turned down signing David Bowie, who had just left Deram Records. Bowie's then-manager Kenneth Pitt submitted a demo tape, only to receive a letter from the company's A&R chief, Peter Asher, stating that "Apple Records is not interested in signing David Bowie. The reason is that we don't feel he's what we're looking for at the moment."
In 1965, Wayne Fontana and the Mindbenders scored their sole No.1 hit in the US with "Game Of Love." The Manchester band – whose frontman took his stage name from Elvis Presley's drummer, D. J. Fontana – would only break the Hot 100 once again with "It's Just A Little Bit Too Late," which peaked at No.46.
In 1961, Bob Dylan made his first officially released recording, earning $50 for playing harmonica on the title track of Harry Belafonte's LP, The Midnight Special. Dylan had made his debut recording five months earlier on a record by folk singer Carolyn Hester, but it wasn't released until after Belafonte's album.
In 1968, New Orleans jazz legend Louis Armstrong scored his only UK No.1 hit with "What A Wonderful World." At the time, Armstrong, then 69, was the oldest act to top the UK charts.
Looking for more things that happened on this day in music?
Keep scrolling for all of the headlines for April 24.
BORN ON APRIL 24:
1942: Barbra Streisand
1945: Doug Clifford (Creedence Clearwater Revival)
1951: Nigel Harrison (Blondie)
1958: Boris Williams (The Cure)
1963: Billy Gould (Faith No More)
1964: Paul Ryder (Happy Mondays)
1967: Patty Schemel (Hole)
1982: Kelly Clarkson
1987: Ben Howard
Looking for more artists born on this day?
Keep scrolling for all of our April 24 birthdays.
---
What to find another day?
---
April 24th
24 Apr 2016
Papa Wemba, the King of Rumba Rock died aged 66 during a show. The musician collapsed on stage in Abidjan, Côte d'Ivoire, during the FEMUA urban music festival. He was one of the most popular musicians of his time in Africa and played an important role in world music.
24 Apr 2016
American soul singer Billy Paul died at his home in the Blackwood section of Gloucester Township, New Jersey, from pancreatic cancer at the age of 81. He was best known for his 1972 hit 'Me and Mrs Jones', which won a Grammy award and reached No.1 in the US.
24 Apr 2012
Sinead O'Connor
cancelled the remaining dates of her world tour, saying she was still recovering from a "very serious breakdown". In a statement on her official website, she said she had scrapped all concerts this year due to her bipolar disorder. Her website was also now being deleted along with her Twitter account.
24 Apr 2007
Sheryl Crow said a ban on using too much toilet paper should be introduced to help the environment. The singer suggested using "only one square per restroom visit, except, of course, on those pesky occasions where two to three could be required". Crowe made the comments on her website after touring the US on a biodiesel-powered bus to raise awareness about climate change. Crow had also designed a clothing line with what she called a "dining sleeve". The sleeve is detachable and can be replaced with another "dining sleeve" after the diner has used it to wipe his or her mouth.
24 Apr 2004
Marion "Suge" Knight, the founder of Death Row records was released from Mule Creek State Prison in California after serving 10 months for breaking his parole on a 1997 assault. Knight was sent back to prison on 4 August for a second parole violation after he punched a parking attendant outside a Hollywood night-club in 2003.
24 Apr 2003
The first official UK download chart was compiled after the big five record companies - EMI, Warners, Sony, BMG and Universal combined for a Digital Download day. Over 150,000 computer users had downloaded 1.1m tracks. The Net Parade Top 3: No.3, Tatu, 'All The Things She Said', No, 2,
Coldplay
'Clocks' and No.1 Christina Aguilera, 'Beautiful.'
24 Apr 2003
Dixie Chicks launched a publicity campaign to explain their position after the controversy of Natalie Maines' statement regading the Iraq war. During a prime-time interview with TV personality Diane Sawyer, Maines said she remained proud of her original statement. The band also appeared naked (with private parts strategically covered) on the current cover of Entertainment Weekly magazine, with slogans such as "Traitors", "Saddam's Angels", "Dixie Sluts", "Proud Americans", "Hero", "Free Speech", and "Brave" printed on their bodies. The slogans represented the labels (both positive and negative) that had been placed on them in the aftermath of Maines' statement.
24 Apr 1995
Oasis
released 'Some Might Say' which went on to give the band their first UK No.1 single. The planned promo video for the song was cancelled due to Liam not turning up for the shoot. Instead, a makeshift video was created using footage from the 'Cigarettes & Alcohol', US 'Supersonic' and UK 'Whatever' videos.
24 Apr 1992
David Bowie
married Somali born supermodel and actress Iman in Switzerland. Iman first got married at the age of eighteen to a young Somali man, in 1977, she married American basketball player Spencer Haywood.
24 Apr 1979
Ray Charles' 'Georgia On My Mind' was proclaimed the state song of Georgia. The music to the song was written in 1930 by Hoagy Carmichael who also recorded a version of the song in New York in the same year. Ray Charles, a native of Georgia, recorded it in 1960 on the album The Genius Hits the Road.
24 Apr 1976
Paul and Linda McCartney spent the evening with
John Lennon
at his New York Dakota apartment and watched Saturday Night Live on TV. Producer of the show Lorne Michaels made an offer on air asking
The Beatles
to turn up and play three songs live. Lennon and McCartney thought about taking a cab to the studio, but decided they were too tired. This was the last time Lennon and McCartney were together.
24 Apr 1975
Peter Ham, British singer, songwriter with
Badfinger
committed suicide by hanging himself in the garage of his Surrey home, aged 27. Ham co-wrote 'Without You', with band mate
Tom Evans
(who also later committed suicide). The song won an Ivor Novello award for Song Of The Year in 1973, and was a hit for Harry Nilsson and
Mariah Carey
. Ham was a founder member of The Iveys, who became
Badfinger
, were signed to the Beatles' Apple label, their first hit 'Come And Get It' was written by
Paul McCartney
.
24 Apr 1972
John Lennon
's controversial single, 'Woman Is the N****r of the World' was released in the US. The song peaked at No.57, despite virtually every radio station in the country refusing to play it. Yoko Ono said the phrase during a magazine interview in 1967 and Lennon later explained that he was making a point that women deserved higher status in society.
24 Apr 1970
Elton John
released his fourth single 'Border Song' the first single from his 1970 album Elton John. The appearance of 'Border Song on the Canadian charts was Elton John's first chart appearance in any country and was also John's first song to chart in the United States, peaking at No.92.
24 Apr 1968
The Beatles
new company, Apple Records turned down the offer to sign new artist
David Bowie
. (Apple later signed Mary Hopkin, James Taylor,
Badfinger
and Billy Preston).
24 Apr 1968
Louis Armstrong was at No.1 in the UK with the single 'What A Wonderful World / Cabaret.' At 69 years of age, it made Armstrong the oldest act ever to score a UK No.1.
24 Apr 1965
Wayne Fontana and the Mindbenders went to No.1 on the US singles chart with 'Game Of Love', a No.2 hit in the UK. Wayne took his name from DJ Fontana the
Elvis Presley
drummer. Eric Stewart guitarist in the Mindbenders went on join Hotlegs and 10CC.
24 Apr 1961
Bob Dylan
appeared on Harry Belafonte's album 'The Midnight Special' playing harmonica on the title track. Dylan was paid a $50 session fee for this his first ever recording.
24 Apr 1961
Del Shannon started a four week run at No.1 on the US singles chart with 'Runaway', also a No.1 in the UK. Del was the first person to have a hit with a Beatles song in the US with his version of 'From Me To You.'
24 Apr 1959
Buddy Holly
was at No.1 on the UK singles chart with the Paul Anka song 'It Doesn't Matter Anymore.' A No.1 hit six weeks after Holly's death.
24 Apr 1955
Perez Prado was at No.1 on the UK singles chart with 'Cherry Pink and Apple Blossom White'. Known as the 'King of the Mambo' the instrumental was the theme from the film 'Underwater' where Jane Russell can be seen dancing to 'Cherry Pink'.
Born on this day in music
24 Apr 1987
English singer-songwriter Ben Howard who won two BRIT Awards in 2013: British Breakthrough Act and British Solo Male Artist.
24 Apr 1982
Kelly Clarkson, singer, who came to prominence after winning the first season of American Idol, and scored the 2002 US No.1 single 'A Moment Like This'.
24 Apr 1974
Brian Marshall, bassist, from American rock band Creed, who had the 2001 US No.1 & UK No.13 single 'With Arms Wide Open' and the 2002 US No.1 album, Weathered.
24 Apr 1971
Jasbinder Mann (Jas Mann) musician, producer, 1996 UK No.1 single 'Spaceman', No.1 on the UK singles chart with 'Spaceman', the fastest selling non-charity single ever. (420,000 copies in 6 days). The song was used as the backing for a Levi Jeans TV commercial.
24 Apr 1968
Aaron Comess, drummer, with American rock band The Spin Doctors who had the 1993 UK No.3 & US No.7 single 'Two Princess' and the hit 'Little Miss Can't Be Wrong'.
24 Apr 1967
Shannon Larkin, drummer, with Ugly Kid Joe, Godsmack, who had the 2003, US No.1 album 'Faceless', and the 2006 US No.1 album 'IV'.
24 Apr 1967
Patty Schemel, with American alternative rock band Hole. The band has been noted for being one of the most commercially successful female-fronted rock bands of all time.
24 Apr 1964
Paul Ryder, bassist with English alternative rock band Happy Mondays who had the 1990 UK No.5 single 'Step On' and the 1990 hit Kinky Afro'.
24 Apr 1963
Billy Gould, bassist from American rock band, Faith No More who had the 1993 UK No.3 and US No.4 hit single with their version of The Commodores 'I'm Easy'. They had the best-selling albums The Real Thing (1989) and Angel Dust (1992).
24 Apr 1960
Paula presenter on UK music TV show
The Tube
. Yates is the ex-wife of Sir
Bob Geldof
and was the girlfriend of INXS singer
Michael Hutchence
. Yates died on September 17th 2000.
24 Apr 1958
Boris Williams, drummer with English rock band
The Cure
who had the 1989 US No.2 single 'Love Song', the 1992 UK No.6 single 'Friday I'm In Love', plus over 20 other UK Top 40 singles.
24 Apr 1957
David Jay from English post-punk band Bauhaus, who had the 1982 UK No.15 single with their version of the
David Bowie
song '
Ziggy Stardust
'.
24 Apr 1954
Jack Blades, bassist with Night Ranger and Damn Yankees, 1990 album 'Damn Yankies.'
24 Apr 1951
English musician Nigel Harrison who bass player who spent several years as the bassist of the American rock band
Blondie
during the 1970s and 1980s.
24 Apr 1948
Steve York who with Manfred Mann had the 1964 UK & US No.1 single 'Do Wah Diddy Diddy' and the 1968 UK No.1 & US No.10 single 'Mighty Quinn'.
24 Apr 1947
Ann Kelly, from American pop and soul trio The Hues Corporation, who scored the 1974, US No.1 & UK No.6 single 'Rock The Boat' which sold over 2 million copies.
24 Apr 1945
Doug Clifford, drummer with
Creedence Clearwater Revival
who scored the 1969 US No.2 & UK No.1 single 'Bad Moon Rising', and the 1970 US & UK No.1 album Cosmo's Factory. The band has sold 26 million albums in the United States alone.
24 Apr 1942
American singer, songwriter, actress, and filmmaker Barbra Streisand who had the 1974 US No.1 single 'The Way We Were', and the 1980 UK & US No.1 single 'Woman In Love'. She is among a small group of entertainers who have been honored with an Emmy, Grammy, Oscar, and Tony Award. Films include, Funny Girl, The Owl and the Pussycat, The Way We Were, and A Star Is Born.