April 26th: The Biggest Music Headlines
Scroll down the page to see all the music headlines, stories and events for April 26 throughout music history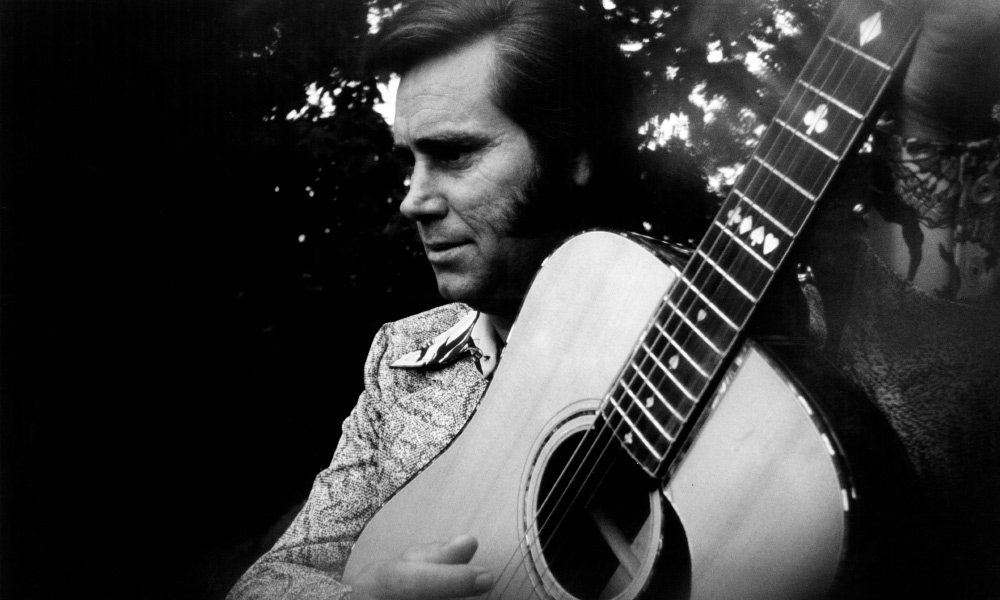 Country Music Legend George Jones Passes
On this day in music, April 26, 2013, country music icon George Jones passed away. Born in Saratoga, Texas, Jones, who was noted for his distinctive singing style, acquired the nicknamed "Possum" and was also dubbed the "Rolls Royce of country music." Between 1954 and 2008, he racked up 13 No.1 hit singles on the US country charts, which included three duets with his wife, Tammy Wynette. (Jones and Wynette were married between 1969 and 1975). Jones' best-known song is 1980's "He Stopped Loving Her Today," a tragic storytelling ballad that some critics regard as the greatest country song of all time.
In 1966, British singer Dusty Springfield – born Mary O'Brien and famed for her blonde beehive hairdo and heavy dark eyeliner – topped the UK singles chart for the first and only time with "You Don't Have To Say You Love Me." The song was an English adaptation of "Io Che Non Vivo (Senza Te)," co-written by Italian singer Pino Donaggio, who took it to the top of his country's pop chart in 1965. Springfield's version was her biggest US hit until "What Have I Done to Deserve This?," her 1987 collaboration with Pet Shop Boys.
In 2009, British rapper and singer Tinchy Stryder, assisted by London hip-hop trio N-Dubz, topped the UK singles chart with "Number 1." It was the first time that a song called "Number 1" stood at the top of the pop charts anywhere in the world. Stryder, who was born Kwasi Esono Danquah III in Ghana, reached No.1 for the second and last time with his follow-up single, "Never Leave You."
In 1984, a statue of The Beatles was unveiled in Liverpool at the city's newly opened Cavern Walks shopping center. Created by British sculptor John Doubleday at the cost of £40,000, the statue was unveiled by Paul McCartney's younger brother, Mike (who scored a No.1 UK hit with "Lily The Pink" in 1968 as part of The Scaffold). Also attending was John Lennon's first wife, Cynthia.
In 2019, Phil McCormack, the frontman for the Southern hard-rock band Molly Hatchet, died at 58. He first hooked up with the Florida-based band in 1992 when he deputized for the band's original lead singer, Danny Joe Brown, on a tour and then rejoined them permanently in 1996 when Brown departed for health reasons. McCormack appeared on seven of the band's studio albums.
Looking for more things that happened on this day in music?
Keep scrolling for all of the headlines for April 26.
BORN ON APRIL 26:
1938: Duane Eddy
1940: Giorgio Moroder (Producer, Songwriter)
1942: Bobby Rydell
1960: Roger Taylor (Duran Duran)
1970: T-Boz (TLC)
1970: Ruth Anne (Olive)
1975: Joey Jordison (Slipknot)
1976: Jose Antonio Pasillas II (Incubus)
1981: Miss Dynamite
Looking for more artists born on this day?
Keep scrolling for all of our April 26 birthdays.
---
What to find another day?
---
April 26th
26 Apr 2019
Molly Hatchet singer Phil McCormack died age 58. He'd fronted the Southern rock band since 1996 after having performed with them previously, taking over from Danny Joe Brown.
26 Apr 2016
A list of tracks by a death metal band was accidentally printed on the back of a new album by UK comedian Bernie Clifton. The 80-year-old (who is famous for riding a yellow ostrich), said he was "fuming and furious" about the error, which saw songs by the group Abhorrent Decimation printed on his new CD.
26 Apr 2013
US country singer George Jones who had a string of No.1 songs between the 1950s and 1990s, died aged 81. Nicknamed Possum, his signature song was He Stopped Loving Her Today, a track about love and death. He was married to
Tammy Wynette
between 1969 and 1975 and the pair recorded several songs together in the 1970s.
26 Apr 2009
Tinchy Stryder feat N-dubz started a three week run at No.1 on the UK singles chart with 'Number 1', the first time ever that a single called 'Number 1' has made it to the top of the UK charts.
26 Apr 2008
Amy Winehouse
spent the night in custody after being arrested on suspicion of assault. Police said Winehouse had been "in no fit state" to be questioned when she arrived at the London station and she was kept in the cells. The 24-year-old was to be questioned about an incident said to have occurred 3 days earlier after a 38-year-old man claimed he was assaulted.
26 Apr 2001
Destiny's Child were at No.1 on the UK singles chart with 'Survivor',
Janet Jackson
was at No.1 on the US chart with 'All For You' and Shaggy and Ricardo RikRok Ducent had the Australian No.1 single with 'It Wasn't Me'
26 Apr 1997
Ernest Stewart, keyboard player with KC and the Sunshine Band, died of an asthma attack. (1975 US No.1 single 'That's The Way, I Like It', 1983 UK No.1 single 'Give It Up').
26 Apr 1995
Courtney Love reportedly turned down an offer of $1m from Playboy to pose nude for the magazine.
26 Apr 1994
Grace Slick pleaded guilty to pointing a shotgun at police in her California home. She claimed she was under stress because her home had burned down the previous year. She was later sentenced to 200 hours of community service and told to attend four Alcoholics Anonymous meetings a week for three months.
26 Apr 1990
Nirvana
appeared at the Pyramid Club in New York City. The bands label Sub Pop filmed the show and the performance of 'In Bloom' was later used as a promo clip.
26 Apr 1988
Mick Jagger
appeared in White Plains, New York, Federal Court in the copyright infringement case brought by reggae singer Patrick Alley, who claimed the Mick Jagger solo track 'Just Another Night' was a plagiarism of his own song of the same name. Alley was claiming $7m in profits from the track. During the case Sly Dunbar played drums to the court to show how the beats were different in each song and Mick sang and played demos of his song to show the court the development of the track. At the end of the week-long trial, Jagger won the case.
26 Apr 1984
Mike McCartney unveiled the £40,000 statue of
The Beatles
by John Doubleday at the new £8 million Cavern Walks shopping centre in Liverpool, England. John's first wife, Cynthia, was also in attendance.
26 Apr 1982
Out on a day's shopping,
Rod Stewart
was robbed by a gunman of his $50,000 Porsche on Hollywood Boulevard in Los Angeles.
26 Apr 1980
Blondie
were at No.1 on the UK singles chart with 'Call Me', the group's fourth UK No.1, featured in the Richard Gere movie 'American Gigolo', the track was also a No.1 in the US where it became the band's biggest selling single. Producer Giorgio Moroder originally asked Stevie Nicks from
Fleetwood Mac
to help compose and perform a song for the soundtrack, but she declined.
26 Apr 1976
'Wings At The Speed Of Sound' went to No.1 on the US album chart.
Paul McCartney
's fifth No.1 album after
The Beatles
became his most successful American chart album, spending seven unconsecutive weeks at No.1. The album featured the hits 'Let 'Em In' and 'Silly Love Songs'.
26 Apr 1969
During the band's second North American tour
Led Zeppelin
played the second of two nights at The Winterland Ballroom, San Francisco in California. It was during this show that 'Whole Lotta Love' was played live for the first time.
26 Apr 1966
Dusty Springfield was at No.1 on the UK singles chart with 'You Don't Have To Say You Love Me', the singers only UK No.1. When recording the track, Springfield was not satisfied with her vocal until she had recorded forty-seven takes.
26 Apr 1964
The Beatles
, The
Rolling Stones
and the Dave Clark Five headlined the NME poll winner's concert at Wembley Empire Pool, London.
Born on this day in music
26 Apr 1982
Jonathan Lee, from English pop group S Club 7 who had the 1999 UK No.1 single 'Bring It All Back'. Their 2000 UK No.1 album 7 spent over a year on the UK chart. The group was formed in 1998 and quickly rose to fame by starring in their own BBC television series, Miami 7.
26 Apr 1981
Ms Dynamite, (Niomi McLean Daley), English rapper, singer, songwriter. She is the recipient of the Mercury Music Prize, two Brit Awards and three MOBO Awards.
26 Apr 1976
Jose Antonio Pasillas II, drummer, from American rock band Incubus, who had the 2001 US No.9 & UK No.40 single, 'Drive', and the 2004 US No.2 and UK No.6 album A Crow Left of the Murder', and the 2006 US No.1 album Light Grenades. Worldwide, Incubus has sold over 23 million albums.
26 Apr 1975
Joey Jordison, drummer with American heavy metal band Slipknot. Their 2008 fourth album All Hope Is Gone gave them their first US No.1. Jordison played in Slipknot since their formation in 1995 until his departure from the band in December 2013. He was also the guitarist in the American horror punk band Murderdolls. He died on 26 July 2021 at the age of 46.
26 Apr 1971
Jay DeMarcus, (real name: Stanley Wayne DeMarcus Jr.), bassist with American country band Rascal Flatts who scored the 2004 US country No.2 single 'I Melt', and the 2006 US No.1 album 'Me And My Gang'.
26 Apr 1970
Ruth Anne, English singer with Olive who scored the 1997 UK No.1 single 'You're Not Alone'.
26 Apr 1970
Tionne Watkins, T- Boz, singer with American girl group TLC. They scored nine top-ten hits on the Billboard Hot 100, including four No.1 singles, 'Creep', 'Waterfalls', 'No Scrubs', and 'Unpretty'. Their 1999 US No.1 album Fanmail spent 57 weeks on the UK chart. Having sold over 65 million records worldwide, TLC is the best-selling American girl group.
26 Apr 1967
English session drummer Darrin Mooney who has worked with Gary Moore, Primal Scream, Colin Blunstone, Cliff Richard, Dionne Warwick and David Holmes.
26 Apr 1961
Chris Mars, drummer from American rock band The Replacements, who released the 1984 album Let It Be. Initially a punk rock band, they are considered pioneers of alternative rock.
26 Apr 1960
Roger Taylor, drummer with
Duran Duran
who scored the 1983 UK No.1 single 'Is There Something I Should Know' plus 25 other UK Top 40 singles, and the 1984 US No.1 single 'The Reflex'. Also a member of Arcadia who had the 1985 UK No.7 single 'Election Day' and The Power Station.
26 Apr 1952
Neol Davies from 2 Tone ska revival band Selecter who had the 1979 UK No.8 single 'On My Radio'.
26 Apr 1951
Nick Garvey, guitarist and singer from British pub rock band The Motors who had the 1978 UK No.4 single 'Airport'.
26 Apr 1945
American keyboard player and vocalist Mike Finnigan, his speciality being the B3 Hammond Organ. Finnigan has worked with many artists including,
Jimi Hendrix
(Electric Ladyland), Joe Cocker,
Crosby Stills & Nash
, Peter Frampton, Cher,
Ringo Starr
, Leonard Cohen, Tower of Power and Rod Stewart.
26 Apr 1945
Tony Murray, with English garage rock band The
Troggs
, who had the 1966 US No.1 & UK No.2 single 'Wild Thing' and the hits 'With a Girl Like You' and 'Love Is All Around'.
26 Apr 1943
American singer, songwriter Gary Wright who was a member of Spooky Tooth. He had the 1976 solo US No.2 single 'Dream Weaver'. The song was inspired by Autobiography of a Yogi, which was given to him by
George Harrison
. Wright also played on Harrison's 1970
All Things Must Pass
triple album.
26 Apr 1942
American singer Bobby Rydell who had the 1960 US No.2 & UK No.7 single 'Wild One', plus 17 other US Top 40 hits.
26 Apr 1940
Italian singer, songwriter, DJ and record producer Giorgio Moroder who had the 1979 US No.33 & UK No. 48 single, 'Chase' from the film Midnight Express. He produced all of Donna Summer's world- wide 1976 hits including 'Love To Love You Baby', and the 1984 UK No.3 single with Phil Oakey, 'Together In Electric Dreams.' He also created a score of songs for performers including
David Bowie
,
Kylie Minogue
, Irene Cara and
Janet Jackson
.
26 Apr 1938
American guitarist Duane Eddy, who had a string of hit records in the late 1950s and early 1960s, produced by Lee Hazlewood, which were noted for their characteristically "twangy" sound, including 'Rebel Rouser', 'Peter Gunn', and 'Because They're Young'.
26 Apr 1938
Maurice Williams, from American doo-wop singer who had the 1960 US No.1 & 1961 UK No.14 single 'Stay' with The Zodiacs. The song was also a hit for Jackson Browne and The Hollies.