April 29th: The Biggest Music Headlines
Scroll down the page to see all the music headlines, stories and events for April 29 throughout music history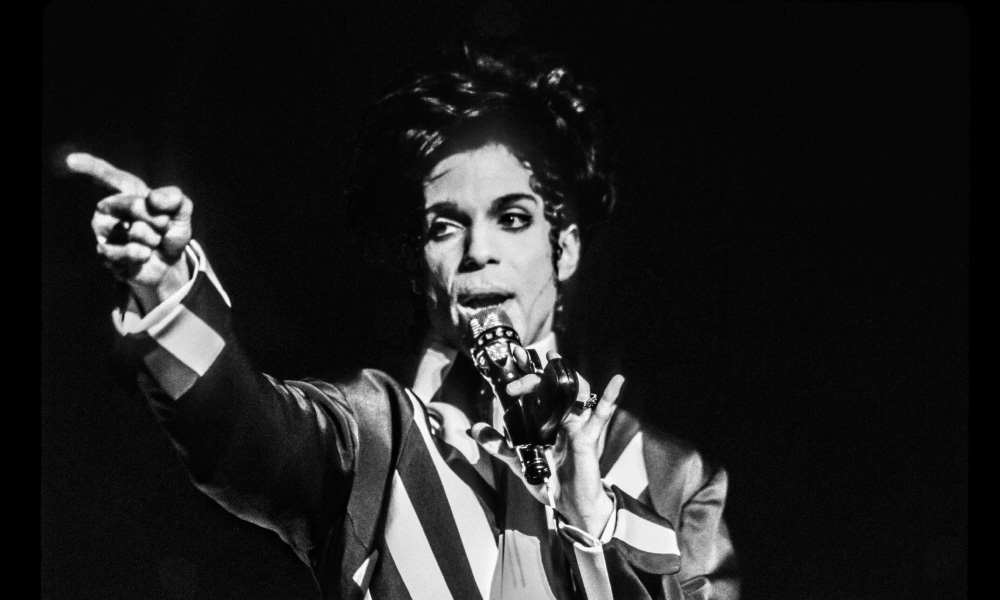 Prince Posthumously Dominates The Charts
On this day in music, April 29, 2016, 14 Prince albums re-entered the UK Top 40 as a result of huge public interest in his back catalog following his death earlier in the month. The highest placed was The Very Best Of, which reached No.2. At the same time, six of Prince's singles re-entered the UK Top 100, with "Purple Rain" hitting No. 6. In the US during the same week, Prince established a chart record in The Billboard 200 by simultaneously placing five albums in the Top 10.
In 1968, the Broadway rock musical Hair opened at New York City's Biltmore Theatre. The show became a beacon for the counterculture and sexual revolution movements. Its most famous songs were "Aquarius / Let the Sunshine In" and "Good Morning Starshine." The production closed on July 1, 1972 after 1,729 performances.
In 1993, 46-year-old guitarist, pianist, and producer Mick Ronson lost his battle with liver cancer. The Yorkshire-born musician rose to fame playing in David Bowie's Spiders From Mars group during the artist's Ziggy Stardust period. Additionally, Ronson issued three studio albums under his own name and co-produced Lou Reed's classic 1972 album, Transformer. He also recorded with Ian Hunter, Bob Dylan, Elton John, and Morrissey.
In 1963, Andrew Oldham, a 19-year-old publicist, together with booking agent Eric Easton, signed The Rolling Stones to a management deal via a £90 purchase fee for the band's demo recordings. The pair persuaded the group to slim down from six to five members by dropping pianist Ian "Stu" Stewart, who became the band's road manager. Within two weeks, Oldham had procured the band a recording deal with Decca Records.
In 1977, London new wave trio The Jam released their debut single, "In The City," which peaked at No.40 in the UK pop chart. It was the first of 39 UK chart entries for the Paul Weller-led act.
In 1980, Black Sabbath kicked off their first tour without Ozzy Osbourne, whom they fired in April the previous year; in his stead came US singer and former Rainbow frontman Ronnie James Dio.
Looking for more things that happened on this day in music?
Keep scrolling for all of the headlines for April 29.
BORN ON APRIL 29:
1899: Duke Ellington
1931: Lonnie Donegan
1933: Willie Nelson
1933: Rod McKuen
1934: Otis Rush
1942: Klaus Voorman
1945: Tammi Terrell
1947: Tommy James (Tommy James & The Shondells)
1953: Bill Drummond (KLF)
1968: Carnie Wilson (Wilson Phillips)
1981: Tom Smith (The Editors)
Looking for more artists born on this day?
Keep scrolling for all of our April 29 birthdays.
---
What to find another day?
---
April 29th
29 Apr 2021
British drummer John Hinch died age 73. He was the drummer in an early line-up of heavy metal band Judas Priest.
29 Apr 2016
Fifteen of
Prince
's albums made it into the UK chart as fans rushed to buy his music following his sudden death. Six were in the top 40 with The Very Best Of, Ultimate and Purple Rain at two, three and four.
29 Apr 2014
David Gilmour, former
Smiths
guitarist Johnny Marr and
Radiohead
's Ed O'Brien and Philip Selway all signed an open letter, published by The Guardian, to keep musical instruments available to UK prisoners. Spearheaded by Billy Bragg, the singer-songwriter founded an "independent initiative" called Jail Guitar Doors in 2007 to provide instruments for the rehabilitation of inmates.
29 Apr 2009
An anonymous
Queen
fan won a two-hour one-to-one guitar lesson with Brian May, after bidding £7,600 (approximately $11,900) at a private charity auction. The auction, in support of the Action for Brazil's Children Trust, of which May is a patron, was held at the exclusive Cuckoo Club in London.
29 Apr 2007
Arctic Monkeys started a three week run at No.1 on the UK album chart with their second album 'Favourite Worst Nightmare.'
29 Apr 2003
A $5 million lawsuit against former
Creedence Clearwater Revival
leader John Fogerty was dismissed after a personal-injury lawyer claimed that he suffered hearing loss in his left ear from attending a Fogerty concert. The Judge said the plaintiff assumed the risk of hearing damage when he attended the concert in 1997.
29 Apr 2001
Rod Stewart
asked for a change in wedding vows bringing them up to-date and to be treated like a dog licence. Stewart said 'a change is needed because they've been in existence for 600 years when people used to live until they were only 35'.
29 Apr 2001
A blue plaque was unveiled at 38 Aubrey Walk, Kensington, London to honor the musical heritage of the address where British singer Dusty Springfield lived between 1968-1972.
29 Apr 1998
Steven Tyler broke his knee at a concert in Anchorage, Alaska delaying
Aerosmith
's 'Nine Lives' tour and necessitating camera angle adjustments for the filming of the video for 'I Don't Want to Miss a Thing.'
29 Apr 1997
Boy George was accused of being a 'professional liar' by musician singer Kirk Brandon during a London court hearing. Brandon was in court suing the singer over claims in George's autobiography that pair had slept together.
29 Apr 1997
American bass guitarist Keith Ferguson died of liver failure at the age of 50, due in part to a nearly thirty-year addiction to heroin. He was a member of The Fabulous Thunderbirds who had two hit songs in the 1980s, 'Tuff Enuff' and 'Wrap It Up.'
29 Apr 1993
Guitarist, producer,
Mick Ronson
died of liver cancer aged 46. Ronson recorded and toured with
David Bowie
from 1970 to 1973. Released the 1974 solo album 'Slaughter On Tenth Avenue'. Ronson co-produced Lou Reed's album Transformer, also part of Hunter Ronson Band with Ian Hunter. And worked with Morrissey, Slaughter & The Dogs, The Wildhearts, The Rich Kids,
Elton John
, Johnny Cougar, T-Bone Burnett.
29 Apr 1990
Floyd Butler of The Friends of Distinction, died of a heart attack at the age of 49. Had the US No.3 single 'Grazing In The Grass' in 1969.
29 Apr 1981
Elton John
paid £14,000 for 232 'Goon Show' scripts broadcast during the 50s at an auction held at Christies, London.
29 Apr 1980
29 Apr 1978
P.J. Proby was sacked from his role in the London stage musical Elvis after repeatedly changing his lines from the script. Proby had been playing the oldest of three Presley's in the play.
29 Apr 1977
The Jam
released their first single 'In The City', which peaked at No. 40 in the UK charts. The English punk rock/mod revival formed in Woking, Surrey, fronted by Paul Weller, achieved 18 other Top 40 hits including four UK No.1's.
29 Apr 1976
After a gig in Memphis
Bruce Springsteen
took a cab to
Elvis Presley
's Graceland home and proceeded to climb over the wall. A guard took him to be another crank fan and apprehended him.
29 Apr 1967
The 14 hour Technicolour Dream benefit party for The International Times was held at Alexandra Palace in London. Seeing the event mentioned on TV,
John Lennon
called his driver and went to the show. Coincidentally, Yoko Ono was one of the performers. Other acts to appear included The Flies,
Pink Floyd
, Arthur Brown, The Move and Suzie
Cream
cheese.
29 Apr 1965
Jimmy Nicol, the drummer who stood in for
Ringo Starr
during a Beatles Australian tour in 1964, appeared in a London Court faced with bankruptcy with debts of £4,000.
29 Apr 1963
Publicist Andrew Oldham and agent Eric Easton signed a management deal with The
Rolling Stones
after buying the rights to the bands first recordings for £90. They also persuade keyboard player Ian Stewart to drop out of the line up and become the bands road manager, (and still play piano at the back of the stage).
Born on this day in music
29 Apr 1981
Tom Smith, bass guitarist, with English rock band The Editors, who had the 2007 UK No.1 album An End Has a Start and earned the band a Brit Awards nomination for best British Band.
29 Apr 1980
Kian Egan, from Irish pop vocal group Westlife who scored 14 UK No.1 singles, and have sold over 50 million records worldwide. Despite their success worldwide, Westlife never managed to break into the US market, achieving only one hit single in 2000, 'Swear It Again'.
29 Apr 1979
Joanne Velda O'Meara, from English pop group S Club 7 who had the 1999 UK No.1 single 'Bring It All Back'. Their 2000 UK No.1 album 7 spent over a year on the UK chart. The group was formed in 1998 and quickly rose to fame by starring in their own BBC television series, Miami 7.
29 Apr 1973
Mike Hogan, bass, with Irish rock band The Cranberries who had the 1994 UK No.14 single 'Linger'. The bands 1993 album Everybody Else Is Doing It So Why Can't We spent 86 weeks on the UK chart.
29 Apr 1968
Carnie Wilson, of Wilson Phillips, daughter of Beach Boy
Brian Wilson
who scored the 1990 US No.1 & UK No.6 single 'Hold On'.
29 Apr 1960
Phil King, bassist of the British alternative rock band Lush who had the 1996 UK No.21 single 'Single Girl'.
29 Apr 1958
Simon Edwards from British folk and soft rock band, Fairground Attraction who had the 1988 UK No.1 single 'Perfect'.
29 Apr 1953
Bill Drummond, producer, A&R man, writer, musician. Joined Big In Japan in 1977 (with Holly Johnson, later of Frankie Goes To Hollywood and Ian Broudie later of Lightning Seeds). Co-founder of Merseysides Zoo Records. Formed KLF in the late 1980s, who had a 1991 UK No.1 single 3 AM Eternal'.
29 Apr 1947
Tommy James, The Shondells, from American rock band, Tommy James & The Shondells who had the 1966 US No.1 single 'Hanky Panky', the 1968 UK No.1 single 'Mony Mony' and the hit 'I Think We're Alone Now'.
29 Apr 1946
American soul singer, songwriter and record producer Lorraine Chandler. She was one of the first black female songwriters and producers. She worked with
Motown
Records percussionist Jack Ashford (famous for playing the tambourine on hundreds of Motown recordings), The O'Jays recorded her song 'I'll Never Forget You'. Chandler died on 2 January 2020 age 73.
29 Apr 1945
American recording artist
Tammi Terrell
who had a series of duets with singer
Marvin Gaye
. She had had hits with
Marvin Gaye
, and scored seven Top 40 singles on the Billboard Hot 100, including 'Ain't No Mountain High Enough', 'Ain't Nothing Like the Real Thing' and 'You're All I Need to Get By'. Terrell died of a brain tumour on March 16th 1970 after collapsing into
Marvin Gaye
's arms on stage during a duet of 'That's All You Need To Get By'. Terrell had undergone eight brain operations in 18 months.
29 Apr 1942
German artist, musician Klaus Voorman, who played bass with Manfred Mann and the Plastic Ono Band. Voorman designed the cover for
The Beatles
album
Revolver
. As a session musician he worked on a host of recordings, including 'You're So Vain' by Carly Simon.
29 Apr 1936
April Stevens (born Carol LoTempio), US singer, Nino Tempo and April Stevens who had the 1963 US No.1 '
Deep Purple
', which was a No.17 hit in the UK.
29 Apr 1934
American blues guitarist and singer-songwriter Otis Rush. His first single, 'I Can't Quit You Baby', in 1956 reached No.6 on the Billboard R&B chart. Two of his other best-known songs, are 'Double Trouble' and 'All Your Love (I Miss Loving).' He died on 29 September 2018 from complications of a stroke aged 84.
29 Apr 1933
American poet, singer-songwriter, and actor Rod McKuen. McKuen's translations and adaptations of the songs of Jacques Brel were instrumental in bringing the Belgian songwriter to prominence in the English-speaking world. McKuen's songs sold over 100 million recordings worldwide. He died on 29 January 2015.
29 Apr 1933
Willie Nelson, country music singer-songwriter, (He was born on April 29, 1933, but his birth was recorded on April 30). Nelson has acted in over 30 films, co-authored several books, and has been involved in activism for the use of biofuels and the legalization of marijuana. Along with
Neil Young
and John Mellencamp, he set up Farm Aid in 1985 to assist and increase awareness of the importance of family farms. He wrote the country classic 'Crazy' a hit for
Patsy Cline
.
29 Apr 1931
British skiffle singer, songwriter and musician Lonnie Donegan, who launched the skiffle craze and was Britain's most successful and influential recording artist before
The Beatles
. He had a 1960 UK No.1 single with 'My Old Man's A Dustman', plus over 30 other UK Top 40 singles. 'Does Your Chewing Gum Lose Its Flavour (On the Bedpost Overnight?)', was his biggest hit in the US. He died on 3 November 2002 age 71.
29 Apr 1928
Carl Gardner, The Coasters. The American rhythm and blues, rock and roll vocal group scored the 1958 US No.1 single 'Yakety Yak', the 1959 US No.2 and UK No.6 single 'Charlie Brown', as well as 'Young Blood' and 'Poison Ivy'. Gardner died on June 12, 2011.
29 Apr 1899
Duke Ellington, American composer, bandleader, pianist. He worked with Louis Armstrong, Ella Fitzgerald, Dizzy Gillespie, Billie Holiday. Ellington died on May 24, 1974, of complications from lung cancer and pneumonia, a few weeks after his 75th birthday.