August 17th: The Biggest Music Headlines
Scroll down the page to see all the music headlines, stories and events for August 17 throughout music history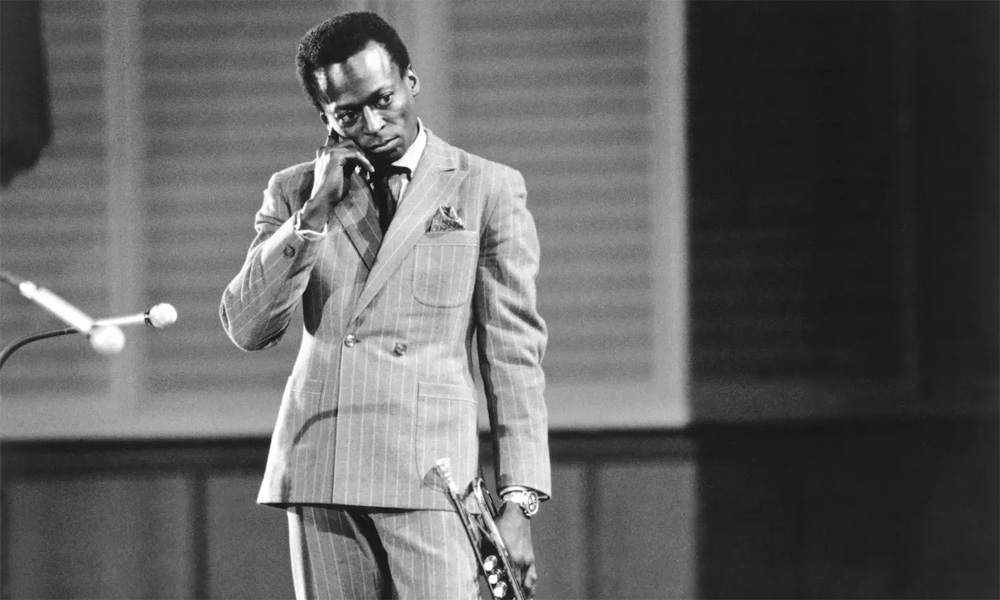 Miles Davis Ushers In A New Era Of Music
On August 17, 1959, Miles Davis released his masterpiece, Kind of Blue, which features such compositions as "So What," "All Blues," and "Blue in Green." Regarded as the greatest jazz album (not to mention one of the most influential albums) of all time by a multitude of critics, Kind of Blue found the trumpeter experimenting with his sound (in particular, modalities), allowing each performer to have a wide berth with their improvisations. Davis led an all-star sextet, including saxophonists John Coltrane and Cannonball Adderley, pianist Bill Evans, bassist Paul Chambers, and drummer Jimmy Cobb (plus Wynton Kelly, who guested on piano for the track "Freddie Freeloader." In addition to reverberating across a range of genres, Kind of Blue also shares the honor (alongside Vince Guaraldi's A Charlie Brown Christmas) of being the best-selling jazz album of all time.
In 1955, Elvis released "I Forgot to Remember to Forget." The single would be his very first No.1 single, topping Billboard's Country chart. His next 45, "Heartbreak Hotel," would take him to the top of the pop charts…and then some!
In 1960, The Beatles played their first show in Hamburg, at the Indra Club. As the story goes, club owner Bruno Koschmider told the band to "Mach Shau" (to really put on a show). What transpired next could very well be described by their future hit, "Twist and Shout." Needless to say, these raucous shows helped the band establish their act, hone their material, and build their fanbase.
In 1969, the final day of Woodstock closed out with sets by Country Joe and the Fish, the Paul Butterfield Blues Band, The Who, Jimi Hendrix, and Crosby, Stills, Nash & Young, among others. The three-day festival hosted more than 400,000 attendees, and featured 32 bands.
In 1991, Nirvana filmed the video for their breakthrough single, "Smells Like Teen Spirit," at GMT Studios in Culver City, CA. Costing less than $50,000 (a bargain, when it came to music videos at the time), the visual featured the band's real fans in the audience.
In 2012, three members of the Russian punk collective Pussy Riot were sentenced to two years in prison, after staging a performance in protest of President Vladimir Putin.
In 2019, Tool's "Fear Inoculum" became the longest song ever (clocking in at 10:22) to break the Billboard Hot 100.
Looking for more things that happened on this day in music?
Keep scrolling for all of the headlines for August 17.
BORN ON AUGUST 17:
1953: Kevin Rowland (Dexy's Midnight Runners)
1958: Belinda Carlisle (The Go-Go's)
1962: Gilby Clarke (Guns N' Roses)
1966: Jill Cunniff (Luscious Jackson)
1969: Donnie Wahlberg (New Kids on the Block)
1969: Kelvin Mercer (De La Soul)
2003: The Kid Laroi
Looking for more artists born on this day?
Keep scrolling for all of our August 17 birthdays.
---
What to find another day?
---
August 17th
17 Aug 2019
Tool's 'Fear Inoculum' entered the US Hot 100 at No. 93, becoming the longest song ever to hit that chart. Running at 10:22, it outran
David Bowie
's 'Blackstar,' which clocks in at 9:57. 'Fear Inoculum' dropped off the chart the following week.
17 Aug 2012
Three members of the Russian feminist punk rock protest group Pussy Riot were sentenced to two years imprisonment after they had staged a performance on the soleas of Moscow's Cathedral of Christ the Savior in a protest directed at the Orthodox Church leader's support for President Putin during his election campaign.
17 Aug 2009
An arrest warrant was issued for singer Bobby Brown after he failed to appear at a court hearing involving child maintenance payments. Judge Christina Harms ordered Mr Brown, to be arrested next time he was in the state of Massachusetts. The singer had allegedly fallen $45,000 (£27,500) behind in payments for two teenage children he had with former girlfriend Kim Ward.
17 Aug 2009
A thief in New Zealand took the unusual step of leaving his contact details at the site of his crime. The man reserved a copy of
Pink Floyd
's
The Wall
at a record shop in Christchurch, leaving his name and phone number, before robbing the till. He was a regular customer at the shop and already had several records on order.
17 Aug 2008
Jackson Browne was suing US Republican presidential candidate John McCain for using one of his songs without permission. Browne claimed the use of his song Running on Empty in an advert was an infringement of copyright and would lead people to conclude he endorses McCain. Browne was seeking more than $75,000 (£40,000) in damages.
17 Aug 2004
A report showed how touts were now using eBay to sell tickets for sold-out concerts. It said the touts were not breaking the law by using auction sites on the internet, it showed tickets for
Madonna
's Wembley gig worth £150 were for sale at £350 and a pair of tickets to see The White Stripes worth £90 were currently on eBay for £130.
17 Aug 2002
Darius was at No.1 on the UK singles chart with 'Colourblind'. The third "Pop Idol" finalist to get a number one. He'd originally lost out on "Popstars", failing to get a place in the group Hear'Say, and then came third in "Pop Idol".
17 Aug 1999
Led Zeppelin
topped a chart of Britain's most bootlegged musicians, compiled by the British Phonographic Industry (BPI), after identifying 384 bootleg titles featuring Led Zeppelin performances. The bootleg chart was complied from the BPI's archive of some 10,000 recordings seized over the past 25 years.
The Beatles
came in second with 320 entries, other acts listed included The
Rolling Stones
,
Bob Dylan
and
Pink Floyd
.
17 Aug 1999
Former Bay City Rollers drummer Derek Longmuir appeared at the Edinburgh Sheriff Court accused of child porn and drugs offences. Longmuir, 48, denied the charges. He was later sentenced to 300 hours community service.
17 Aug 1995
Depeche Mode singer Dave Gahan was rushed to Cedars-Sinai Medical Centre after an apparent suicide attempt. Police had found him at his Los Angeles home with a two-inch laceration on his wrist.
17 Aug 1991
Nirvana
shot the video for '
Smells Like Teen Spirit
' at GMT Studios in Culver City, California, costing less than $50,000 to make, the shoot features real
Nirvana
fans as the audience. The video won
Nirvana
the Best New Artist and Best Alternative Group awards at the 1992
MTV
Video Music Awards, and in 2000 the Guinness World Records named 'Teen Spirit' the Most Played Video on
MTV
Europe.
17 Aug 1987
Session drummer Gary Chester died of cancer. He had been a member of The Coasters and played on many major hits for other acts including: 'Brown Eyed Girl' 'Under The Boardwalk' 'Walk On By', 'It's My Party.'
17 Aug 1979
The New York Post reported that Anita Pallenberg (the wife of
Keith Richards
) was linked to a witches coven in South Salem, New York where Richards owned a house. A policeman claimed he was attacked by a flock of black-hooded, caped people and a local youth claimed he had been invited by Pallenburg to take part in 'pot smoking sex orgies'. Locals also claimed they found 'ritualistic stakes' and small animals that had been 'sacrificed' near the house.
17 Aug 1974
Eric Clapton
started a four-week run at No.1 on the US album chart with 461 Ocean Boulevard, a No.3 hit in the UK. The house featured on the album cover is 461 Ocean Boulevard in the town of Golden Beach, Florida (near Miami) where Clapton lived while making the album.
17 Aug 1973
Former
Temptations
singer Paul Williams was found dead in his car, after shooting himself. He owed $80000 in taxes and his celebrity boutique business had failed.
17 Aug 1969
The final day of the 3 day
Woodstock
Festival took place at Max Yasgur's farm in Bethel, New York. Acts who appeared included
Crosby, Stills, Nash & Young
,
The Who
,
Jimi Hendrix
, Ten Years After, John Sebastian, Sha Na Na, Joe Cocker, Country Joe and the Fish, The Band, Ten Years After, Johnny Winter and Paul Butterfield Blues Band. Over 186,000 tickets had been sold but on the first day, the flimsy fences and ticket barriers had come down. Organizers announced the concert would be a free event, prompting thousands more to head for the concert.
17 Aug 1968
The Doors
started a four-week run at No.1 on the US album chart with Waiting For The Sun. The group's third album spawned their second US No.1 single, 'Hello, I Love You'.
17 Aug 1968
The Rascals (formerly the Young Rascals), started a five week run at No.1 on the US singles chart with 'People Got To Be Free'. The group had thirteen US top 40 hits.
17 Aug 1965
The Byrds were forced to cancel a concert during their UK tour at The Guildhall, Portsmouth when only 250 of the 4,000 tickets had been sold.
17 Aug 1964
Glasgow council in Scotland announced that all boys and men with Beatle styled haircuts would have to wear bathing caps after a committee was told that hair from 'Beatle-cuts' was clogging the pools filters.
17 Aug 1960
The Beatles
began their first Hamburg engagement at the Indra Club, Grosse Freiheit, Hamburg, West Germany, playing the first of 48 nights at the Club. The owner, Bruno Koschmider, asked
The Beatles
to "Mach Shau", or really put on a show, which led to the band screaming, shouting, and leaping about the stage and sometimes playing lying on the floor.
John Lennon
once appeared wearing only his underwear and on another occasion, wearing a toilet seat around his neck.
The Beatles
lodged in a single room behind the screen of a nearby movie house.
17 Aug 1959
American jazz trumpeter Miles Davis released Kind of Blue which is regarded by many critics as jazz's greatest record, Davis's masterpiece, and one of the best albums of all time. Its influence on music, including jazz, rock, and classical genres, has led writers to also deem it one of the most influential albums ever recorded.
17 Aug 1955
Elvis Presley
released what would become his first No.1 hit, 'I Forgot to Remember to Forget / Mystery Train'. It hit the top of the country charts several months later and stayed there for 5 weeks.
Born on this day in music
17 Aug 2003
Australian singer, rapper and songwriter The Kid Laroi. His debut mixtape, F*ck Love (2020), peaked at No.1 on the Australian Charts, making him the youngest Australian solo artist ever to reach the top of the chart. The Kid Laroi and Justin Bieber 2021 hit "Stay" peaked at No.1 on the US chart for seven non-consecutive weeks.
17 Aug 1979
Mike Lewis, guitarist, from Welsh rock band Lostprophets, who scored the 2006 UK No.1 album Liberation Transmission.
17 Aug 1977
Claire Richards, singer with British dance-pop group Steps. Between 1997 and 2001 Steps scored two No.1 singles in the UK, two No.1 albums and 14 consecutive top 5 singles in the UK.
17 Aug 1969
American songwriter, actor, Donnie Wahlberg, from American boy band New Kids On The Block, who had the 1989 UK No.1 single 'You Got It, The Right Stuff', and the 1990 US No.1 single 'Step By Step'. They enjoyed success in the late 1980s and early 1990s and have sold more than 80 million records worldwide.
17 Aug 1969
Kelvin Mercer from American hip hop trio De La Soul who had the 1990 UK No.7 single 'The Magic Number'.
17 Aug 1966
Jill Cunniff, Luscious Jackson, singer, (1997 UK No.25 single 'Naked Eye').
17 Aug 1965
Steve Gorman, drummer with The Black Crowes, who had the 1991 hit single 'Hard To Handle' and the 1992 US No.1 & UK No.2 album The Southern Harmony And Musical Companion. The band have sold more than 30 million albums.
17 Aug 1964
Maria Mckee, singer, Lone Justice (1987 UK No.45 single 'I Found Out'), solo, (1990 UK No.1 single 'Show Me Heaven').
17 Aug 1962
Gilby Clarke, American musician, singer, songwriter and record producer best known for a 3-year tenure as the rhythm guitarist with Guns N' Roses Guns N' Roses, replacing Izzy Stradlin in 1991 during the Use Your Illusion Tour.
17 Aug 1958
Belinda Carlisle, singer, from all-female American rock band The Go-Go's, who had the 1982 US No.2 single, 'We Got The Beat', and the 1982 UK hit single 'Our Lips Are Sealed'. Their 1981 debut album, Beauty and the Beat, is considered one of the "cornerstone albums of US new wave music". Carlisle had the 1987 solo, US & UK No.1 single 'Heaven Is A Place On Earth'.
17 Aug 1955
Colin Moulding, bass, XTC, (1982 UK No.10 single 'Senses Working Overtime').
17 Aug 1953
Kevin Rowland, singer, Dexy's Midnight Runners, (1982 UK No.1 & 1983 US No.1 single 'Come On Eileen'). Solo 1986 UK No.13 single 'Because Of You').
17 Aug 1949
Sib Hashian, drums, Boston, (1977 UK No.22 single 'More Than A Feeling', 1986 US No.1 single 'Amanda'). Boston have sold more than 75 million records worldwide, including 31 million albums in the United States, of which 17 million were from their self-titled debut album and seven million were for their second album, Don't Look Back, making them one of the world's best-selling artists. Hashian died on March 22, 2017, at the age of 67, after collapsing in the middle of a set while performing on board a cruise ship.
17 Aug 1947
Gary Talley guitar, The Box Tops, (1967 US No.1 & UK No.5 single 'The Letter').
17 Aug 1944
John Seiter, from American 1960s sunshine pop band Spanky And Our Gang, who had the 1967 US No.9 single 'Sunday Will Never Be The Same Again'.
17 Aug 1931
Floyd Newman, American saxophonist, session musician and bandleader. As a baritone sax player, he was long associated with Stax Records, and as a member of The Mar-Keys' horn section and the Memphis Horns. Newman also worked with
Otis Redding
, Wilson Pickett,
Aretha Franklin
, and B.B. King.