August 2nd: The Biggest Music Headlines
Scroll down the page to see all the music headlines, stories and events for August 2 throughout music history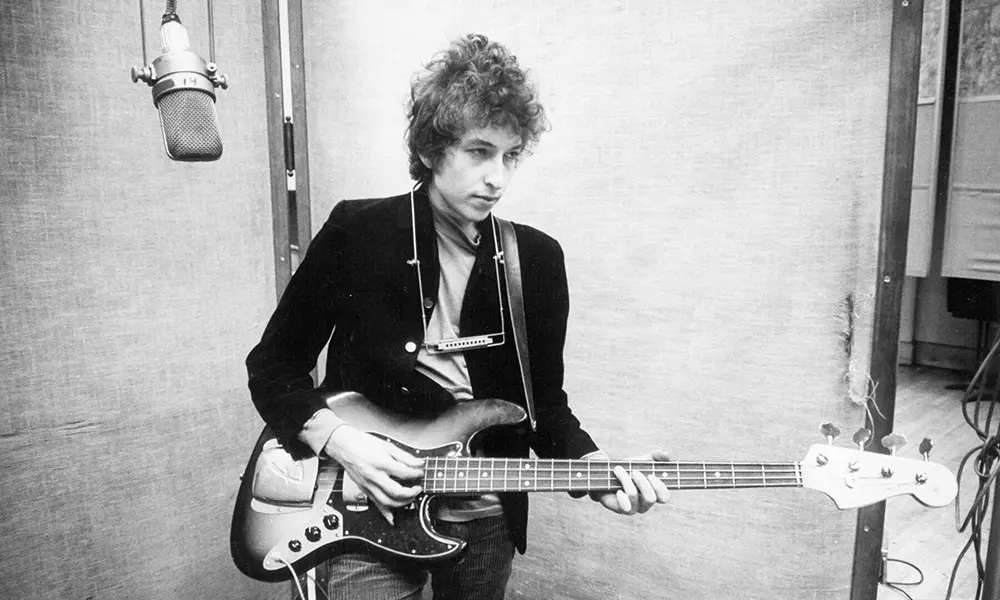 When Robert Zimmerman Became Bob Dylan
On this day in music, August 2, 1962, singer-songwriter Robert Allen Zimmerman legally changed his name to Robert Dylan, months after the release of his self-titled debut, Bob Dylan. In a 2004 interview with CBS, Dylan explained his reasoning behind his chosen name: "You're born, you know, the wrong names, wrong parents. I mean, that happens. You call yourself what you want to call yourself. This is the land of the free."
In 1964, after several days of searching, the bodies of country star "Gentleman Jim" Reeves and his manager/bandmate, Dean Manuel, were found in the wreckage of a plane crash. The two men had been en route to Nashville, with Reeves at the controls, when their single-engine aircraft disappeared from radar. The Grand Ole Opry member, who was laid to rest two days later, was best known for hits like "Four Walls," "I Won't Forget You," and "Mexican Joe."
On August 2, 2001, New Orleans International Airport was renamed in honor of the legendary bandleader, trumpeter, and singer, Louis Armstrong. Armstrong (1901-1971) was born and raised in the Big Easy and was often associated with the city's traditional "Dixieland" style of jazz.
In 2019, Ed Sheeran's ÷ (Divide) Tour became the highest-grossing tour of all time, breaking a record previously held by U2. The world run spanned 893 days, 46 countries, and 260 shows.
And one year later, on August 2, 2000, the venerable Liverpool music store Rushworth and Dreaper closed its doors after being in business for 150 years. The store was best-known for selling instruments to The Beatles.
Looking for more things that happened on this day in music?
Keep scrolling for all of the headlines for August 2.
BORN ON AUGUST 2:
1937: Garth Hudson (multi-instrumentalist in The Band and The Hawks)
1941: Doris Coley (The Shirelles)
1944: Jim Capaldi (Traffic)
1961: Pete De Freitas (Echo & the Bunnymen)
1967: Butch Vig
1970: Zelma Davis (C+C Music Factory)
Looking for more artists born on this day?
Keep scrolling for all of our August 2 birthdays.
---
What to find another day?
---
August 2nd
2 Aug 2020
Guitarist Steve Holland a founding member and the last surviving original member of American Southern rock band Molly Hatchet died age 66.
2 Aug 2019
Ed Sheeran
broke
U2's
tour record when his Divide tour became the biggest, most attended and highest grossing tour of all time. By the time the tour ended he would have spent 893 days on the road, compared to the 760 days U2 toured. Sheeran also surpassed Bono and co's tour attendance record of 7.3 million with a gig in France in May of this year.
2 Aug 2017
The Kidd Creole, one of the founding members of the 1980s hip hop group Grandmaster Flash and The Furious Five, was arrested in connection with the fatal stabbing of a homeless man in New York City. The 57-year-old, whose real name is Nathaniel Glover was a member of Grandmaster Flash and the Furious Five best known for their 1982 rap song, 'The Message.'
2 Aug 2014
American singer Rosetta Hightower died aged 70. She was a member of The Orlons who formed in the late 1950s had five US Top 20 hits in the Sixties including 'The Wah Watusi', 'Don't Hang Up' and 'South Street'. Before they became The Orlons, they were an all-girl quintet called Audrey and the Teenettes. The Orlons provided back-up vocals on Dee Dee Sharp's 1962 hit 'Mashed Potato Time' and second hit, 'Gravy (For My Mashed Potatoes)'. In the late 1960s she joined the ranks of the then-popular female session singers who backed many hit songs. This group included Madeline Bell, Lesley Duncan, Kiki Dee, and Sue and Sunny. She recorded with Joe Cocker on his With a Little Help From My Friends album.
2 Aug 2013
Nielsen SoundScan reported that US album sales totaled 4.68 million for the week ending July 28, the lowest weekly total since the tracking system was formed in May, 1991.
2 Aug 2005
Status Quo filmed a cameo appearance in UK's Coronation Street playing themselves. Francis Rossi and Rick Parfitt were set to appear in three episodes of the long-running ITV soap.
2 Aug 2005
Brandon Flowers from The Killers married Tana Munblowsky in a private ceremony held in Hawaii.
2 Aug 2004
Eric Clapton
bought a 50% share in Cordings to save the historic gentleman's outfitters from closure. The store, based in London since 1839 had run into financial difficulties. The guitarist said he had been fond of the shop since a window display caught his eye when he was 16, and had become a regular shopper their. Cordings was the originator of the Covert coat and the Tattersall shirt and made riding boots for the
Queen
Mother, the Duke of Windsor and Mrs Simpson.
2 Aug 2001
New Orleans International Airport was re-named Louis Armstrong Airport in honour of the New Orleans born trumpet player, singer and bandleader.
2 Aug 2000
Liverpool music store Rushworth and Dreaper closed down after 150 years of trading. The store had become famous after supplying
The Beatles
and other Liverpool groups with musical instruments.
2 Aug 2000
Jerome Smith from KC and the Sunshine Band died after being crushed by a bulldozer he was operating. Had the 1975 US No.1 single 'Get Down Tonight' and the 1983 UK No.1 single 'Give It Up.'
2 Aug 1991
Rick James and his girlfriend Tanya Hijazi were arrested in Hollywood charged with assault with a deadly weapon aggravated mayhem torture, false imprisonment and forcible oral copulation. James was released on $1 million bail.
2 Aug 1987
David Martin, bass player with Sam The Sham & the Pharaohs died of a heart attack aged 50. Martin co-wrote the group's 1965 US No.2 & UK No.11 single 'Wooly Bully'.
2 Aug 1986
Peter Cetera started a two-week run at No.1 on the US charts with the theme from the film 'Karate Kid II', 'The Glory Of Love', it made No. 3 in the UK.
2 Aug 1986
Chris de burgh was at No.1 in the UK with 'The Lady In Red', it was his first No.1 after twenty-four single releases, staying at the top of the charts for three weeks.
2 Aug 1983
James Jamerson
died of complications stemming from cirrhosis of the liver, heart failure and pneumonia in Los Angeles, he was 47 years old. As one of The Funk Brothers he was the uncredited bassist on most of
Motown
Records' hits in the 1960s and early 1970s including songs by
Stevie Wonder
, The
Temptations
, Martha and the Vandellas,
Marvin Gaye
, The
Four Tops
and The
Supremes
. He eventually performed on nearly 30 No.1 pop hits.
2 Aug 1980
The Clash
released their single 'Bank Robber' after it been available as an import only. The band's record company CBS didn't want to release the record saying it was not commercial enough.
2 Aug 1977
Sex Pistol Sid Vicious was fined £125 by a London court after he had been found carrying a knife at the 100 Club Punk Festival last September.
2 Aug 1976
2 Aug 1975
The
Eagles
went to No.1 on the US singles chart with 'One Of These Nights', the group's second US No.1 single and the first to chart in the UK where it peaked at No.23.
2 Aug 1970
Elvis Presley
was at No.1 on the UK singles chart with his version of 'The Wonder Of You' his sixteenth No.1. Ray Peterson recorded the original version in 1959 which gave him a Top 30 hit.
2 Aug 1969
'Wet Dream', by Jamaican reggae singer Max Romeo entered the UK singles chart. The song gained notoriety due to its lyrics which were of an explicit sexual nature, was banned by the BBC and most radio stations.
2 Aug 1968
The Doors
started a two week run at No.1 on the US singles chart with 'Hello I Love You', the group's second US No.1.
The Doors
scored 8 top 40 US hits from 67-71.
2 Aug 1964
After an intense search the bodies of Jim Reeves and Dean Manuel were found in the wreckage of an aircraft and, at 1:00 p.m. local time, radio stations across the United States announced Reeves' death formally. The single-engine Beechcraft Debonair aircraft, with Reeves at the controls had crashed 42 hours earlier during a thunderstrom. Thousands of people travelled to pay their last respects at his funeral two days later. The coffin, draped in flowers from fans, was driven through the streets of Nashville and then to Reeves' final resting place near Carthage, Texas.
2 Aug 1964
The Beatles
appeared at the Gaumont Cinema in Bournemouth. One of the supporting acts, billed as a 'new and unknown London group', was
The Kinks
.
2 Aug 1962
Robert Allen Zimmerman legally became
Bob Dylan
having signed a music publishing deal with Witmark Music on 12th July of this year, engineered by Albert Grossman.
2 Aug 1960
Johnny Kidd and The Pirates were at No.1 on the UK singles chart with 'Shakin' All Over'. Their only UK No.1. Kidd died in car crash in 1966. Many acts have covered the song, including:
The Who
,
Led Zeppelin
, Iggy Pop and The Guess Who.
2 Aug 1957
Touring with Clyde McPhatter, The Cadillacs, Edna McGriff, Otis Rush, Lee Andrews & The Hearts, Oscar & Oscar, The G-Clefs,
Buddy Holly
and the Crickets appeared at the Howard Theater, Washington, DC. With "That'll Be The Day" sitting at No. 2 on the US charts, this was Buddy's first major tour.
Born on this day in music
2 Aug 1970
Zelma Davis, American singer from C+C Music Factory who had the 1991 UK No.4 single 'Things That Make You Go Hmmm... , and the 1991 US No.1 single 'Gonna Make You Sweat'.
2 Aug 1962
English musician Lee Mavers, guitarist, singer with The La's, who had the 1990 UK No.13 single 'There She Goes'. The song has appeared on several film soundtracks, including The Parent Trap; Fever Pitch; Girl, Interrupted and Cold Case.
2 Aug 1961
Pete De Freitas, drummer, for the rock group Echo & the Bunnymen and performed on their first five albums. He died in a motorcycle accident on 14 June 1989 at the age of 27, on his way to Liverpool from London.
2 Aug 1957
Mojo Nixon, US singer, guitarist. Wrote the song 'Bring Me The Head Of David Geffen'.
2 Aug 1957
Butch Vig, record producer and the drummer with Garbage, (1996 UK No. 4 single 'Stupid Girl'). Produced Sonic Youth, The Smashing Pumpkins' Gish and
Nirvana
's
Nevermind
album.
2 Aug 1953
Donnie Monro, Runrig, (1995 UK No.18 single 'An Ubhal As Airde, The Highest Apple').
2 Aug 1952
American guitarist, singer and songwriter Les Dudek. He has played guitar with Steve Miller Band, The Dudek-Finnigan-Krueger Band,
Stevie Nicks
, Cher, Boz Scaggs and
Allman Brothers Band
.
2 Aug 1951
Andrew Gold, singer, songwriter, solo, (1977 US No.7 single 'Lonely Boy', 1978 UK No.5 single 'Never Let Her Slip Away'), Wax, (1987 UK No.12 single 'Bridge To Your Heart'). Gold died in his sleep on June 3, 2011 from a heart attack age 59.
2 Aug 1951
American singer, guitarist, songwriter Joe Lynn Turner, who has worked with Rainbow,
Deep Purple
and Billy Joel, Cher, and Michael Bolton.
2 Aug 1949
Fat Larry, singer, Fat Larry's Band, (1982 UK No.2 single 'Zoom'). He died on 5th February 2000.
2 Aug 1948
Andy Fairweather-Low, Welsh singer, songwriter from Amen Corner who had the 1969 UK No.1 single 'If Paradise Is Half As Nice'. As a solo artist he scored the 1975 UK No.6 single 'Wide Eyed And Legless'. As a session guitarist has worked with
Bob Dylan
, Roger Waters,
Eric Clapton
George Harrison
,
Elton John
, Jackson Browne, Bill Wyman, Sheryl Crow and
Ringo Starr
.
2 Aug 1944
American blues keyboardist, recording artist, composer, and record producer Mark Naftalin. He appeared on the first five albums by Paul Butterfield Blues Band and two albums by Quicksilver Messenger Service.
2 Aug 1944
English drummer, singer and songwriter Jim Capaldi, who with Traffic scored the 1967 UK No.2 single 'Hole In My Shoe'. Capaldi had the solo 1975 UK No. 4 hit single with 'Love Hurts'. Capaldi also performed with the likes of
Jimi Hendrix
,
Eric Clapton
,
George Harrison
and Cat Stevens. He died 28th Jan 2005 of stomach cancer aged 60.
2 Aug 1941
Doris Coley, singer with American girl group The Shirelles, notable for their popularity in the early 1960s. They were the first all-female black group to have a No.1 hit record with 'Will You Love Me Tomorrow' in 1961. She died on 5th February 2000.
2 Aug 1939
Edward Patten, vocals, The Pips. Their first hit single was a version of 'I Heard It Through the Grapevine' in 1967. With
Gladys Knight
had the 1973 US No.1 single 'Midnight Train To Georgia', and the 1975 UK No.4 single with Gladys 'The Way We Were'. Patten died on 25 Feburary 2005 of a stroke.
2 Aug 1937
Canadian multi-instrumentalist and a master of the Lowrey organ, Garth Hudson, The The Hawks (Ronnie Hawkins's backing group), who then became known as The Band and also backed
Bob Dylan
on his US tour in 1965 and world tour in 1966. The Band had the 1969 US No.25 single 'Up On Cripple Creek', 1970 UK No.16 single 'Rag Mama Rag'.