August 23rd: The Biggest Music Headlines
Scroll down the page to see all the music headlines, stories and events for August 23 throughout music history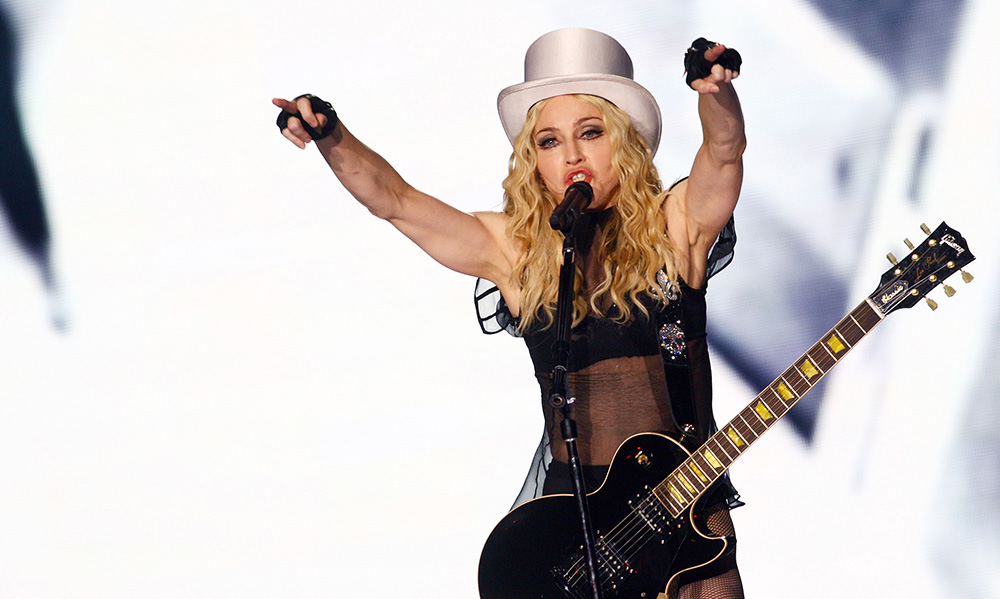 Madonna's Record-Breaking Tour Kicks Off In Wales
On August 23, 2008, Madonna kicked off her Sticky & Sweet Tour at the Millenium Stadium in Cardiff, Wales. The 86-date run went on to became the highest-grossing tour ever by a solo artist, amassing over $280 million (and surpassing Madge's previously-held record with the 2006 Confessions Tour). The Sticky & Sweet setlist paired The Material Girl's biggest hits, including "Like A Prayer," along with newer songs, like "Candy Shop" and "Devil Wouldn't Recognize You."
In 2019, Taylor Swift released her seventh studio album, Lover. In addition to being her sixth consecutive No.1 debut on the Billboard 200, all 18 tracks on the LP charted on the Hot 100, breaking the all-time record for the most simultaneous entries by a female artist. Lover went on to be named the best-selling studio album of 2019 and received several Grammy nominations, including Best Pop Vocal Album, Song of the Year ("Lover"), and Best Pop Solo Performance ("You Need to Calm Down").
In 1963, The Rolling Stones made their debut on the UK's Ready, Steady, Go!, performing their first single, "Come On." Between 1963 and 1966, the band would make a total of 20 appearances on the TV show.
In 1969, Liverpool rock band Ibex played a gig at the Octagon Theatre in Lancashire, UK. On vocals was Freddie Bulsara (soon to be known as Freddie Mercury), who had joined the band earlier that year.
In 1970, Lou Reed and the Velvet Underground performed together for the last time at the legendary New York City club, Max's Kansas City. Following his departure, Reed would enjoy a successful solo career.
Looking for more things that happened on this day in music?
Keep scrolling for all of the headlines for August 23.
BORN ON AUGUST 23:
1946: Keith Moon (The Who)
1949: Rick Springfield
1951: Jimi Jamison (Survivor)
1962: Shaun Ryder (Happy Mondays, Black Grape)
1978: Julian Casablancas (The Strokes)
1981: Natalie Horler (Cascada)
1986: SkyBluone (LMFAO)
Looking for more artists born on this day?
Keep scrolling for all of our August 23 birthdays.
---
What to find another day?
---
August 23rd
23 Aug 2023
American songwriter and record producer Bob Feldman died age 83. He wrote several hits with with fellow writers Jerry Goldstein and Richard Gottehrer including the 1963 hit 'My Boyfriend's Back' by The Angels. In 1964, in response to the "British Invasion", they formed their own group, The Strangeloves, who had a hit with 'I Want Candy'. With Goldstein and Gottehrer, Feldman also co-wrote 'Sorrow', first recorded by The McCoys and later a hit for both The Merseys and David Bowie. The three also produced the McCoys 1965 hit 'Hang On Sloopy'.
23 Aug 2019
Taylor Swift
released her seventh studio album Lover, her first album after parting ways with her former label, Big Machine Records. All of the album's 18 tracks charted on the Hot 100, breaking the all-time female record for the most simultaneous entries. Lover topped the charts in Australia, Canada, Mexico, Norway, Sweden, the United Kingdom, and several others. It was Swift's sixth No.1 album on the US Billboard chart.
23 Aug 2013
A man found in the pool house at Jennifer Lopez's mansion in the exclusive Hamptons area of New York was charged with stalking. According to police, the singer had a restraining order against John Dubis, who was a retired firefighter, was also charged with burglary, criminal contempt and possessing burglary tools.
23 Aug 2008
Madonna
kicked off her 86-date Sticky & Sweet Tour at the Millennium Stadium in Cardiff Wales. It became the highest grossing tour by a solo artist, breaking the previous record
Madonna
achieved with her 2006 Confessions Tour.
Madonna
's first venture with Live Nation, was estimated to have grossed $280 million.
23 Aug 2007
Comedy writer Buddy Sheffield, sued Disney alleging that he originally came up with the idea for Hannah Montana but was never compensated by Disney. In the lawsuit, Sheffield claimed that he pitched an idea for a TV series with the name of 'Rock and Roland' to Disney Channel in 2001 with the plot of a junior high student who lived a secret double life as a rock star.
23 Aug 2005
Les McKeown the lead singer of the Bay City Rollers appeared in court charged with drugs offences. McKeown, aged 49, was accused of conspiring with four other people, including the band's drummer Pat McGlynn, to supply cocaine. He was arrested in Dalston, east London, in June as part of a major police operation.
23 Aug 2003
Lee Ryan of boy band Blue was banned from driving for 18 months after admitting drink-driving. Ryan was also ordered to pay a £2250 fine at Tower Bridge magistrate's court London.
23 Aug 1986
Jamaican singer Boris Gardiner started a three week run at No.1 on the UK singles chart with 'I Want to Wake Up with You'.
23 Aug 1986
Sigue Sigue Sputnik came up with an idea to sell advertising space between the tracks on their forthcoming new album. It was a non-starter.
23 Aug 1980
David Bowie
was at No.1 on the UK singles chart with 'Ashes To Ashes' his second UK No.1. Taken from the Scary Monsters (and Super Creeps) album, the song continued the story of Major Tom from Bowie's '
Space Oddity
'. The video for 'Ashes to Ashes' was one of the most iconic of the 1980s and costing £250,000, it was at the time the most expensive music video ever made.
23 Aug 1980
The Heatwave Festival in Toronto, Canada took place with Talking Heads, Elvis Costello, The B-52's, The Pretenders, Rockpile and The Rumour. Tickets cost $30, with only 50,000 people attending the festival lost over $1 million.
23 Aug 1975
Joy Division
singer
Ian Curtis
married Deborah Woodruff, whom he met while still at school, when he was 19 and she was 18. They remained married until his untimely death at 23.
23 Aug 1971
Diana Ross was at No.1 on the UK singles chart 'I'm Still Waiting', the singers first solo UK No.1. The song which spent four weeks at the top of the charts was released after BBC
Radio 1
DJ Tony Blackburn featured it heavily on his morning programme.
23 Aug 1970
Lou Reed and the Velvet Underground performed together for the last time at the New York Club 'Max's Kansas City'. Reed worked as a typist for his father for the next two years, at $40 per week.
23 Aug 1969
Ibex, featuring vocalist Freddie Bulsara (later known as
Freddie Mercury
) played a gig at the Octagon Theatre, Bolton, Lancashire, UK.
23 Aug 1969
Johnny Cash
started a four-week run at No.1 on the US album chart with '
Johnny Cash
At San Quentin'. The album was a recording of a live concert given to the inmates of San Quentin State Prison and was the follow-up to Cash's previous live album, the critically acclaimed and commercially successful At Folsom Prison.
23 Aug 1969
The
Rolling Stones
started a four week run at No.1 on the US singles chart with 'Honky Tonk Women' the group's fifth US No.1. The song written by
Mick Jagger
and
Keith Richards
was inspired by Brazilian gauchos at the ranch where Jagger and Richards were staying in Matao, Sao Paulo.
23 Aug 1968
During a North American tour The
Jimi Hendrix Experience
appeared at Singer Bowl, Flushing Meadow Park, New York. Also on the bill was Soft Machine and Big Brother and the Holding Company.
23 Aug 1967
Enjoying a wild birthday party
Keith Moon
drummer with
The Who
drove his Lincoln car into a Holiday Inn swimming pool. As the party had become out of control, the police were called to put an end to the festivities. Moon, ever keen to avoid the boys in blue snuck outside and got into a Lincoln Continental Limousine and attempted to make a getaway. Unfortunately, in his inebriated state he released the handbrake, and began rolling towards the pool. Moon simply sat back and waited, as the car crashed through the fence around the pool and into the water.
23 Aug 1966
On their final tour of America,
The Beatles
performed at Shea Stadium in New York City, New York. Unlike the previous year's performance, which had sold out, there were 11,000 empty seats in the 55,600 seat stadium.
The Beatles
earn more than the previous year, receiving $189,000 for their performance.
23 Aug 1966
The Beatles
were at No.1 on the UK singles chart with the double a sided 'Yellow Submarine - Eleanor Rigby'. The group's eleventh No.1.
Paul McCartney
said he came up with the name Eleanor from actress Eleanor Bron, who had starred with
The Beatles
in the film
Help!
Rigby came from the name of a store in Bristol, Rigby & Evens Ltd, Wine & Spirit Shippers.
23 Aug 1965
Security guards at a Manchester TV studio hosed down 200
Rolling Stones
fans after they broke down barriers while waiting for the band to arrive for a performance.
23 Aug 1963
The
Rolling Stones
appeared on UK TV show Ready, Steady, Go! for the first time, performing their debut single 'Come On.' The group made a total of 20 appearances on the show between 1963 and 1966.
23 Aug 1962
John Lennon
married Cynthia Powell at Liverpool's Mount Pleasant register office. He then played a gig that night with
The Beatles
at Liverpool's Riverpark Ballroom.
Born on this day in music
23 Aug 1986
SkyBluone (Skyler Austen Gordy), one half of LMFAO who had the 2011 world wide hits 'Party Rock Anthem' and 'Sexy And I Know It'.
23 Aug 1981
Natalie Horler, singer, Cascada, German dance group. 2007 hit 'Everytime We Touch' won them a World Music Award in 2007. 2009 UK No.1 single 'Evacuate the Dancefloor'.
23 Aug 1979
Richard Neville with English boy band Five who had the 1998 UK No.2 single 'Everybody Get Up' and the 1999 UK No.1 single 'Keep On Movin'.
23 Aug 1978
Julian Casablancas, guitarist, singer, songwriter from American rock band The Strokes who had the 2001 UK No.14 single 'Last Nite' and the 2001 UK No.2 album Is This It.
23 Aug 1974
Shifty Shellshock (real name Seth Brooks Binzer) front man of Crazy Town. 2001 US No.1 single 'Butterfly'.
23 Aug 1967
Cedella Marley, Ziggy Marley & The Melody Makers, (1988 UK No.22 single 'Tomorrow People').
23 Aug 1962
English musician and singer-songwriter Shaun Ryder, best known as the lead singer of the Happy Mondays and Black Grape. He was the runner-up of the tenth series of I'm a Celebrity...Get Me Out of Here! Ryder's struggle with drugs led to the break-up of Happy Mondays in 1992. The film 24 Hour Party People featured the (semi-fictional) story of Shaun Ryder's youth and the life of Happy Mondays whilst signed with Factory Records in the late '80s and early '90s.
23 Aug 1961
Dean DeLeo, American guitarist with Stone Temple Pilots, Talk Show and Army of Anyone. His younger brother, bass guitarist Robert DeLeo, was also a member of the band.
23 Aug 1959
Edwyn Collins, singer, songwriter, producer, Orange Juice, (1983 UK No.8 single 'Rip It Up'), solo, (1995 UK No.4 single 'A Girl Like You').
23 Aug 1954
Mark Avsec, keyboardist, songwriter, Donnie Iris & the Cruisers, Wild Cherry, (1976 US No.1 & UK No.7 single 'Play That Funky Music').
23 Aug 1953
Bobby G, singer with British pop group Bucks Fizz who had the UK hits 'Making Your Mind Up' (1981), 'The Land of Make Believe' (1981) and 'My Camera Never Lies' (1982) and became one of the top-selling groups of the 1980s.
23 Aug 1951
Jimi Jamison, Survivor, (1982 US & UK No.1 single 'Eye Of The Tiger') and as the voice and co-writer of the theme song for Baywatch. Jamison died at the age of 63 on August 31, 2014 in Memphis, Tennessee. from a heart attack.
23 Aug 1949
Rick Springfield, US singer, songwriter, (1981 US No.1 & UK No.43 single 'Jessie's Girl').
23 Aug 1947
Linda Thompson, English folk rock singer in collaboration with her then husband and fellow British folk rock musician, guitarist Richard Thompson, and later as a solo artist.
23 Aug 1946
English drummer
Keith Moon
.
The Who
With
The Who
he scored the 1965 UK No.2 single '
My Generation
' plus over 20 other Top 40 hits, 1967 US No.9 single 'I Can See For Miles' and rock opera albums 'Tommy' & 'Quadrophenia'. Moon was voted the second-greatest drummer in history by a Rolling Stone readers' poll. Moon died on 7th September 1978 after taking 32 clomethiazole tablets.
23 Aug 1942
Roger Greenaway, singer, songwriter, member of David & Jonathan and the Kestrels. Best known for his songwriting collaborations with Roger Cook: 'My Baby Loves Lovin', (White Plains); 'Long Cool Woman in a Black Dress', 'Gasoline Alley Bred', (The Hollies); 'You've Got Your Troubles', (The Fortunes); 'Melting Pot, Good Morning Freedom' (Blue Mink); and 'Something's Gotten Hold of My Heart' (Gene Pitney).
23 Aug 1940
Vicki Brown, English pop, and rock singer. She is best known for her membership of both The Vernons Girls and The Breakaways, and as one of the UK's most enduring backing vocalists. She appeared on many hits including The
Jimi Hendrix Experience
version of 'Hey Joe', Petula Clark's hit, 'Downtown',
The Who
's Tommy – film soundtrack,
George Harrison
's Cloud Nine. She was the first wife of singer and musician Joe Brown and mother of the singer Sam Brown. She died of breast cancer on 16 June 1991 aged 50.