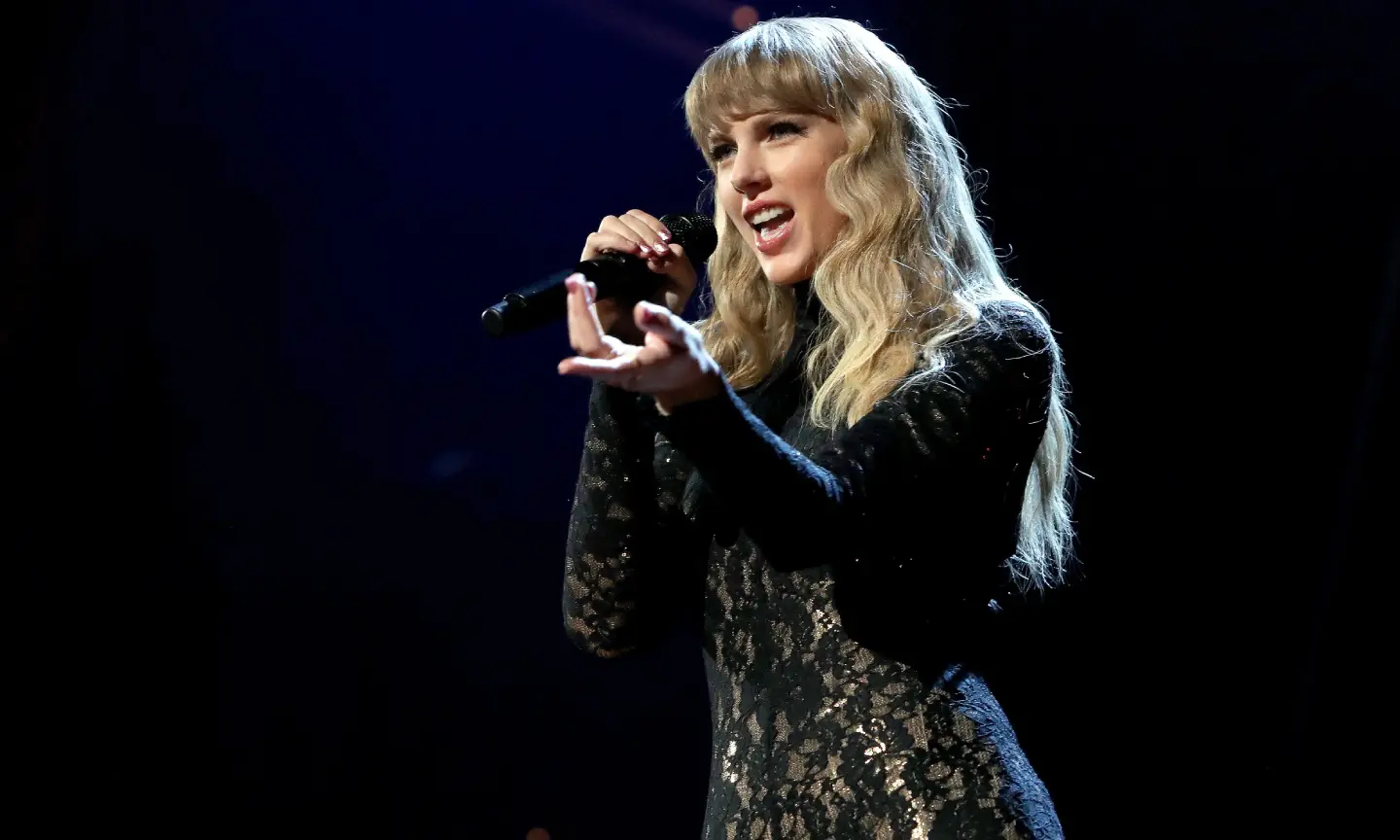 20 Taylor Swift Facts:
Taylor Alison Swift was born on December 13, 1989, in Reading, Pennsylvania and was named after the singer-songwriter James Taylor.
Swift spent her early years on a Christmas tree farm, which her stockbroker father had purchased from one of his clients.
After watching a documentary about Faith Hill, Swift felt sure she needed to go to Nashville, Tennessee, to pursue a music career. She travelled with her mother at age eleven to visit Nashville record labels and submitted a demo tape of Dolly Parton and Dixie Chicks karaoke covers.
In 2003, Swift and her parents started working with New York-based music manager Dan Dymtrow. With his help, Swift modelled for Abercrombie & Fitch as part of their Rising Stars campaign, had an original song included on a Maybelline compilation CD.
At age 14, Swift became the youngest artist signed by the Sony/ATV Music publishing house and, at age 15, she signed her first record deal.
Her self-titled debut album peaked at number five on the Billboard 200 albums chart in the United States, spending 157 weeks there, the longest stay on the chart by any release in the US that decade.
Her 2006 eponymous debut album was the longest-charting album of the 2000s in the US. Its third single, "Our Song", made her the youngest person to write and perform a number one song on the Billboard Hot Country Songs chart.
Her second album Fearless, was released in 2008. Buoyed by the pop crossover success of the singles "Love Story" and "You Belong with Me", it became the US's best-selling album of 2009 and was certified diamond in the US. The album won four Grammy Awards, and Swift became the youngest Album of the Year winner.
Swift made her acting debut in a 2009 episode of CSI, playing rebellious teenager Haley Jones.
In 2015, American singer Ray Stevens released his album Here We Go Again that included the single "Taylor Swift is Stalking Me".
Her sixth album, Reputation (2017), made her the only act to have four consecutive albums each sell one million copies in their first week in the US.
She has won 10 Grammy Awards, a Brit Award, an Emmy Award, six Guinness world records and is the most-awarded act at the American Music Awards with 29 wins, and most-awarded woman at the Billboard Music Awards with 23 wins.
Swift is one of the most-followed people on social media.
In 2015, Swift became the youngest woman to be included on Forbes' list of the 100 most powerful women, ranked at number 64.
Swift placed at number eight on Billboard's list of greatest artists of all time, the highest for an act that debuted in the 21st century and was named Woman of the Decade by the magazine and Artist of the Decade by the American Music Awards.
Her 2018 53-date Reputation Stadium Tour grossed $345.7 million.
In 2018, Swift collaborated with 300 women in Hollywood to set up the Time's Up initiative to protect women from harassment and discrimination.
Swift has sold more than 50 million albums, including 37.3 million in the US, and was one of the top five music artists with the highest worldwide digital sales.
During the 2008 presidential campaign, Swift promoted the Every Woman Counts campaign, aimed at engaging women in the political process.
With 178,600 pre-adds on Apple Music within one day, her seventh studio album Lover is the most pre-saved album by a female artist. The album surpassed three million album-equivalent units worldwide within its first week of release.
Important Dates In The Life Of Taylor Swift:
29 Oct 2022
Taylor Swift
overtook Madonna by setting a new chart record for the quickest succession of nine UK No.1 albums by a female artist after her 10th album, Midnights, topped the UK chart. The album also became the fastest-selling record of 2022.
24 Mar 2022
It was reported that Spotify paid $7bn to music industry rights holders in 2021, accounting for almost 25% of the industry's total revenues. The streaming giant said 52,600 artists earned more than $10,000 (£7,500) from Spotify in 2021. Of those, 130 were paid more than $5m (£3.8m) over the last 12 months. Spotify didn't name any of the artists involved, but its most-streamed acts last year were Bad Bunny,
Taylor Swift
, BTS,
Drake
and Justin Bieber; while the most streamed-song was Olivia Rodrigo's 'Drivers License'.
12 Mar 2022
Stereophonics scored their eighth UK No.1 with their 25th anniversary album Oochya! The achievement made them one of the most successful chart acts of all time, tying with
Taylor Swift
,
Oasis
,
Kylie Minogue
and
R.E.M.
- who also have had eight chart toppers.
The Beatles
have the most, with 15, followed by
Elvis Presley
and Robbie Williams, both of whom have 13.
14 Mar 2021
The 63rd Annual Grammy Awards took place at the Los Angeles Convention Center. The Awards were originally scheduled for January 31, at the Staples Center but were pushed back due to escalating COVID-19 cases. Beyoncé won the most awards with four. Billie Eilish won her second consecutive Record of the Year award for 'Everything I Wanted', while
Taylor Swift
won her third Album of the Year award for Folklore.
3 Feb 2021
Taylor Swift
was being sued by a US theme park called Evermore, which said the star's latest album had infringed its trademark by using the same name. The theme park's owners said Swift's Evermore release had caused confusion about whether the two were linked saying there was a "dramatic departure from typical levels" of traffic on its website in the week after the album's release.
5 Oct 2020
Taylor Swift
was at No.1 on the US chart with her eighth studio album Folklore. It was a surprise album, released in July following the outbreak of the COVID-19 pandemic in early 2020 when Swift cancelled a concert tour and quarantined herself, during which time she conceived Folklore.
15 Aug 2020
Taylor Swift
was at No.1 on the UK album chart her eighth studio album Folklore. Upon release, Folklore broke the Guinness World Record for the biggest opening day on Spotify for an album by a female act. Three of its tracks reached the top 10 of the official charts in eight countries. It was Swift's seventh consecutive No.1 album on the US Billboard 200 and became the best-selling album of 2020.
18 Apr 2020
Paul McCartney
,
Elton John
,
Taylor Swift
,
The Rolling Stones
,
Stevie Wonder
and several other stars performed from their homes on the One World: Together At Home concert during the coronavirus pandemic. The event organized by Global Citizen of New York City and curated by singer Lady Gaga was in support of the World Health Organization.
26 Jan 2020
Billie Eilish swept the board at the 2020 Grammys, winning five awards, including best new artist and song of the year becoming the first person to achieve the feat since Christopher Cross in 1981. The 18-year-old also won album of the year for her debut, When We All Fall Asleep, Where Do We Go. She replaced
Taylor Swift
as the youngest person ever to win the award. Her elder brother, Finneas O'Connell, also picked up producer of the year for his work on Eilish's album.
22 Nov 2019
Pollstar published their list of the top touring artists of the 2010s in North America.
U2
came in first with a gross of $1,038,104,132, followed by The
The Rolling Stones
($929,196,083),
Ed Sheeran
($922,361,663),
Taylor Swift
($899,627,048) and
Bon Jovi
($868,715,392).
23 Aug 2019
Taylor Swift
released her seventh studio album Lover, her first album after parting ways with her former label, Big Machine Records. All of the album's 18 tracks charted on the Hot 100, breaking the all-time female record for the most simultaneous entries. Lover topped the charts in Australia, Canada, Mexico, Norway, Sweden, the United Kingdom, and several others. It was Swift's sixth No.1 album on the US Billboard chart.
30 Jun 2019
Taylor Swift
's former label, Big Machine, was sold to Scooter Braun's company for an estimated $300 million, giving him control of her back catalog, including the master recordings. In response, Swift accused Braun of bullying her and said she would re-record all her old albums to devalue his purchase.
15 Oct 2018
A study by guitar-maker Fender showed that women accounted for 50 percent of all beginner and aspirational players. They said guitar sales were rising with artists such as Taylor Swift encouraging more young women to pick up an "axe". Fender's study also found that 72 percent of guitar players pick up a guitar for the first time to gain a life skill or improve themselves.
27 Aug 2017
The 2017 MTV Video Music Awards were held at The Forum in Inglewood, California. Hosted by Katy Perry, the music video for
Taylor Swift
's song 'Look What You Made Me Do' premiered during the broadcast. Viewership was down to 5.68 million viewers, making it the lowest viewed show since 1994.
23 Feb 2017
2 Nov 2016
Taylor Swift
was the highest-paid woman in music, according to Forbes' annual list, having earned more than double her nearest competitor
Adele
. The 26-year-old pop star had amassed earnings of $170m (£137.8m) over the past year, mainly thanks to a world tour named after her recent 1989 album.
8 Jul 2016
Canadian rapper and singer
Drake
was at No.1 on the US chart with his fourth studio album Views. With Views, Drake also joined
Adele
, Michael Bublé and
Taylor Swift
as the only artists in the 2010s decade to have an album remain at No.1 on the Billboard 200 for six consecutive weeks.
19 Jun 2016
Artists including
Taylor Swift
, Maroon 5,
Pearl Jam
,
U2
and Sir
Paul McCartney
called for online copyright laws to be reformed. More than 180 artists signed an open letter criticising the Digital Millennium Copyright Act (DMCA). They claimed the law benefits companies that "exploit music for their financial enrichment", but not artists.
14 Mar 2016
Sony ATV Music Publishing announced that it would buy out
Michael Jackson
's share of a joint music publishing venture for $750m. The purchase gave Sony the rights to about three million songs, including works by
The Beatles
,
Bob Dylan
and
Taylor Swift
, but did not include Jackson's master recordings.
23 Nov 2015
Taylor Swift
dominated the American Music Awards, winning three prizes, including album of the year and song of the year. One Direction were named favourite group and artist of the year, for the second year in a row and Ariana Grande was the surprise winner of best female, beating Taylor Swift.
1 Nov 2015
Taylor Swift
was being sued for $42m (£27m) for allegedly stealing the lyrics to her hit 2014 song 'Shake It Off', which topped music charts around the world. R&B singer Jesse Braham claimed in legal papers Swift stole the words from a song he wrote in 2013 called 'Haters Gone Hate'.
26 Oct 2015
Justin Bieber cleaned up at the
MTV
's EMAs - (European Music Awards), winning best male, best North American act, best collaboration for 'Where Are You Now?', with Skrillex and Diplo, biggest fans and best look. One Direction won the prize for best pop,
Taylor Swift
's 'Bad Blood' won best song and
Rihanna
was named best female.
21 Jun 2015
Apple Music reversed its payment policy, a day after
Taylor Swift
said she was refusing to allow the company to stream her latest album 1989. In an open letter to Apple, Swift said she was withholding the record as she was unhappy with the three-month free trial offered to subscribers, saying "We don't ask you for free iPhones. Please don't ask us to provide you with our music for no compensation." Apple now said it would pay artists for music streamed during trial periods.
15 Apr 2015
It was reported that Digital music revenues matched physical sales for the first time in 2014, thanks to strong growth in the streaming market. The digital market rose 6.9% to $6.9 billion (£4.6 billion), representing 46% of all global music sales. CDs, vinyl and other physical formats also accounted for 46% of the market. Pharrell Williams's 'Happy' was the most-downloaded single globally in 2014, with
Taylor Swift
the most popular artist.
29 Jan 2015
Taylor Swift
was seeking to trademark phrases including "this sick beat" and "we never go out of style", in the United States. If granted, the trademark would stop others from using her lyrics on items such as t-shirts, stickers and bags. Other phrases she wants to protect included "nice to meet you, where you been" and "party like it's 1989".
27 Nov 2014
Taylor Swift
was at No.1 on the US album chart with her fifth studio album 1989. The total US sales figure from the debut week of 1989 was the highest of any album since 2002 and 1989 became the best-selling album of 2014 in the US. The album has now sold over 9 million copies worldwide.
12 Nov 2014
After a high profile move by
Taylor Swift
to pull her entire back catalogue from the song-streaming service Spotify, their chief executive Daniel Ek's defended its business model, saying it has paid out $2bn (£1.2bn) to the music industry to date.
6 Nov 2014
Taylor Swift
's latest album 1989 debuted at No.1 on America's Billboard albums chart selling 1.287 million copies in its first week. Swift was now the only act to earn three million-selling weeks with an album. Before 1989, Red sold 1.208 million in it's first week, while Speak Now clocked up 1.047 million sales.
10 Oct 2014
Taylor Swift
was named Billboard's Woman of the Year 2014, making her the first artist to receive the award twice. The award goes to the female artist who "has shaped and inspired the music industry with her success, leadership and innovation" over the last year.
18 Sep 2014
American singer-songwriter
Taylor Swift
was at no.1 on the US singles chart with 'Shake It Off', becoming Swift's second No.1 single in the United States and the 22nd song to debut at No.1 in the chart's history.
3 Nov 2013
The first ever YouTube awards were held in New York City. The event featured
Eminem
, Lady Gaga and M.I.A making live music videos directed by the awards' creator, Spike Jonze, and others. Eminem won Artist of the Year, while
Taylor Swift
's 'I Knew You Were Trouble' took the YouTube Phenomenon award.
12 Mar 2012
Taylor Swift
beat
Adele
and Lady Gaga to be named the highest-earning pop artist of 2011. The 22-year-old earned $35,719,902 (£22.7m) in 2011 from a combination of music sales, royalties and touring.
U2
took second place with $32m (£20m) thanks to their 360 tour, seen by more than seven million people while Adele came 10th.
7 Jan 2010
According to Nielsen SoundScan's final 2009 figures,
Michael Jackson
was the best selling artist of the year, moving 8,286,000 units. Forty years after their break-up,
The Beatles
were still the best selling group, thanks to their remastered catalog which sold 3,282,000 copies. Digital downloads however, were a different story. Lady Gaga was the queen of the downloads, selling 15,297,000 digital tracks. The Black Eyed Peas,
Michael Jackson
and
Taylor Swift
all finished in the vicinity of 12 million digital units.
27 Dec 2008
Taylor Swift
started a seven-week run at No.1 on the US album charts with Fearless. The album was the best-selling album of 2009, making Swift, 18 at the time of the album's release, the youngest artist to have the best-selling album of a calendar year. The album is certified diamond by RIAA and has sold over 7.18 million copies.
9 Sep 2007
Taylor Swift
released 'Our Song' the third single from her self-titled debut studio album. It became Swift's first No.1 single on the Hot Country Songs chart, maintaining the position for six consecutive weeks. The track made Swift the youngest person to single-handedly write and perform a No.1 song on the Billboard Hot Country Songs chart.
24 Oct 2006
Taylor Swift
released her self-titled debut studio album. Swift was 16 years old at the time of the album's release and the album went on the top the Country Albums Chart for 24 non-consecutive weeks selling over seven million copies. The album also became the longest-charting album on the Billboard 200 of the 2000s decade, remaining on the chart for 277 weeks in total.
19 Jun 2006
Taylor Swift
released her debut single 'Tim McGraw' as the lead single from her self-titled debut album. The track peaked at No.40 on the Billboard Hot 100.