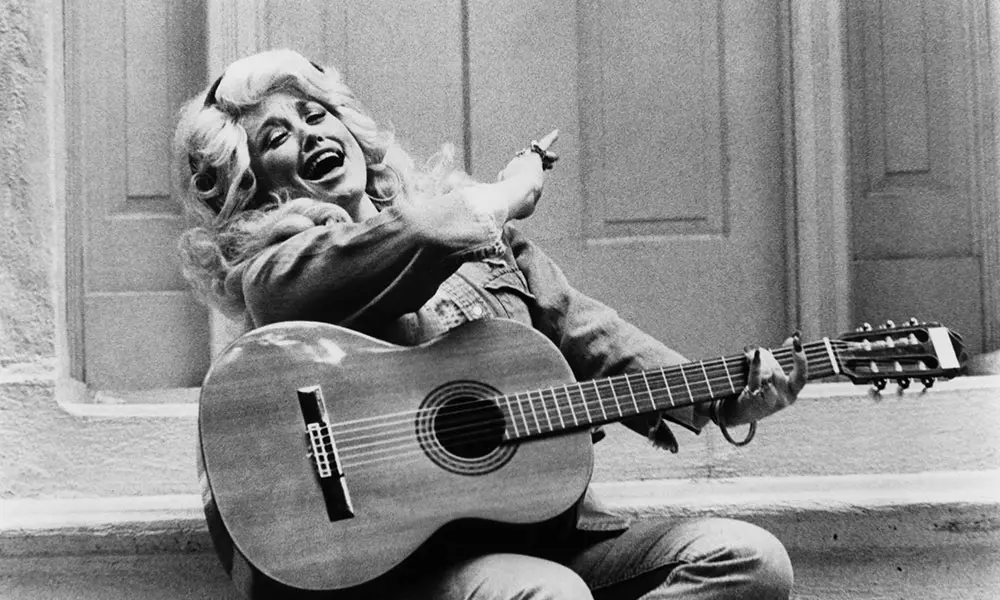 Dolly Parton was born on 19 January 1946 in a one-room cabin on the banks of the Little Pigeon River in Pittman Center, Tennessee. The fourth of 12 children born to Avie Lee Caroline and Robert Lee Parton Sr, her father was a subsistence farmer and construction worker, and her mother was a homemaker for their large family. Her 11 pregnancies between 1939 and 1959 made her a mother of 12 by the age of 35.
Parton began performing as a child, singing on local radio and television programs in the East Tennessee area. By ten, she was appearing on The Cas Walker Show on both WIVK Radio and WBIR-TV in Knoxville, Tennessee. At 13, she recorded the single "Puppy Love" on a small Louisiana label, Goldband Records, and appeared at the Grand Ole Opry, where she first met Johnny Cash, who encouraged her to follow her own instincts regarding her career.
In 1967, country star Porter Wagoner invited Dolly to join his company, offering her a regular spot on his weekly TV series The Porter Wagoner Show, and in his live road show. Wagoner convinced his label, RCA Victor, to sign her. They recorded several albums and singles together, and became one of the country's most popular and successful double acts.
From 1974 to 1980, she consistently charted in the country Top 10, with eight singles reaching number-one. Parton had her own syndicated television variety show, Dolly! (1976–77). During this period, Parton began to embark on a high-profile crossover campaign, attempting to aim her music in a more mainstream direction and increase her visibility outside of the confines of country music.
As a songwriter she gave herself the 1976 hit single "Jolene", and the 1981 US number-one single "9 to 5" and also wrote "I Will Always Love You" a US Country number-one for her in 1974 and the worldwide chart topper for Whitney Houston in 1992.
Dolly Parton is smart. I've not read that anywhere – I've come to that conclusion myself. Most singers, songwriters are glad of a hit, top 20 would be good, top 10 even better and of course a number one would be fantastic. After a chart topper, the pressure is off, you're successful, you've sold a million records, the follow-up will sell OK, even if its not as good. It's all money in the bank.
Then you get the occasional lucky songwriter who will write a song that is massive. Lennon and McCartney did it; Jagger and Richards, Smokey Robinson, Bert Bacharach, Neil Diamond, Paul Simon, Bob Dylan, and Brian Wilson have all done it. Hang on a minute; I've just noticed that they're all men? No lady songwriters amongst them? Well there is of course Carole King and Dolly Parton.
Parton wrote one of the all-time greatest ever ballads in "I Will Always Love You", written as a farewell to her former partner and mentor of seven years, country singer Porter Wagoner, following Parton's decision to pursue a solo career. The song became a country number-one. Dolly then re-recorded the song to be included on the soundtrack of The Best Little Whorehouse in Texas. The song also appeared in Martin Scorsese's film Alice Doesn't Live Here Anymore, and later in the 1996 film It's My Party.
In 1973 Elvis Presley was said to be keen on covering the song, and Parton was interested in the idea until Presley's manager, Colonel Tom Parker, told her that it was standard procedure for the songwriter to sign over half of the publishing rights to any song Elvis recorded. Parton refused. Talking about the event Parton recalled; "I said, 'I'm really sorry,' and I cried all night. It was like the worst thing. You know, it's like, Oh, my God Elvis Presley.' And other people were saying, 'You're nuts. It's Elvis Presley.' I said, 'I can't do that. Something in my heart says, 'Don't do that. And I just didn't do it. He would have killed it. But anyway, so he didn't. Then when Whitney's version came out, I made enough money to buy Graceland."
Whitney Houston recorded the song for the soundtrack to The Bodyguard, her 1992 film debut after her co-star Kevin Costner played her Linda Ronstadt's 1975 version from her album Prisoner in Disguise, (Houston was originally to record Jimmy Ruffin's "What Becomes of the Brokenhearted" but it was discovered the song was to be used for the film Fried Green Tomatoes). Houston's version spent a record breaking 14 weeks a-top of the US chart becoming Arista Records' biggest ever hit.
Parton isn't just an old fashioned American entertainer, songwriter, singer who has had her own TV show, and has appeared in over a dozen films – she's a small industry! Pay a visit to Dolly Parton.com and you're drawn into the singer's world.
Parton is a co-owner of The Dollywood Company, which operates the theme park Dollywood a dinner theatre, Dolly Parton's Dixie Stampede, and the waterpark Dollywood's Splash Country, all in Pigeon Forge.
Her literacy program, Dolly Parton's Imagination Library a part of the Dollywood Foundation, sends one book per month to each enrolled child from the time of their birth until they enter kindergarten.
Parton has had 25 songs reach number-one on the Billboard country music charts, 41 career top-10 country albums, (a record for any artist), and she has composed over 3,000 songs since the age of seven.
With a career that spans nearly five decades, she is the most celebrated solo country female artist of all-time. During her appearance at the Glastonbury Music Festival in 2014, Parton was presented with a plaque, commemorating her outstanding achievements in music-making with over 100 million records sold worldwide.
Parton has been married to the same man for over 50 years. On May 30, 1966, Parton and Carl Thomas Dean tied the knot in Ringgold, Georgia. Dean, who before retirement ran an asphalt road-paving business in Nashville, has always shunned publicity and rarely accompanies his wife to any events. According to Parton, during all the time they've been together – he has seen her perform in concert just once!