August 7th: The Biggest Music Headlines
Scroll down the page to see all the music headlines, stories and events for August 7 throughout music history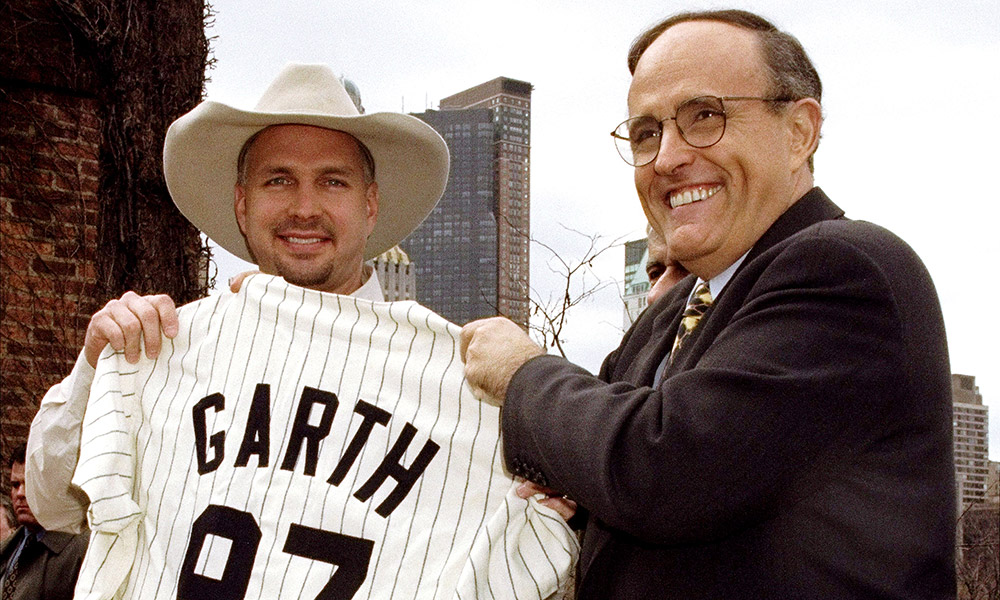 Garth Brooks Plays To Record-Breaking Crowd
On August 7, 1997, Garth Brooks set a new record by playing to the largest crowd ever in New York's Central Park. An estimated one million people attended the live concert with an additional 14.6 million viewing live on HBO.
In 1982, Dexy's Midnight Runners landed at the top of the UK Pop chart with "Come On Eileen," a single off their bestselling album, Too-Rye-Ay. The song would go on to be the UK's best-selling single of the year. The following April, "Come On Eileen" hit No.1 in the US, and won Best British Single at the 1983 Brit Awards.
In 1970, the Goose Lake International Music Festival kicked off in Leoni, MI. During the three-day event, more than 200,000 attendees enjoyed sets by Bob Seger, Jethro Tull, 10 Years After, Mountain, Chicago, Rod Stewart, James Gang, Flying Burrito Brothers, the MC5, and The Stooges with Iggy Pop, among many others.
On this day in 1971, the Bee Gees scored their first US No.1 with "How Can You Mend a Broken Heart." One year later, soul star Al Green would draw critical acclaim for his own rendition of the tune.
In 1957, The Quarrymen (who would soon evolve into The Beatles) played a memorable show at Liverpool's Cavern Club. While the venue was considered a jazz club, skiffle was tolerated. That evening, however, John Lennon added rock'n'roll songs like "Hound Dog" and "Blue Suede Shoes" to the set list, causing quite the stir with the owner.
And in 1980, John Lennon entered the Hit Factory in New York City to begin recording his final studio album, Double Fantasy.
Looking for more things that happened on this day in music?
Keep scrolling for all of the headlines for August 7.
BORN ON AUGUST 7:
1925: Felice Bryant (songwriter, who penned hits for the Everly Brothers and Buddy Holly)
1920: Herb Reed (vocalist in The Platters)
1942: BJ Thomas
1950: Rodney Crowelll (Guitarist and songwriter)
1958: Bruce Dickinson (Iron Maiden)
1966: Kristin Hersh (Throwing Muses, 50FOOTWAVE)
Looking for more artists born on this day?
Keep scrolling for all of our August 7 birthdays.
---
What to find another day?
---
August 7th
7 Aug 2021
Dennis Thomas singer with Kool & The Gang died age 70. With Kool & The Gang he had the 1981 US No.1 & UK No.7 single 'Celebration', and the 1984 UK No.2 single 'Joanna' plus over 15 other Top 40 hits.
7 Aug 2020
French pop music record producer, composer, singer, musician Mark Wirtz died from Pick's disease age 76. Wirtz is best known for the never-completed A Teenage Opera concept album, a project he devised while working under contract to EMI at Abbey Road Studios with
Beatles
engineer Geoff Emerick. The first single from the planned album, 'Excerpt from A Teenage Opera' by Keith West, was a No.2 hit on the UK Singles Chart in September 1967.
7 Aug 2017
A prehistoric crocodile was renamed in late Motörhead frontman Lemmy Kilmister's honor. The creature, formerly called "Steneosaurus" obtusidens, was now known as Lemmysuchus obtusidens. The study published in the Zoological Journal of the Linnean Society, had taken a fresh look at the fossil skeleton and gave it a new classification and scientific name.
7 Aug 2014
Ed Sheeran
was at No.1 on the UK album chart with his second studio album X. The album has been certified 10x platinum in the UK with sales of over 3 million copies, making it the third best-selling album of the 2010s and one of the best selling albums in the history of the UK.
7 Aug 2011
Marshall Grant, who played bass for
Johnny Cash
in the Tennessee Two, from 1954 to 1980, passed away at the age of 83. After his time with The Man In Black, Grant managed The Statler Brothers until they retired in 2002 and later wrote an autobiography entitled "I Was There When It Happened".
7 Aug 2008
Elvis Presley
's peacock jumpsuit, was sold at auction for $300,000, making it the most expensive piece of Elvis memorabilia ever sold at an auction. The white outfit with a plunging V-neck and high collar featured a blue-and-gold peacock design, hand-embroidered on the front and back and along the pant legs.
7 Aug 2007
Lily Allen had her US work visa cancelled after arriving at Los Angeles airport. The 22-year-old, who was due to tour America in September, had flown in for the
MTV
Video Music Awards launch. She was held at the airport for five hours in connection with an arrest for an alleged assault in London in June.
7 Aug 2007
Pete Doherty was warned by a judge that he could face jail or a community order over drugs offences. In July, the 28-year-old Babyshambles frontman pleaded guilty to driving illegally while in possession of crack cocaine, heroin, ketamine and cannabis. The judge said: "What I have in mind is a community order or prison... if he does not show his motivation, it's prison - it's as simple as that." The singer volunteered to show the position of an implant in his stomach designed to help him give up drugs.
7 Aug 2005
James Blunt was at No.1 on the UK singles chart with 'You're Beautiful',
Mariah Carey
was at No.1 on the US charts with 'We Belong Together' and Axel F had 'Crazy Frog' at No.1 on the Australian singles charts.
7 Aug 2002
Three members of
Oasis
were injured when the taxi they were travelling in was involved in a crash during a US tour in Indianapolis. Noel Gallagher, Andy Bell and Jay Darlington were all taken to hospital and treated for cuts and bruises.
7 Aug 2001
Harmonica player Larry Adler died aged 87. Known for his original collaborations with George Gershwin,
Kate Bush
, Sting and Vaughan Williams and his own virtuoso performances.
7 Aug 1997
Garth Brooks played to the largest crowd ever in New York's Central Park. An estimated 1 million people attended the live concert with an additional 14.6 million viewing live on HBO.
7 Aug 1984
American soul singer Esther Phillips died from liver and kidney failure in Carson, California in 1984, at the age of 48. (1975 hit single 'What A Difference A Day Makes').
7 Aug 1982
Dexy's Midnight Runners were at No.1 on the UK singles chart with 'Come On Eileen' their second and last No.1. It was the Best-selling single of 1982 and the song won Best British Single at the 1983 Brit Awards. The "Eileen" as featured in the video is Máire Fahey, sister of Siobhan Fahey, former singer with Bananarama and Shakespears Sister. The American singer Johnnie Ray, mentioned in the opening lyrics, was also featured in the video using old film footage.
7 Aug 1982
Fleetwood Mac
started a five-week run at No.1 on the US album chart with 'Mirage'. The bands third US No.1. album.
7 Aug 1982
'Kids From Fame' by The Kids From Fame started an eight week run at No.1 on the UK album chart. The American television series was originally produced between 1982 and 1987, based on the 1980 motion picture of the same name. Using a mixture of drama and music, it followed the lives of the students and faculty at the New York City High School for the Performing Arts.
7 Aug 1980
John Lennon
began recording his final album, 'Double Fantasy' at The Hit Factory, in New York City. It would be released on November 17th by the newly-formed Geffen Records and would win the 1982 Grammy Award for Album of the Year.
7 Aug 1976
Elton John
and Kiki Dee were at No.1 on the US singles chart with 'Don't Go Breaking My Heart', giving Elton his sixth US No.1. It was written by
Elton John
with Bernie Taupin under the pseudonym "Ann Orson" and "Carte Blanche."
7 Aug 1971
The
Bee Gees
started a four week run at No.1 on the US singles chart with 'How Can You Mend A Broken Heart'. It was the group's tenth US hit and first No.1. The
Bee Gees
penned song was originally offered to Andy Williams, but ultimately the
Bee Gees
recorded it themselves, it was also later covered by soul singer Al Green.
7 Aug 1970
The Goose Lake International Music Festival was held in Leoni, Michigan. Over 200,000 fans attended the three day festival. Acts who appeared included, Jethro Tull, 10 Years After, Mountain, Chicago, Bob Seger, John Sebastian, James Gang, Stooges with Iggy Pop, Brownsville Station, MC5,
Rod Stewart
and Flying Burrito Brothers.
7 Aug 1965
Herman's Hermits went to No.1 on the US singles chart with 'I'm Henry VIII I Am'. The single was only released in the US. Singer Peter Noone once interviewed
Elvis Presley
for UK music paper New Musical Express.
7 Aug 1964
The
Rolling Stones
, Ronnie Scott, Tuby Hayes, Manfred Mann, Yardbirds and Mose Allison all appeared at the fourth Richmond Jazz Festival held over three days in Richmond, England.
7 Aug 1963
This weeks UK Top 5 albums: No.5,
Elvis Presley
, 'It Happened At The World Fair', No.4, 'West Side Story', Soundtrack, No.3, Cliff Richard, 'Cliff's Hit Album', No.2, The Shadows, 'Greatest Hits', No.1,
The Beatles
, 'Please Please Me.'
7 Aug 1957
The Quarry Men played at The
Cavern Club
in Liverpool, (without
Paul McCartney
who was away at Boy Scout summer camp). The Cavern was still a jazz club, but skiffle was tolerated, but when
John Lennon
dared to play 'Hound Dog' and 'Blue Suede Shoes', the club owner sent a note to the stage saying, "Cut out the bloody rock!"
7 Aug 1954
Johnny Cash
married Vivian Liberto at St Ann's Catholic Church in Memphis. Cash had plans of becoming a Memphis appliance salesman, he instead formed a band with Luther Perkins and Marshall Grant, and was signed to Sun Records a year later.
7 Aug 1954
Elvis Presley
appeared at the Eagles Nest in Memphis Tennessee, (the first of 12 shows at the venue in this year). The advertisement in the local paper read; 'See and hear Elvis singing That's All Right and The Blue Moon of Kentucky.'
Born on this day in music
7 Aug 1966
American singer-songwriter, musician and author Kristin Hersh from Throwing Muses (with her stepsister Tanya Donelly) and 50FootWave.
7 Aug 1965
American singer-songwriter Johnny Solinger best known for being the lead vocalist of Skid Row from 1999 to 2015. He died on 26 June 2021 one month after he revealed that he was suffering from liver failure. He was 55 years old.
7 Aug 1965
American singer, songwriter, guitarist Raul Malo who with The Mavericks had the 1998 UK No.4 single 'Dance The Night Away'.
7 Aug 1964
Ian Dench, guitarist from British dance music/rock band EMF who had the 1990 UK No.3 & US No.1 single 'Unbelievable'. Their debut album, Schubert Dip, went to No.3 on the UK albums chart.
7 Aug 1960
Jacqui O'Sullivan, singer who joined British female pop group Bananarama in 1988. She sang on the hits 'I Want You Back' and 'Nathan Jones'.
7 Aug 1958
Bruce Dickinson, singer, songwriter, airline pilot, entrepreneur with English heavy metal band
Iron Maiden
, who had the 1982 UK No.1 album The Number Of The Beast, and the 1991 UK No.1 single 'Bring Your Daughter ...To The Slaughter'.
Iron Maiden
have sold over 100 million copies of their albums worldwide.
7 Aug 1952
English stand-up comedian, actor, author Alexei Sayle who had the 1984 UK No.15 single 'Ullo John Got A New Motor'. He was a leading figure in the British alternative comedy movement in the 1980s.
7 Aug 1951
English hard rock and heavy metal bass player Pete Way. He was bassist for UFO and was also a founding member of Waysted and Fastway and notably played with Michael Schenker Group and
Ozzy Osbourne
. He died on 14 Aug 2020 age 69 following life-threatening injuries he had sustained in an accident two months earlier.
7 Aug 1950
Rodney Crowell, country guitarist, songwriter, worked with Emmylou Harris, acts that covered his songs include Bob Seger, Willie Nelson & Carlene Carter.
7 Aug 1949
Carlo Novi, from the Jersey Shore group Southside Johnny and the Asbury Jukes who had the 1978 album Hearts Of Stone and have released over ten other albums. He died on 12 March 2010.
7 Aug 1945
Kerry Chater, Gary Puckett and the Union Gap who had the 1968 UK No.1 & UK No.2 single 'Young Girl' as well as the hits 'Woman, Woman', 'Over You' and 'Lady Willpower.'
7 Aug 1942
B.J. Thomas, American singer. His 1966, album with The Triumphs I'm So Lonesome I Could Cry sold over one million copies. He is best known for his version of the Burt Bacharach/Hal David song 'Raindrops Keep Fallin' on My Head', which was featured in the 1969 film Butch Cassidy and the Sundance Kid. In 1975 he scored the US Country No.1 '(Hey Won't You Play) Another Somebody Done Somebody Wrong Song.' He died age 78 on 21 May 2021.
7 Aug 1936
Charles Pope, from the American vocal group The Tams who had the 1964 US hit 'What Kind of Fool (Do You Think I Am)' and the 1971 UK No.1 single 'Hey Girl Don't Bother Me'. The group took their name from the Tam o'shanter hats they wore on stage. He died on 11 July 2013.
7 Aug 1931
Luther Dixon, American songwriter, record producer, and singer. He began his professional career in 1954 with the Four Buddies, a doo-wop group. Dixon's songs achieved their greatest success in the 1950s and 1960s, and were recorded by
Elvis Presley
,
The Beatles
,
The Jackson 5
, B.B. King, Jerry Lee Lewis, Dusty Springfield and the Shirelles. He died on 22 October 2009 age 78.
7 Aug 1931
British television and record producer Jack Good. As a television producer, he was responsible for the early popular music shows Six-Five Special, Oh Boy!, Boy Meets Girls and Wham!!, the first UK teenage music programmes. Good managed some of the UK's first rock and roll stars, including Tommy Steele, Marty Wilde, Billy Fury and Cliff Richard. He also recorded with Lord Rockingham's XI. Their hit singles included the 1958 UK No.1 single 'Hoots Mon'. Good died of complications from a fall on 24 September 2017 at the age of 86.
7 Aug 1928
Herb Reed, bass singer from American vocal group The Platters who had the 1959 UK & US No.1 single 'Smoke Gets In Your Eyes'. The Platters were one of the first African-American groups to be accepted as a major chart group and were, for a period of time, the most successful vocal group in the world. Reed died aged 83 on June 4th 2012.
7 Aug 1925
Felice Bryant, songwriter with her husband Boudleaux. Wrote Everly Brothers hits, 'All I Have To Do Is Dream', 'Bye Bye Love', 'Wake Up Little Susie' and 'Raining In My Heart' a hit for
Buddy Holly
. Felice died on April 22nd 2003.