August 8th: The Biggest Music Headlines
Scroll down the page to see all the music headlines, stories and events for August 8 throughout music history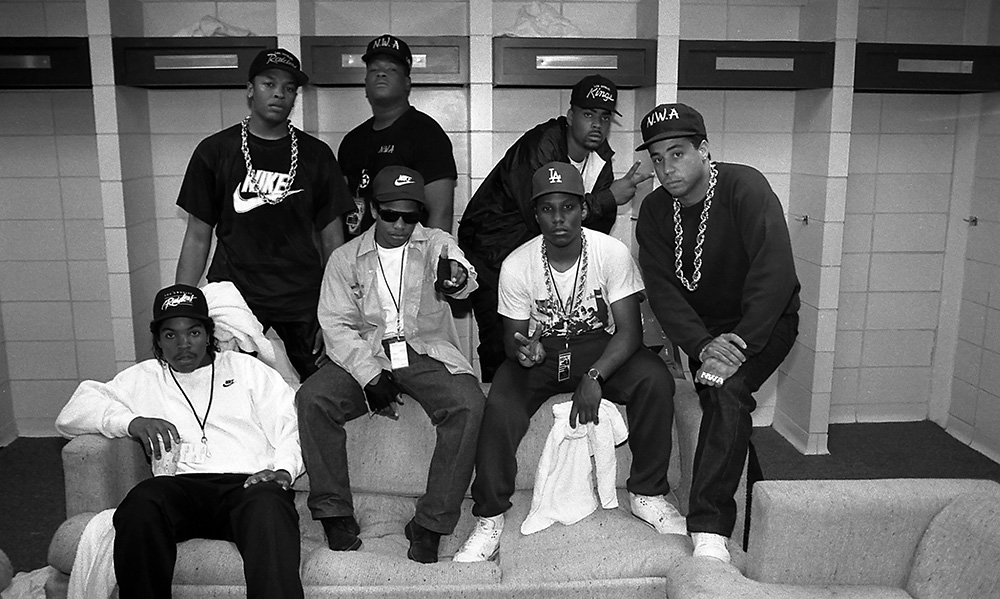 'Straight Outta Compton' Puts West Coast Hip-Hop On the Map
On August 8, 1988, N.W.A released their genre-defining debut, Straight Outta Compton. Featuring boundary-pushing songs like "F__k tha Police," "Gangsta Gangsta," "Express Yourself," and the title track, Straight Outta Compton was instrumental in establishing West Coast Hip-Hop and soon became the first gangsta rap album to go platinum. In 2016, it was the first rap album to be inducted into the Grammy Hall of Fame and, a year later, it was selected for preservation into the National Recording Registry by the Library of Congress.
In 1969, The Beatles shot their iconic Abbey Road cover photo at the street crossing outside of Abbey Road Studios. While a policeman held up traffic, photographer Iain McMillan set up a stepladder in the middle of the road and hastily snapped six images of the band.
In 1981, just one week after its launch, MTV broadcast its first-ever stereo concert, capturing REO Speedwagon live in Denver, CO during their Hi Infidelity tour. Interestingly, MTV execs had previously approached REO Speedwagon's frontman, Kevin Cronin, about becoming a VJ on the fledgling network (he declined).
In 1966, the South African Broadcasting Corporation banned all Beatles records, in response to John Lennon's remark about the band being "bigger than Jesus." On the same day, the Beatles' seventh studio album, Revolver, was released in the US.
In 1970, Janis Joplin purchased a headstone for the grave of blues icon Bessie Smith, who was one of her greatest influences. While Smith died in 1937 at the age of 43, following injuries from a car accident, her estranged husband refused to purchase a headstone (despite offers and donations from fans). Today, visitors can visit Smith's memorial at Philadephia's Mount Lawn Cemetary.
And in 2017, singer, songwriter, and guitarist Glen Campbell died, following complications from Alzheimer's Disease. The prolific artist released more than 70 studio albums and sold 45 million records worldwide. Among his hits were "By the Time I Get to Phoenix," "Rhinestone Cowboy," "Galveston," and "Wichita Lineman."
Looking for more things that happened on this day in music?
Keep scrolling for all of the headlines for August 8.
BORN ON AUGUST 8:
1950: Liberty DeVitto (drummer for Billy Joel, Stevie Nicks, Carly Simon, and Meat Loaf, among others)
1958: Christopher Foreman (Madness)
1959: Rikki Rockett (Posion)
1961: The Edge (aka Dave Evans, of U2)
1973: Scott Stapp (Creed)
1976: JC Chasez (*NSYNC)
1981: Bradley McIntosh (S Club 7)
1998: Shawn Mendes
Looking for more artists born on this day?
Keep scrolling for all of our August 8 birthdays.
---
What to find another day?
---
August 8th
8 Aug 2022
British-born Australian singer, actress and activist Olivia Newton-John died from cancer at her home in the Santa Ynez Valley of California, at the age of 73. In 1978, Newton-John starred in the musical film Grease, which became the highest-grossing musical film ever at the time and whose soundtrack remains one of the world's best-selling albums of all time. She scored the 1978 UK & US No.1 single with John Travolta, 'You're The One That I Want', and the 1981 US No.1 & UK solo No.7 single 'Physical'. She was a four-time Grammy Award winner whose music career included five No.1 hits. Newton-John, who battled breast cancer three times, was an advocate for breast cancer research.
8 Aug 2020
Taylor Swift
became the first artist to debut at No.1 on both the Hot 100 and US albums chart when Folklore and its lead single, 'Cardigan' both went to the top. Folklore also became her seventh consecutive No.1 album.
8 Aug 2019
Thousands of
Beatles
fans made a pilgrimage to London's
Abbey Road
50 years after the group walked over its zebra crossing for the cover of the last album the band recorded. Transport for London said two bus routes were briefly diverted as queues to cross the road blocked access.
8 Aug 2017
American singer, guitarist, songwriter, television host, and actor
Glen Campbell
died in Nashville, Tennessee at the age of 81. He became a patient at an Alzheimer's long-term care and treatment facility in 2014. Campbell released more than 70 studio albums and sold 45 million records worldwide. His hits include: 'By the Time I Get to Phoenix', 'Wichita Lineman', 'Galveston' and 'Rhinestone Cowboy'. His guitar playing can be heard on 'Strangers in the Night' by
Frank Sinatra
, 'You've Lost That Lovin' Feelin'' by The
Righteous Brothers
and 'I'm a Believer' by The
Monkees
.
8 Aug 2016
The judge overseeing
Led Zeppelin
's '
Stairway To Heaven
' trial ruled against the band and their publishing company's attempts to recoup nearly $800,000 in legal fees. While a federal jury determined that Led Zeppelin were not guilty of plagiarizing Spirit's 'Taurus' in a copyright infringement trial, judge R. Gary Klausner ruled that, since the lawsuit itself was not frivolous and meritless, the estate of Spirit guitarist Randy (California) Wolfe and their attorney Francis Malofiy were not obligated to repay the defendants' legal fees.
8 Aug 2010
John Lennon
's killer, Mark David Chapman, had his parole hearing delayed until early September so that officials could gather additional information. The 55-year-old Chapman became eligible for parole in 2000 after serving 20 years, but had been denied his freedom five times.
8 Aug 2007
The US National Musical Publishers' Association joined other businesses in seeking to sue YouTube claiming songwriters were not being properly compensated when their music appeared on the site. The legal action had been combined with those of several other companies, including Viacom and Nickelodeon, Paramount Pictures and Comedy Central.
8 Aug 2002
The UK's biggest undertakers Co-Op funeral services reported that bereaved families preferred pop songs to hymns at funerals. Top of the list was 'Wind Beneath My Wings' by Bette Midler. Other songs included 'Angels' by Robbie Williams and 'My Heart Will Go On' by
Celine Dion
. They also reported some unusual choices including 'Another One Bites The Dust' by
Queen
and 'Wake Me Up Before You Go-Go' by Wham!
8 Aug 1998
The
Spice Girls
had the UK No.1 single with 'Viva Forever', their 7th UK chart topper. Brandy and Monica were at No.1 on the US singles chart with 'The Boy Is Mine'.
8 Aug 1996
Kiss
appeared at the Riverfront Coliseum in Cincinnati, Ohio on their 192 date Alive World Tour. During this show a fan threw his fake leg on stage, which all the members signed and handed back to him.
8 Aug 1992
Madonna
went to No.1 on the US singles chart with 'This Used To Be My Playground'. A No.3 hit in the UK, the track was taken from the film 'A League Of Their Own.'
8 Aug 1992
Snap! started a six-week run at No.1 on the UK singles chart with 'Rhythm Is A Dancer' the dance group's second and last No.1 was also a Top 5 US hit.
8 Aug 1992
A riot broke out during a Guns N' Roses and
Metallica
gig at Montreal stadium when
Metallica
's show was cut short after singer James Hetfield was injured by pyrotechnics. Guns N' Roses took the stage but frontman Axl Rose claimed that his throat hurt, causing the band to leave the stage early. The cancellation led to a riot by the audience who overturned cars, smashed windows, looted local stores and set fires.
8 Aug 1991
On A Friday, (later to become known as
Radiohead
), appeared at The Jericho Tavern, Oxford, England. The band had met while attending Abingdon School, a boys-only public school. "On a Friday", referred to the band's usual rehearsal day in the school's music room.
8 Aug 1988
American hip hop group N.W.A released Straight Outta Compton on Ruthless Records. The album redefined the direction of hip hop and in 2017, it was selected for preservation in the National Recording Registry by the Library of Congress as being "culturally, historically, or artistically significant."
8 Aug 1987
U2
scored their second US No.1 single from their
Joshua Tree
album with 'I Still Haven't Found What I'm Looking For'. The song received two nominations for the 30th Grammy Awards in 1988, for Record of the Year and Song of the Year.
8 Aug 1986
David Crosby of Crosby, Stills and Nash was released from prison after serving three years for drug and weapons possession. His conviction would be overturned by a Texas appeals court in November 1987.
8 Aug 1981
MTV
broadcast its first stereo concert with REO Speedwagon who performed in Denver, Colorado, having just released the album Hi Infidelity and the hit singles, 'Keep On Loving You,' 'Take It On the Run' and 'Don't Let Him Go.'
8 Aug 1980
The Greater London Council banned The Plasmatics from blowing a car up on stage during their UK live debut at London's Hammersmith Odeon.
8 Aug 1970
Janis Joplin
bought a headstone for the grave of her greatest influence Bessie Smith at the Mount Lawn Cemetery in Philadelphia. Blues singer Smith died in 1937 after being refused admission to a whites only hospital.
8 Aug 1969
The photo session for the cover of
The Beatles
Abbey Road
album took place on the crossing outside Abbey Road studios. Photographer Iain McMillan, balanced on a step-ladder in the middle of the road took six shots of John, Ringo, Paul, and George walking across the zebra crossing while a policeman held up the traffic. The band then returned to the studio and recorded overdubs on 'The End', 'I Want You (She's So Heavy)' and 'Oh! Darling'.
8 Aug 1966
In response to
John Lennon
's remark about
The Beatles
being bigger than Jesus, The South African Broadcasting Corporation banned all Beatles records. Also on this day
The Beatles
LP
Revolver
was released in the US, the bands seventh album featured: 'Taxman', 'Eleanor Rigby', 'I'm Only Sleeping', 'Here, There and Everywhere', 'She Said She Said', 'And Your Bird Can Sing' and 'Tomorrow Never Knows'. It spent 77 weeks on the Billboard chart peaking at No.1.
8 Aug 1964
The single by The Young World Singers called 'Ringo For President' was released in the US. Such was
The Beatles
drummer appeal that fans launched a "Ringo for President" campaign in the midst of the Johnson/Goldwater race. A well-organized contingent – most of whose members were below the voting age of 21 – banded together to enter the drummer as a third-party write-in candidate for Commander in Chief.
8 Aug 1963
The Searchers were at No.1 on the UK singles chart with 'Sweets For My Sweet', the group's first of three UK No.1's. The song was written by Doc Pomus and Mort Shuman and was originally recorded by The Drifters.
8 Aug 1963
The Beatles
arrived in Guernsey in The Channel Islands, where they played two shows at Candie Gardens. They arrived in a 12-seater plane after making the 30 mile trip from Jersey, (their equipment was sent over by ferry).
The Beatles
would receive the sum of £1000 (approx.$1,600) for the two shows.
8 Aug 1960
16-year old Brian Hyland went to No.1 on the US singles chart with 'Itsy Bitsy Teeny Weeny Yellow Polka Dot Bikini' it made No.8 in the UK. Also a UK No.1 for Bombalurina featuring TV presenter Timmy Mallett in 1990.
8 Aug 1960
Decca Records scrapped 25,000 copies of Ray Peterson's 'Tell Laura I Lover Her' because they felt the song, which recounts the last thoughts of a teenager dying from a car accident, was "too tasteless and vulgar". A cover version by Ricky Valance, went to No.1 on the UK chart a month later.
Born on this day in music
8 Aug 1998
Canadian singer and songwriter Shawn Mendes. His single 'Stitches' reached the top 10 in the US and Canada, and No.1 in the UK. Both his albums debuted at No.1 on the US Billboard 200, making Mendes one of five artists to ever debut at No.1 before the age of eighteen.
8 Aug 1981
Vanessa Joy Amorosi, Australian singer, 2009 Australian No.1 single 'This Is Who I Am?'.
8 Aug 1981
Bradley McIntosh from English pop group S Club 7 who had the 1999 UK No.1 single 'Bring It All Back'. Their 2000 UK No.1 album 7 spent over a year on the UK chart. The group was formed in 1998 and quickly rose to fame by starring in their own BBC television series, Miami 7.
8 Aug 1976
Joshua Chasez, singer from American boy band *NSYNC. Among the group's singles, 'Bye Bye Bye', 'This I Promise You', 'Girlfriend' and 'It's Gonna Be Me' reached the top 10 in several international charts. The group's second album, No Strings Attached, sold over one million copies in one day.
8 Aug 1974
Brian Harvey singer, from English pop boy band East 17 who had the 1994 UK No.1 single 'Stay Another Day', plus 18 top-20 singles and four top-10 albums, and were one of the UK's most popular boy bands during the early to mid-1990s.
8 Aug 1973
Scott Stapp, singer, songwriter, from American rock band Creed, who had the 2001 US No.1 & UK No.13 single 'With Arms Wide Open' and the 2002 US No.1 album, Weathered. Stapp has released solo albums as well as being a member of Art of Anarchy.
8 Aug 1967
Lorraine Pearson from British pop/R&B group Five Star who had the 1986 UK No.3 single 'System Addict' plus 15 other UK Top 40 singles.
8 Aug 1961
Paul Jackson, bass, T'Pau, who had the 1987 UK No.1 single 'China In Your Hand' and the 1987 US & UK No.4 single 'Heart And Soul', (which was initially a flop in the UK). T'Pau took their name from a Vulcan elder of the same name in the sci-fi series Star Trek.
8 Aug 1961
The Edge (Dave Evans), guitarist, singer, songwriter with
U2
. They signed with Island Records and released their debut album, Boy in 1980. Their 1987 worldwide No.1 album The
Joshua Tree
spent 156 weeks on the UK chart. Their
U2
360° Tour of 2009–2011 is the highest-attended and highest-grossing concert tour in history.
8 Aug 1959
Rikki Rockett, drummer from American rock band Poison who scored the 1988 US No.1 & 1989 UK No.13 single 'Every Rose Has Its Thorn' and have sold over 45 million records worldwide.
8 Aug 1958
Christopher Foreman, guitarist from English ska band Madness. They have had 15 singles reach the UK top ten, hits include 'One Step Beyond', 'Baggy Trousers', 'Our House' and 'It Must Be Love'.
8 Aug 1957
Dennis Drew from American alternative rock band 10,000 Maniacs. They released four albums that charted in the top 50 in the US: In My Tribe (1987), Blind Man's Zoo (1989), Our Time in Eden (1992) and the live album
MTV
Unplugged (1993).
8 Aug 1956
Ali Score, A Flock Of Seagulls, (1982 UK No.10 single 'Wishing If I Had A Photograph Of You').
8 Aug 1956
English singer and vocal coach David Grant. With Linx he had the 1981 UK No.7 single 'Intuition' and he has also worked as a session singer for artists including Diana Ross, Rick Astley and Lighthouse Family. Grant later become well known, along with his wife Carrie Grant, as vocal coach on Pop Idol; judge and vocal coach on the BBC TV talent show Fame Academy.
8 Aug 1950
8 Aug 1949
Airrion Love, singer with the Philadelphia soul group The Stylistics who had the 1974 US No.2 single 'You Make Me Feel Brand New', and the 1975 UK No.1 single 'Can't Give You Anything But My Love' and twelve consecutive US R&B top ten hits.
8 Aug 1944
English guitarist and songwriter John Renbourn best known for his collaboration with guitarist Bert Jansch as well as the folk group Pentangle. Renbourn died on 26th March 2015 aged 70.
8 Aug 1942
English bass guitar player and singer John Gustafson who was a member of The Big Three, The Merseybeats, Ian Gillan Band, Roxy Music and his own group, Quatermass. He died on 12 September 2014.
8 Aug 1942
John David, drummer with American rock band Dr Hook who had the 1970s hits 'The Cover of Rolling Stone', 'A Little Bit More', 'When You're in Love with a Beautiful Woman' and 'Sylvia's Mother'.
8 Aug 1933
Joe Tex, US soul singer, (1965 US No.5 single 'Hold On To What You've Got', 1977 UK No.2 single 'Ain't Gonna Bump No More With No Big Fat Woman'). Tex died on 12th August 1982 aged 49.