December 20th: The Biggest Music Headlines
Scroll down the page to see all the music headlines, stories and events for December 20 throughout music history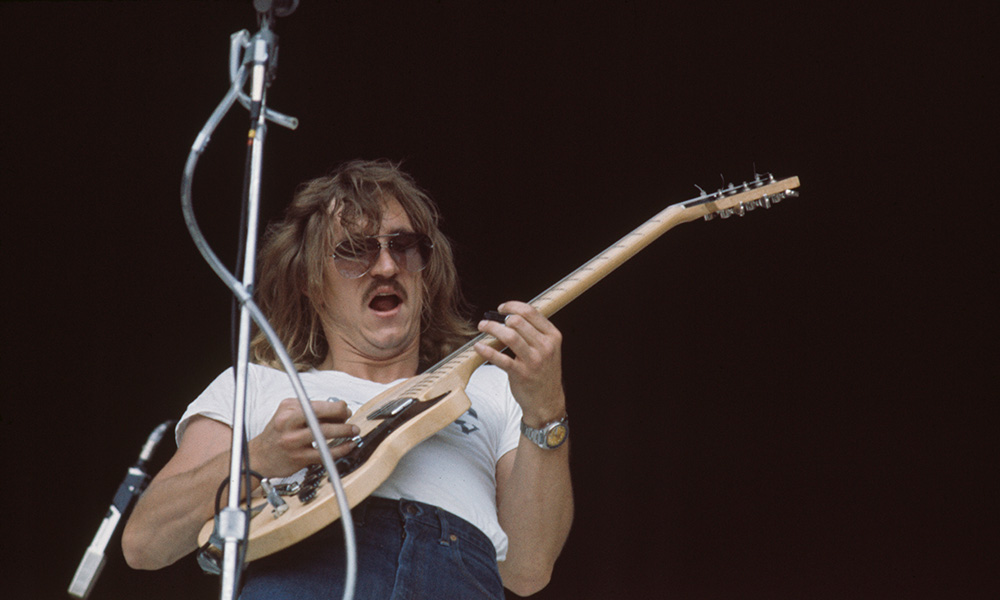 Joe Walsh Joins The Eagles
On this day in music, December 20, 1974, former James Gang and Barnstorm guitarist, Joe Walsh, officially replaced Bernie Leadon in the Eagles. Walsh was initially considered too "wild" of a player for the group, and band members were concerned about the guitarist's ability to fit in with the Eagles' country-influenced sound. But their fears were soon forgotten – and before long, the band abandoned their country roots and began developing the style they're now celebrated for.
In 1969, The Rolling Stones topped the UK album chart with Let It Bleed. A turning point for the group, Let It Bleed marked the band's final album to feature guitarist Brian Jones, who was fired midway through sessions, due to his struggles with substance abuse (Jones died weeks after he was let go). Consequently, it also became the Stones' first album to feature Jones' replacement, Mick Taylor. While the project didn't have charting singles, it included such enduring favorites as "Gimme Shelter" and "You Can't Always Get What You Want."
In 1969, folk trio Peter, Paul and Mary topped the Billboard Hot 100 with "Leavin' On A Jet Plane." The song was penned three years earlier by John Denver, with the original title of "Oh Babe I Hate to Go.'"
In 1973, singer, songwriter, and actor Bobby Darin died at the age of 37. One of the first teen idols, Darin released a number of massively successful singles in the late 50s and early 60s, including "Splish Splash," "Beyond the Sea," and "Mack the Knife." In 1962, he earned a Golden Globe Award for his first film, Come September , which co-starred his first wife, Sandra Dee.
In 1980, 12 days after his death, John Lennon scored his first solo No.1 hit in the UK with "(Just Like) Starting Over." Not long after, his iconic 1975 song "Imagine" re-entered the UK charts, also peaking at No.1.
In 1986, The Bangles began a four-week run at the top of the Billboard Hot 100 with "Walk Like An Egyptian." The single was later named Billboard's No.1 song of 1987.
In 1999, Canadian country star Hank Snow died at the age of 85. During his five-decade-long career, Snow recorded 140 albums and released more than 85 hits on the country charts. In 1954, Snow famously persuaded directors at the Grand Ole Opry to allow a young artist by the name of Elvis Presley to perform at the famed venue.
Looking for more things that happened on this day in music?
Keep scrolling for all of the headlines for December 20.
BORN ON DECEMBER 20:
1947: Peter Criss (KISS)
1948: ​​Alan Parsons (The Alan Parsons Project)
1959: Jackie Fox (Runaways)
1966: Chris Robinson (Black Crowes)
1980: Chris Edwards (Kasabian)
1990: JoJo
Looking for more artists born on this day?
Keep scrolling for all of our December 20 birthdays.
---
What to find another day?
---
December 20th
20 Dec 2021
American R&B singer Paul Mitchell died. With The Floaters he had the worldwide smash hit in 1977 'Float On'.
20 Dec 2020
Pelle Alsing, the drummer for Swedish rock and pop band Roxette died aged 60. Pelle appeared on their first five albums: Pearls of Passion (1986), Look Sharp! (1988), Joyride (1991), Tourism (1994), and Crash! Boom! Bang! (1994). A number of these LPs spawned massive international hits, such as 'It Must Have Been Love', 'Listen to Your Heart', and 'The Look'.
20 Dec 2020
British musician Chad Stuart died from pneumonia following a fall. He was one half of the duo Chad & Jeremy that began working in 1962 and had its first hit song in the UK with 'Yesterday's Gone' followed by a string of successful records in the United States through the mid-60s.
20 Dec 2014
A single dubbed the rarest record in the world sold for £14,543 at auction. The London Records' pressing of Darrell Banks' 'Open the Door to Your Heart', was thought to be the only copy in circulation. Banks, who toured with soul singer Jackie Wilson, only released two albums before he was killed in Detroit in February 1970. He was shot in the neck by an off-duty policeman, who had been having an affair with Banks's girlfriend. 'Open the Door to Your Heart' was his only hit, reaching No.2 on the R&B chart in the US.
20 Dec 2013
David Richards, a producer who worked with
David Bowie
,
Queen
, Iggy Pop, and others died. Included in Richards' lengthy discography are co-production credits on Bowie's 'Never Let Me Down', 'The Buddha of Suburbia', and 'Outside'. He also worked on
Queen
's last four albums, A Kind of Magic, The Miracle, Innuendo, and Made in Heaven. He also dealt with live music recording in such events as Montreux Jazz Festival.
20 Dec 2006
Ian Halperin claimed that
Michael Jackson
was close to death. The Rolling Stone magazine writer said Jackson was suffering from a rare lung condition and needed a lung transplant. He also claimed that the singer had lost 95% vision in one eye and was so ill he could hardly speak.
20 Dec 2006
Eminem
and his high school sweetheart divorced for a second time, less than a year after they remarried. The couple agreed to share custody of their 10-year-old daughter, Hailie. The pair told a judge in Michigan they understood this time the divorce was final. The couple remarried in January. But the rapper filed for divorce less than three months later, saying there had been "a breakdown in the marriage relationship".
20 Dec 2006
Matthew Fisher, a founding member of Procol Harum won a High Court battle over who wrote their song '
'A Whiter Shade Of Pale'
. Fisher who played organ on the 1967 hit had argued he wrote the distinctive organ melody, but Mr Justice Blackburne ruled he was entitled to just 40% of the copyright, (rather than the 50% he was seeking). The court decided lead singer Gary Brooker's input was more substantial and Fisher's claim for back royalties - of up to £1m - was also rejected. For almost 40 years, the song had been credited to lead singer Gary Brooker and lyricist Keith Reid.
20 Dec 1999
Canadian Country singer Hank Snow died. 'The Singing Ranger' released over 100 albums and scored more than seventy singles on the Billboard country charts from 1950 until 1980. A regular at the Grand Ole Opry, in 1954 Snow persuaded the directors to allow a new singer by the name of
Elvis Presley
to appear at the Grand Ole Opry.
20 Dec 1999
Readers of UK Guitar magazine voted Noel Gallagher the most overrated guitarist of the millennium.
Jimi Hendrix
was voted guitarist of the millennium with
Nirvana
's '
Nevermind
' winning best album.
20 Dec 1986
The Bangles started a four week run at No.1 on the US singles chart with 'Walk Like An Egyptian'.
20 Dec 1986
The Housemartins were at No.1 on the UK singles chart with their version of The Isley Brothers 'Caravan Of Love.' It was only the second a cappella song to be a No.1 hit after 'Only You' by the Flying Pickets.
20 Dec 1980
Twelve days after
John Lennon
was shot dead in New York City, '(Just Like) Starting Over', which was taken from his Double Fantasy album gave the former Beatle his first ever UK solo No.1 single.
20 Dec 1974
Former James Gang and Barnstorm guitarist Joe Walsh officially replaced Bernie Leadon in the
Eagles
after producer Bill Szymczyk had recommended Walsh to The Eagles.
20 Dec 1973
American singer Bobby Darin died aged 37. One of the first teen idols, he had the 1959 No.1 with 'Dream Lover' plus 20 other US Top 40 hits during the 60s including 'Mack the Knife', (Grammy Award for Record of the Year in 1960). Darin travelled with Robert Kennedy and worked on the latter's 1968 presidential campaign. He was with Kennedy the day he travelled to Los Angeles on June 4, 1968 for the California Primary. Darin was at the Ambassador Hotel later that night when Kennedy was assassinated.
20 Dec 1969
Peter Paul and Mary went to No.1 on the US singles chart with 'Leavin' On A Jet Plane'. John Denver wrote the song in 1966 with the original title of 'Oh Babe I Hate to Go.'
20 Dec 1969
Rolf Harris was at No.1 on the UK singles chart with 'Two Little Boys', (the song was written in 1902). The Christmas No.1 of 1969 and the last No.1 of the 60s. The song stayed at No.1 for six weeks.
20 Dec 1969
The
Rolling Stones
went to No.1 on the UK album chart with their 10th release
Let It Bleed
featuring 'Midnight Rambler', and 'You Can't Always Get What You Want.' It was the last studio album by the band to feature
Brian Jones
(who had died on July 3rd of this year after drowning in his swimming pool), as well as the first to feature guitarist Mick Taylor.
20 Dec 1968
The Beatles
sixth Christmas record '
The Beatles
' 1968 Christmas Record', was sent to fan club members in the UK and the US. It included the song 'Nowhere Man' sung by Tiny Tim.
20 Dec 1967
Folk singer Joan Baez was sentenced to 45 days in prison after being arrested during an anti-war demonstration.
20 Dec 1962
The
Osmonds
appeared for the first time on the NBC TV Andy Williams show. The brothers performed 'I'm A Ding Dong Daddy From Dumas'.
20 Dec 1959
Emile Ford and the Checkmates were at No.1 on the UK singles chart with 'What Do You Want To Make Those Eyes At Me For.'
20 Dec 1958
John Lennon
,
Paul McCartney
and
George Harrison
appeared as The Quarrymen at the wedding reception of George's older brother, Harry. The event was held at the Harrison family home at 25 Upton Green, Speke, Liverpool.
Born on this day in music
20 Dec 1990
American singer-songwriter JoJo. Her debut single, 'Leave (Get Out)' reached No.1 on the Billboard Pop songs chart, which made her the youngest solo artist to have a No.1 single in the United States, at thirteen years old.
20 Dec 1980
Chris Edwards, Kasabian, (2005 UK No.8 single 'Cutt Off', 2006 UK No.1 album 'Empire'). Kasabian won a Brit Award in 2010 for Best British Group.
20 Dec 1975
Graham Hopkins, drummer with alternative metal band from Northern Ireland Therapy? who had the 1993 UK No.9 single 'Screamager'.
20 Dec 1966
Chris Robinson, American musician. He was the singer with The Black Crowes (the brother of its guitarist Rich Robinson). The Black Crowes who had the 1991 hit single 'Hard To Handle' and the 1992 US No.1 & UK No.2 album The Southern Harmony And Musical Companion. He is was a member of New Earth Mud.
20 Dec 1959
American bassist Jackie Fox, from the pioneering 1970's all-girl teenage rock band the
Runaways
. Among their best-known songs are 'Cherry Bomb' and a cover version of the Velvet Underground's 'Rock & Roll'.
20 Dec 1957
Anita Ward, singer, (1979 US & UK No.1 single 'Ring My Bell').
20 Dec 1957
English singer-songwriter and left-wing activist Billy Bragg. He wrote 'New England' the 1985 hit for Kirsty MacColl, and has released over 10 albums.
20 Dec 1957
Michael Watt, American bassist, vocalist and songwriter who has worked with Firehose, Stooges and Porno For Pyros.
20 Dec 1956
Guy Babylon, keyboards,
Elton John
Band. Died on Sept 2nd 2009 of a heart attack while swimming in his pool at his home in Los Angeles, California.
20 Dec 1950
American drummer, percussionist, and songwriter Don Heffington. He was a founding member of the Los Angeles alternative country band Lone Justice, and was a session and touring musician for various artists, including Lowell George,
Bob Dylan
, Emmylou Harris, Jackson Browne, the Wallflowers and the Jayhawks. He died on 24 March 2021 ag 70.
20 Dec 1948
Alan Parsons, British studio audio engineer, musician, and record producer. He was involved with the production of
The Beatles
'
Abbey Road
and
Pink Floyd
's
The Dark Side Of The Moon
for which Pink Floyd credit him as an important contributor. Parsons' own group, The Alan Parsons Project released several albums.
20 Dec 1948
Stevie Wright, The Easybeats, (1966 UK No.6 & 1967 US No. 16 single 'Friday On My Mind'). Died on 27th Dec 2015.
20 Dec 1947
Peter Criss, drummer from American hard rock band
Kiss
. They scored the 1974 US No.5 single 'On And On', their 1976 US No 11 album Rock and Roll Over spent 26 weeks on the chart and they had the 1987 UK No.4 single 'Crazy Crazy Nights'. Criss established the "Catman" character for his Kiss persona.
20 Dec 1946
Psychedelic rock and jazz rock bassist Douglass Lubahn. His work is featured on several albums recorded by
The Doors
including Strange Days (1967), Waiting For The Sun (1968) and The Soft Parade (1969).
20 Dec 1944
Bobby Colomby, drums, Blood Sweat & Tears, (1969 US No.12 & UK No.35 single 'You've Made Me So Very Happy').