December 29th: The Biggest Music Headlines
Scroll down the page to see all the music headlines, stories and events for December 29 throughout music history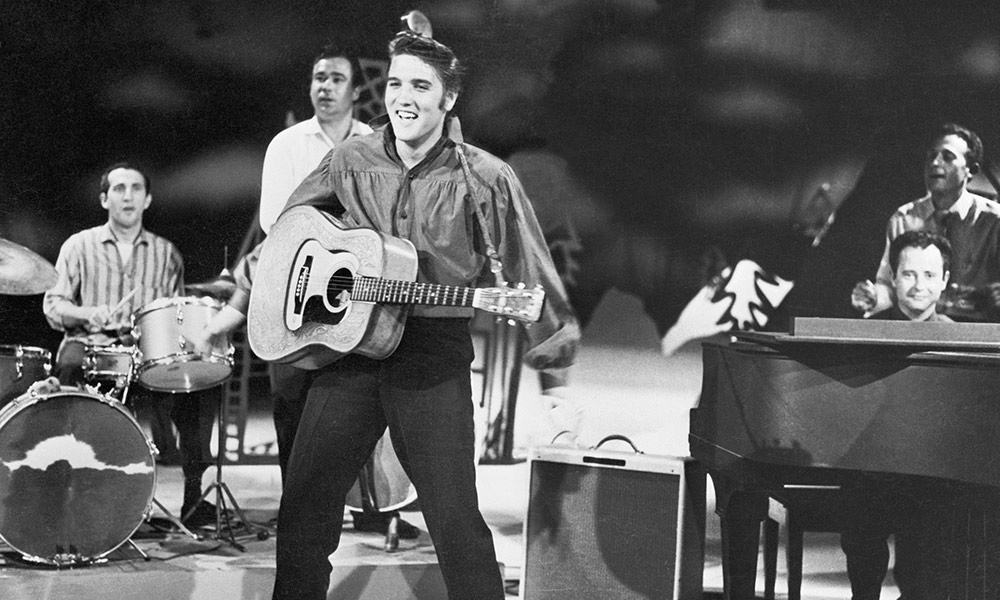 Elvis Makes History on the Billboard Charts
On this day in music, December 29, 1956, Elvis Presley made chart history by having ten simultaneous singles on Billboard's Hot 100 (then called the "Top 100") – an astonishing feat then and now. At the end of the year, Billboard reported that the rock'n'roll star had placed more songs in the US Top 100 than any other artist since records were first charted. Among them were the No.1 hits "Heartbreak Hotel," "Hound Dog," "Don't Be Cruel," and "Love Me Tender."
In 2012, Adele's 21 overtook Oasis' (What's The Story) Morning Glory? to become the UK's fourth biggest selling album of all-time. The feat also gave Adele the best-selling album of all time by a solo artist in the UK, while 21's 23-week run atop the UK album chart is the longest by a female solo artist. In the US, it became the best-performing Billboard 200 album of all time, holding the No.1 spot for 24 weeks, longer than any other album since 1985 and the longest by a female solo artist in chart history.
In 1966, at London's Abbey Road Studios, Paul McCartney began work on a new song, "Penny Lane." When it came to the sound of the tune, McCartney found inspiration from the Beach Boys' new album, Pet Sounds . The lyrics, meanwhile, referenced the Beatles' Liverpool roots.
In 1967, Dave Mason quit Traffic, citing creative differences. A founding member of the band, Mason rejoined halfway through sessions for Traffic's 1968 self-titled LP, after which he once again left to pursue solo opportunities.
In 1984, supergroup Band Aid topped the UK chart with their benefit single, "Do They Know It's Christmas?" Across the Atlantic, in a rather interesting dichotomy, Madonna had the No.1 song with "Like a Virgin."
In 1980, American singer-songwriter Tim Hardin died at the age of 39. The folk and blues artist wrote a number of songs that became famous in the hands of other artists, including "If I Were a Carpenter" and "Reason to Believe."
Looking for more things that happened on this day in music?
Keep scrolling for all of the headlines for December 29.
BORN ON DECEMBER 29:
1941: Ray Thomas (The Moody Blues)
1942: Rick Danko (The Band)
1946: Marianne Faithfull
1961: Mark Day (Happy Mondays)
1961: Jim Reid (The Jesus and Mary Chain)
1966: Bryan Holland (The Offspring)
Looking for more artists born on this day?
Keep scrolling for all of our December 29 birthdays.
---
What to find another day?
---
December 29th
29 Dec 2019
Neil Innes, the English writer, comedian and musician died aged 75. He was best known for his work with the Bonzo Dog Doo-Dah Band, The Rutles and collaborating with Monty Python.
29 Dec 2013
A one-of-a-kind signed hardback copy of Autobiography by Morrissey, the only copy of the full-colour hardback signed by the author, sold on eBay for £8,300, with all proceeds going to PETA as a New Year's present to help prevent the slaughtering of animals for meat. Morrissey signed only one copy of the book – the cover of which pictures the singer-songwriter bare-chested in a swimming pool.
29 Dec 2013
American guitarist, drummer, and songwriter Benjamin Curtis died age 35. He was a founding member of the bands Secret Machines, School of Seven Bells, and UFOFU. He was also drummer for the band Tripping Daisy from 1997 to 1999. It was announced in late February 2013 that he had been diagnosed with T-cell lymphoblastic lymphoma.
29 Dec 2012
According to sales data,
Adele
's 21 had overtaken
Oasis
' (What's The Story) Morning Glory? to become the UK's fourth biggest selling album of all-time. Latest data confirmed that,
Oasis
' 1995 second album had sold 4,555,000 copies to date, while
Adele
's 21 has surged ahead with sales of over 4,562,000 copies. The news came just over a year since 21 overtook
Amy Winehouse
's Back To Black to become the UK's biggest selling album of the 21st Century.
29 Dec 2011
Robert Lee Dickey, who performed as Bobby Purify in the '60s Soul duo James And Bobby Purify, passed away at the age of 72. The pair are most often remembered for their 1966, Billboard Top 10 hit, 'I'm Your Puppet'.
29 Dec 2010
Pollstar reported that
Bon Jovi
were the highest earning touring act of the year, taking in over $200 million (£130.7m). Australian rockers
AC/DC
landed at number two for the second year in a row, with tickets sales from their recent trek totaling $177m (£115m).
U2
which was the top worldwide act in 2009, came in at third place, with ticket sales totaling $160.9m (£104.6m). Lady Gaga followed in fourth place, with
Metallica
at number five.
29 Dec 2001
Aretha Franklin
was suing a US newspaper which alleged that the star had alcohol problems. The singer's lawyers filed a federal lawsuit against the Florida-based Star claiming she was defamed by an article in the paper in December 2000 and were seeking $50m (£35m) in damages.
29 Dec 1999
Three ferrets named Beckham, Posh Spice and Baby Spice were used to lay power cables for a rock concert being held in Greenwich, London, England, (workers were not allowed to dig up the turf at the Royal Park). Organizers found that rods could not push the cables through the tiny tunnels, which frequently bend and dog-leg. The ferrets were eased into tiny nylon harnesses with wires which where then attached to a rope, the animals ran into a series of ducts which were under the stage like rabbit runs, leading the cables with them. The ferrets instinctively make for any hole in the ground and are enticed to the end of the duct by a slab of smelly meat. The New Years Eve concert featured Simply Red, Eurythmics and Bryan Ferry.
29 Dec 1984
Band Aid were at No.1 on the UK singles chart with Do They Know It's Christmas? and
Madonna
was at No.1 on the US singles chart with 'Like A Virgin.'
29 Dec 1980
American singer, songwriter Tim Hardin died of a heroin overdose. Hardin wrote the songs 'If I Were A Carpenter' (covered by Bobby Darin,
Johnny Cash
and June Carter, The
Four Tops
, Leon Russell,
Small Faces
, Robert Plant and Bob Seger,) and 'Reason To Believe', (covered by
Rod Stewart
). Hardin appeared at the 1969
Woodstock
Festival.
29 Dec 1973
Jim Croce scored his second No.1 US single of the year when 'Time In A Bottle' went to the top of the charts. Croce was killed in a plane crash on the way to a concert on September 20th 1973.
29 Dec 1968
Led Zeppelin
appeared at the Civic Auditorium, Portland on their first North American tour opening for Vanilla Fudge.
29 Dec 1967
British guitarist and singer Dave Mason quit Traffic after differences of musical opinion. Mason wrote 'Hole in My Shoe', a psychedelic pop song that became a hit in for Traffic in 1967.
29 Dec 1966
Working at Abbey Road studios, London,
Paul McCartney
began work on his new song 'Penny Lane', recording six takes of keyboard tracks and various percussion effects. The song's title is derived from the name of a street near
John Lennon
's house, in the band's hometown, Liverpool. McCartney and Lennon would meet at Penny Lane junction in the Mossley Hill area to catch a bus into the centre of the city.
29 Dec 1966
29 Dec 1964
The Liverpool Youth Employment Service announced that some school leavers were finding it difficult to get jobs because their 'Beatle' style haircuts and clothing were unacceptable to employers.
29 Dec 1962
During his first visit to the UK
Bob Dylan
performed at The Troubadour in London.
29 Dec 1956
Elvis Presley
made chart history by having 10 songs on Billboards Top 100 for week ending Dec 19th.
Born on this day in music
29 Dec 1995
Cody Wise, American singer best known for featuring on the 2014 UK No.1 hit 'It's My Birthday' by will.i.am. The track became will.i.am's tenth chart-topper, (including five as a member of The Black Eyed Peas).
29 Dec 1966
Bryan Holland, vocals, guitar, from American punk rock band The Offspring, who had the 1999 UK No.1 single 'Pretty Fly, (For A White Guy)', and the 1999 US No.6 & UK No.10 album Americana.
29 Dec 1963
Alex Gifford from English electronic duo Propellerheads who scored the scored the 1997 UK No.7 single 'On Her Majesty's Secret Service'.
29 Dec 1961
Jim Reid, The Jesus and Mary Chain, (1987 UK No.8 single 'April Skies').
29 Dec 1961
Mark Day, guitarist with English alternative rock band Happy Mondays who had the 1990 UK No.5 single 'Step On' and the 1990 hit Kinky Afro'.
29 Dec 1955
Neil Giraldo, Pat Benatar group, (1985 UK No.17 single 'Love Is A Battlefield', plus 10 other US Top 40 singles).
29 Dec 1954
American drummer and session musician John Robinson known for his work with Quincy Jones, including
Michael Jackson
's multiplatinum Off the Wall album and the charity single 'We Are the World'. Robinson has also worked with the likes of
Eric Clapton
, John Fogerty, David Lee Roth, Steve Winwood, Daft Punk and
Madonna
.
29 Dec 1951
Yvonne Elliman, singer, 1978 US No.1 & UK No.4 single 'If I Can't Have You', also worked with
Eric Clapton
.
29 Dec 1950
Robert Popwell was an American jazz-funk bass guitarist and percussionist. He also played on albums by Aretha Franklin, George Benson, Ron Wood, Smokey Robinson, Bette Midler, Gregg Allman, Bob Dylan and many others. He died on 27 November 2017.
29 Dec 1948
Charlie Spinosa, from John Fred and His Playboy Band who had the 1968 US No.1 & UK No.3 single 'Judy in Disguise (With Glasses)' which was a parodic play on the title of
The Beatles
' song 'Lucy in the Sky with Diamonds'.
29 Dec 1947
English rock drummer Cozy Powell, who worked with The
Jeff Beck
Group, Rainbow, Gary Moore, Robert Plant, Brian May, Whitesnake, Emerson, Lake & Powell and
Black Sabbath
. Powell scored the 1973 solo UK No. 3 hit single 'Dance With The Devil'. Powell was killed in a car crash in England on 5 April 1998. According to a report, at the time of the crash Powell's blood-alcohol reading was over the legal limit, and he was not wearing a seat belt, and was talking with his girlfriend on his mobile phone at the time of the crash.
29 Dec 1946
English singer, songwriter and actress Marianne Faithfull and one time girlfriend of
Mick Jagger
. She achieved popularity in the 1960s with the release of her hit single 'As Tears Go By' (written by Mick Jagger,
Keith Richards
, and
Rolling Stones
' manager Andrew Loog Oldham) and became one of the lead female artists during the "British Invasion" in the United States.
29 Dec 1942
Canadian musician, bassist, songwriter and singer, Rick Danko, member of The Hawks ( Ronnie Hawkins's backing group), and The Band who went on to release ten studio albums.
Bob Dylan
hired them for his US tour in 1965 and world tour in 1966. Danko died on 10th December 1999 due to heart failure, arising from years of alcoholism, drug addiction and weight gain.
29 Dec 1941
Ray Thomas, English musician, best known as a flautist, singer and composer with English rock band The Moody Blues who had the 1965 UK No.1 & US No.10 single 'Go Now' and the hits singles including 'Go Now', 'Nights in White Satin' and 'Question'. Thomas died on 4 January 2018 six days after his 76th birthday.